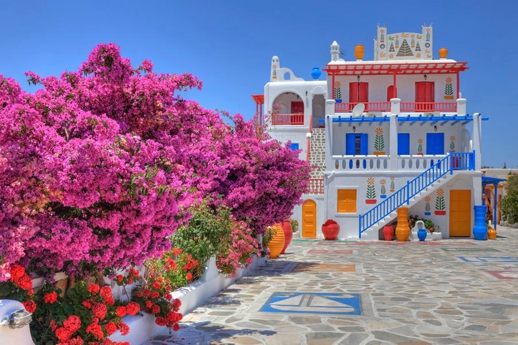 Eye-popping colours greet guests at the Sun of Mykonos Studios in the Klouvas area of Mykonos island, as this image from the studios' Facebook page illustrates
Kaleidoscope of colour: A brightly painted hotel on Mykonos catches plenty of attention from motorists driving the highway from Mykonos Town to Ano Mera village and many of the island's famous beaches.
With its bold red, blue, orange, yellow and green doors, shutters, handrails and decor accents, along with landscaped grounds bursting with brilliant bougainvillea blooms, geraniums and other flowers, Sun of Mykonos Studios is a veritable kaleidoscope of colour that turns the heads of many people passing by on the island's busy main highway.
But I'm surprised that its reasonable rates don't stop more people in their tracks or draw a waiting list a mile long.
Although Mykonos is one of the most expensive tourist destinations in Greece, Sun of Mykonos offers 35 air conditioned studios at amazingly affordable rates.
From September 1 to 15 of this year, for example, the standard nightly rate for a double room was €40, while a triple was €60 and an apartment for 4 persons was just €80. Even in August, which is the ultimate peak season for travel to the Greek Islands, a room was still available for €85 per night.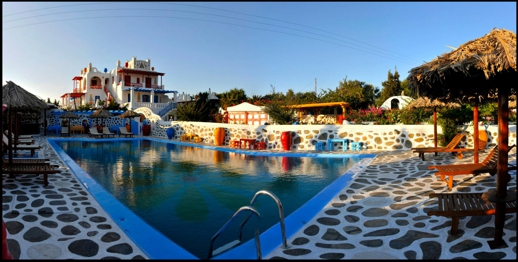 The Sun of Mykonos Studios has a swimming pool with sunbeds and a poolside bar. The property is only 900 meters from Ftelia beach.
CONTINUED ON PAGE 2