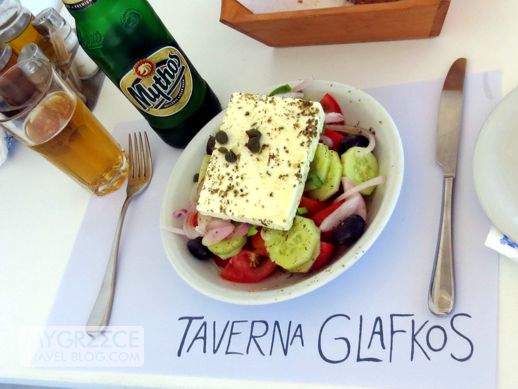 A yummy Greek salad and an ice-cold bottle of Mythos beer
Favourite snack: When I was grocery shopping one day last week, I got a sudden craving for a crisp Greek salad — our favourite lunchtime "snack" and dinnertime starter when we're in Greece. So I picked up some feta, cucumber, olives, green peppers, tomatoes and a red onion.  The salad I assembled back home looked appetizing enough, but was a huge disappointment to eat. The vegetables were crunchy but bitter (the onion actually gave me severe heartburn), while the tomatoes were tasteless and had the texture of soggy cardboard. The feta felt almost spongy, and had a sharp, slightly sour flavour, while the olives also seemed spongy, and tasted bitter and salty. Major letdown!
I should have known better — the taste and texture of our vegetables, even at the best of times, is never even remotely comparable to their flavour-packed counterparts in Greece. And now that we're heading into winter, our vegetables will be even more dreadful. So no more Greek salads until next spring. With luck, we'll make it back to Greece at that time … and if we do, you can be certain we'll enjoy an authentic, tasty Greek salad with nearly every meal.
Until then, I'll try to satisfy my cravings by pretending I'm back at Taverna Glafkos in Naoussa, on Paros, enjoying the delicious Greek salad pictured above that I enjoyed for lunch one day last May.