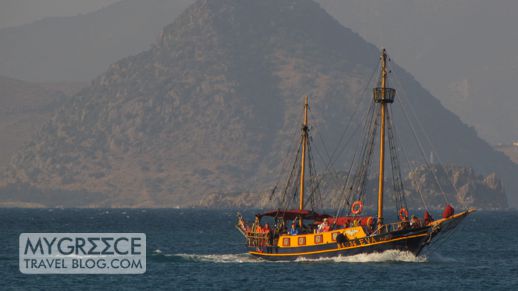 The Greek sailing boat Eva approaches Kos Town harbour

Sponge boat: One of my many vivid memories of Kos is the colourful waterfront of Kos Town, and especially the port and harbour. I was struck by the number of tour boats of all shapes, and sizes offering day trips to Turkey as well as excursions to nearby Greek islands like Kalymnos and Pserimos. But one ship in particular sticks in my mind: the two-masted wooden sailboat Eva.
I saw Eva our first day on the island while we were walking along a beach near Kos Town shortly after 6 p.m. Bathed in the warm glow of the slowly setting sun, with the mountainous coast of Turkey providing a scenic backdrop, Eva was motoring its way back to port at the end of a daytrip. Most of its passengers were either sitting or standing on the starboard side of the boat, looking content and relaxed as they caught some final rays before their excursion concluded. I felt envious, and wished I was with them.
CONTINUED ON PAGE 2