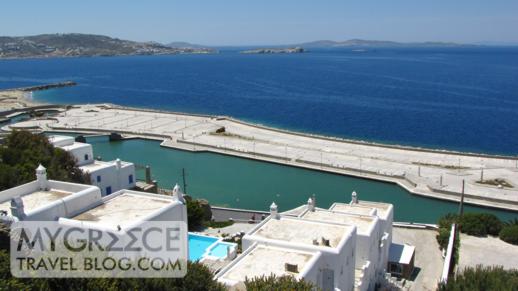 May 16 2011: The new Mykonos Town marina has come a long way since …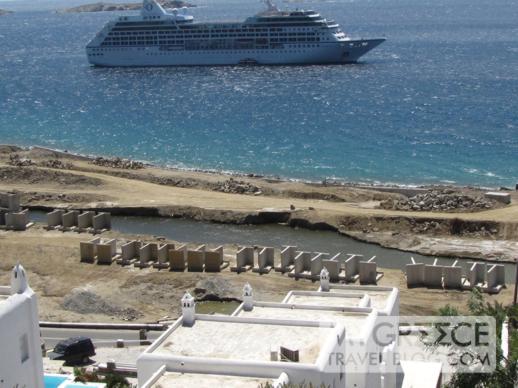 … May 28 2009, when the parking lot & small boat facility was still taking shape …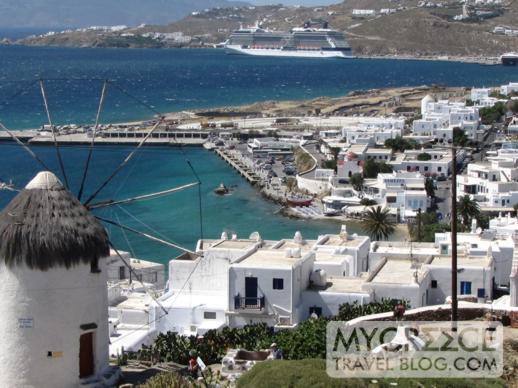 … and the seaside infrastructure project was a big, unsightly mess even when viewed from a distance, like this hillside near the Fine Arts District of Mykonos …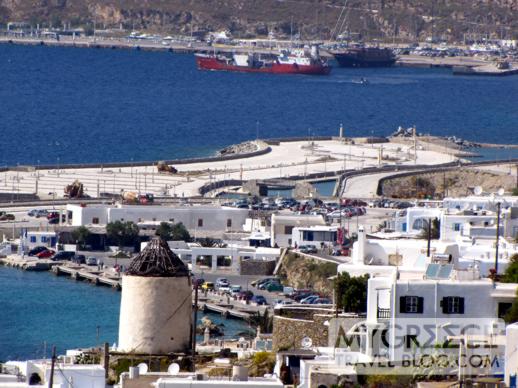 … but as of May 17 2011, the project looks closer to completion
End in sight?: First-time visitors ask what it is. Returning regulars wonder if it will ever get finished. People considering hotels in the area want to know if it will spoil their views and ruin their poolside relaxation. And local residents have become bored and weary from discussing it. The "it" is a new waterfront marina that has been under construction next to the Mykonos Town Old Port for what seems like forever … and the project completion date seems like it will take forever to arrive, too. But work crews are gradually getting there.
The new marina is actually an extensive mixed-use marine infrastructure project being built on more than 4 hectares of land reclaimed from the Mykonos seafront. Costing millions of Euros, the project was intended to help ease congestion at the overcrowded Old Port area, where ferry traffic was steadily increasing. The Old Port facility could not adequately cope with the crowds that kept queuing up for ferry boarding, let alone with all the taxis, hotel shuttle vans and buses and other vehicles that were constantly dropping off and picking up passengers in a very small and extremely congested area. Besides providing more breathing room for ferry travellers, as well as a new terminal for the smaller highspeed ferries that call in at the Old Port, the new marina would include a large parking facility just a short stroll from Mykonos Town (which has a pedestrian zone of streets that are off-limits to most vehicles), a bus and taxi station, port authority administration offices, a sailing club, fish market, and more. The long, narrow channel to be created between the marina and the Mykonos coastline was intended to provide shelter and mooring space for small fishing boats, sailboats, and other pleasure craft.
Landfill work began back in 1994, creating a huge waterfront eyesore — an unsightly long stretch of brown sand, soil and stones — that slowly grew larger until the mid-2000s, when the EU-funded marina project finally commenced construction. The facility stretches from the Old Port in the direction of the New Port at Tourlos — itself another massive landfill and marine infrastructure project — and extends north to a spot near the coast below the Cavo Tagoo luxury hotel.  Much to the chagrin of operators of hillside hotels in the Tagoo area of Mykonos, which directly overlooks the project site, the heaviest and noisiest construction work lasted several years, detracting from the hotels' otherwise marvellous sea and sunset views and interfering with poolside peace and quiet that their guests were expecting to enjoy during their holidays.
When I returned to Mykonos last month, I was happy to see that the marina looks like it's nearly complete — and that much of the marina is now open for parking as well as bus and taxi drop-offs and pick-ups at the Old Port. Although the lion's share of heavy and noisy construction work appears to have been completed, a substantial amount of work remains to be finished, and some concrete pumper trucks and earth moving machines were still operating on the site on the two days I walked around the facility. I did not find the noise to be loud or disturbing in any way, though, and I'm pretty sure it shouldn't interfere with any guests trying to relax on the decks and in the swimming pools at any of the nearby hotels. The good news, for them, is that the marina looks a helluva lot better now than it did for several years when it was a giant construction site.
What disappointed me, however, was that the "marina" is essentially just an enormous, long parking lot near the seashore. I had read an online report several years ago (can't remember where, and haven't been able to find it since) that said the marina would include a nicely landscaped promenade that would give pedestrians a pleasant and safe walking alternative to the dangerous narrow coastal rode that runs from the Old Port to the New Port 2 kilometres away. That narrow, winding road is extremely busy with cars, trucks and buses barrelling full tilt to and from Mykonos Town, and since there are no sidewalks, pedestrians take their chances whenever they walk the roadside. But it doesn't look like the walkway is going to materialize. A dirt ramp presently links the northern tip of the marina with the shoreline; however, it eventually must be removed to allow sailboat and fishing boat access into the channel. That means pedestrians won't be able to reach the marina from the north end, so they'll still be faced with the long walk along the busy coastal road. And unless the marina builders create sitting areas that are sheltered by trees and canopies, and add plants and flowers to different spots along the length of the marina to provide badly-needed colour contrast from the long expanse of stonework , it will just remain as one big long parking lot. It will be a good spot to walk for people who want to look up at the hillside and shoot photos of the hotels where they're staying, but other than that I can't see why anyone without a car would even want to go down there. At this point in time, it's not a particularly pleasant a place to pass time. Fortunately, there are many, many more nice and scenic places to walk on the island instead.
Below are more photos I shot in May showing how the marina looks now.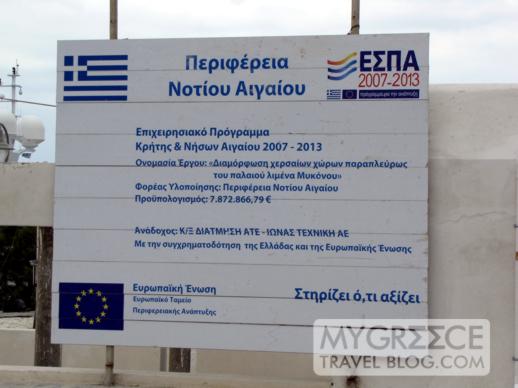 Mykonos Town waterfront marina construction sign near the Old Port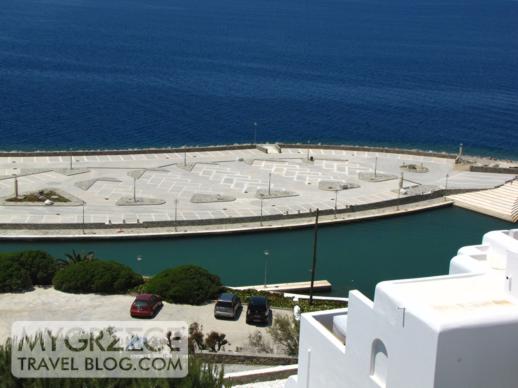 May 16 2011: Marina viewed from the hillside near the top of the Kouros Hotel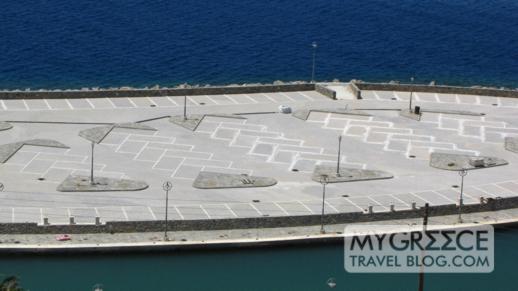 May 16 2011: Plenty of new parking spaces are now available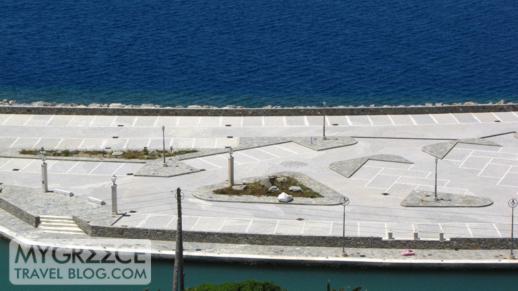 May 16 2011: There is some landscaping, but the marina needs much more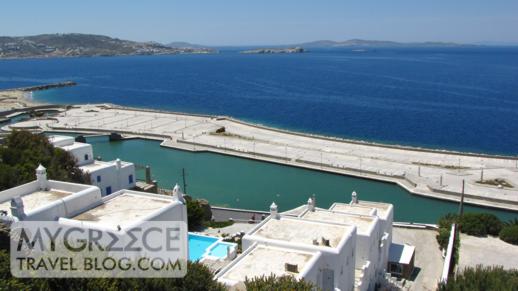 May 16 2011: A view of the marina, looking toward the Old Port from a road on the Tagoo district hillside above the Apanema Resort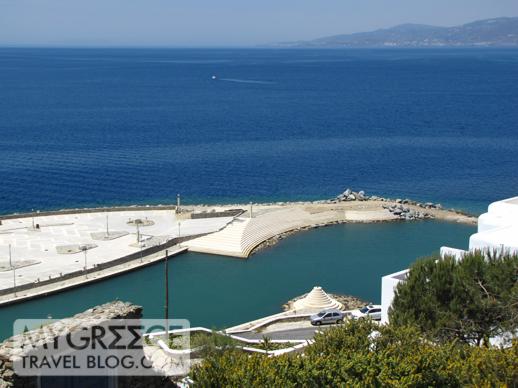 May 16 2011: Looking toward the unfinished northern end of the marina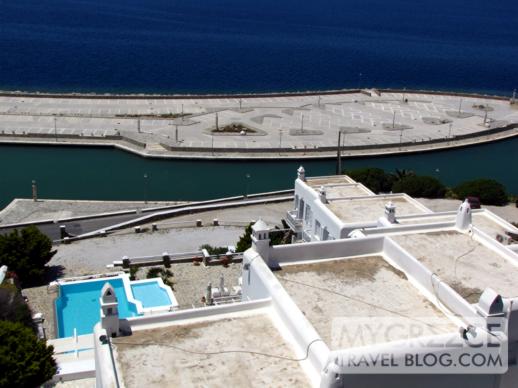 May 16 2011: Apanema Resort is one of several hotels directly overlooking the marina project; Kouros Hotel and Cavo Tagoo do, too

May 16 2011: An excavator (left) and concrete pumper (rear) at work on the site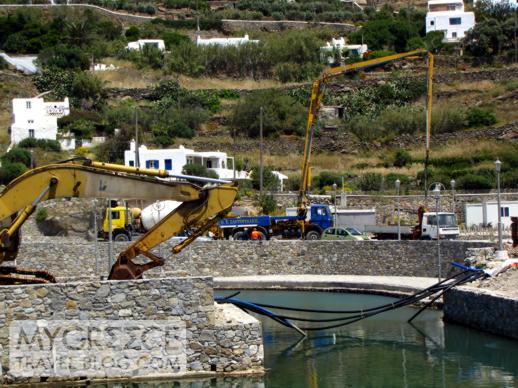 May 16 2011: A closer view of construction activity on the boat channel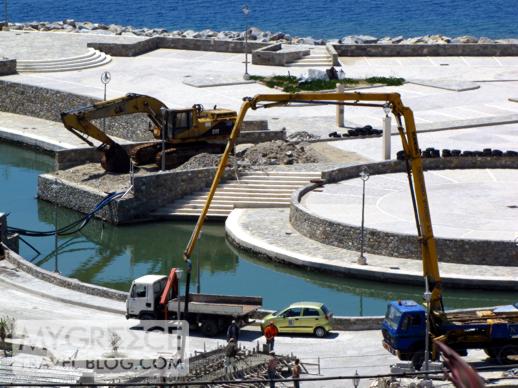 May 16 2011: The concrete pumping truck doesn't produce significant noise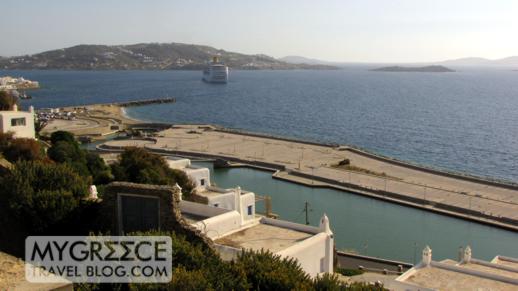 May 17 2011: Late afternoon view of the marina, looking toward the Old Port (left)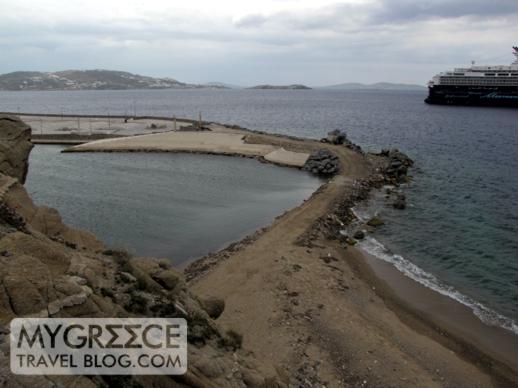 May 19 2011:  The marina links to the shoreline at its northern tip; however, this causeway will ultimately have to be removed to allow boat access into the channel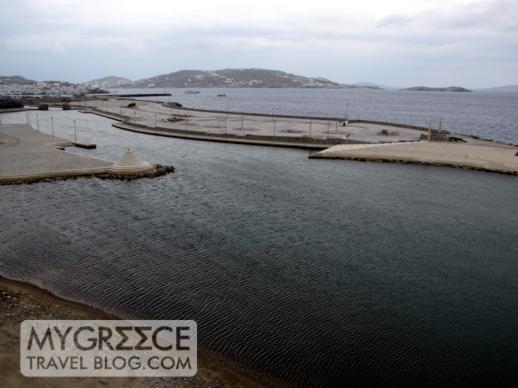 May 19 2011: Looking south across the marina toward the Mykonos Town Old Port
May 19 2011: Looking north toward cruise ships at the New Port at Tourlos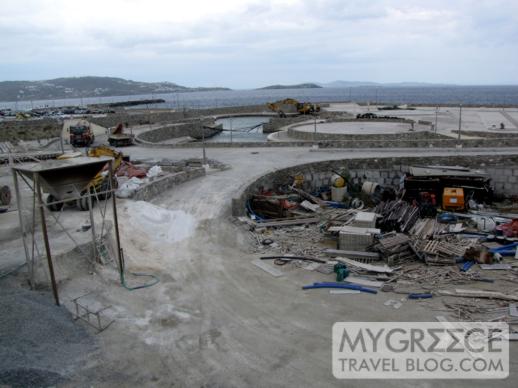 May 19 2011: The central section of the marina still needs considerable work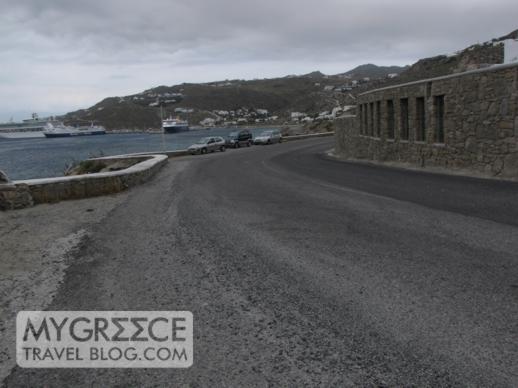 May 19 2011: Mykonos coastal road below the Cavo Tagoo luxury hotel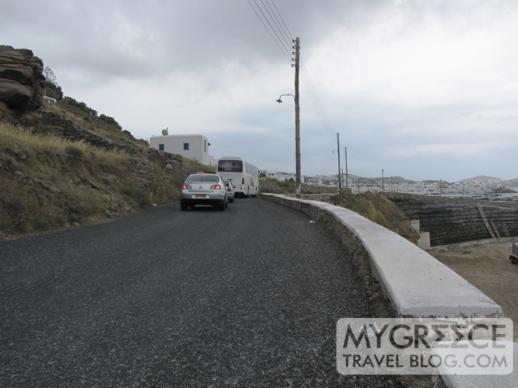 May 19 2011:  The coastal road above the Mykonos marina