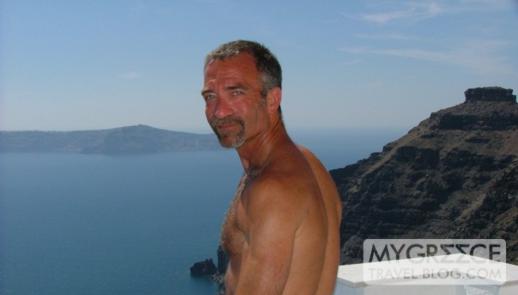 I loved the views of Thirassia island (left) and Skaros Rock (right)…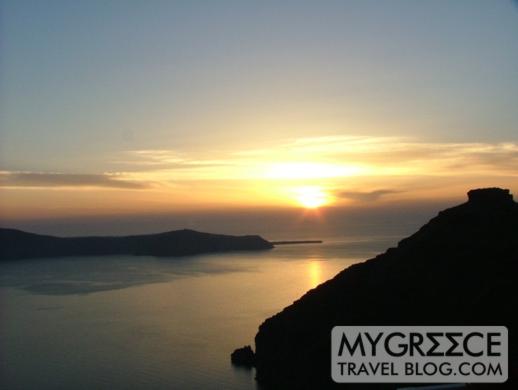 … as well as the sunsets we could watch from our private balcony at Grotto Villas/Cliffside Suites in Firostefani village on Santorini
Musical rooms: I could describe our 2006 holiday as "Goldilocks goes to Greece," because that was the vacation during which we kept switching hotel rooms — or even hotels, in one instance — to find one that felt just right.
On Mykonos, we stayed at the Petasos Beach Resort & Spa at Platis Gialos beach — the same area where we had stayed two years earlier. The Petasos sits on a peninsula between Platis Gialos Bay and Psarou Bay, so its property boasts a wide variety of views of two separate beaches and bays. Our first room at the Petasos had a small ground-level terrace facing Psarou Bay and the Aegean Sea, but we didn't like the room itself. It was one of the hotel's older units (the Petasos had been undergoing a major room renovation program, but had not yet overhauled the one we were in), and appeared comfortable enough, but felt very dark and depressing. We couldn't determine exactly what we didn't like, but since the room put both of us in a gloomy mood, we asked if we could move.
The hotel manager obligingly relocated us to a bright and cheery room on the second floor. Newly-renovated and upgraded, it looked and felt 100 times better than the first room, and had a much bigger terrace with twin sun loungers as well as a bistro table and two chairs. The trade-off was considerably less privacy and a much less impressive view. The balcony overlooked the back of several Petasos Resort buildings plus a row of terraces for all the other rooms on our floor, but also gave us views of Platis Gialos beach and bay, as well as other hotels and buildings on the surrounding hillside. It suited us just fine. And whenever we wanted a change of scenery, all we had to do was take a walk around the resort. The swimming pool bar and deck looked toward Nammos, the trendy upscale restaurant on posh Psarou beach; the dining room faced Psarou Bay and the Aegean Sea; and the hotel's smaller second swimming pool overlooked Platis Gialos beach and bay.
On Naxos, we were supposed to spend a week at the top-ranked Hotel Kavos above Agios Prokopios beach, but stayed only three nights. The hotel had been getting consistent rave reviews on TripAdvisor.com, and still does to this day, but it wasn't our cup of tea. The manager, Barbara, was terrific and so were the two young women who worked in the poolside restaurant and bar. And the views were good: the terrace outside our room faced Agios Prokopios Bay on the southwest coast of Naxos, and we could see similar views as well as nearby Paros island from the swimming pool deck. But many aspects of the room irked us, including the thick insect-infested vines above our terrace, and we didn't enjoy the 30-minute one-way trek to a reasonably-priced breakfast spot at Agios Prokopios each morning (breakfast was not included in the room rate, and we thought Kavos's menu prices were steep; I would have gone broke getting my daily caffeine fix at €3.50 per small cup of coffee).
While walking to breakfast one morning we passed the Lianos Village hotel, which we could see from our terrace at the Kavos, and stopped in to inquire about room rates. When the receptionist showed us a nice, bright sea-view room costing half as much as we were paying at the Kavos, and told us that the rate included a light buffet-style breakfast (with coffee), we decided to switch hotels. In a bid to convince us to stay at the Kavos, Barbara insisted on showing us some other rooms, including suites, that had better views and more space, but they were all significantly more expensive and, in one case, nearly twice the price. So we declined. Amazingly, Barbara insisted on driving us to Lianos Village, even though it was only a short walk down the hill (didn't I say she was terrific?). It turned out the coffee at Lianos Village was dreadfully weak, but the breakfast spread was satisfying, the room was comfortable, the views were wonderful, and the price was excellent.
On Santorini, our final island-hopping destination that year, we stayed in the village of Firostefani at Grotto Villas, a caldera-view hotel that was in the process of changing its name to Cliff Side Suites.  We were initially assigned Room 119, a windowless Flintstones- style cave room which initially struck us as novel and fun but soon became incredibly frustrating (not to mention a huge pain in the head for me). After two nights we had to change rooms, and totally lucked out by getting switched to Room 110, a small kitchenette-equipped studio boasting a private balcony with million-dollar views — including Santorini's fabled sunsets. (For detailed descriptions of both rooms and the hotel in general, see my comments in post #3 of this July 2006 thread in the TripAdvisor.com Santorini forum.) Room 110 was wonderful, for a lot of reasons, and we thoroughly enjoyed our time in it. I only wish I could say the same thing about our 2006 Santorini experience as a whole, but that's a topic I'll deal with some other time.
Below are photos of our various views at the Petasos Beach Resort, Hotel Kavos, Lianos Village and Grotto Villas/Cliff Side Suites.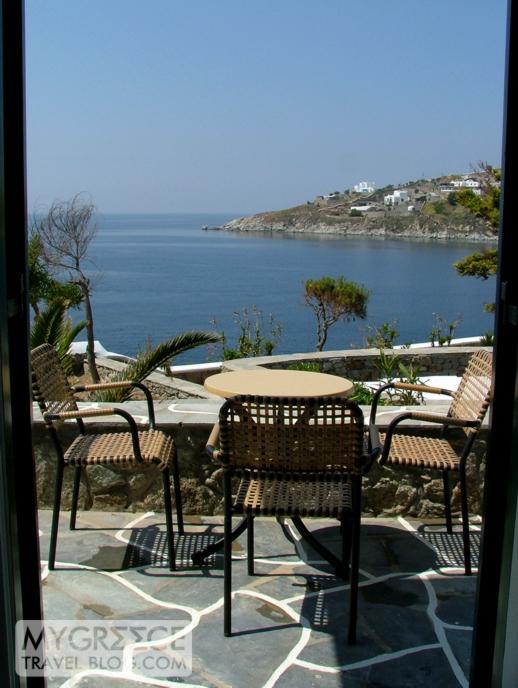 Room P208, our first room at the Petasos Beach Resort & Spa on Mykonos, had a stone terrace with views of Psarou Bay and the Aegean Sea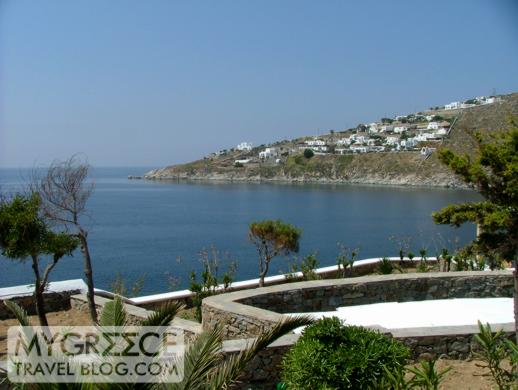 Our terrace overlooked the landscaped hotel grounds as well an upscale residential area on the steep mountainside directly across Psarou Bay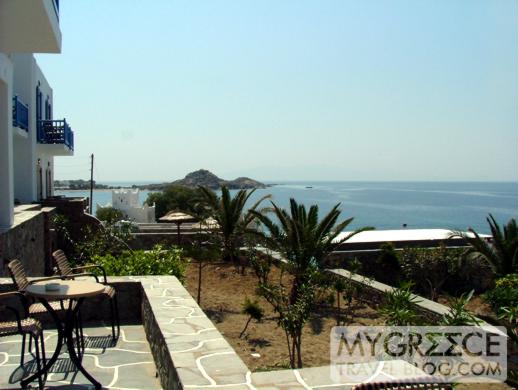 To the left we could see part of Platis Gialos Bay and the rocky peninsula that juts into the Aegean Sea between Platis Gialos and Paraga Bay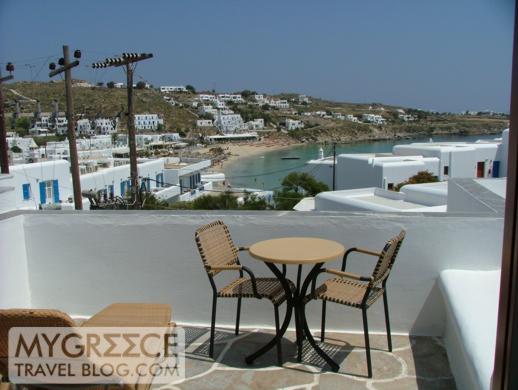 The terrace for Room 183, our second room at the Petasos Beach Resort, overlooks Platis Gialos, one of the most popular beaches on Mykonos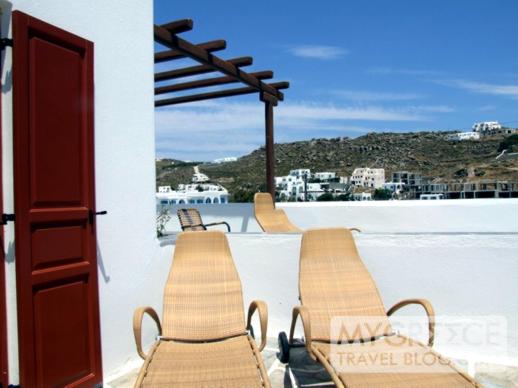 If we didn't feel like lounging beside one of the hotel's two swimming pools, we could lay in the sun on our terrace instead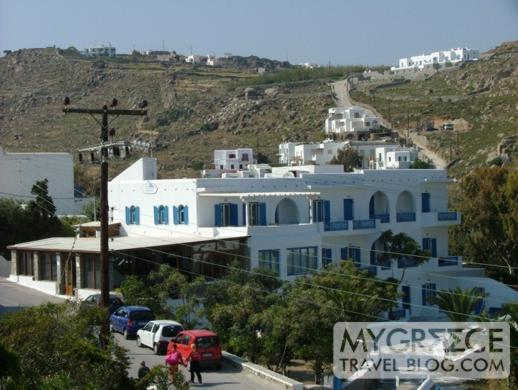 To the far left we could see another hotel across the street (actually, it's the main road that links Platis Gialis to Mykonos Town) …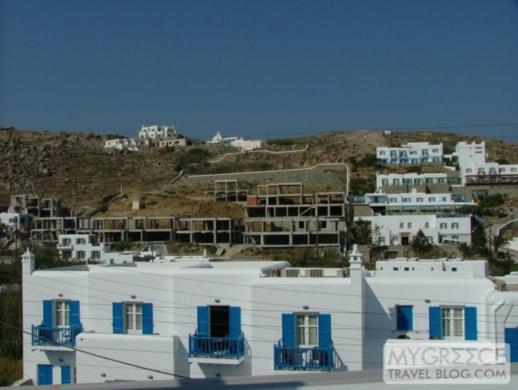 … as well as a semi-constructed resort building and more hotels lining the steep hillside above Platis Gialos…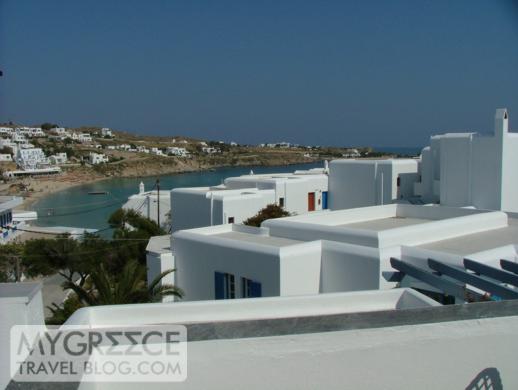 …while straight ahead we looked onto Platis Gialos beach, another wing of the Petasos Beach Resort, and the Hotel Petinos Beach next door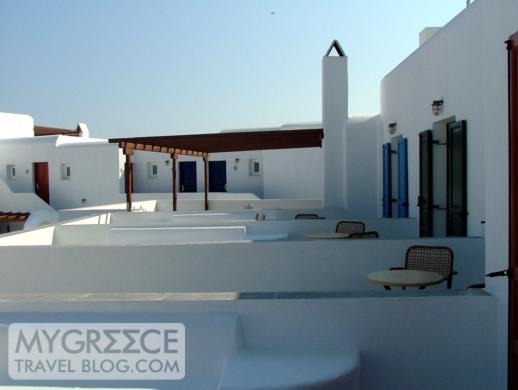 To the right are terraces for the other hotel rooms on our floor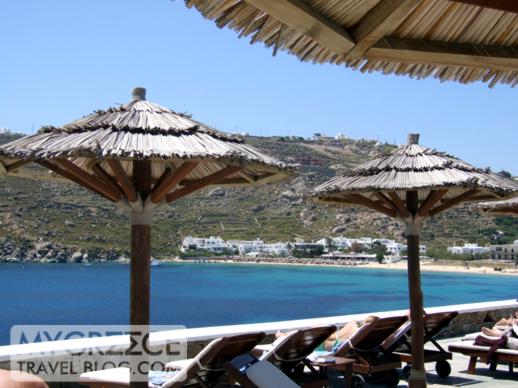 The main swimming pool terrace had views of Psarou beach and bay…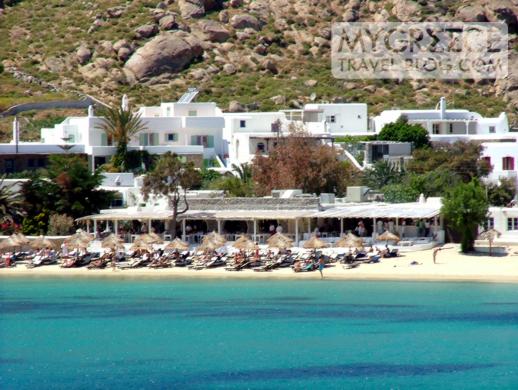 … including the trendy, private beach club-style Nammos restaurant and bar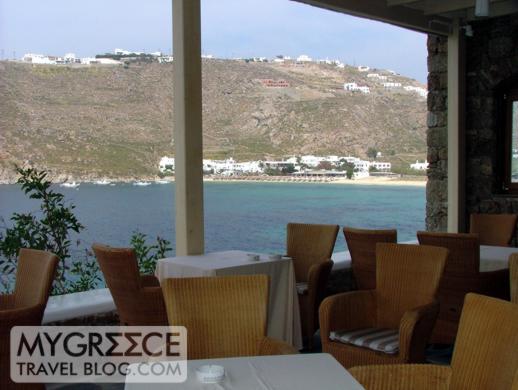 The hotel's poolside bar and dining room had similar views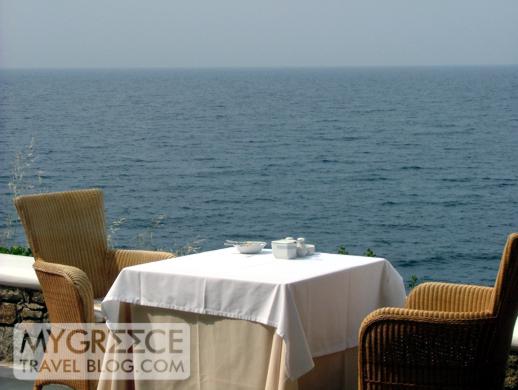 Some of the breakfast tables sat on an open air dining terrace …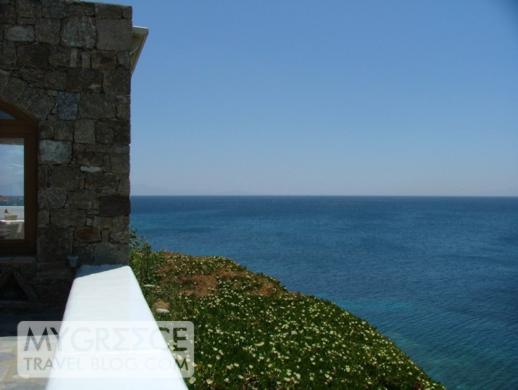 … with completely unobstructed views of the beautiful blue Aegean Sea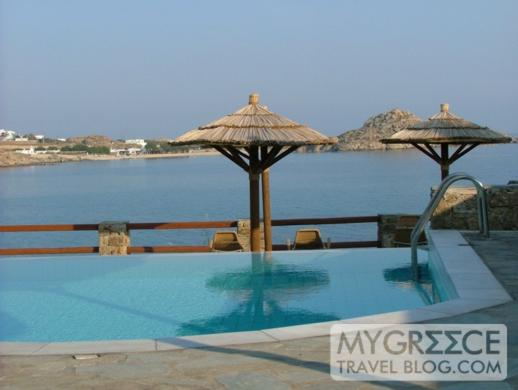 The Petasos has another (smaller) swimming pool …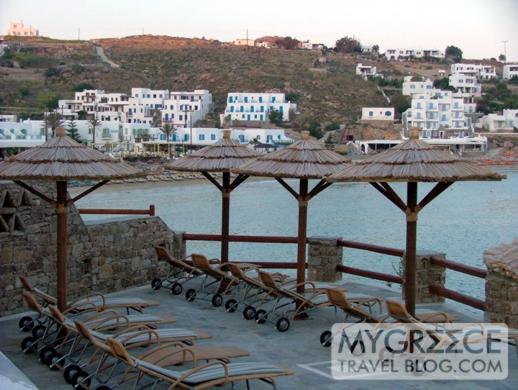 … with great views of Platis Gialos beach and bay …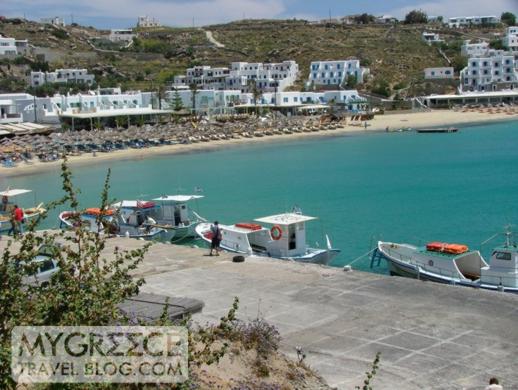 … plus the Platis Gialos pier where people can catch caiques — traditional Greek boats that shuttle passengers to popular beaches along the south coast of Mykonos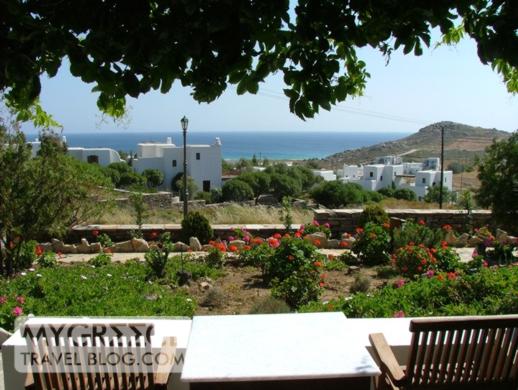 From our terrace outside Room 1 of the Hotel Kavos on Naxos …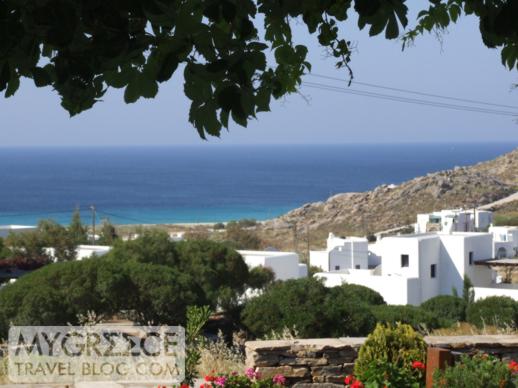 … we could view the Aegean Sea off Agios Prokopios beach, a 15-minute walk away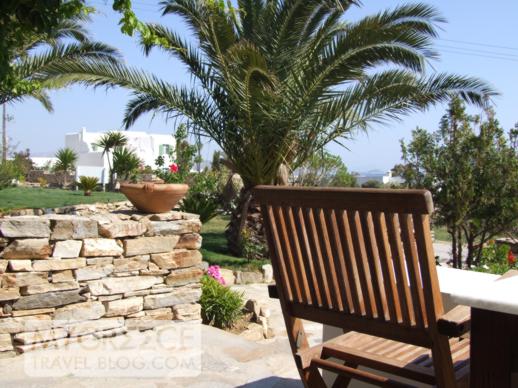 To the left of our terrace were private homes and villas in the Stelida area of Naxos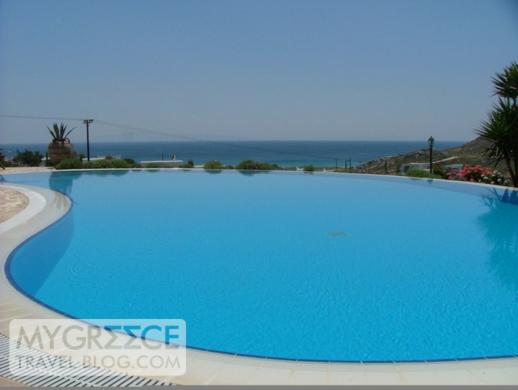 The Hotel Kavos Naxos swimming pool had a view of the sea…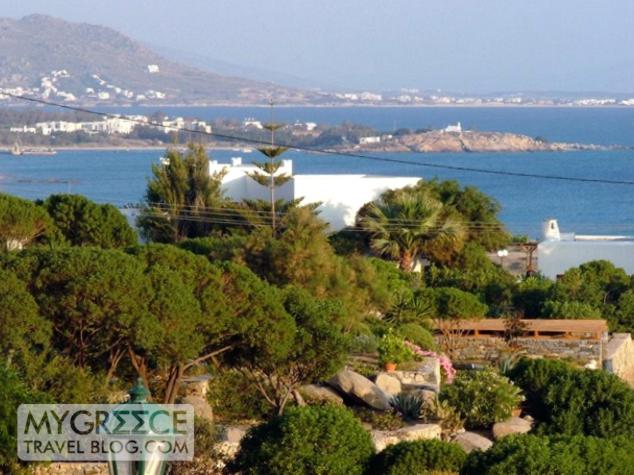 … while the pool terrace had views of the coastline on the southwest side of Naxos
From the pool deck, we could watch the sun set behind Paros island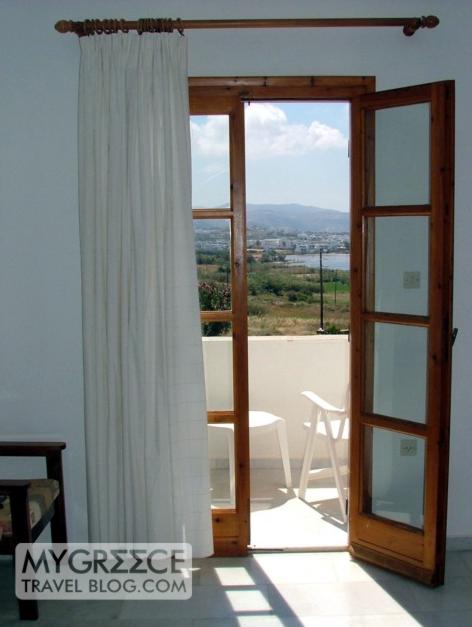 The balcony for our room at the Lianos Village hotel offered a partial sea view toward the Agios Prokopios resort area of Naxos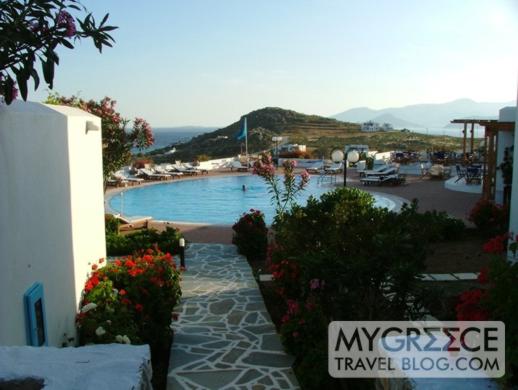 The lovely swimming pool terrace at Lianos Village had views not just of Agios Prokopios beach, but also nearby Paros island, visible at the rear right of this photo
This was one of the pool terrace views of the Agios Prokopios area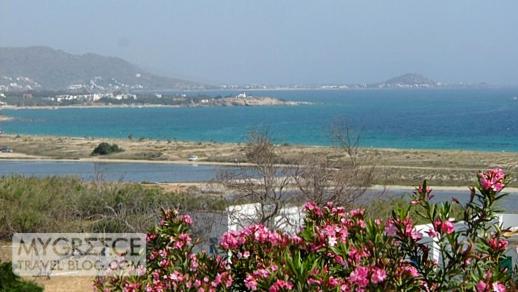 This is a wider swimming pool view of the southwest coast of Naxos; the long, wide strip of sand in the foreground is Agios Prokopios beach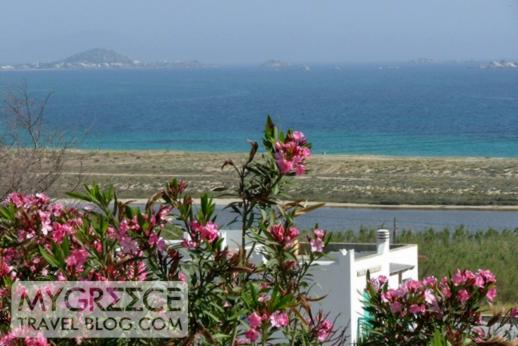 Here's another view of the sea and Agios Prokopios beach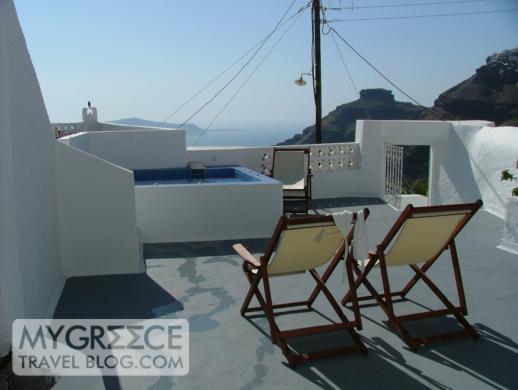 On Santorini, the shared public terrace outside Room 119 at Grotto Villas/Cliffside Suites had views of Thirassia island, Skaros Rock and Imerovigli village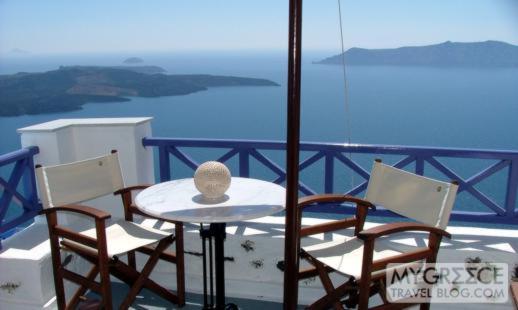 We were happier when we moved to Room 110, which had a private balcony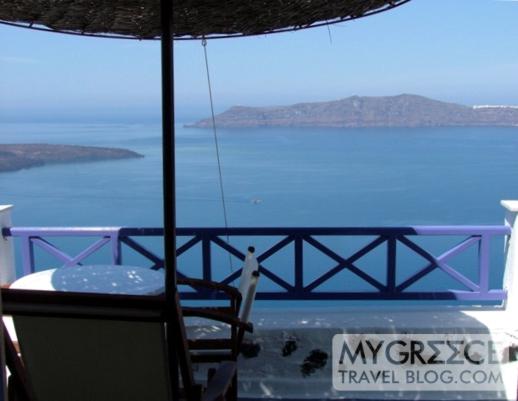 The Room 110 balcony offered spectacular views. Visible in this photo are Nea Kameni (the Santorini volcano island, left) and Thirassia island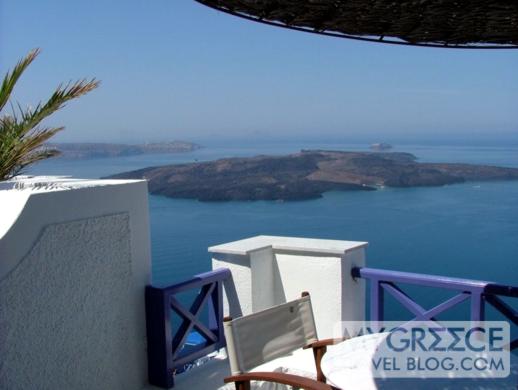 Here's another view of the volcano island from our balcony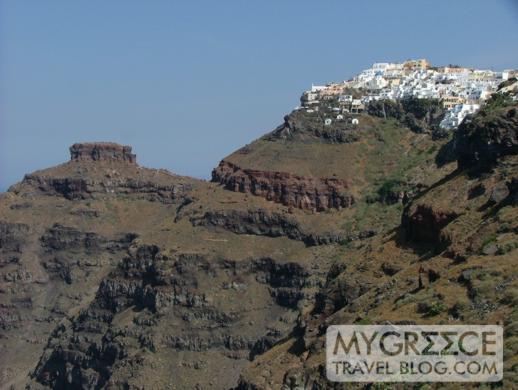 The view to our right included Skaros Rock (left) and Imerovigli village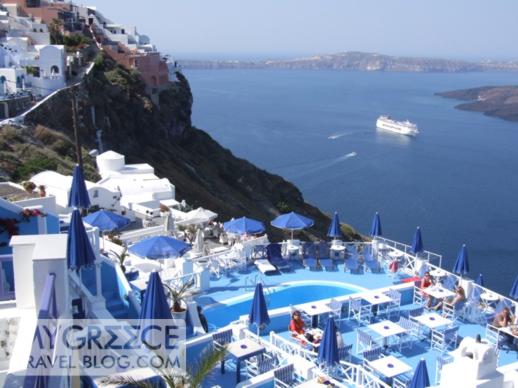 This was our caldera view, looking to the left from our balcony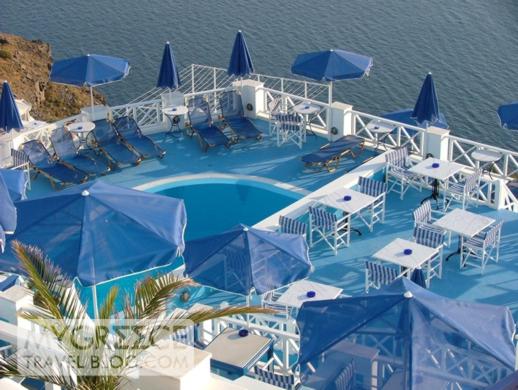 Our balcony overlooked the large swimming pool and breakfast terrace for the aptly named Kafieris Blue Apartments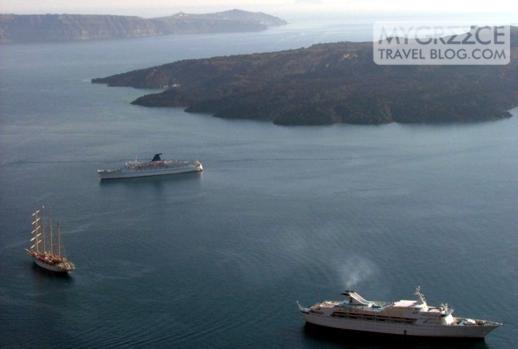 We had a great view of cruise ships and ferry boats near the volcano island…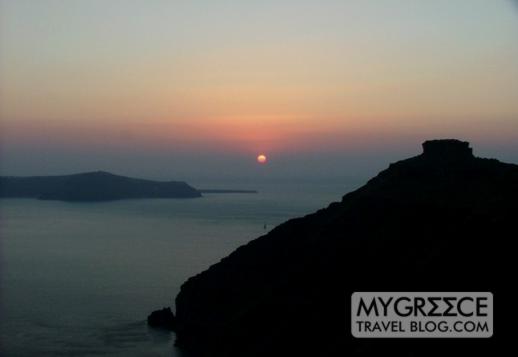 … and enjoyed watching the sun set in the distance, centered almost perfectly between Thirassia island and Skaros Rock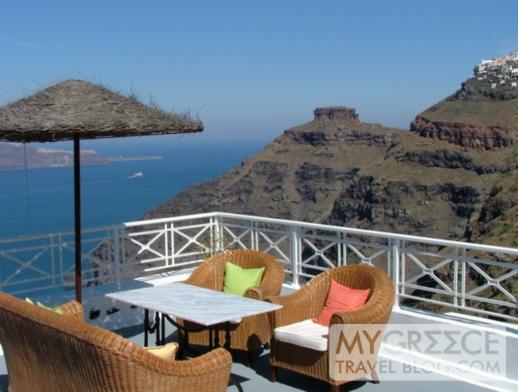 Most of the rooms and public areas at Grotto Villas had superb views. As an example, here's a sitting area outside the hotel's reception room
This is the view in the opposite direction from the same sitting area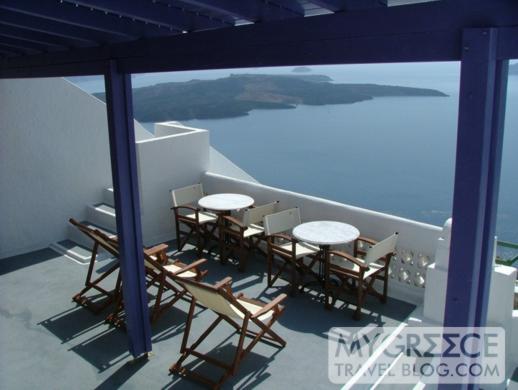 This was the view for one of the larger Grotto Villas hotel rooms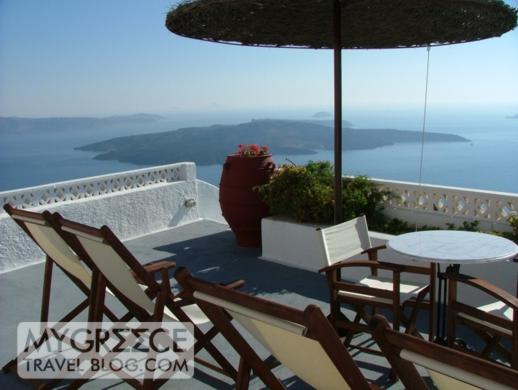 This was the view for yet another Grotto Villas terrace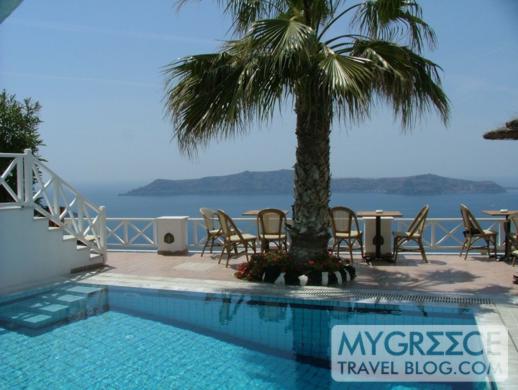 The swimming pool, situated on one of the lower levels of the hotel, had a great view towards Thirassia island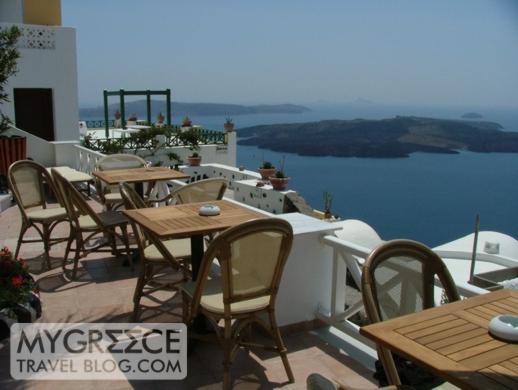 Breakfast was served on the swimming pool terrace. Some of the tables at the cliff side of the pool had wonderful views of the volcano island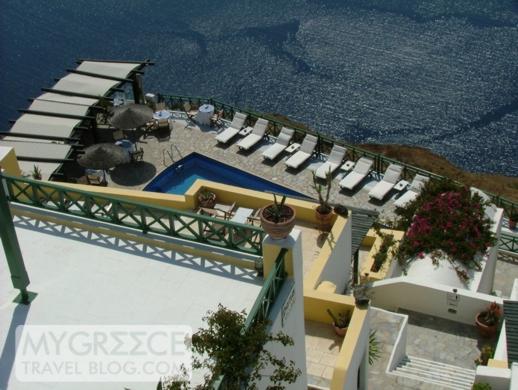 Some of the hotel's terraces overlooked the swimming pool for Dana Villas, a separate hotel situated even farther down the cliff face below Grotto Villas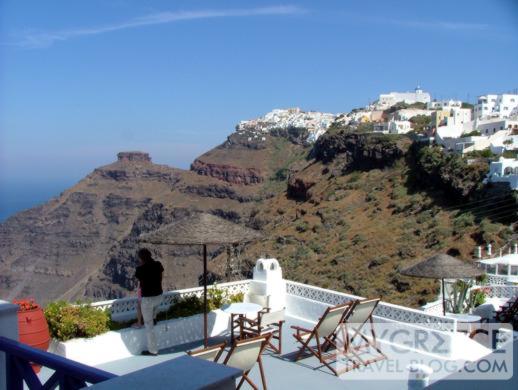 And some of the terraces had this view of Skaros Rock (left), Imerovigli village (center rear) and Firostefani village (right)