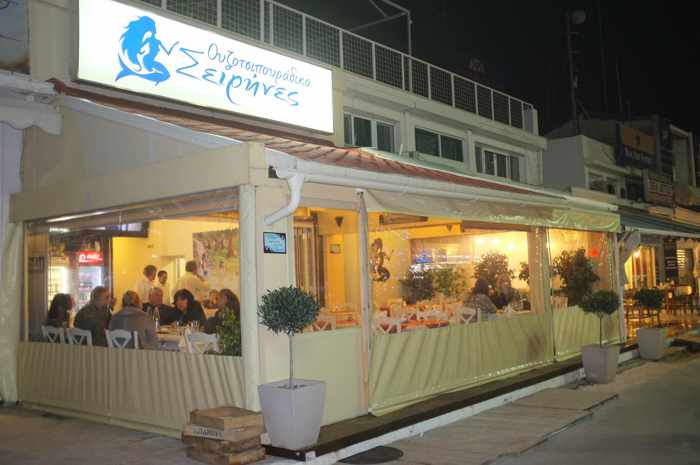 Street view of Seirines (Sirens) restaurant on the harbourfront strip near the port of Rafina. (This photo, from the Seirines Facebook page, was originally posted on TripAdvisor with a 5-star rating by reviewer erythnul.)
Tempting tastes: If you find yourself feeling hungry while waiting for a ferry at Rafina port, or after arriving there on one, I recommend making your way directly to Seirines restaurant for a meal. You won't be disappointed, especially if you enjoy fresh seafood.
Friends took us there for lunch last May when we had several hours to pass before catching a late afternoon ferry to Andros. They had assured us that Seirines would be a great spot to enjoy the first meal of our holiday after arriving in Greece on a long overnight flight from Canada, and they were absolutely right — it was perfect. With a harbour-view table on the taverna's open-air terrace, and a nice variety of delicious seafood and Greek dishes, we could not have asked for a better "welcome back" to Greece.
The tremendously satisfying lunch and waterfront setting got our vacation off to a great start, and in retrospect may have been an omen of good food to follow  — over the next 16 days, we enjoyed the best dining of all our trips to Greece since 2004.
Our selection of dishes included feta, white fish roe dip (a richer and much less salty version of the pinkish-coloured taramasalata typically found on taverna menus), calamari, toasted bread, grilled calamari, grilled sardines, vegetable croquettes, and ouzo (for those of you who love ouzo or tsipouro, take note that Seirines is an ouzotsipouradiko, offering an extensive selection of the two spirits).
The dishes provided more than enough food for the four of us, and we barely managed to clear all the plates. Everything was good, but for me the fish roe dip and sardines were exceptional.  Although our friends picked up the tab and wouldn't let me see the bill, they said the price for our lunch had been very reasonable. We will definitely go back to Seirines if any of our future travels take us through Rafina.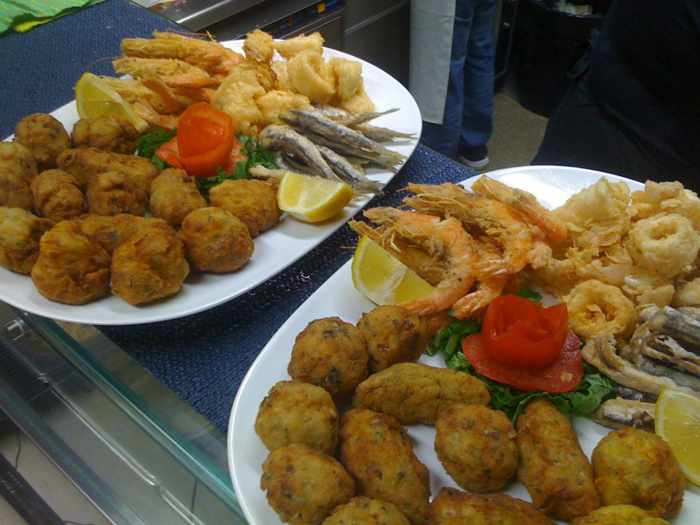 Seirines photo of platters with a selection of seafood and Greek food delights
But you don't have to take only my word that Seirines is an ideal choice for dining near the port.  Check out the rave review that the New York City-based food blog Fritos and Foie Gras gave the restaurant in its photo-illustrated post, The Fish Lunch of My Dreams at Seirines, Rafina. (With its comments like "it's impossible not to love this restaurant," and "I would come back here in a heartbeat if I could," you'll see I have good company in highly recommending the restaurant. Be sure to click on the photos in the review to get a better look at the scrumptious dishes the writer enjoyed, including tzatziki, a country salad, a smoked and cured fish plate, and souvlaki-style shrimp.)
If you need more convincing, read the Seirines review in the article CB on the road: Eating in Rafina, which the international city dining blog Culinary Backstreets published less than two weeks before we discovered the restaurant.
You can read additional reviews on TripAdvisor, where Seirines is ranked as the #1 restaurant in Rafina.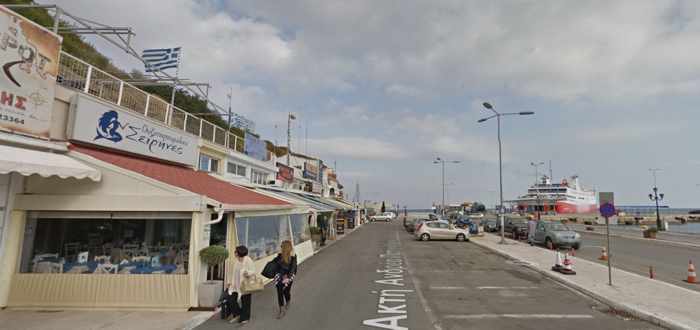 This Google Street View image shows the close proximity of Seirines (left) to the Rafina ferry docks