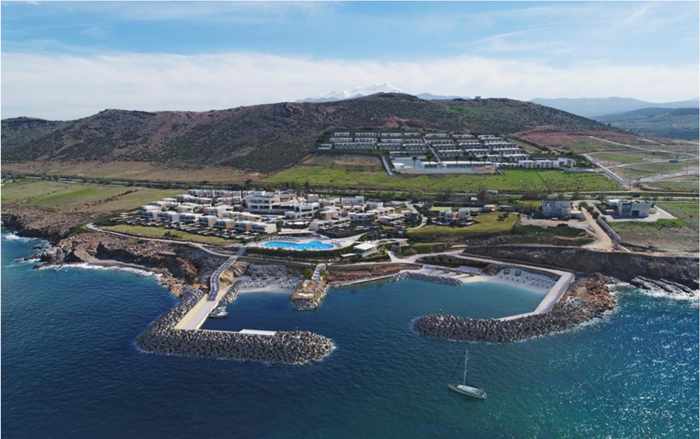 An artistic illustration of the two Troulis Royal Collection hotel properties: The recently renovated Royal Blue hotel complex on the seaside, and the new Royal Senses on the hillside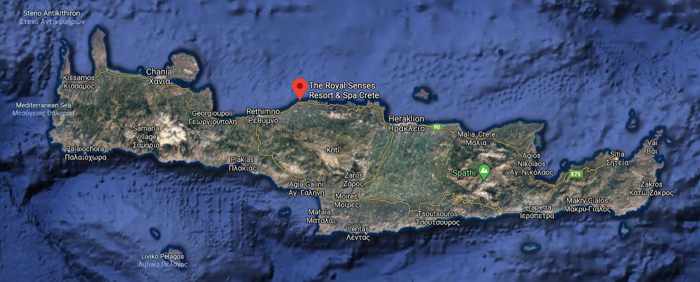 The Royal Senses Resort & Spa location is pinpointed on this Google satellite image of Crete island
Although The Royal Senses and The Royal Blue are premier 5-star resorts, the Troulis Royal Collection evolved from humble beginnings in the 1980s, when farmer Georgios Troulis built the Troulis Apart Hotel in the fishing village of Bali on Crete. It was the first step toward realizing his dream of establishing splendid, unique resorts that would embody the Cretan soul and reflect the island's wild but warm beauty. To that end, Georglos ensured that his sons Kostas, Manolis and Zaharias were educated in the country's best hospitality schools. After their studies were complete, Georgios and his boys set to work building The Royal Blue, which opened in 2009.  Georgios has since passed away; however, his sons have continued striving to fulfill their dad's dream, bringing The Royal Senses to life this year.
The resort boasts 179 suites and villas, four communal swimming pools, 74 private pools, three restaurants, a Marketplace with pop-up food vendors, four bars, a farm with vegetable, fruit and herb gardens, and a full-service spa facility.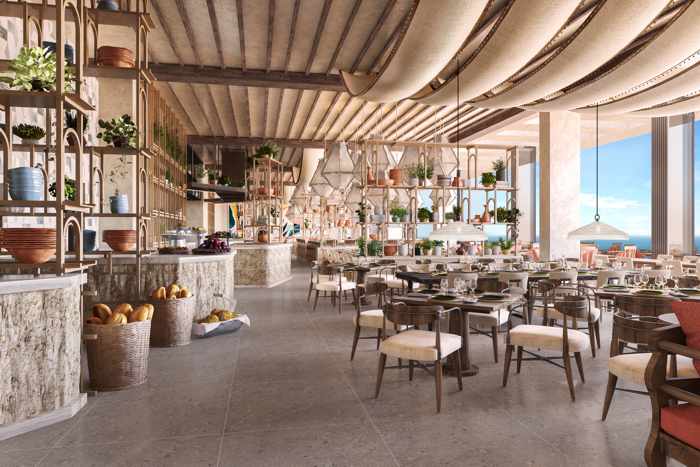 The Royal Senses' main restaurant, which will serve breakfast and dinner 
The Royal Senses was designed and built with a guiding principle of togetherness, to ensure guests could "meet a joyous circle of like-minded travellers seeking authentic, shared experiences."
"We have created this entirely new genus of resort for the new nomads who do not journey to Crete simply to escape — but to find, engage, connect. Be part of this community of kindred souls, connected by a renewed sense of ancient mindfulness," the introduction on the resort website explains.
Those connections will be fostered by the resort's extensive common amenities and facilities, which include:
♦ a main restaurant serving buffet breakfast, continental breakfast and dinner;
♦ The Cretan Lamb à la carte dinner restaurant;
♦ the Tradition & Evolution gourmet à la carte restaurant;
♦ the MarketPlace, where guests can choose from a variety of food and beverage options and check out offerings from local restaurant and shop pop-ups;
♦ the evening Lobby Bar;
♦ the Night Bar;
♦ a pool bar;
♦ a snack bar;
♦ a Kids Club with workshops and excursions designed specifically for children, including pottery, drawing, dancing and theater;
♦ a family farm with fruit and vegetable fields and herb garde;
♦ a boutique shop with local delicacies and products by Greek designers, and
♦ an herbal therapies spa offering massage, Rasul, facial treatments, hydrotherapy, and body therapy. Spa amenities include a hair salon, nail salon, saunas, steam bath, indoor saltwater swimming pool, gym and outdoor fitness area.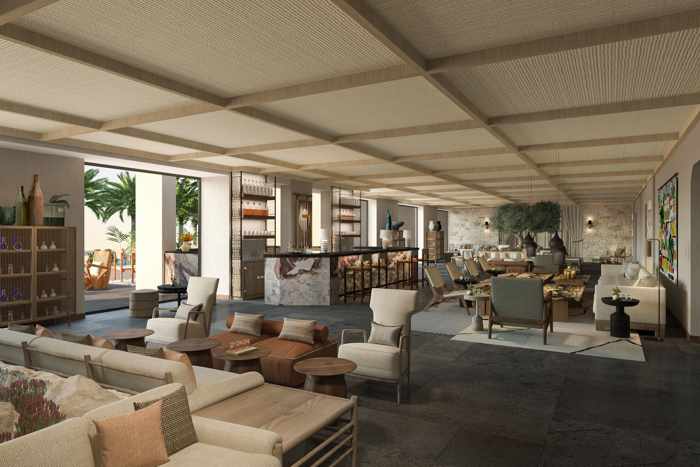 The lobby bar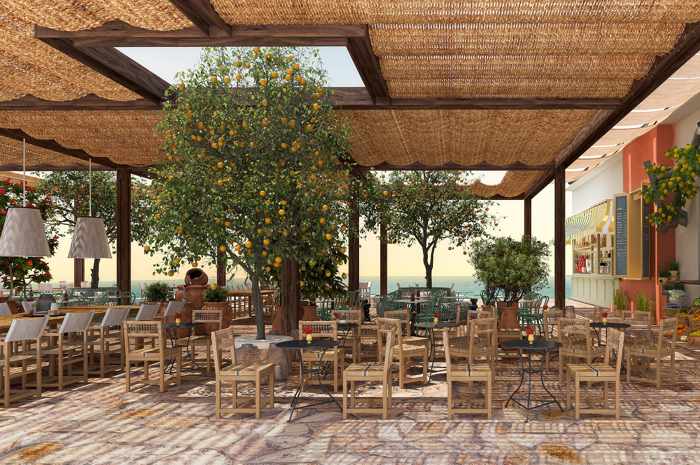 The MarketPlace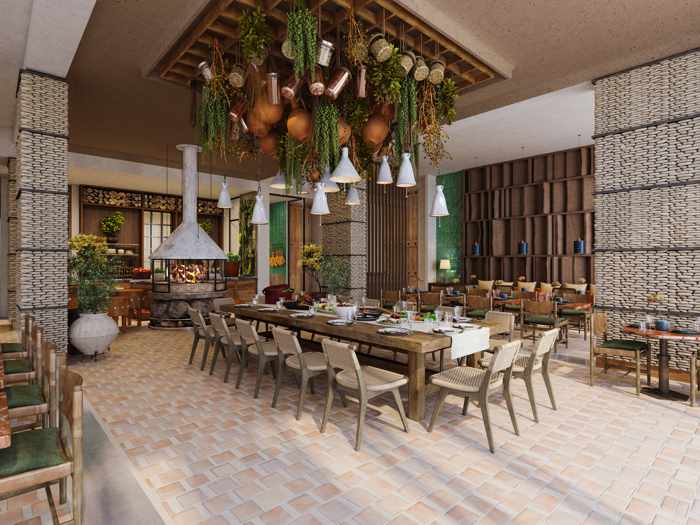 The Cretan Lamb à la carte restaurant
The Royal Senses' 179 suites and villas have been designed and built to blend seamlessly into their rugged natural surroundings. In a hotel media release, Nikos Peppas and Katerina Tsiolaki of Peppas N Architects say: "The landscape's rough beauty creates a wonderful juxtaposition with the clean, minimal lines of the buildings. We  designed and positioned all buildings in such way that ensured unobstructed views to the endless blue of the Aegean Sea, wherever you are."  
The rooms and villa interiors were designed by the consultants HBA/Hirsch Bedner Associates and Constantina Tsoutsikou, who has since established the London-based firm Studio Lost, where she is creative director. Their task was to present the owners' commitment to local authenticity in a contemporary style.
"We wanted to create a destination that benefits local communities," says Tsoutsikou, who briefed local artisans in their workshops and on-site. "I found a wealth of excellent craftsmanship and local techniques that informed the design as we went along. We created handcrafted bespoke furniture, repurposed items, objects and artwork that celebrate the artisanal skills of the islanders throughout".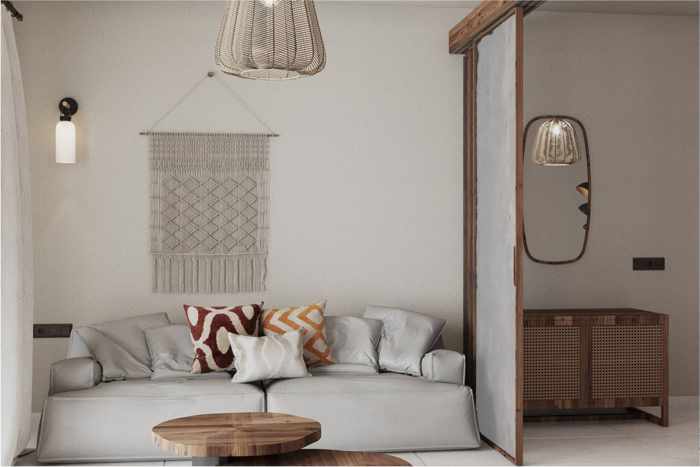 Above: interior design details for one of the family suites
As a hotel media release further explains, "The rooms and suites, all flowing towards their outdoor terrace, are built to remind the contemporary globetrotter exactly where they are — with framed views of the Cretan sea setting the tone. Earthy and textural, every guest room features carpentry and furniture from highly skilled local third-generation craftsmen (many of whom make their living by building traditional fishing boats), while furnishings, such as the cushions, are entirely made by hand in traditional motifs from the local women weavers association. The walls, treated with softly textured paint and cornices, are subtly marked out with traditional Cretan patterning, whereas the juxtaposition of rough and smooth surfaces mirrors the untamed character of the island itself.
"All rooms maximize the time spent outdoors celebrating views and private pools, while the dark metal finishes and details such as leather wrapped door handles add an extra layer of depth in the overall look and feel. The open, boundless, layout connects the indoors with the outdoors and invites guests to enjoy these generous, calm spaces in their entirety," the description adds.
Accommodation categories include:
♦ Superior room  
The Royal Senses has 36 superior sea view double rooms, each of which can sleep up to 3 guests in 32 sq.m. of living space.  The decor features natural materials in a mix of traditional and modern + local and international design elements. 
♦ Sea view family suite
The resort boasts 58 of these 40 sq.m. rooms, which can sleep up to 4 guests . 
♦ Junior suite, and junior suite with sharing pool
There are 5 sea view junior suites and another 5 junior suites with shared swimming pools. The "chic and spacious" suites can accommodate up to 3 guests each in 38 sq.m. of living area.
♦ Luxury junior suite with private pool
These 25 rooms can accommodate up to 3 guests in 35 sq.m. of living space. The decor "takes the best from nature's materials and blends them with a dash of Cretan chic to create the most charming setting," the hotel website says.
♦ Luxury double suite with private pool
There are 21 luxury doubles with private swimming pools, offering what the resort website describes as a balance between "luxury and coziness in the most sophisticated way."  The 32 sq.m. rooms can sleep 3 people.
♦ Grand Villa with private pool
An "ode to luxury living," the Grand Villas offer "70 square meters of design perfection while paying homage to the hotel's Cretan roots." Each of the five Grande Villas has its own private pool.
♦ Royal Senses Villa with private infinity pool
There are 17 of these "ultra luxurious" villas, each with 84 sq.m. of space including "a spacious master bedroom and a bright living room that extends to the outdoors" and "stunning panoramic views of the spectacular scenery." The crowning feature is "a majestic infinity swimming pool, which is the ultimate spot to unwind." These villas can sleep up to 5 guests.
♦ VIP Elite Suites with private infinity pool
These 6 suites encompass 48 sq.m. of space and can sleep up to 4 persons. With a sophisticated yet simple interior design, each features "a spacious, lavishly appointed bedroom" and a light-filled cozy living room,  plus an "exceptionally designed" infinity swimming pool.
Below are images showing the interiors and amenities of some of the resort's rooms and suites: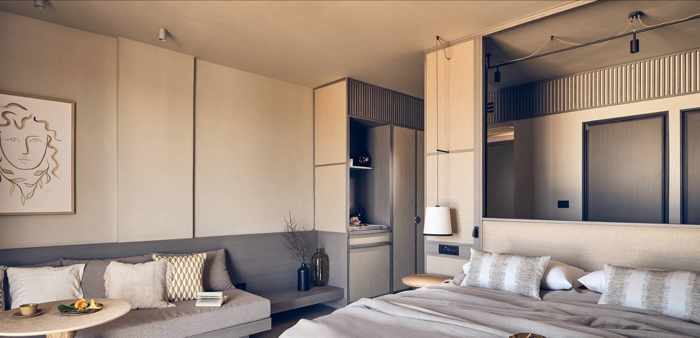 Two interior views of the superior double room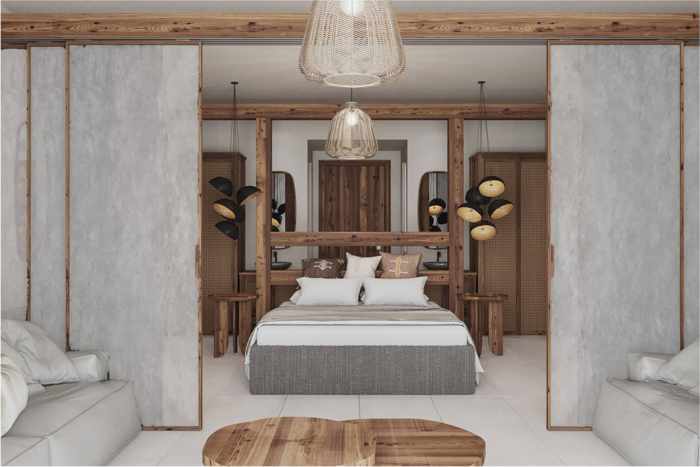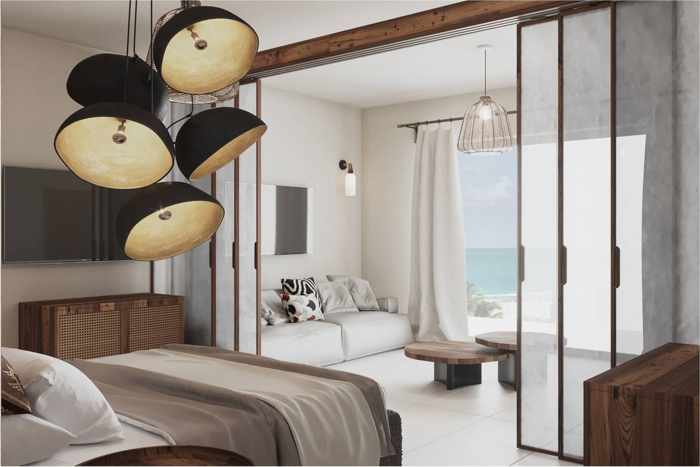 Inside views of the sea view family suite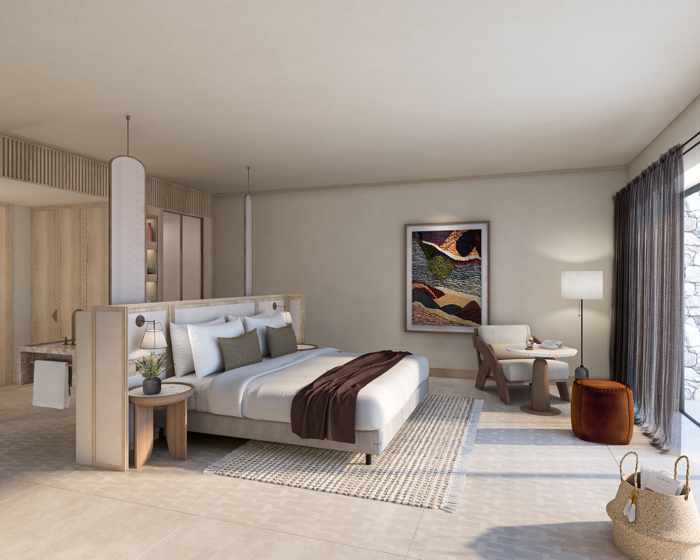 Junior suite bedroom and bathroom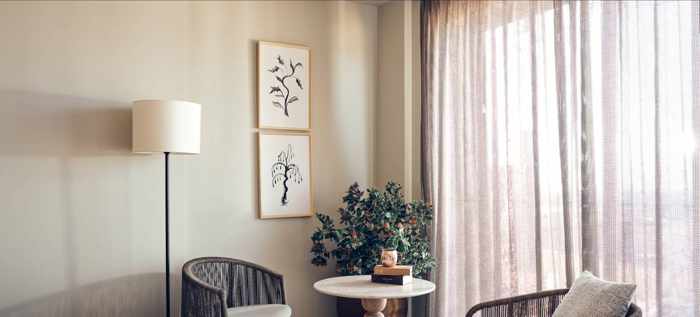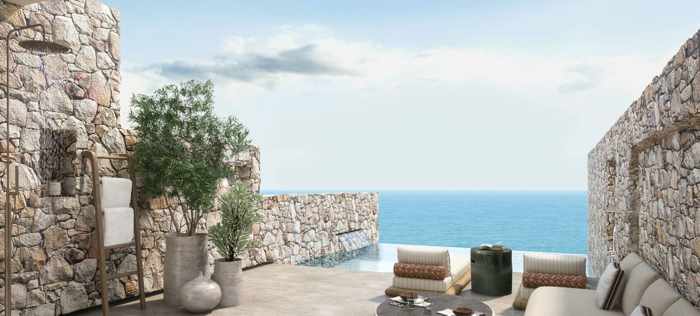 A rendering of an indoor sitting space and the private swimming pool for the luxury junior suites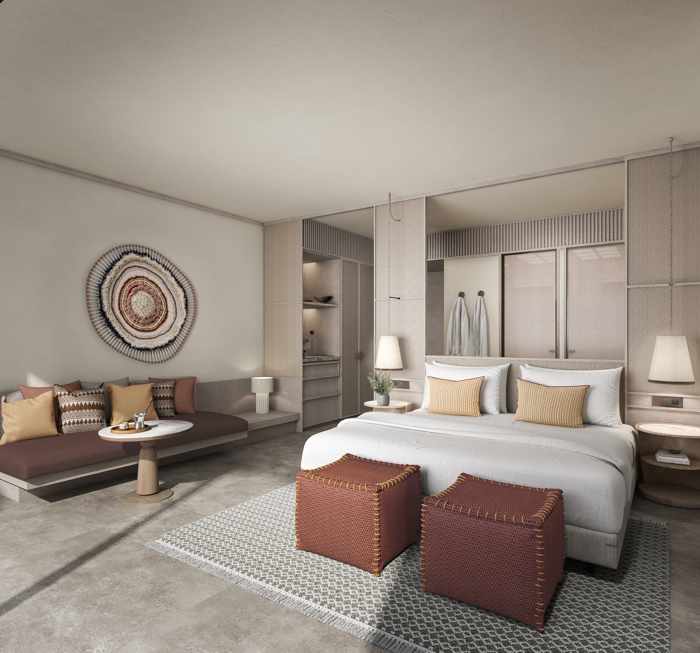 Bedroom in the luxury double suite with private pool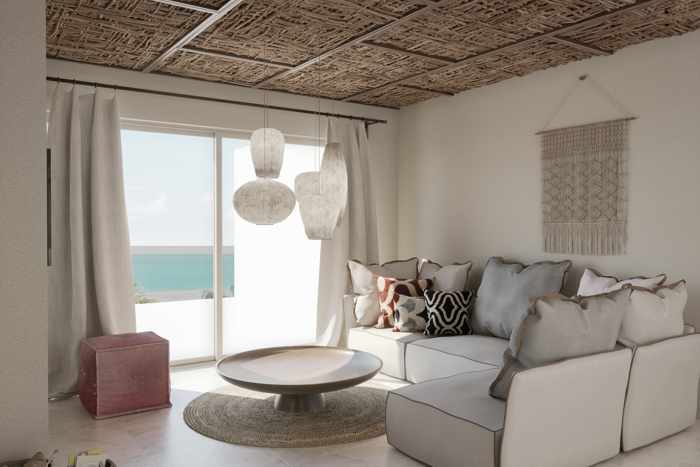 A sitting area in one of the five Grand Villas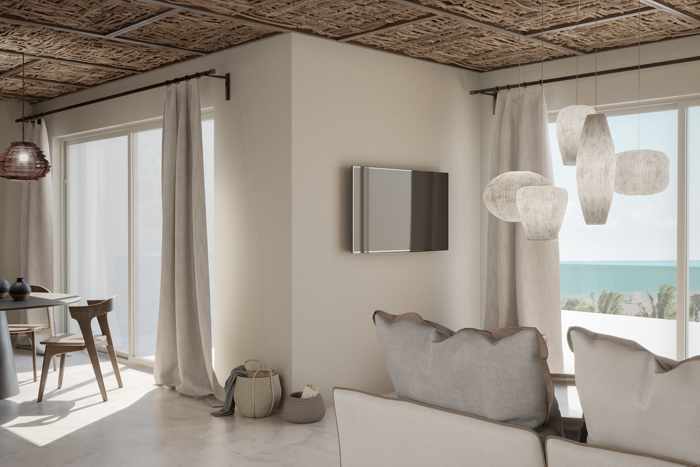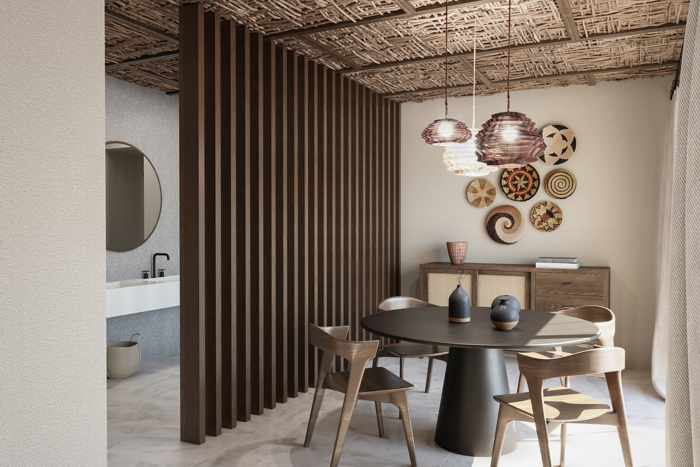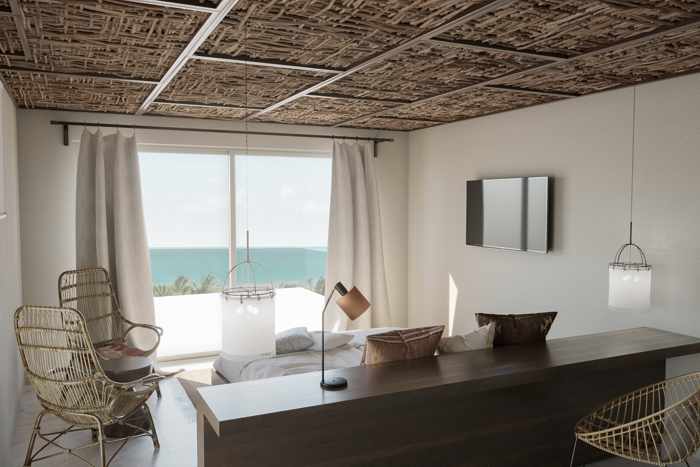 Views of the interior and private pool for the VIP Elite Suite
Accommodation categories and full descriptions of room and suite amenities can be viewed on the online booking page of The Royal Senses website, which is currently accepting reservations for stays starting July 1.