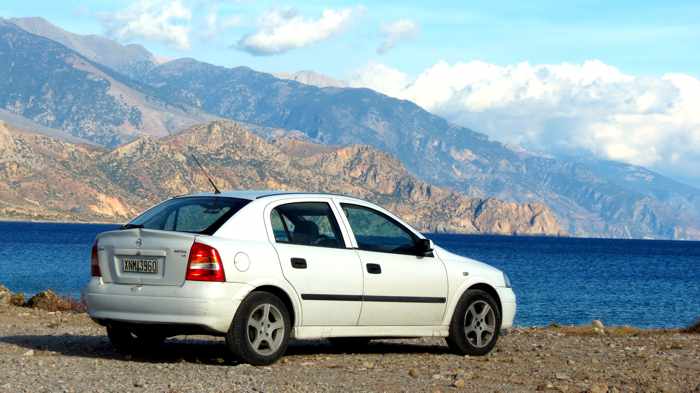 Want to drive around Greece so you can enjoy the spectacular scenery, like this amazing vista near Paleochora on Crete's southwestern coast? Be sure to carry a valid International Driving Permit (IDP), or you could be fined up to €1,000 if you're stopped by police and can't produce one for inspection. 
Pack your permit!: If you don't live in the EU and you plan to rent a vehicle during your holiday in Greece, make sure you obtain a valid International Driving Permit (IDP) before you leave your home country. You could face hefty fines if you're stopped by police and can't produce an IDP while driving anywhere in the country.
Greece has long required tourists from non-EU countries to carry IDPs when they drive, but many vehicle rental agencies haven't demanded to see the document before handing over the keys, requiring tourists to show only the official driver's licence issued by their home state, province or district. I have never been asked if I had an IDP, and when I have offered to show it while signing car hire paperwork, rental agency staff have told me they don't need to see it. However, If I were to be stopped by police for any reason, I could be penalized with a fine for not having an IDP, and if I were involved in an accident, my vehicle insurance coverage could be declared void because of my failure to possess an IDP.
New Greek transportation rules now put the onus on both foreign drivers and vehicle rental agencies to ensure compliance with the IDP law — or each party could face potentially steep penalties for violations.
According to media reports,  including a May 14 2018 newsbrief on ekatherimini.com and a May 15 2018 report on Greek Travel Pages Headlines, motorists from non-EU countries now must have a valid IDP in their possession in order to rent a vehicle and drive, or they could be fined up to €1,000 if stopped by police.  The rental agency could be hit with a similar fine plus face an additional, stiffer penalty  — the vehicle could be seized by authorities. Groups representing rental agencies throughout Greece have protested the new measure and have called on the government to reconsider the legislation.
IDPs are issued in the United States by the American Automobile Association (AAA),  in Australia by the Australian Automobile Association (AAA), in Canada by the Canadian Automobile Association (CAA), and in other countries by authorized motoring groups and clubs. They can be obtained by mail, or during a visit to a local auto association office, but must be obtained before the driver leaves their home country.  Passport-style photos are required for the permit, but if applicants don't bring any the IDP issuing office can usually take photos on the spot. They will of course charge a fee for taking the photos, as well as for issuing the IDP. The last time I obtained an IDP, it took less than 10 minutes for my photo to be taken and my permit to be validated and issued.
Why is an IDP necessary in the first place?
The Australian Automobile Association explains the main reason in this succinct note on its website: "IDPs are a special permit for tourists, authorised by a United Nations Treaty for the purpose of allowing motorists to drive internationally without further tests or applications provided their domestic drivers licence is valid. An IDP is proof that you hold a valid drivers licence in your home country at the date of issue of the IDP and should be carried with your domestic drivers licence."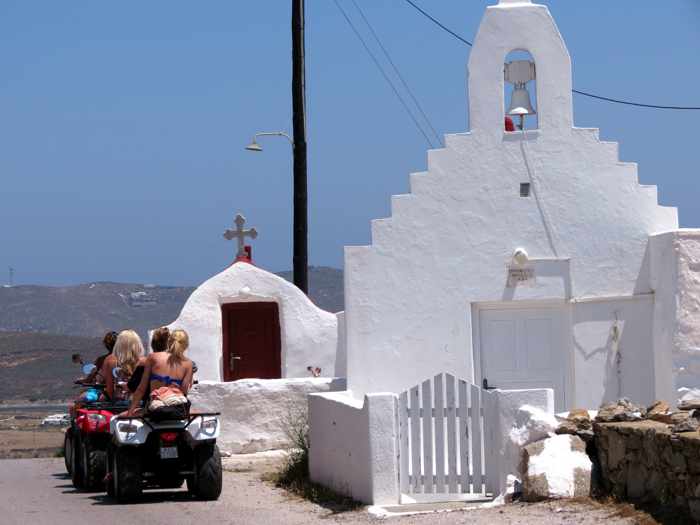 Four young ladies ride ATVs past a whitewashed church on Mykonos. New rules banning 50cc ATVs from paved roads have sparked outrage from vehicle rental agencies on the island, but apparently have been suspended so the federal transportation ministry can further study the matter and consult with stakeholders.
Another new Greek transport regulation would apply to rentals of ATVs, or quads, as they are often called.
In many popular Greek destinations, two kinds of ATV have typically been available for rent: 50cc vehicles, which could be rented only if the driver had a valid driver's licence, and 150cc models, which could be rented only by drivers who possessed a valid motorcycle licence. Under new rules that were being put in place for this season, 50cc ATVs cannot be driven on asphalt or paved roadways, so that essentially means the vast majority of tourists won't be able to rent them to get to the beaches and other places they would most like to visit. 
The rule outraged rental agencies, particularly on Mykonos, where ATV fleets consist mainly of 50cc vehicles. Dozens of companies and individuals rent thousands of ATVs on Mykonos, and face the prospect of losing the vast majority of their business — and income — if the new law is enforced. The IDP requirement will make the situation even worse, since most tourists don't have IDPs (in fact, many aren't even aware that they're supposed to have one if they want to drive overseas.)
The association representing Mykonos ATV owners and rental agencies has complained to the transport ministry, and has staged a number of protests over the new legislation, to try to convince the government to reconsider and overturn the new rules because of the detrimental impact they will have on tourism.  Since the association hasn't received an official response, its members conducted a blockade at the Mykonos New Port on Wednesday May 16 to call attention to the issue. 
In reports on social media, the ATV owners' association announced it had called an end to the port blockade after transport ministry officials announced that rules regarding the controversial ATV ban will be suspended so the government can meet with stakeholders to discuss their concerns and consider the issue further.