Club openings and events in May
This is the official 2016 promotional video for Skandinavian Bar, which for years has been one of the most popular party clubs in Mykonos Town. Its opening party takes place on Friday May 6.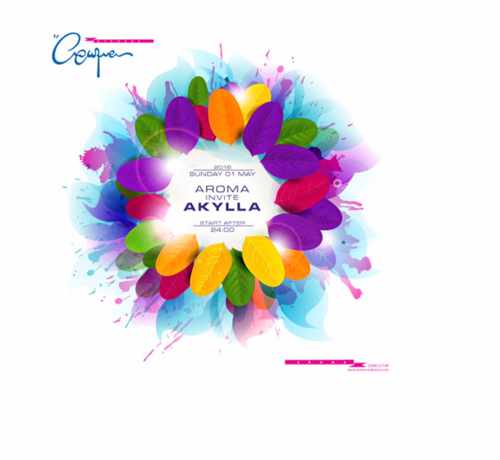 DJ Akylla will be appearing at Aroma Bar on Sunday May 1. The party starts at midnight.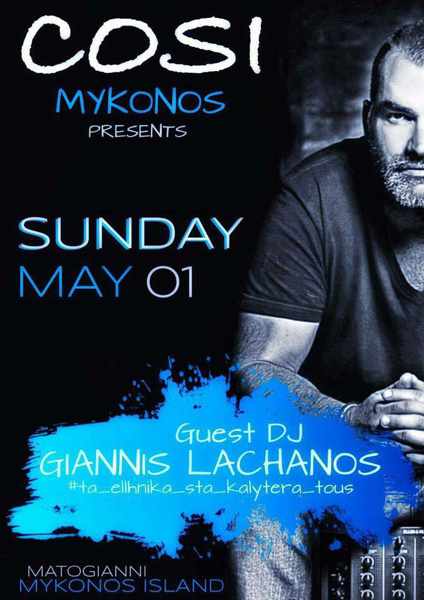 Giannis Lachanos is guest DJ at Cosi Bar on Sunday May 1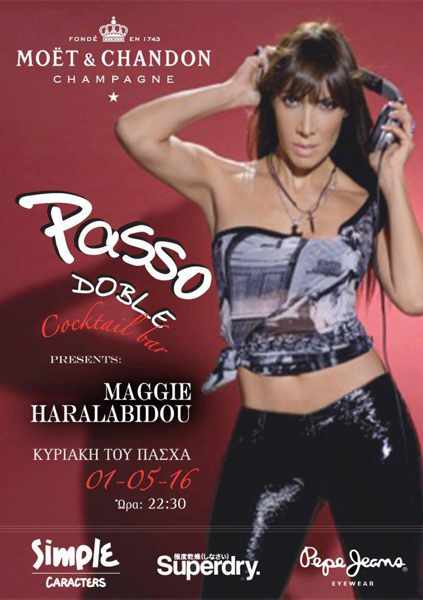 DJ Maggie Haralabidou will be appearing for an Easter weekend party at Passo Doble Cocktail Bar on Sunday May 1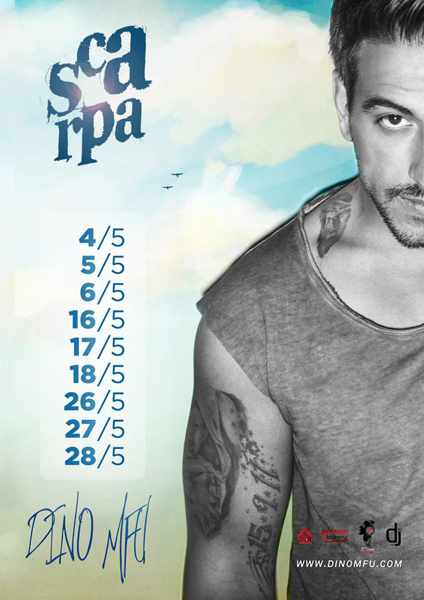 Here's a schedule of dates on which Dino MFU will be spinning at Scarpa in May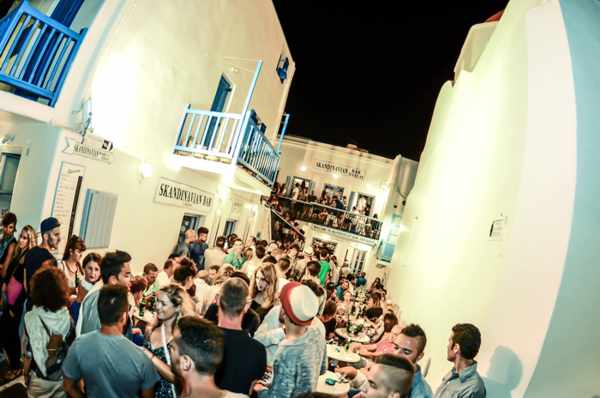 Skandinavian Bar's opening party starts at 8 p.m. on Friday May 6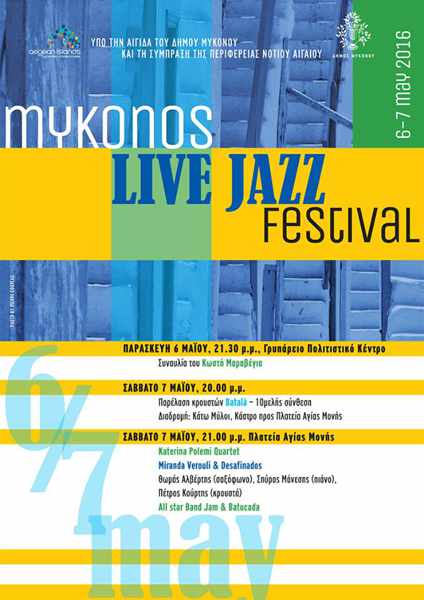 The Mykonos Live Jazz Festival takes place May 6 and 7 in Mykonos Town.  Main event on Friday May 6 is an evening concert at the Grypareio Cultural Center. On the evening of Saturday May 7, a jazz parade will proceed from the windmills at Little Venice  to the Kastro area of town and then to Agia Moni square, where a jazz quartet will perform.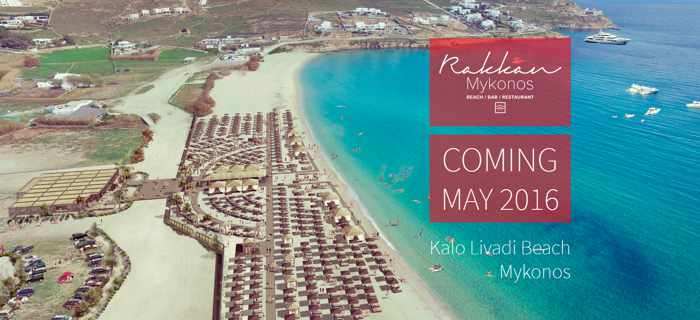 Brand-new for 2016, Rakkan Mykonos Beach Bar Restaurant will be opening in May at Kalo Livadi beach. It's a summer project by the Rakkan Bar Restaurant in the Kifisia district of Athens. Official opening date has not yet been announced.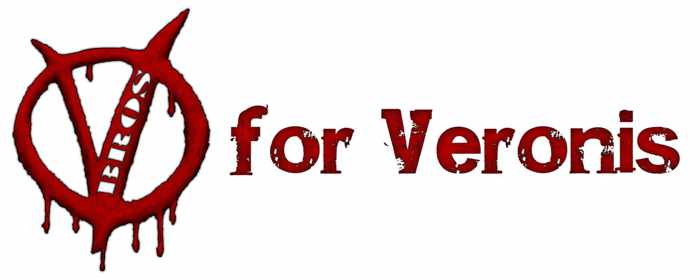 The Veronis Brothers (aka V bros) bring their live Greek rock music show to Notorious Bar in Mykonos Town on Thursday May 12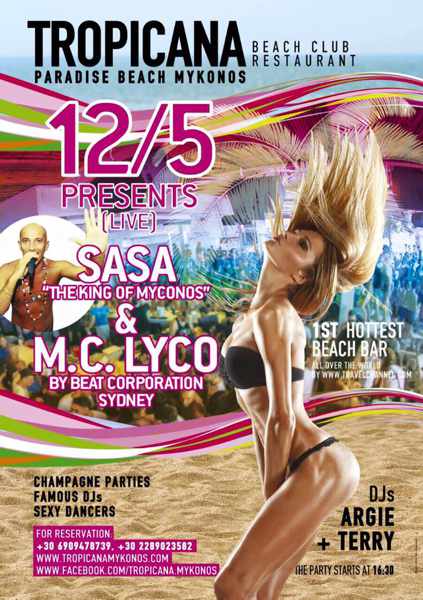 The first major beach party of the summer takes place Thursday May 12 at Tropicana Beach Club.

A new nightspot whose name will be easy to remember — Mykonos Bar — is opening on Friday May 13. The club is located in the former Project Mykonos nightclub premises in Little Venice, and features Greek music.

Cavo Paradiso kicks off its summer roster of international DJs with its season opening party on Saturday May 14. DJ lineup for the event includes Argie, Terry and Heavy G.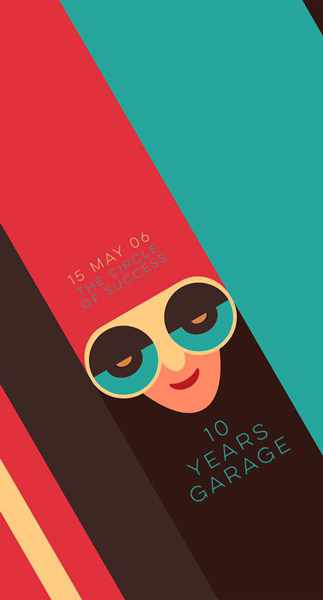 Garage Mykonos celebrates its 10th anniversary on Sunday May 15. The bring your own booze party venue is located at Ano Mera. 

 New to Mykonos in 2015, Scorpios turned out to be the most talked-about club on the island within just a few weeks of its opening. It will be back for its second season at Paraga beach with its grand opening set for May 19.
Buddha Bar Beach is presenting its Cocktail Experience Days May 19 to 22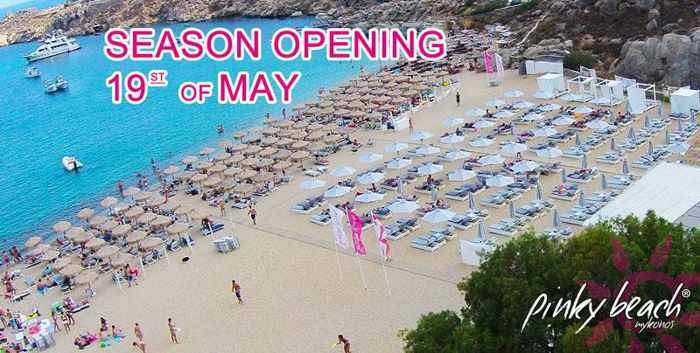 Pinky Beach restaurant and beach club launches its new season on Thursday May 19 at Super Paradise beach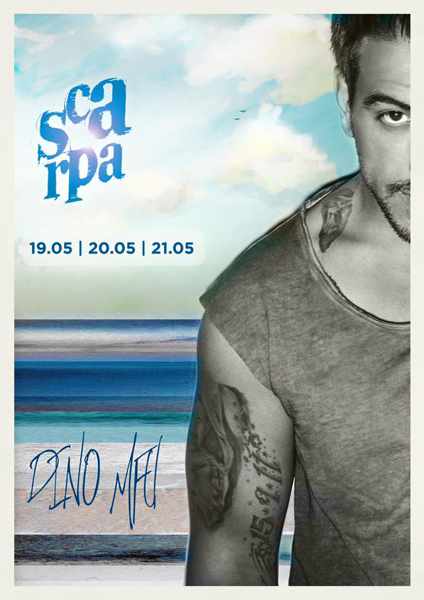 DJ Dino MFU appears at Scarpa for three nights starting Thursday May 19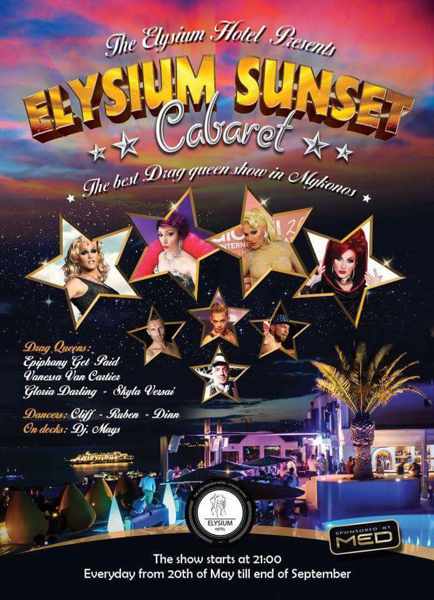 The "str8 friendly" Elysium Hotel's popular Sunset Cabaret is back for another season starting on May 20, with shows beginning at 9 p.m. every day until the end of September.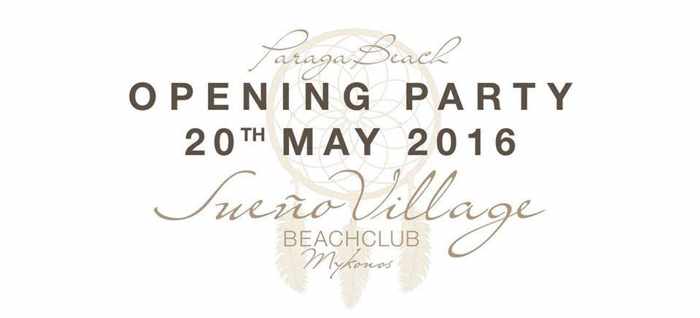 Sueno Village Beach Club is a brand-new beach restaurant and party venue at Paraga beach. Its opening party takes place on Friday May 20.

Paradise Beach Club launches its summer season with a Full Moon party on Saturday May 21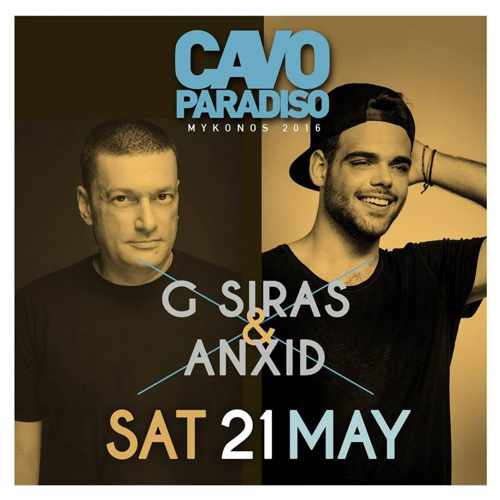 Cavo Paradiso presents G. Siras & AnXid on Saturday May 21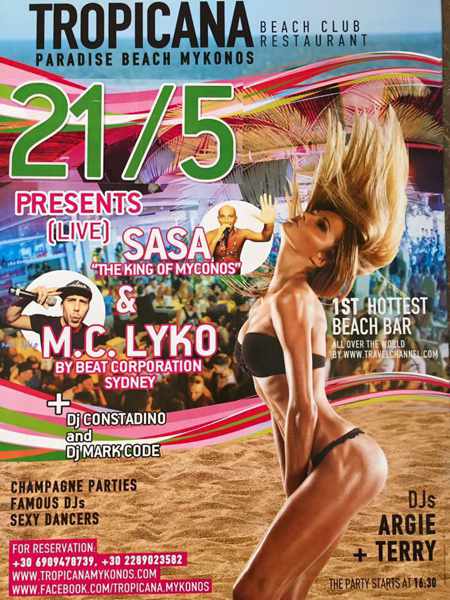 Another hot party gets going at Tropicana beach club starting at 4.30 p.m. on Saturday May 21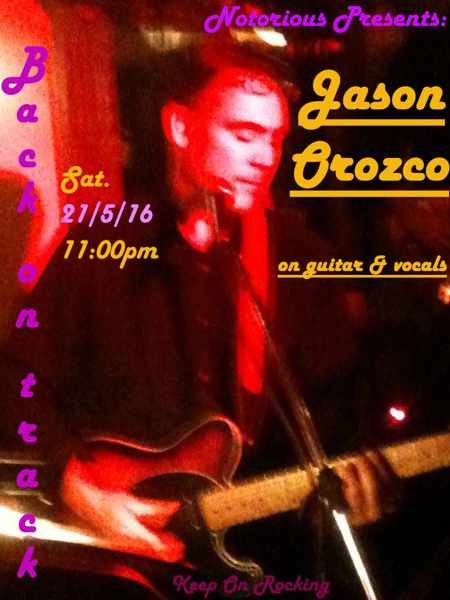 Jason Orozco brings his live rock act to Notorious Bar on Saturday May 21
May 22 is opening night for the weekly Sneaky Sundays program at Scorpios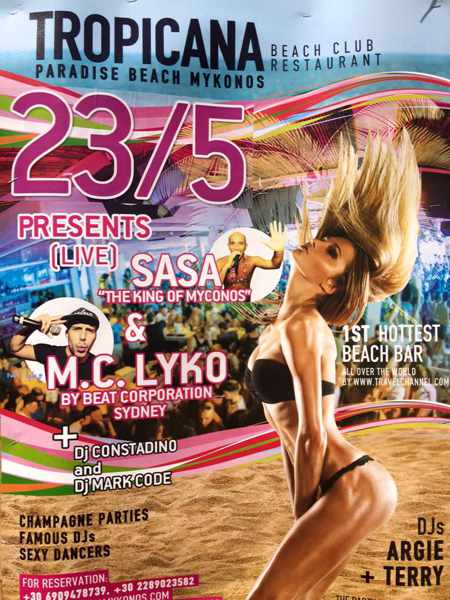 The Monday May 23 beach party at Tropicana Club features M.C. Lyko, DJ Constadino and DJ Mark Code, along with host Sasa, of course

Paradise Club celebrates its 13th anniversary on Tuesday May 24 with DJ appearances by Mossel, Anatoli, Zenn & Kid Angelo, and Acejax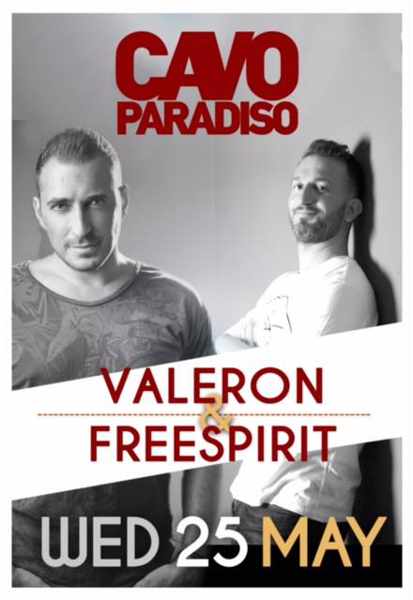 Valeron & Freespirit headline at Cavo Paradiso on Wednesday May 25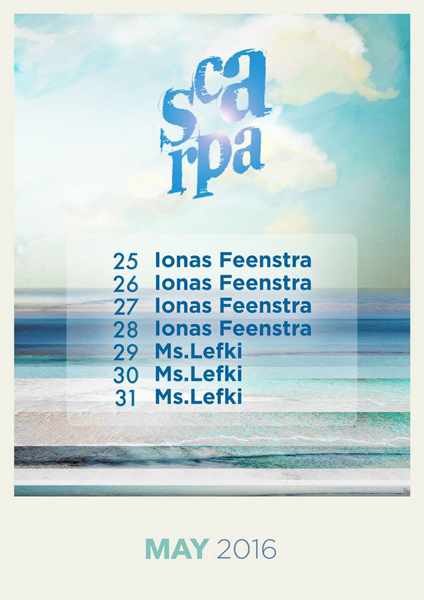 This is Scarpa Bar's DJ roster for May 25 through 31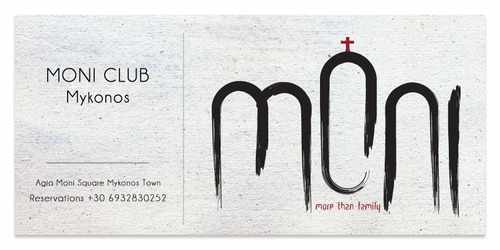 Moni nightclub opens for the summer on Friday May 27

Kalua Bar kicks off its summer series of Friday beach parties on May 27 with its Obsessions opening party featuring DJ Agent Greg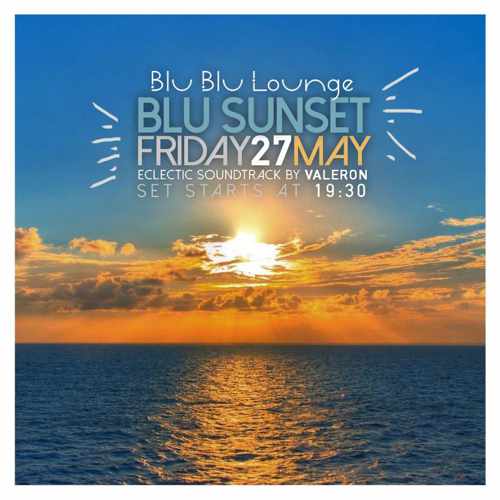 From its hillside location above the Old Port, Blu Blu Lounge has one of the best sunset views on Mykonos. This summer, you'll be able to enjoy those views — while chilling to "eclectic lounge music" provided by such DJs as Kevin Yost Music and a roster of local talent. Launch party for this event takes place Friday May 27 with music by Valeron.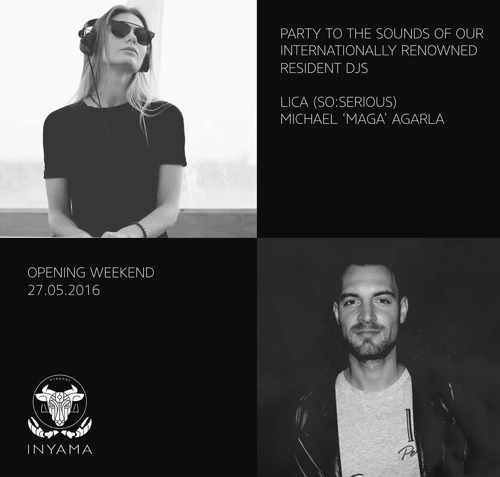 Inyama restaurant is celebrating its second season on Mykonos with an opening weekend party on Friday May 27 featuring DJs LICA and MAGA
Ace2Ace appears at Cavo Paradiso for the Show Me Love party on Saturday May 28.  Also on the lineup are special guest Fraanklyn and supporting DJS  CHRIS CHILD, Andjelo Bandovic & Jorgie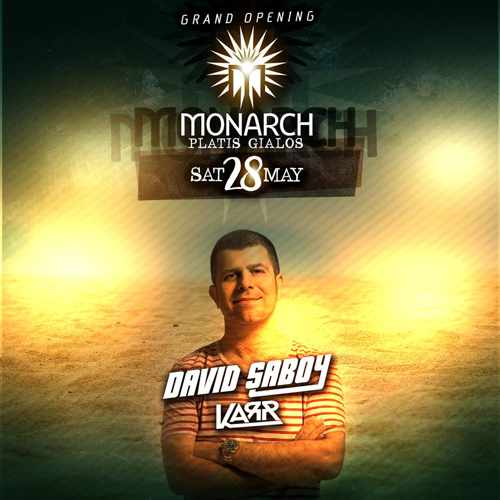 Monarch celebrates its grand opening at Platis Gialos beach on Saturday May 28.  The party starts at 5.30 and features special guests DJ David Saboy.
Room 101 kicks off its Kokomploko Greek Nights on Saturday  May 28

Kaz James headlines the Sneaky Sundays program at Scorpios on May 29

Paradise Club presents Ibiza to Mykonos on Sunday May 29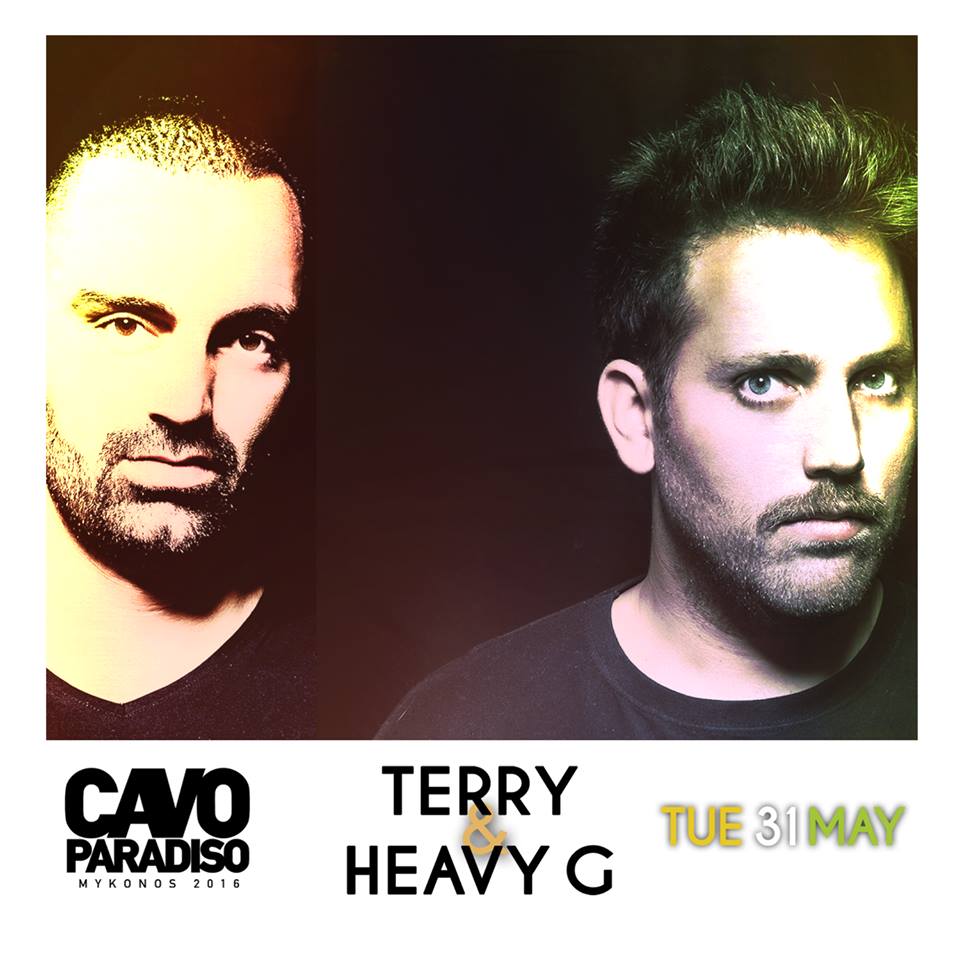 Cavo Paradiso presents Terry & Heavy G on Tuesday May 31