Along the highway to Ano Mera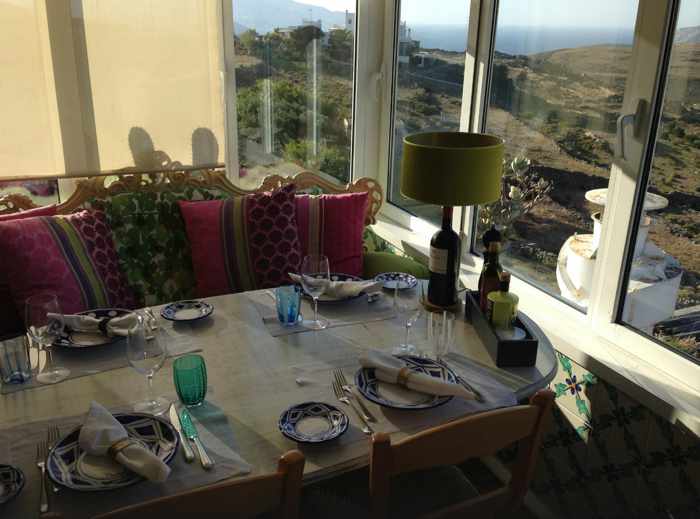 A table with a view at La Cucina di Daniele on the Ano Mera highway. This photo was shared online by TripAdvisor member Giacomo G.
Daniele's:  Mykonos boasts plenty of Italian restaurants, but La Cucina di Daniele has for years ranked at the top of the class. Daniele's, as locals and regular guests prefer to call the place, is named after Daniele Chiantini, who originally hails from Sienna, Italy.  An acclaimed gourmet chef, Daniele uses top-quality ingredients (including many organic products) to create simple but sophisticated dishes that Italian and Mediterranean food afficionados frequently describe with one word: "superb." Daniele's pasta and bread are home-made, and her restaurant boasts a vast wine cellar with a wide selection of vintages from Greece, Italy and France. La Cucina di Daniele doesn't have a website, unfortunately, but there is a Facebook group page for the restaurant on which Daniele and her friends and fans share photos of her fine cuisine. The restaurant is open from afternoon until late at night. Click here to read TripAdvisor reviews for La Cucina di Daniele.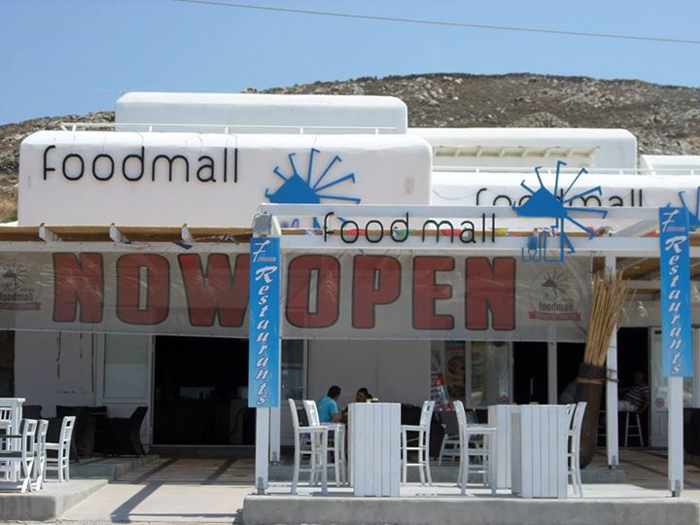 Food Mall Mykonos is located on the highway from Mykonos Town to Ano Mera
Food Mall: Feeling famished but not sure what kind of food you'd like to eat? If you've got access to a set of wheels, just head to the mall and choose from five different restaurants offering extensive varieties of Greek, Asian, American, Mexican and Italian cuisine, as well as fresh seafood. No car or scooter to take you there? No problem! The mall offers delivery service for those who can't make it there in person! And whether it's 3 in the afternoon or 4 in the morning, the mall is open and ready to tantalize your tastebuds. In fact, it's open 24 hours a day, 7 days a week. It's the new Food Mall Mykonos, which opened in early June in a whitewashed Myconian-style building on the road to Ano Mera. Seating is available both inside the mall and out, and meals can be pre-ordered by phone for pick-up and take-out.
Below are photos and thumbnail descriptions of each of the mall's restaurants: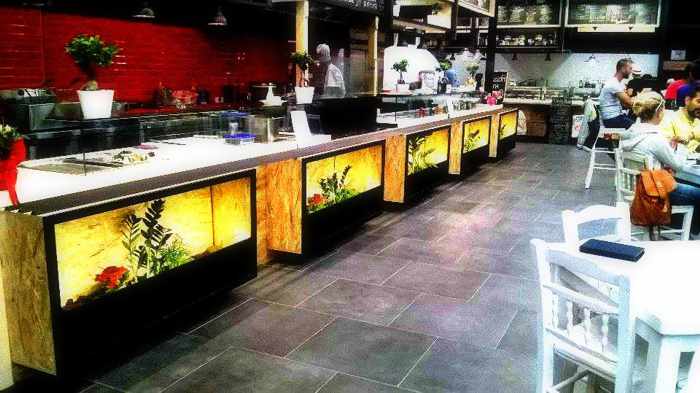 The Asian Taste menu includes popular Japanese and Chinese dishes
Asian Taste Mykonos offers a variety of Japanese sushi and sashimi, along with a complete à la carte menu of classic Chinese dishes, including sweet & sour chicken, szechuan beef, and orange duck.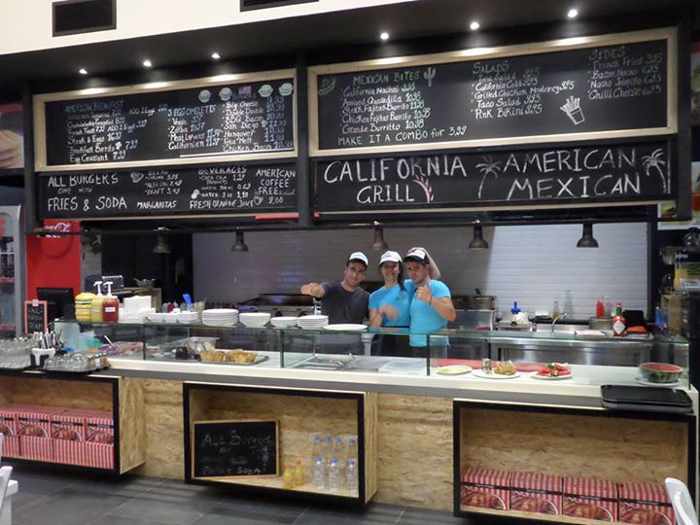 California Grill offers all-day American breakfasts along with burgers and sandwiches plus Mexican-style fajitos, nachos and quesadillas
California Grill serves American and Mexican-American dishes, including classic all-day breakfast fare like made-to-order omelets and pancake stacks "made the American way."  Lunch and dinner items include burgers and sandwiches, while customers craving some Mexican tastes can order from a selection of fajitas, nachos, quesadillas and breakfast burritos.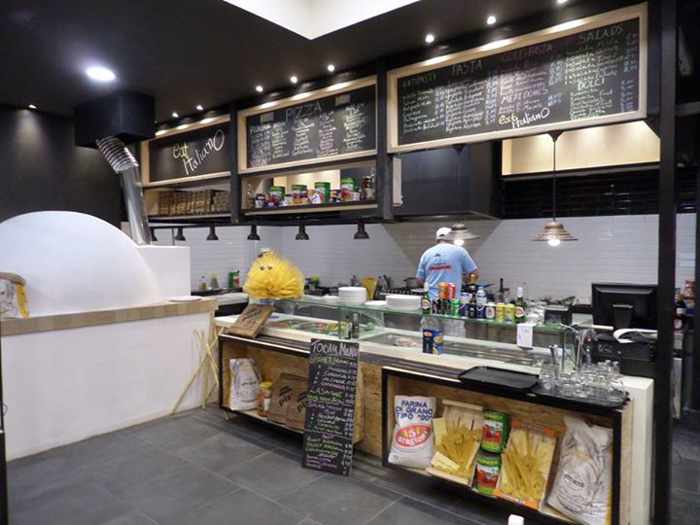 Choose from pizzas or a multi-course meal at Eat Italiano Mykonos
Eat Italiano Mykonos boasts a classical Italian specialties by Italian chef Alex Pizzaiolo. A traditional multiple-course menu is available, with antipasti starters, primi (first course) pasta selections, insalate (Italian salads), and secondi di carne (meat dishes). Made-to-order pizza also is available.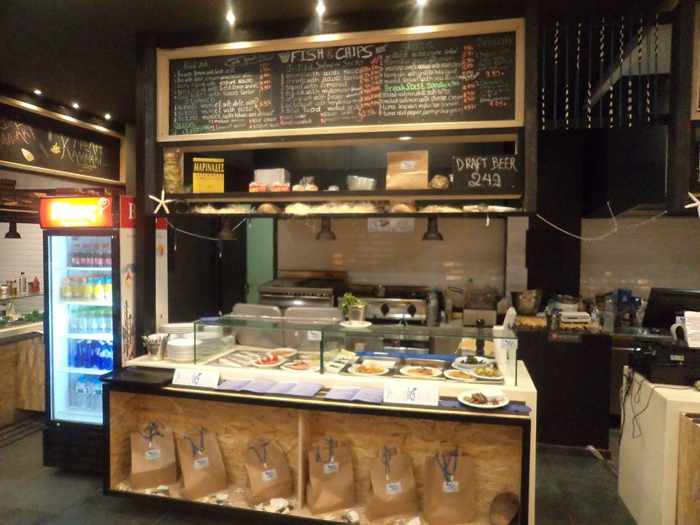 Seafood Ideas serves a variety of fresh fish and seafood dishes, including classic fish & chips
Seafood Ideas prepares fresh fish and Mediterranean-style seafood entrees and sandwiches. Specialty dishes include octopus skewers, steamed mussles, breaded calamari and grilled shrimp.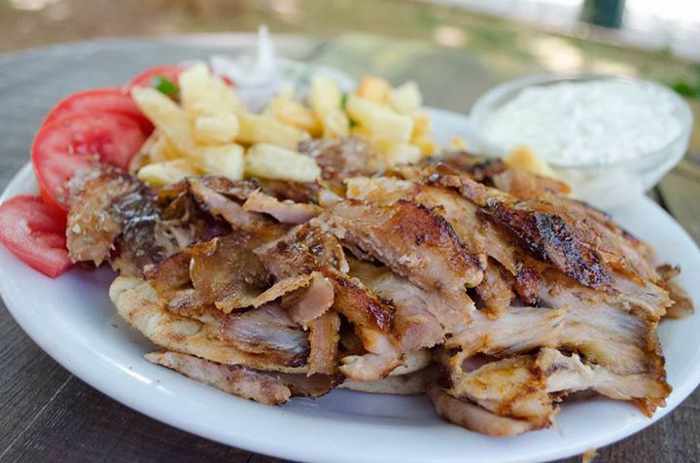 An open-face gyros is one of the specialities of Souvlaki Kipsili Kalamaki
Souvlaki Kipsili Kalamaki specializes in Greek grilled meat dishes, such as gyros, souvlaki, and skewers, which are prepared in the traditional Greek way using authentic recipes by owner Adonis Tsoulos. Wrapped and "open face" gyros and souvlaki dishes are available, as are lamb and beef kebabs, grilled chicken, sausage and pork kebabs, and a selection of salads.
Although all five eateries are brand-new to Mykonos this year, each individual shop is operated by an established restaurant in Athens that serves the same cuisine. (Asian Taste Mykonos, for example, is a "sister" to Asian Taste Athens, which is located in the heart of the Greek capital, while California Grill is the Mykonos outpost of the California Grill in the Chalandri neighbourhood of Athens.)
You can view photos of the mall's restaurants and many of their signature dishes on the Food Mall Mykonos Facebook page, as well as on the Food Mall Mykonos website, where you can peruse menus for each establishment and obtain delivery information. Prices seem reasonable, though it's difficult to tell from photos and descriptions just how large individual portions might be. I haven't heard from anyone who has been to Food Mall Mykonos yet, so I cannot pass along any feedback from friends or contacts. As of August 23 there was only one review on TripAdvisor, and that was for Asian Taste only. Click here to read it.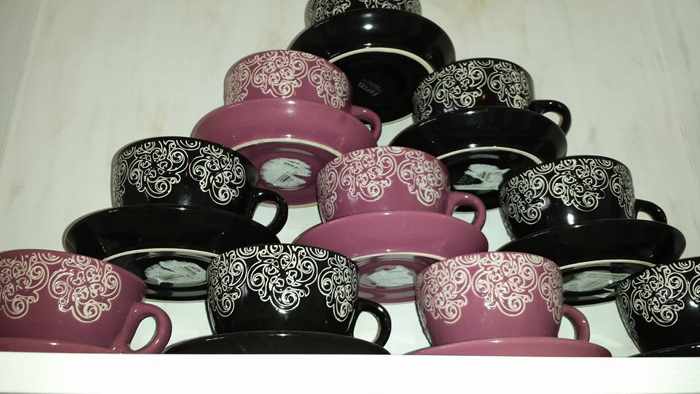 A pyramid of coffee cups at MJ Cafe in the Klouvas area of Mykonos
MJ Café: Newly opened in May of this year, MJ Café is situated in the Klouvas area of Mykonos along the highway to Ano Mera.  That makes it a handy place to stop for coffee, snacks or a light meal if you find yourself feeling peckish while driving to or from Ano Mera or one of the beautiful beaches on the southern coast of Mykonos. According to the MJ Café Facebook page, the café boasts "the best coffee in Mykonos!", but I've heard from a friend who lives on the island that MJ's food is pretty good, too. The menu lists breakfast items (including pastries), plus pizza, burgers, sandwiches and desserts. Besides tea and coffee, customers can order beer or cocktails.  Take-away and delivery service is available.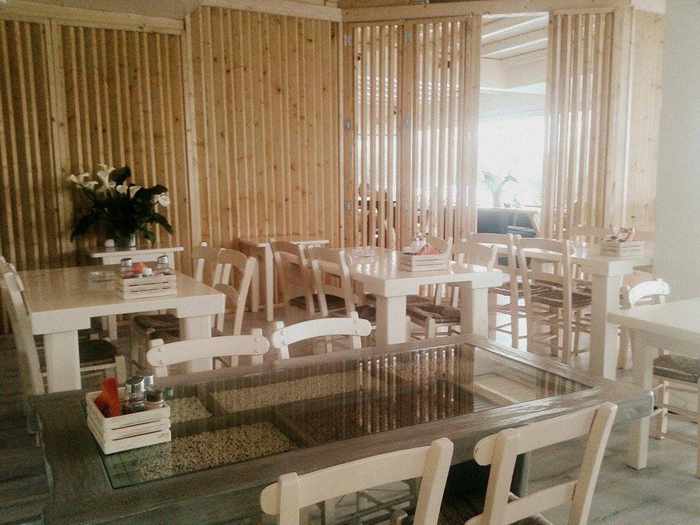 Part of the dining room at Paprika, a cheap 'n' cheerful Greek food restaurant
Paprika: If you're a repeat Mykonos visitor who has been to Ano Mera a few times, or has driven past the village area on the way to a beach, you might recall seeing or even stopping at Aquarius Souvlaki and Aquarius Coffee & Snacks right next door. Aquarius used to receive good reviews as an unassuming, cheap 'n' cheerful spot to get yummy gyros, souvlaki and other fast food fare, but it closed last year. The Aquarius premises are now home to Paprika and Wild Cafe-Bar, and the good news is that the same things people liked about the old places have continued with the new. Readers of my blog have told me that Wild serves good coffee, and I've noticed from Facebook posts that Wild is a popular place for Myconos locals to party and socialize over drinks. For its part, Paprika serves a wider range of traditional Greek food besides gyros and souvlaki — there's about a dozen different appetizer items, salads, moussaka, stuffed tomatoes and peppers, meat stews, grilled meats,  and many more dishes cooked fresh each day, some with cheese and meat produced right on Mykonos (such as kopanisti cheese and Myconian sausage). Readers have told me Paprika's cuisine is good quality and very reasonably priced, and they said the service is friendly and efficient. To find Paprika and Wild, keep your eyes peeled on the right side of the highway as you drive from Mykonos Town to Ano Mera. The restaurants are just past the Fokos beach turnoff, and a few hundred meters before the right turn to reach Ano Mera Square. Click here to read TripAdvisor reviews for Paprika.
Places to eat at Ano Mera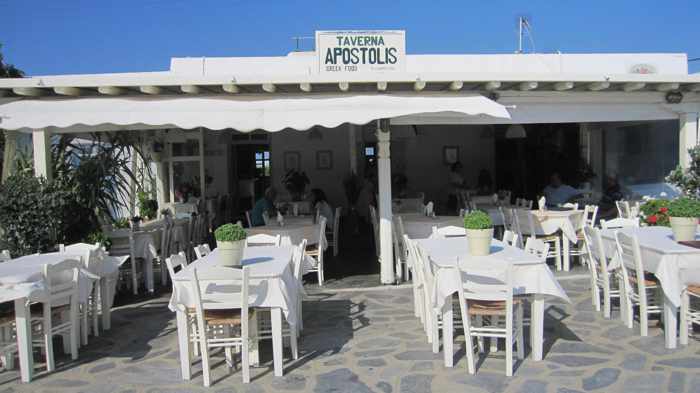 Apostolis is one of more than half a dozen tavernas lining the Ano Mera square
Apostolis: Friends who have sampled most of the tavernas at the Ano Mera town square have told me they liked the food and friendly service at Taverna Apostolis the best.  They said Apostolis has more of a "family feel" than the others (it is operated by a local family), and has reasonable prices for delicious traditional Greek cuisine.  The taverna opens in the morning for breakfast, and stays open for lunch and dinner, usually closing well after midnight. To read TripAdvisor reviews for Taverna Apostolis, click here.

Town square view of Fisherman Giorgos & Marina Taverna
Fisherman Giorgos & Marina: As its name suggests, Fisherman Giorgos & Marina Taverna serves fresh fish and seafood — but its menu is much more extensive, offering a wide range of traditional Greek dishes including salads, vegetables and meats.  (Photos of some of their dishes can be seen in a gallery on the restaurant website.) The taverna says meal prices typically start at €15 per person, and the feedback I have heard  has generally been positive, with people telling me they felt the restaurant delivered very good taste and value for the price. Click here to see the TripAdvisor reviews for Fisherman Giorgos & Marina.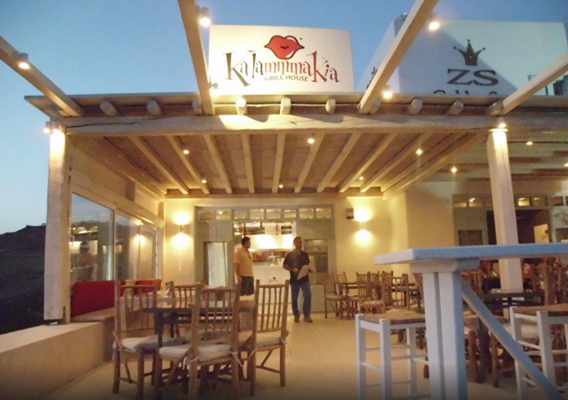 Kalammmakia Grill House photo by TripAdvisor member erijon
Kalammmakia: If you're hankering for a cheap and cheerful place to grab a bite to eat while on your way to or from some of the big beaches along the southeast coast of Mykonos, make plans to stop at Kalammmakia grill house in Ano Mera. (It's one of two Kalammmakia outlets on the island — the other is in the heart of Mykonos Town.) The restaurant menu offers a wide variety of reasonably-priced food and beverage items, including its namesake meat skewers, kebabs, pita wraps, appetizers, salads, burgers, steaks and sweets. Like its counterpart in Town, Kalammmakia at Ano Mera is open from noon until 3 a.m. Click here to read Kalammmakia's reviews on TripAdvisor.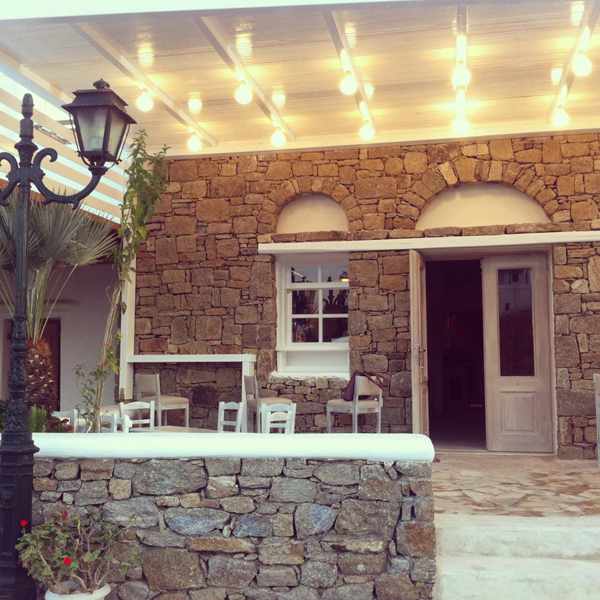 Ntekoto has been a hugely popular cafe since it opened
Ntekoto: One of the most popular places to eat in Ano Mera, Ntekoto is a restaurant known for excellent breakfast and brunch fare, coffee, detox juices, sandwiches, desserts,  and a wine bar.  It was opened in 2013 by Antonia Kiassou and Giorgos Pispas, and since then has been a huge hit with Mykonos visitors on their way to or from beaches on the island's southeastern coast. Ntekoto boasts a stylish interior decor, and customers say the food is just as nice. Besides its hearty breakfast omelets and rich coffees, visitors recommend the deli sandwiches, burgers, pizzas and home-made pies. Ntekoto also gets kudos for reasonable prices and warm, friendly service. You can see photos of some of the specialty coffees and food treats on the Ntekoto Facebook page, and you can click here to read the restaurant's reviews on TripAdvisor. Ntekoto is open from 8 a.m. until 1 a.m. May through October.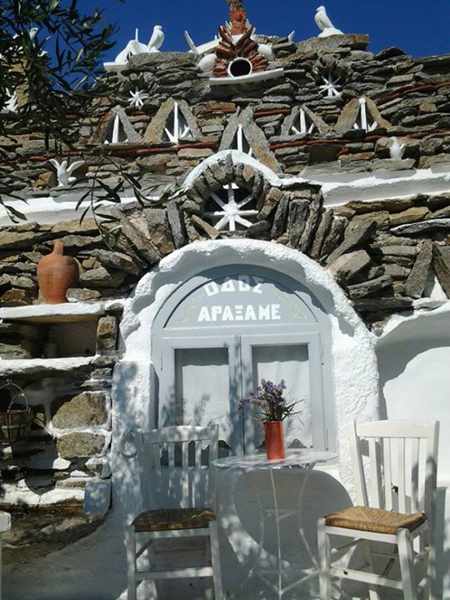 A table and chairs on the terrace at Odos Araxame
Odos Araxame: Looking for a good alternative to the bigger tourist-magnet tavernas at Ano Mera Square? Odos Araxame should fit the bill nicely. Popular with island residents who drop by to watch sports games on TV and grab a drink with friends, Odos Araxame is a friendly cafe that welcomes visitors, too, with good coffee, delicious home-made Greek food, and very reasonable prices. Besides coffee, it serves omelets and other breakfast fare, Greek salads, a selection of mezes (small plates perfect for sampling and sharing), home-made meat and vegetable dishes, desserts, ouzo, raki and beer. Click here to read TripAdvisor reviews for Odos Araxame.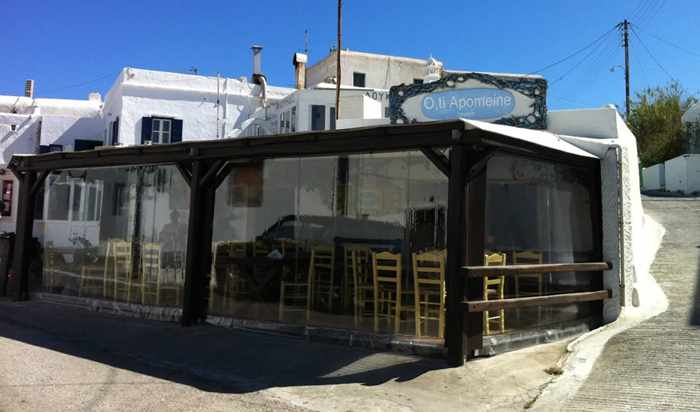 Street view of Oti Apomeine, near the Ano Mera square
Oti Apomeine: The name is Greek for "whatever is left," and I can only assume that Oti Apomeine had absolutely no food left when we stopped by for a meal on my birthday in May 2009.  Otherwise, I can't explain why the two women who were working in the taverna at the time fled from view when we  approached to look at a menu and inquire what was on offer. We called out "hello" several times, then waited a few minutes, but they didn't appear.  Was the taverna open? We felt certain it was — we had seen two customers eating lunch when we had walked past Oti Apomeine mere minutes earlier, and dishes on theirs and another table still had not been cleared. Was the restaurant closed? Perhaps, but one of the ladies could at least have come out and told us. We gave up and started walking away, having decided to eat at one of the restaurants at Ano Mera town square instead. When we glanced back, we saw the two women peering at us from the corner of a window. Strange! We haven't made it back to Ano Mera to give Oti Apomeine another try, but according to what we have read and heard from other travellers, we probably would have enjoyed the taverna. By all accounts it's a pleasant and reasonably-priced place to enjoy delicious traditional Greek cuisine and grilled meats (I've been told the grilled pork is one of their best dishes.) Click here to read TripAdvisor reviews for Oti Apomeine.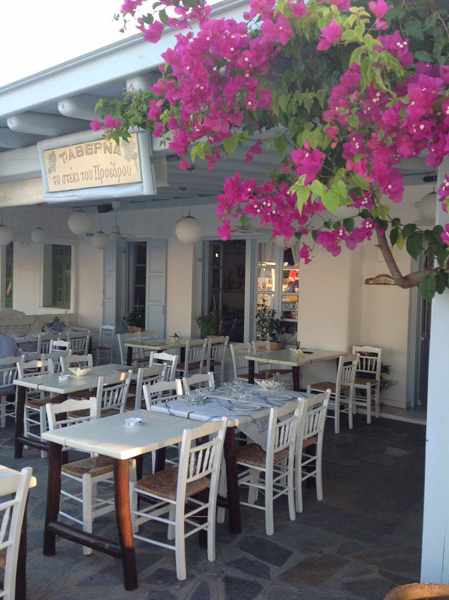 Part of the outdoor dining terrace at To Steki Tou Proedrou Taverna
Steki Proedrou: One of the most popular restaurants at the Ano Mera town square, To Steki Tou Proedrou describes itself (on its website) as "an ideal place for connoisseurs and gourmets," but it serves traditional Greek taverna food, not chic contemporary cuisine that many people associate with "gourmet" eateries. To Steki has an extensive menu of vegetable, meat and fish dishes, and I've heard from a number of people that its food is delicious and the prices quite reasonable. (People have recommended the moussaka in particular, as well as the lamb chops and chicken dishes.) Comments about the service have been very good, as well. Click here to see TripAdvisor reviews for To Steki.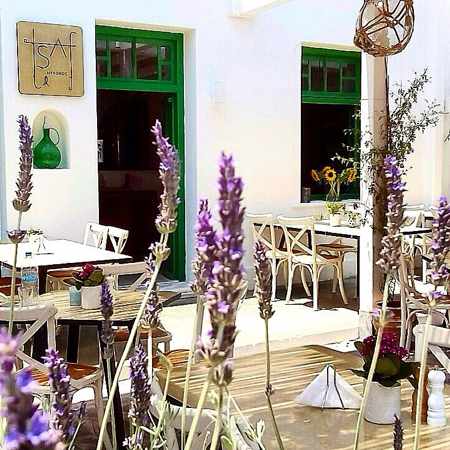 From Facebook, a photo of the outdoor dining area at Tsaf Mykonos
Tsaf: A new arrival to the taverna-lined square at Ano Mera, Tsaf seafood and Greek restaurant opened on July 10 just in time for the peak summer season. If the restaurant name rings a bell, it's because Tsaf was previously located in Evoia. The Tsaf Mykonos Facebook page explains:  "Tsaf decided to move this year to Mykonos and brings from Evoia its secret recipes for its seafood and fish delicacies!" The restaurant doesn't have any reviews on TripAdvisor yet, but reviews posted on its Facebook page give it an average rating of 4.8 stars out of 5. There are similarly positive reviews on a Facebook business listing page for Tsaf. Both of the Facebook pages include photos of the restaurant as well as some of its seafood delights. Tsaf is open daily from lunchtime until past midnight.
Town square view of the busy patio at Taverna Vangelis
Vangelis: A mainstay at the Ano Mera square, Taverna Vangelis has been in business since 1953 and is still going strong.  A traditional Greek fish taverna, the restaurant is popular for its seafood and Mediterranean cuisine, though I've heard and read complaints that the prices are high (though portions tend to be large). You can see photos of the restaurant and some of its dishes, as well as a few reviews, on the Taverna Vangelis Facebook business listing. There are a few more photos and a couple of videos, all from 2014, on the Taverna Vangelis Facebook page.  To read TripAdvisor reviews for Taverna Vangelis, click here.
Kalo Livadi beach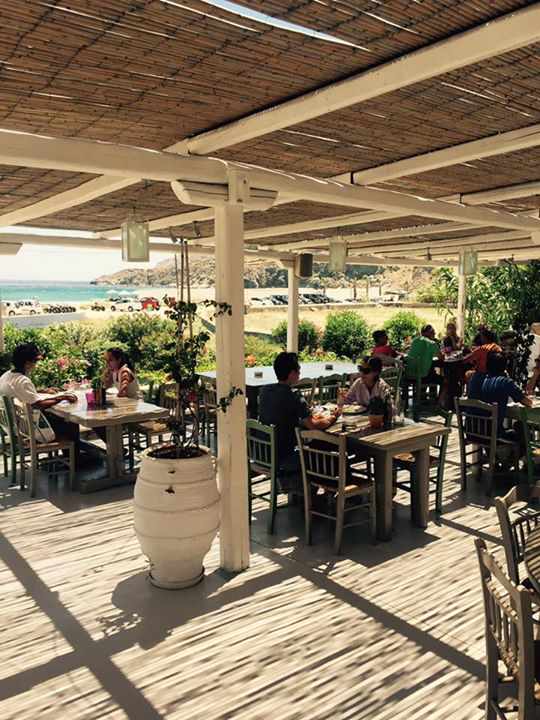 Altro Seaside Trattoria sits several dozen meters back from Kalo Livadi beach, as this photo by Makis Kontovas shows
Altro: When the Hollywood-themed Nice n Easy Mykonos relocated to the Little Venice seafront in Mykonos Town this spring, its former premises at Kalo Livadi were promptly acquired and extensively renovated into a new Italian restaurant, Altro Seaside Trattoria E Pizzeria, which opened in early June.  Altro is set back from the big sandy beach where it maintains its own rows of sunbeds and umbrellas. The menu by Chef Apostolis Trestelis features the usual fare you would expect from a trattoria — a variety of Italian dishes including salads, pasta, pizzas and desserts, along with some fish and seafood items. I don't know anyone who has dined here yet, but I've seen numerous online comments and most reviews are quite favourable. One noteworthy positive feature of the restaurant that has been pointed out by several reviewers is that Altro is the only restaurant at Kalo Livadi that doesn't blast loud music — something rare for a restaurant & bar at a major Mykonos beach. Click here to read TripAdvisor reviews for Altro.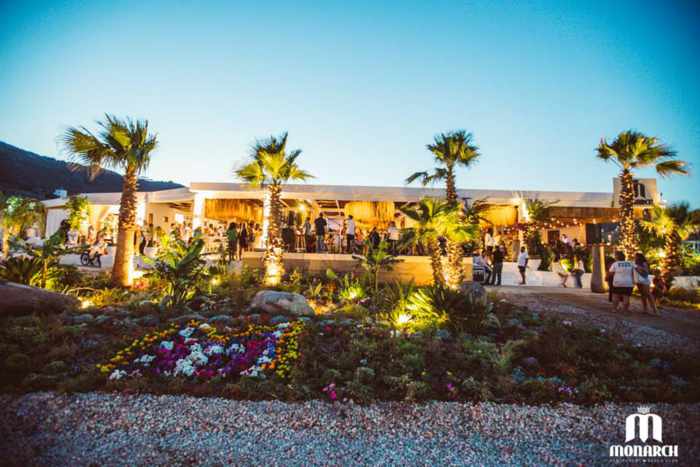 Twilight view of the new Monarch Restaurant and Beach Club
Monarch: For 10 years the leading beach restaurant and bar on Mykonos has been Nammos at Psarou beach, known around the world as one of the top Mediterranean summer playgrounds for the world's beautiful, rich, famous and fabulous.  New competition is hoping to give Nammos a run for the money.  Monarch Restaurant and Beach Club is one of two brand-new beach venues (the other is Scorpios) muscling in for a share of the upper-crust beach club market that Nammos has dominated for the past decade. Open since late May in the premises formerly occupied by Barbarola restaurant, Monarch's menu features "Mediterranean-inspired" dishes created by Michelin-starred chef Alain Parodi. On its website, Monarch promises that Parodi's cuisine will deliver "a sophisticated gastronomic experience, which can satisfy even the most demanding palettes." Meanwhile, Monarch's wine list includes "labels from the best Greek and international vineyards," and its bar boasts delightful cocktails mixed by a "world class Barman." The club has an extensive beachfront area furnished with lounge chairs, umbrellas, opium beds and cabanas, from which guests can enjoy beverage service from the Monarch bar. From its opening date to mid-August, Monarch has hosted numerous special events, including live performances by Greek music stars such as Anna Vissi and Melisses, as well as parties headlined by top international DJs. I haven't had any direct feedback about Monarch from friends who have travelled to Mykonos this summer (so far, none have gone to Kalo Livadi beach yet), but two of my blog readers wrote to say they enjoyed Monarch several times during a holiday in early June, shortly after the club opened. On TripAdvisor, however, comments are decidedly mixed, with a number of rave reviews as well some scathing criticism of the club's service, high prices and loud music. Click here to read the reviews and judge for yourself.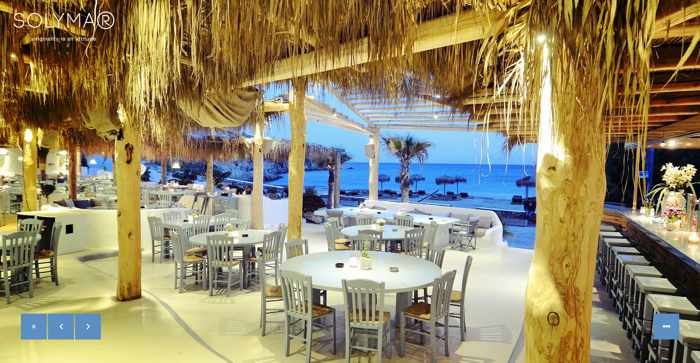 Solymar's large dining terrace overlooks Kalo Livadi beach and bay
Solymar: A perennially popular venue at Kalo Livadi, Solymar restaurant and beach bar is a trendy drinking and dining spot for the upscale beach crowd. Featuring sophisticated culinary creations by Chef Marios Tsouris, the restaurant features an extensive menu of Mediterranean cuisine that includes hot and cold appetizers, salads, pasta, risotto, seafood, meat and sushi. The wine cellar features vintages from Greece and around the world, and the champagne selection includes a wide variety of Moët & Chandon, Armand de Brignac, Dom Pérignon and Cristal Louis Roederer. Solymar's spacious open-air dining terrace looks directly onto the soft golden sand of Kalo Livadi beach, and has views of the beautiful wide bay. Several times each summer, Solymar throws a big party, bringing in big-name DJs like David Morales and Hector Moreno to entertain.  At the first event this year,  Alexandros Christopoulos will headline with his signature Sun:Set beach party on May 30. Solymar starts its season on May 1. Click here to read Solymar's reviews on TripAdvisor.
Ornos beach resort area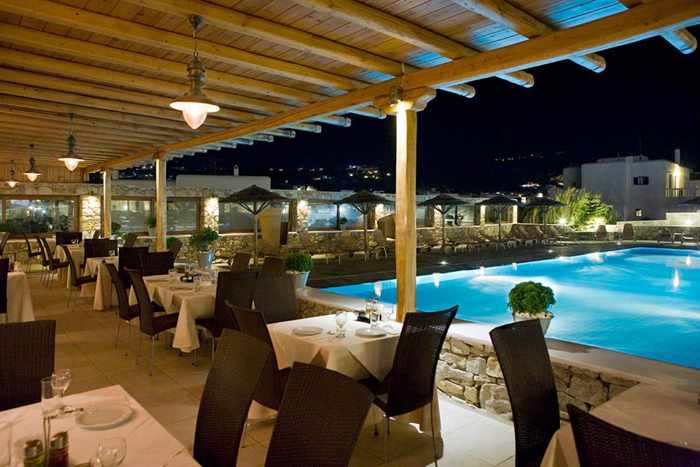 Aleka restaurant is situated poolside at the Yiannaki Hotel
Aleka: One of the Ornos restaurants that consistently gets good buzz isn't located on the beach strip at all, but rather at the Yiannaki Hotel, just a short walk away on the north side of the main road from Ornos to Agios Ioannis.  Situated on an open-air terrace beside the Yiannaki's swimming pool, Aleka by all accounts sounds as though it is well worth the 10-minute or so walk to get there from most Ornos hotels. Although the Yiannaki website doesn't say much about Aleka, merely describing it as "a spacious and elegant a la carte restaurant, offering the finest wines and home cooked Greek cuisine with excellent service guaranteed," travellers are more effusive in online reviews, giving it high marks for congenial service as well as hearty portions of reasonably-priced and delicious food. The Yiannaki website doesn't provide any information about Aleka's hours, so if you're interested in having dinner here you should contact the hotel to inquire about reservations. To read TripAdvisor reviews for Aleka, click here.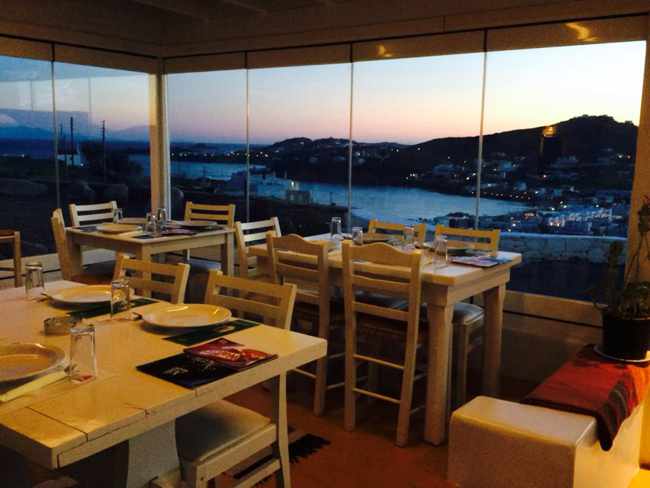 Anixi taverna overlooks Korfos Bay and the Ornos resort area 
Anixi: On an island as busy and popular as Mykonos, it's a challenge to find a good restaurant that's off the beaten path and not sleekly designed and branded to lure in the lucrative tourist traffic. But Anixi taverna, from what friends have told me, is one such "hidden gem" (though it's well-known by island residents, it's still not on the radar for most Mykonos visitors.) Located on a hillside between Mykonos Town and Ornos, Anixi taverna has indoor and outdoor dining areas presenting wonderful views of Korfos Bay on one side, and the Ornos resort area on the other. By all accounts (and I've heard and read many), Anixi's Greek cuisine and seafood are as delightful as the views. The lobser spaghetti is apparently a standout, and if you scan posts on the unoffical Anixi page on Facebook, you'll see dozens of photos people have taken of this particular signature dish. Though it's within walking distance of the main resort area at Ornos, Anixi taverna can be difficult to find. But if you stop by the family-run Anixi Hotel at Ornos, I'm sure Eleni will be happy to give you directions to her brother's restaurant. There is no listing for Anixi taverna on TripAdvisor, but many of the Anixi Hotel reviews give the restaurant top marks and highly recommend it. In fact, the reviews repeatedly mention three key descriptions: delicious food, large portions, and reasonable prices. Just my kind of place! If you do plan to have a meal at Anixi, be sure to arrive hungry!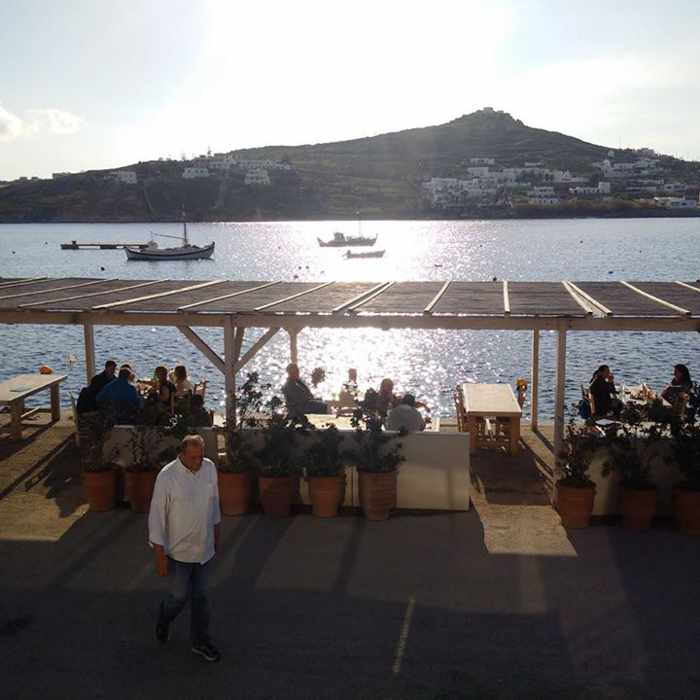 Apaggio has  a row of tables right on the edge of Ornos Bay
Apaggio: Open year-round, Apaggio Seaside Hellenic Restaurant is situated at Ornos along the road leading from the beach to the Santa Marina luxury resort. Apaggio specializes in fish and seafood, and boasts an extensive selection of ouzo and tsipouro, but its menu also includes meat and pasta dishes, as well as beer and wine.  The restaurant has a row of seaside tables as well as an open-air dining terrace that is sheltered by a glass-panelled wall on days of strong wind or inclement weather. From time to time the restaurant brings in local musicians to entertain diners with Greek music. I heard endless praise about the place throughout 2014 (its first season of operation), and wasn't surprised — the owner used to operate the tremendously popular and excellent Ithaki restaurant at Ornos before he moved to a new location to open Apaggio. Click here to read Apaggio's reviews on TripAdvisor.
From the Aperanto Galazio website, a short video tour of the restaurant and its beachfront loungers
Aperanto Galazio: Its name means "endless blue" or "the big blue," and you'll find Aperanto Galazio Seaside Cuisine Bar at the west (far right) end of Ornos beach, facing directly onto the gorgeous turquoise waters of Ornos bay. It's open all day, so you can grab a coffee there in the morning, drop by for lunch, dinner or drinks on the beach, enjoy an evening cocktail or cap off a full day of Mykonos fun with a late-night drink. The kitchen specializes in Greek and Mediterranean dishes, and is open until 9 p.m. (21:00) each evening.  The restaurant has its own lounge chairs and umbrellas on its beachfront, where customers can relax to the sound of soul, jazz and lounge music. Aperanto Galazio started its season on April 9, and will be open into late October. Click here to read TripAdvisor reviews for Aperanto Galazio.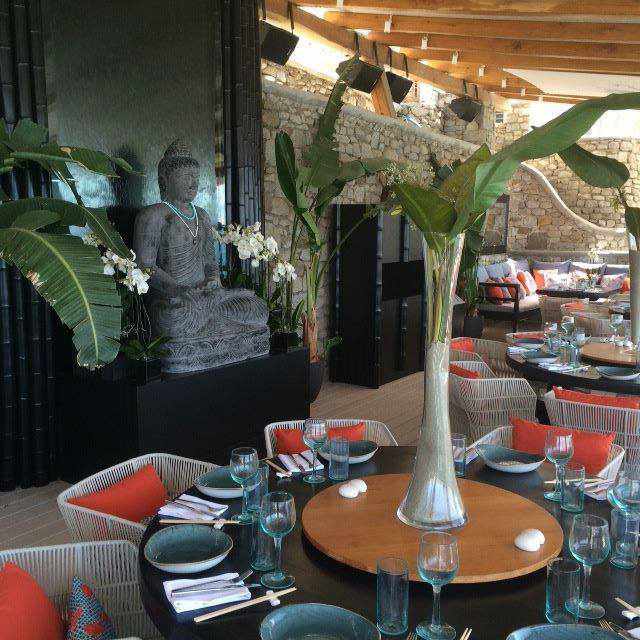 Buddha-Bar Beach opens May 20 at the Santa Marina Resort
Buddha-Bar Beach:  Can't tell you much about dining at Buddha-Bar Beach yet because it's new to Mykonos this season; in fact, it's the first-ever Buddha-Bar Beach restaurant and bar to open anywhere in the world. The newest member of the international Buddha-Bar music and entertainment family, Buddha-Bar Beach Mykonos is scheduled to open May 20 in the ultra-luxe Santa Marina Resort on Ornos Bay.  The Buddha-Bar Beach website claims the club will offer a "unique dining and lifestyle summer experience," whether for cocktails, dining or special parties and other events. "Blending neo-Asian cuisine, mixology, and world renowned music with stunning interiors, we aim to give our guests a truly sensuous and serene experience which delights all senses," the website states. Buddha-Bar Beach is one of the most eagerly anticipated new arrivals on Mykonos this summer, so it will be interesting to hear visitor feedback as the season progresses. Stay tuned.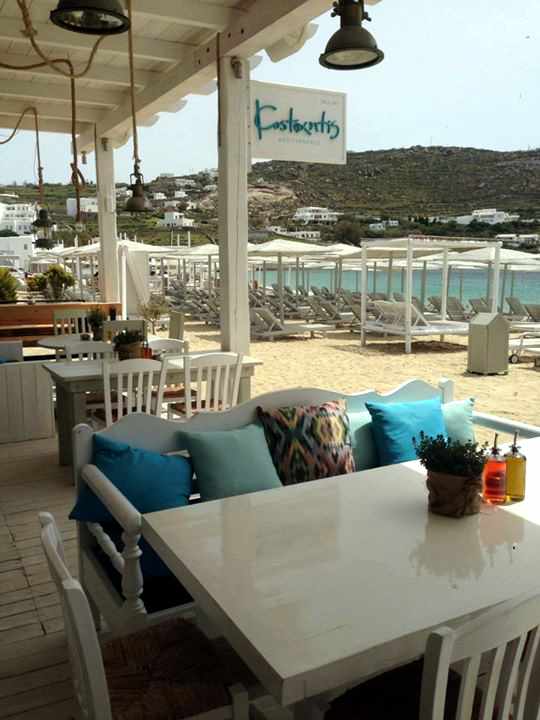 The open-air dining room at Kostantis Restaurant is right beside Ornos beach
Kostantis: A mainstay at Ornos since 1967, Kostantis Restaurant has been a beachside favourite for its seafood, Greek and Mediterranean cuisine. Its large open-air dining room fronts directly on the sandy beach, offering diners a view of Ornos bay. The restaurant is open for breakfast and serves food and drinks throughout the day, closing late at night. This year, Kostantis started its season on April 26. To read reviews of Kostantis on TripAdvisor, click here.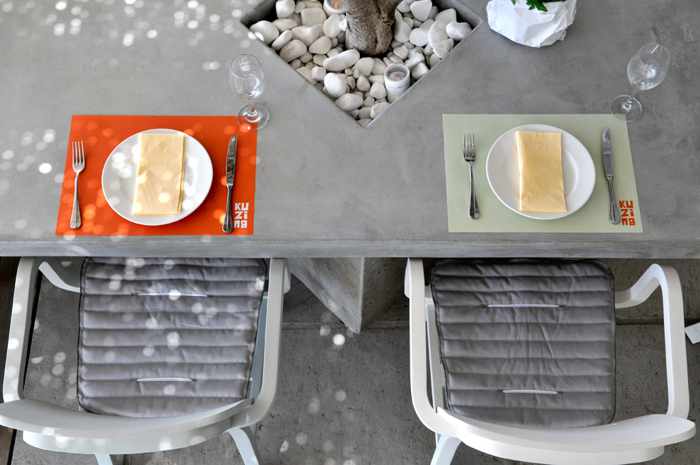 Kuzina is a beachfront restaurant at the Mykonos Ammos Hotel. This image appears in a gallery on the Kuzina page of the hotel website.
Kuzina: Fronting right on Ornos beach, Kuzina Mykonos kicked off its season on April 8. Situated in the Mykonos Ammos Hotel, it's the "summer version" of the highly popular Kuzina restaurant in the Thissio area of Athens. Kuzina features sushi as well as a "fusion" menu of enticing Mediterranean and Asian flavours created by Chef Aris Tsanaklidis. I've heard mixed comments about the restaurant. Several friends have absolutely raved about Kuzina, telling me they consider it one of the best restaurants on Mykonos, while others weren't as impressed.  I haven't dined there yet to see for myself, but you can click here to read what other travellers have said about Kuzina in their reviews on TripAdvisor.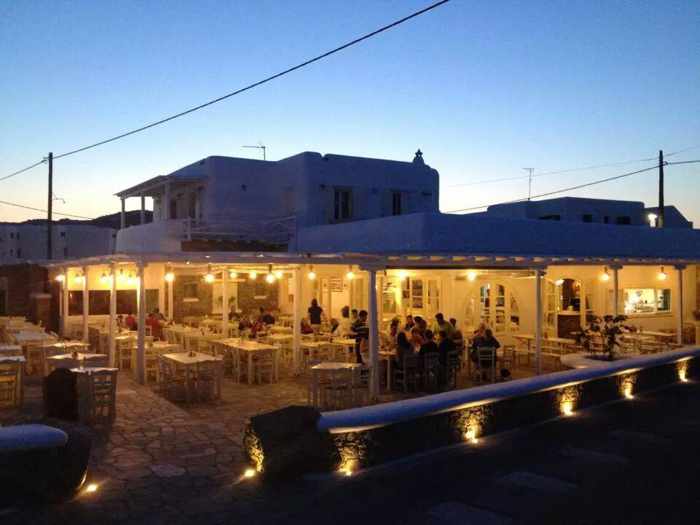 Evening view of the open-air dining area at Lefteris Grillhouse
Lefteris: I had been hearing good things about Lefteris Grillhouse for several years before finally having a meal there in 2013. I had been told it was popular with island residents, who often head there for late night eats after partying at other beaches or clubs and bars in Mykonos Town. In particular, I'd been advised that I couldn't go wrong if I ordered one of the Leftheris specialties — grilled lamb chops. So that's what I tried, and I thoroughly enjoyed the chops. The portion was very generous, as were our servings of Greek salad and several starters (including grilled bread and tzatziki), so I was absolutely stuffed by the time I polished off everything on my plate. The place was packed with locals; at least, I think they were from the island, since the people at our table were the only ones not speaking Greek, and everyone else on the nearly-full dining terrace appeared to know each other. Besides the delicious lamb, the restaurant menu also includes souvlaki and a number of traditional Greek dishes. For those who would rather feast in the comfort of their hotel room or villa, Lefteris offers takeaway and delivery service. Lefteris launched its season on April 25. Click here to read TripAdvisor reviews for Leftheris Grillhouse.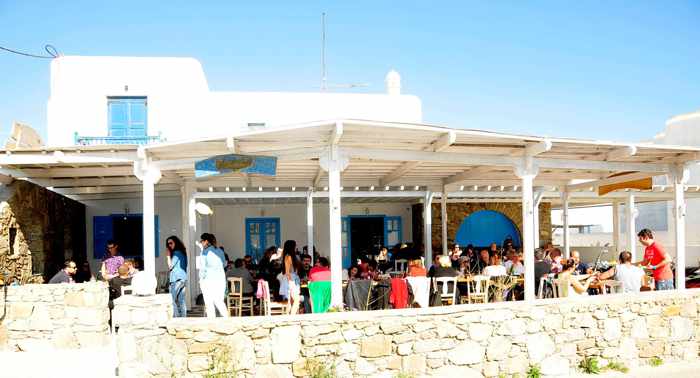 Part of the open-air dining terrace at Mpalothies near Ornos beach
Mpalothies:  Located in the Ornos resort area just a short walk from the popular beach, Mpalothies is a simple mezedopoleio-rakadiko that specializes in traditional Cretan cuisine and seafood.  It's known for its friendly staff, hearty food portions and very reasonable prices (for Mykonos) so, not surprisingly, the place is frequently packed with customers, many of whom wind up making repeat visits while they're on the island. I've heard very favourable comments about the food, and Mpalothies gets overwhelmingly good reviews on TripAdvisor, which you can read by clicking here.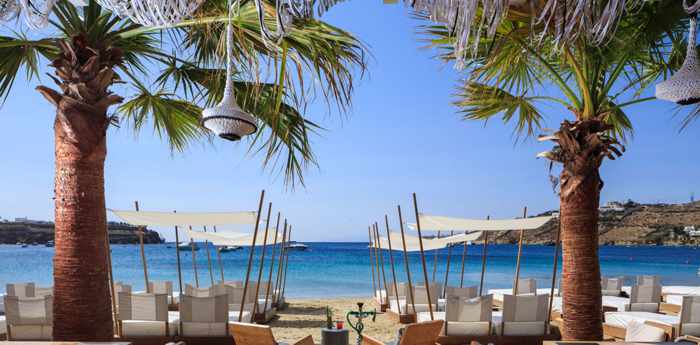 Pasají Mykonos boasts dozens of luxurious sunbeds on Ornos beach
Pasají: As I reported in my 2014 Mykonos restaurant update, Pasají Mykonos became the premier beach club at Ornos almost from the moment it opened last July. It's a huge place, occupying the beachfront premises that once housed the extremely popular Ithaki restaurant and the Nostimon restaurant next door. Pasají boasts a large dining room and bar, dozens of luxurious loungers on the beach, and a swimming pool terrace with cocktail bar and lounge overlooking the beach (shared with the new Mykonos Blanc Hotel). The restaurant offers a unique fusion menu of Greek, Italian and Asian cuisine, while food and beverage service for the trendy seaside sunbeds includes coffee, juice or cocktails, light snacks and sushi. There's also a shisha lounge with an extensive selection of tobaccos on offer. Pasají frequently hosts parties and special events, and last summer it entertained a steady stream of Greek and international celebrities. Pasají is open from morning until the night-time party crowd has cleared away. The venue will open this year on May 13. Click here to see TripAdvisor reviews for Pasají.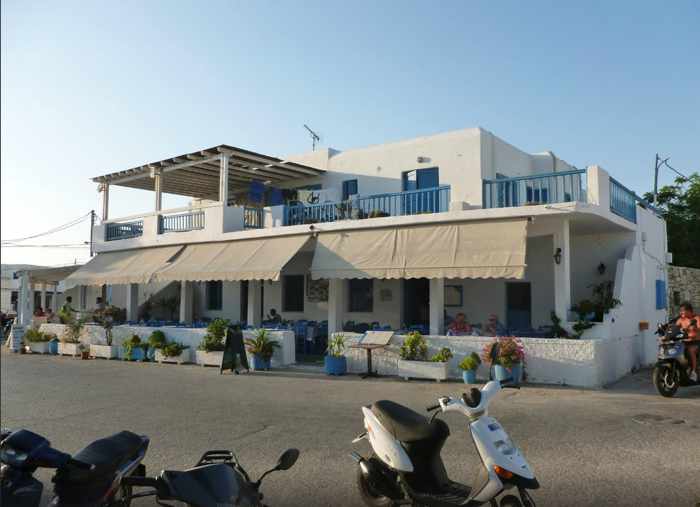 TripAdvisor member FlickerDevon posted this photo of Porto Ornos Taverna
Porto Ornos: Although stylish, contemporary and expensive restaurants abound at Ornos beach, Porto Ornos Taverna continues holding its own as a down-to-earth taverna serving wholesome Greek food at reasonable prices. It's also a popular bar. The Porto Ornos building occupies a corner location directly across the road from the beach, where the restaurant rents out lounge chairs and umbrellas from which customers can order food and drinks if they don't feel like dining on the taverna's beachview terrace. The menu includes a wide range of hot and cold Greek dishes ranging from salads to seafood, grilled meats and hearty fare like moussaka. I haven't had a meal here yet, and haven't heard anything first-hand about Porto Ornos from friends or contacts, either. But you can click here to read what people have been saying about the place in the reviews they have posted for Porto Ornos Taverna on TripAdvisor.
Panormos beach
Kalosta's open-air terrace overlooks Panormos beach and bay
Kalosta: Thanks to its hillside location just steps from the sand and water, Kalosta's open-air dining terrace affords wonderful views of Panormos beach and bay. Friends who have eaten there many times tell me that the restaurant's Greek and Mediterranean cuisine is as delicious as the view. I've seen photos of many of its starters, mains and seafood dishes on the Kalosta Facebook page, and the food certainly does look good. Kalosta is open for lunch and dinner and this year will start its season on May 10. Click here to read TripAdvisor reviews for Kalosta.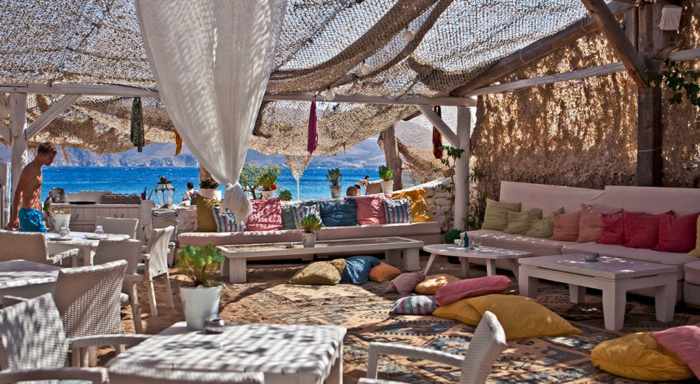 A colourful, cozy lounge area at Panormos Beach Bar & Restaurant
Panormos:  It's one of the few Mykonos beaches that isn't covered with rows of rental lounge chairs and umbrellas, but the stretch of soft sand in front of Panormos Beach Bar and Restaurant does have some comfy lounge cushions as well as a few tables at which customers can relax with drinks and enjoy the scenery and sunshine. Built over the sand and shaded from the sun by camouflage netting, the restaurant & bar feels like an extension of the beach and has good views of the Panormos area and the gorgeous turquoise sea. We have stopped in only for drinks, but have seen the food served to people at nearby tables and it looked soooo good. (The portions looked very large, too.) And judging by their reaction and comments, the meals were tasty. The Panormos menu has a large variety of seafood, Greek and Mediterranean dishes. The restaurant is being expanded this year and will nearly double in size when work is complete. Opening date has not been announced but is anticipated for sometime in May.  Click here to read TripAdvisor reviews for Panormos Beach Bar & Restaurant.
Paradise beach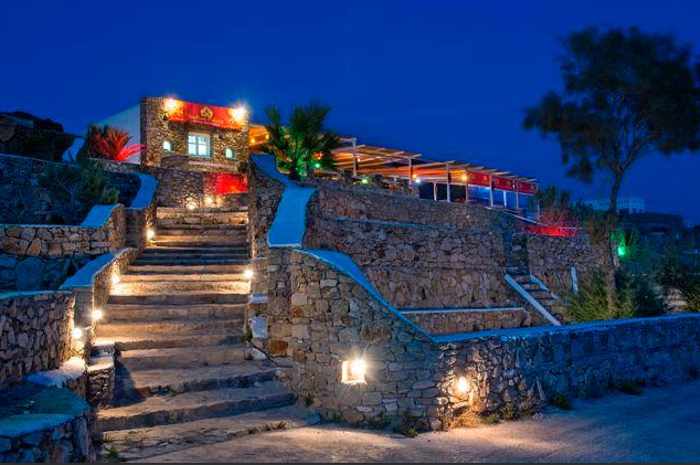 Indian Palace is situated on the hillside at Paradise beach
Indian Palace: Paradise is best known as the premier party beach on Mykonos, but it's also the location of Indian Palace, the island's only restaurant that serves Indian cuisine exclusively (several Indian dishes are available at Appaloosa restaurant in Mykonos Town, but Indian fare is only a small part of its menu of diverse ethnic cuisine). Located on the hillside near the mammoth Cavo Paradiso late-night party venue, the Indian Palace dining room seats up to 150 and has views of Paradise Bay and the sea. A separate dining hall, which can accommodate up to 100 persons for private or business events, is available. The menu features dozens of authentic Indian dishes ranging from starters (pakoras, samosas and kebabs) to salads, a variety of rotiyan (breads baked in the tandoor), chicken and lamb curries, prawns, rices and a selection of vegetarian items. Indian Palace is open for lunch and dinner. Click here to read TripAdvisor reviews for Indian Palace.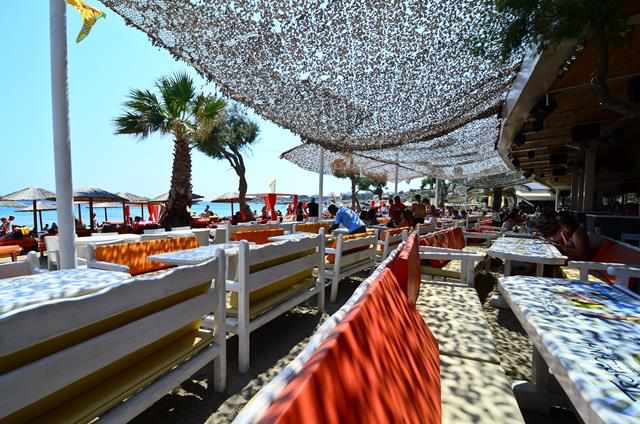 Beachside tables at the Tropicana Club Restaurant
Tropicana Restaurant: Most people go to Paradise beach to party, not to dine on gourmet cuisine.  As a result, dining options in the area are fairly limited. But Tropicana Club Restaurant gives hungry partiers two options for refuelling with either healthy fare or tasty fast food treats (or both) — a self-serve cafeteria and table service. The restaurant opens in the morning to serve coffee and breakfast, then for lunch offers a selection of sandwiches, burgers, Greek and Italian dishes, pizza cooked in a wood oven, salads, fruit plates, yogurt, beverages and desserts. Visitors who just want to grab a beer or quick bite will like the convenience of the self-serve cafe. Most food items can be selected from the refrigerated glass display cases, but there is a counter where friendly staff serve the hot items and grilled dishes. When I have taken a look at the self-serve area during my visits to the beach, I have found the prices to be very reasonable (budget travellers take note!), the portions substantial, and the food quite delicious looking. (I always expect disappointing cafeteria-style slop from a self-serve place, but was pleasantly surprised to see the food here looks quite appetizing.) Beachgoers who would rather sit at a table and order meals have that option, too — there are dozens of tables and padded benches right on the sand, shaded by camouflage netting.  You can click here to read Tropicana Restaurant's reviews on TripAdvisor; however, take note that the reviews for the most part comment on the beach party scene and not the restaurant food. Below are several more photos of the Tropicana Restaurant.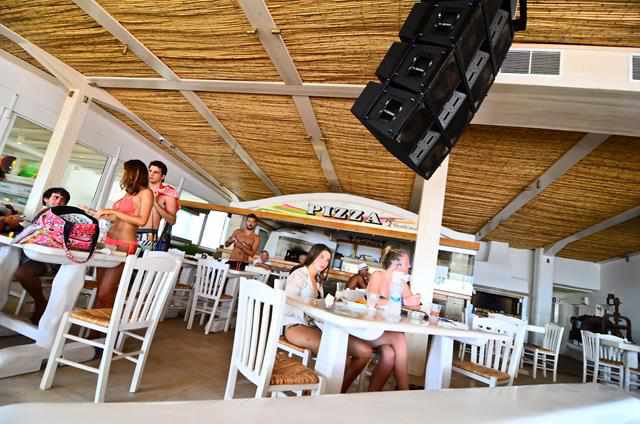 Part of the Tropicana Club dining area where table service is provided and where the wood-oven pizza kitchen is situated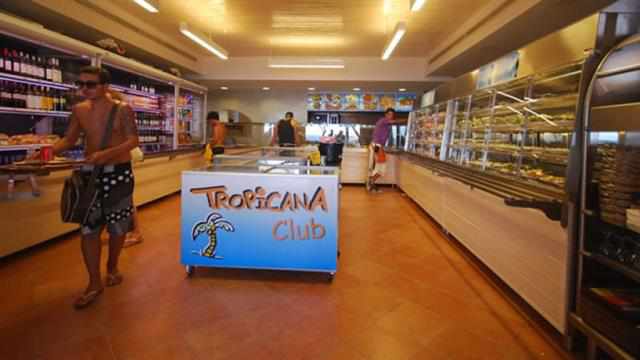 The self serve area at Tropicana Club Restaurant has a wide selection of very reasonably-priced cold and hot food items including traditional Greek dishes like moussaka, as well as salads, fruit plates, burgers and grilled items.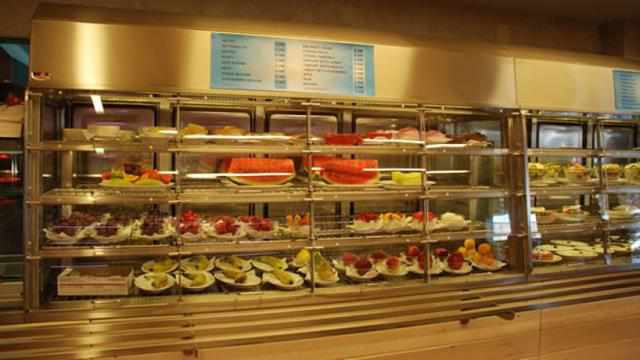 The self service counters include healthy fare like salads, fruit plates and yogurt, but if you just want a burger, fries or pizza you can get that, too
Paraga beach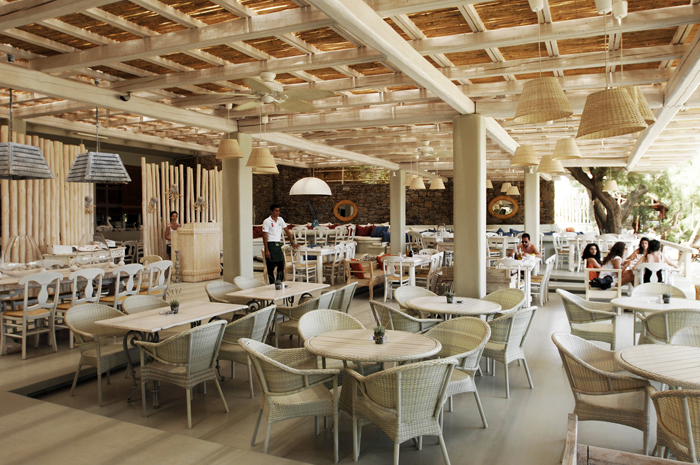 Kalua has a capacious bar, lounge and restaurant terrace
Kalua: Since 2003, Kalua Bar-Restaurant has been the hippest place to hang out at Paraga beach. With its busy beachside bar, cool cocktail lounge and large open-air dining terrace, Kalua offers a more stylish party environment than nearby Paradise beach and is popular for weddings, birthday and anniversary parties, and other celebrations. Its restaurant menu includes Greek and Mediterranean cuisine as well as fish and seafood. Kalua is one of the premier beach party venues on Mykonos, hosting numerous special events over the course of the summer. In 2014, for instance, it held at least 20 major parties with entertainment by big-name DJs.  Once the champagne starts flowing, you can expect to see bikini-clad beauties dancing on the bars and tables as well as on the sand. Kalua kicks off its 2015 season on Friday May 8. To see Kalua's reviews on TripAdvisor, click here.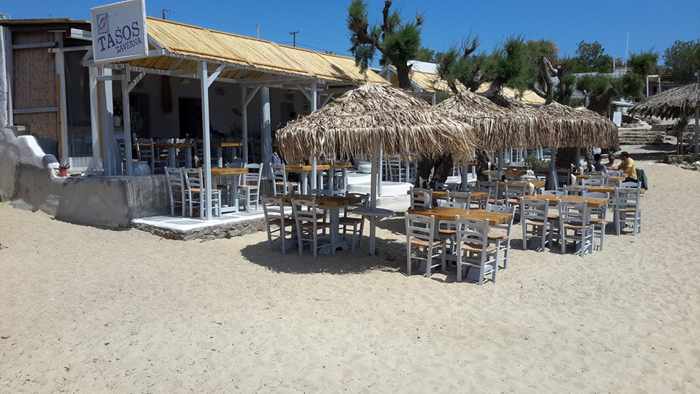 Tasos Taverna tables on Paraga beach
Tasos: I still haven't dined here, but my memories of Tasos Taverna date back to my first trip to Mykonos 11 years ago. We were staying at the Myconian Ambassador Hotel at Platis Gialos beach, and the reception staff suggested we visit Paraga beach, just a 15-minute walk away. They also recommended that we have a meal at Tasos, which they said would be easy to find because it would be crowded with customers enjoying the tasty Greek cuisine. Sure enough, it was! In fact, it was so busy, no tables were available, and we wound up having lunch somewhere else. Since then, Tasos has been bustling every time we have been to Paraga beach. Tasos is usually one of the first beach tavernas to open on Mykonos each year, and is typically one of the last to close (usually during the final week of October). This year Tasos started its season on March 22. Click here to read the TripAdvisor reviews for Tasos.
On the peninsula between Paraga and Platis Gialos

Scorpios Beach Club officially opens on May 24
Scorpios: One of the most talked-about new places to drink and dine on Mykonos this summer is Scorpios Beach Restaurant and Bar, which is situated on the peninsula that separates Paraga beach and bay from the Kavos lagoon (the mouth of the bay near Platis Gialos).  Scorpios is attracting substantial press and publicity, which comes as no big surprise since it's the newest business venture by Thomas Heyne and Mario Hertel. The two men own the "bohemian luxury" San Giorgio Hotel at Paraga and used to own the world-renowned Paradise Club at Paradise beach, one of the world's Top 20 party venues, until they sold it this past winter so they could concentrate on bringing the Scorpios project to completion. The sprawling Scorpios beach club facility will include a clubhouse with bar,  sunbathing terraces that tier down to two separate private beaches, and the Scorpios Restaurant. This hip dining venue will seat 200 guests on a sun-shaded open-air terrace with views of the sea. The menu will highlight "health-conscious summer cuisine with an emphasis on fresh seafood like Greek style Peruvian ceviche or salt-crusted fish hot off the charcoal barbeque," the Scorpios website states. You can read more about Scorpios, and view additional photos, in my What's New on Mykonos for 2015 post. Scorpios will close for the winter on October 4.
On the road to Platis Gialos & Psarou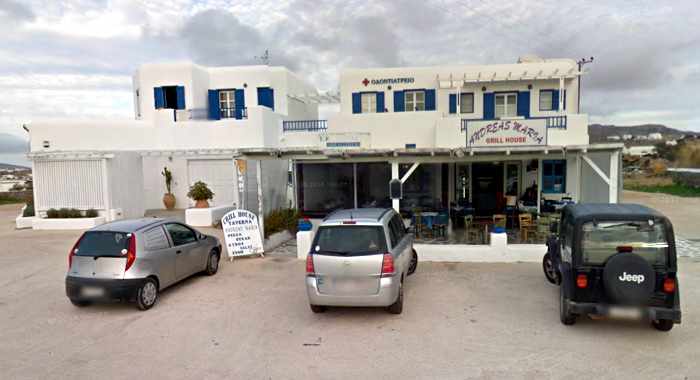 Google Street View photo of Andreas & Maria Grill House
Andreas & Maria: I have seen this place many times while riding the bus to or from Platis Gialos, and I have heard and read a lot of good comments and excellent reviews about it. Next time, I'll have to get off the bus so I can finally have a meal at Andreas & Maria Grill House and see for myself why it has been recommended so frequently. Operated by the father and son team of Andreas and Vaggelis, the restaurant offers a wide range of traditional Greek taverna fare as well as grilled meats, fish and seafood. The delicious home-cooked food is served in generously-sized portions at very reasonable prices, and service is warm and friendly even when the place is packed with customers (which is often the case since the restaurant is very popular with locals and tourists alike). Not surprisingly, Andreas & Maria gets a lot of repeat business, with many people returning for lunches and dinners several times during the course of a one-week holiday on Mykonos. Click here to read TripAdvisor reviews for Andreas & Maria Grill House.
Exterior view of Melting Pot Eat & Drink
Melting Pot: A common visitor complaint about Mykonos is that the island is too slick, commercial and "touristy," and there is plenty of merit to that criticism. Take a stroll through Mykonos Town, or visit some of the popular beach resorts, and you'll see scores of shops, restaurants and hotels that have been designed to minute details by architects, professional interior decorators and marketing consultants. It can be tough finding something "traditional" that has been unscathed by commercialism or not geared to appeal generic tourist tastes. But if you'd like to try something that's quite quirky and untypical for Mykonos, stop in for a snack or meal at Melting Pot Eat & Drink. It's a restaurant and bar located along the highway from Mykonos Town to Platis Gialos and Psarou. (It's situated at the junction with the road to Agios Lazaros.  If you're driving, look for the fruit market on your right side, and if you're going by bus ask the driver to let you off at the Ag Lazaros turnoff.) Melting Pot opened last year in premises that were formerly occupied by a coffee shop/snack bar. It has outdoor seating on a sheltered terrace, and the decor can probably best be described as "eclectic." So is the menu, but that's all part of the charm. The restaurant is open for breakfast, lunch and dinner, and has a limited menu — omelets and egg dishes or yogurt with fresh fruit and nuts for breakfast, sandwiches, snacks and other light fare for lunch, coffee and desserts, and whatever Greek food the owners feel like cooking for dinner any particular evening.  Click here to read TripAdvisor reviews for Melting Pot.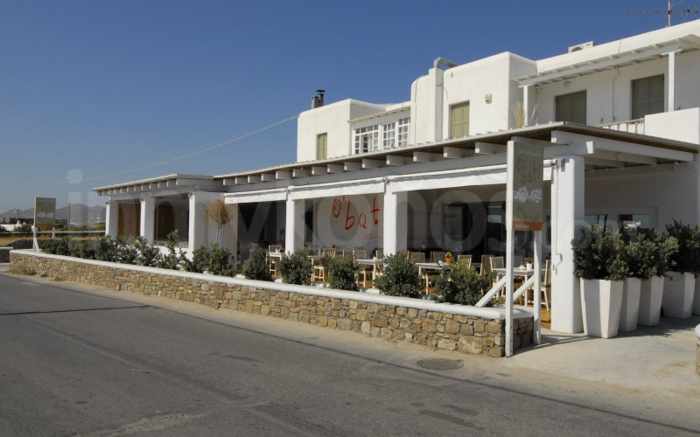 Highway view of the sheltered dining terrace at O'Bati
O'Bati: Located in the Glastros area of Mykonos along the road from Town to Platis Gialos, O'Bati is a place I've passed dozens of times yet never been inside. And friends who live on Mykonos have told me that's unfortunate, because they say the food is wonderful. Open year-round, O'Bati has an outdoor dining area as well as an interior dining room. There's no view because of its location, but I've been told the cuisine more than makes up for that. O'Bati serves seafood and Mediterranean dishes, as well as yummy pizza cooked in a wood oven (you can view the menu at the restaurant website link I provided above). If you don't have a vehicle or don't feel like driving there, O'Bati will bring food to you — the restaurant has a delivery service. From time to time, O'Bati is a good place to go for a party, since it often holds theme night parties and occasionally brings in live musical entertainment and DJs.  Click here to view O'Bati's reviews on TripAdvisor.
 Platis Gialos beach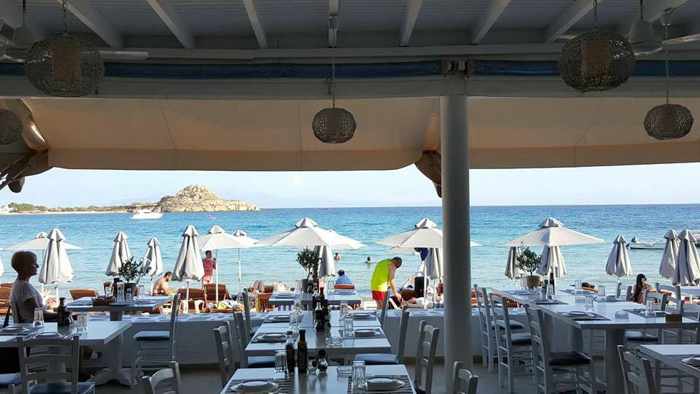 Atlantida has a large open-air terrace facing onto Platis Gialos beach
Atlantida: Located in the Acrogiali Hotel, the open-air Atlantida restaurant is almost right on Platis Gialos beach. If you manage to get one of the highly-sought tables on the outer edge of the terrace (as we did 10 years ago), you'll look directly at the hotel's rows of lounge chairs and umbrellas on the sand, and you'll have views of the beautiful bay as well. The restaurant has always been busy whenever I have seen it (which has been many times), and it's no surprise — prices are reasonable, but the food portions are substantial, so if you go there with a big appetite, you will get value for you money.  Open in the morning for breakfast, then throughout the day for lunch and dinner, Atlantida's menu features Mediterranean and Greek cuisine with a wide selection of hot and cold dishes. The bar is a popular late-night hangout for people who are staying at Platis Gialos but don't feel like going into Mykonos Town for the nightlife there.  Click here to read Atlantida's reviews on TripAdvisor.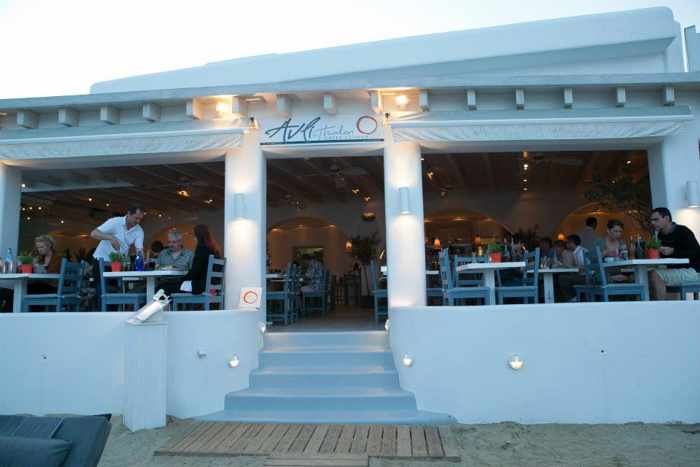 Platis Gialos beach view of Avli tou Thodori restaurant
Avli tou Thodori: I had been hearing good things about Avli tou Thodori for several years before I finally got there in 2012 for a meal with a group of people staying at my hotel. Everyone had assured me I would love the food, and they were absolutely right — the meal was one of the best I've ever had on Mykonos. We ordered a selection of appetizers to share — including zucchini and tomato balls, grilled vegetables, crab cakes, meatballs in tomato sauce, the "spicy patty with minced meat and yogurt sauce," and Greek salad — and I thoroughly enjoyed every scrumptious bite (as did all of my dinner companions). Each of us also ordered an individual entrée. My choice was the lamb kleftiko, which was simply outstanding. My friends loved their respective choices, too, which included chicken, seafood and pasta dishes. Portions were very generous and I got to sample some of the yummy food that my colleagues couldn't finish eating — lucky me! Every item was so tasty, I would not be able to pick a favourite dish to recommend. For dessert, we shared a platter of melt-in-the-mouth loukoumades, a honey-drizzled doughnut-like treat, which was heavenly.  Service was just as impressive as the food. Everyone in our party enjoyed the meal so much that they all arranged to return for dinner the next day. Unfortunately, I couldn't join them because I was leaving for Paros that day. (One of them later emailed to say I had missed another fabulous meal.) This year, Avli tou Thodori will open on April 23. Click here to read reviews on TripAdvisor, where Avli tou Thodori has been the #1-ranked restaurant on Mykonos for most of the past two years.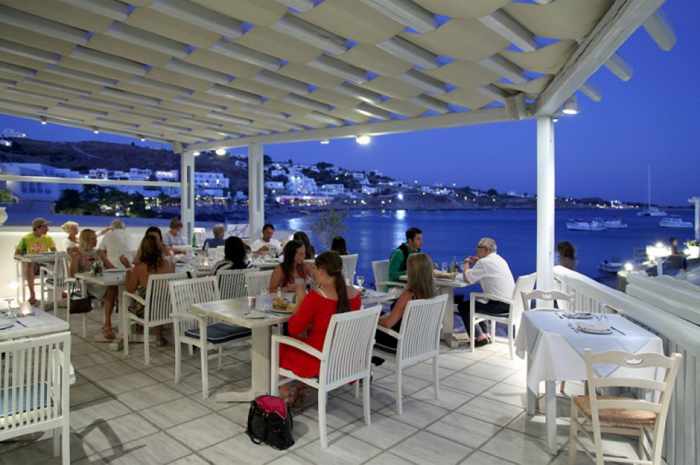 Blue Myth has a large indoor dining room as well as an open-air terrace with excellent views of Platis Gialos beach and bay
Blue Myth: if you travel to Platis Gialos by bus, you can't miss Blue Myth restaurant — it's right on the corner where the road ends at the beach, just steps from the bus stop. Situated in the Petinos Hotel, the restaurant is open for breakfast, lunch and dinner, and features a menu of Greek and Mediterranean cuisine. We have not-so-fond memories of this place from 10 years ago, when we were served one of the worst meals we've ever had on a vacation. Our platter of mixed grilled meats (which the staff had highly recommended as one of the best dishes of the day) was an enormous let-down — the meat was tough and overcooked, and everything was excessively salty. Ever since we have avoided Blue Myth like the plague, but I have noticed in recent years that it gets highly positive reviews for its cuisine, so perhaps we just had the misfortune of catching the kitchen on an off day. The restaurant has a large indoor dining room as well as open-air terrace that overlooks Platis Gialos beach and has great views right across the bay. Click here to read Blue Myth's reviews on TripAdvisor.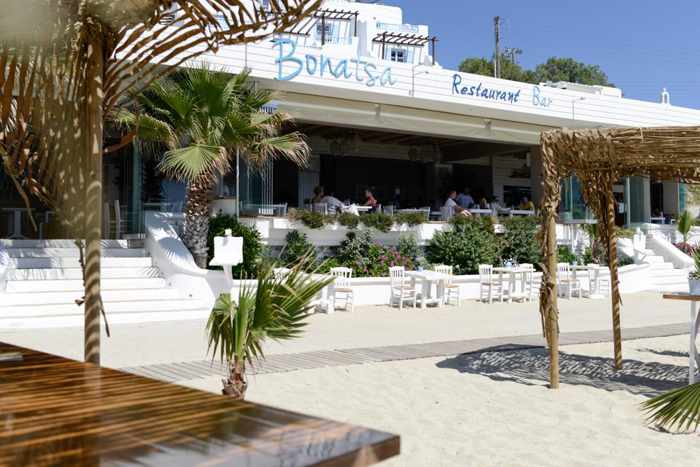 Bonatsa Restaurant's big glass windows open fully so customers can enjoy views of Platis Gialos beach and bay while they drink and dine
Bonatsa: We had a nice dinner at Bonatsa restaurant several years ago, and liked both the good food and the ambience. The large dining room is bright and airy, thanks to the long row of tall windows along the beach side of the building. In daytime and during warm evenings the glass panels are pulled completely open so customers can enjoy unobstructed views of the beach and bay and feel like they're dining outdoors.  The regular Bonatsa menu offers traditional Greek cuisine with a contemporary touch, and there's a separate Bonatsa Sushi Bar menu featuring salads, seared fish, sashimi, maki and a variety of special dishes. Bonatsa will open on May 1 and close in mid-October. Click here to read Bonatsa's reviews on TripAdvisor.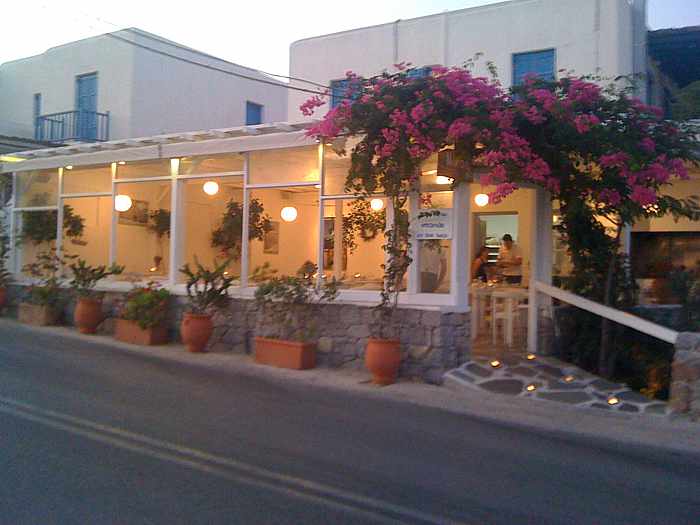 Evening view of Nikos Gallop restaurant near Platis Gialos beach
Nikos Gallop: Located along the highway to Platis Gialos, just a couple of minutes' walking distance up the road from the beach, Nikos Gallop Restaurant serves seafood and delicious home-made Greek cuisine at reasonable prices. Although it's one of the top-ranked Platis Gialos restaurants for food quality, Nikos Gallop often gets overlooked by visitors because it isn't right on the beach, and many people don't realize what they're missing by not taking a short walk up the road. (Many of those who have tried the restaurant say they wish they'd gone sooner; they were so impressed by the food, they would have gone back for more meals.) The restaurant opens at 11 a.m. and closes shortly after midnight. Click here to see TripAdvisor reviews for Nikos Gallop.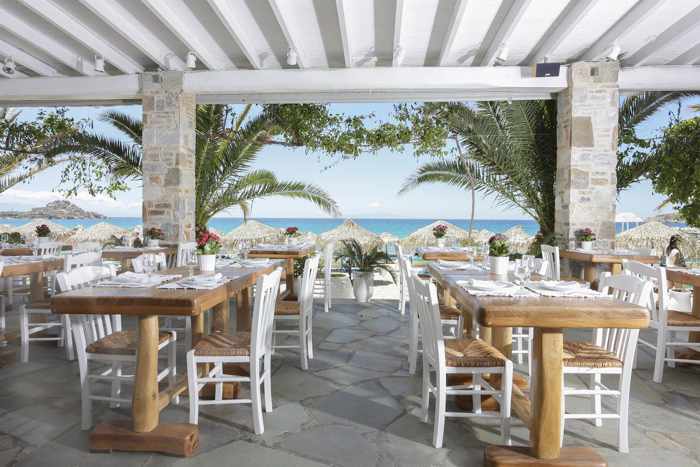 Notos Restaurant has a cheery, bright terrace with excellent views of the beach and sea
Notos: A casual beachfront restaurant, Notos Restaurant & Beach Bar – Cafe is part of the Mykonos Palace Hotel, located near the midpoint of Platis Gialos beach. This place is so laid-back and relaxed, you can drop in for a drink or meal even if you're dressed only in swimwear! Notos serves a variety of Greek, Mediterranean and international dishes, ranging from traditional Greek cuisine to seafood to pizza cooked in wood ovens. You can view menus for the adjacent Ostria beach bar-cafe, as well as for the Notos dine-in restaurant, on the restaurant page of the hotel website. Notos is open from early May until late October each year. Click here to read TripAdvisor reviews for Notos Restaurant.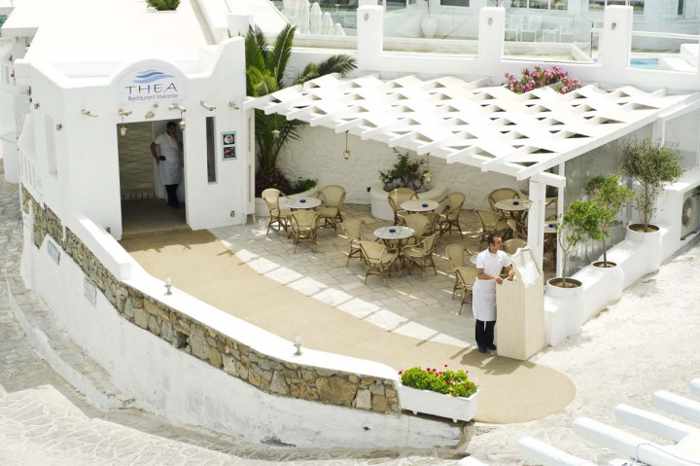 A small terrace at the entrance to Thea restaurant. The  indoor dining room overlooks the beach and bay.
Thea: The Greek word "thea" means "view," and that's exactly what diners get to enjoy with their meals at Thea restaurant. A small outdoor dining terrace as well as the main indoor dining room both offer superb views of Platis Gialos beach and bay. Thea is an upscale restaurant located in the Petinos Beach Hotel, a sister hotel to the Petinos Hotel just steps away. The restaurant specializes in Greek and Mediterranean cuisine, served with a contemporary presentation. Click here to read Thea's reviews on TripAdvisor.

The veranda at V.I.P. has superb views of Psarou bay and beach
V.I.P.: Located in the Petasos Beach Resort & Spa, V.I.P. is an upscale a la carte restaurant that serves Greek and international cuisine, as well as Japanese cuisine and sushi, in an elegant dining room that features an open-air veranda with beautiful views of the sea, Psarou beach and Psarou bay. I fondly remember the restaurant setting from our stay at the Petasos Beach Resort nearly 10 years ago. We dined there for breakfast each day, and once for a special Greek night dinner event, but didn't sample the regular dinner menu. But it has changed significantly since those days, with its new name, new gourmet menu and its Japanese sushi delights. I can't comment on what the food is like now, but can say that we enjoyed sitting at the veranda tables because of the wonderful views. You can read TripAdvisor reviews for V.I.P. by clicking here.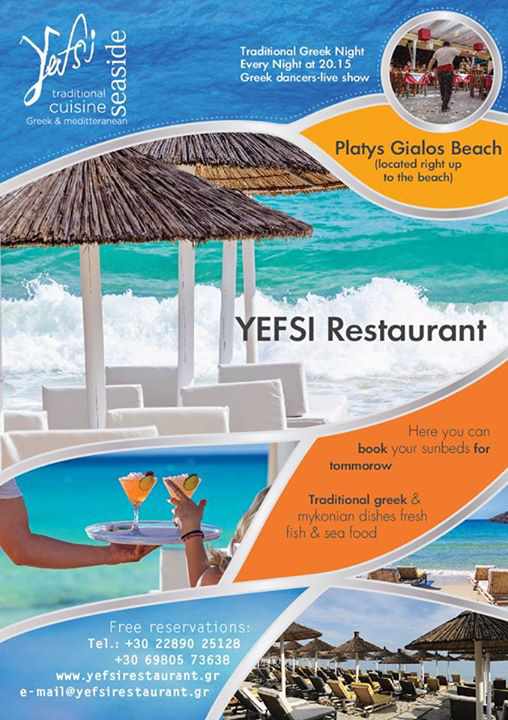 A beachside table at Yefsi Event Restaurant
Yefsi: Situated right in the center of the Platis Gialos restaurant strip, Yefsi Event Restaurant features beachside food and fun with two public dining venues and private dining options. Yefsi offers a menu of Greek and Mediterranean cuisine, while its Al Dente Restaurant, in newly renovated premises, highlights Italian fare, including pizza cooked in a wood oven. Yefsi is probably the liveliest place on Platis Gialos, hosting regular events such as a Greek Dance Night on Fridays, beach parties on Mondays, cocktail parties on Tuesdays, and a Latin Night on Wednesdays. Yefsi also has a beach bar as well as its own sunbeds out front which you can reserve in advance by phone, fax or email. Yefsi's grand opening date for the 2015 season is April 27. Click here to see Yefsi's reviews on TripAdvisor, where the restaurant ranks almost at the bottom of the listings for Mykonos, with more "terrible" and "poor" ratings than all of its positive reviews combined. Be sure to look at what customers have said about Yefsi before stopping in for a meal or drink. Also note that the restaurant used to be called Viva Mare until it changed the name to Yefsi in 2014. Visitors continue to post reviews for the place under that name on TripAdvisor,  and you can review those comments — most of which are scathingly negative — by clicking here.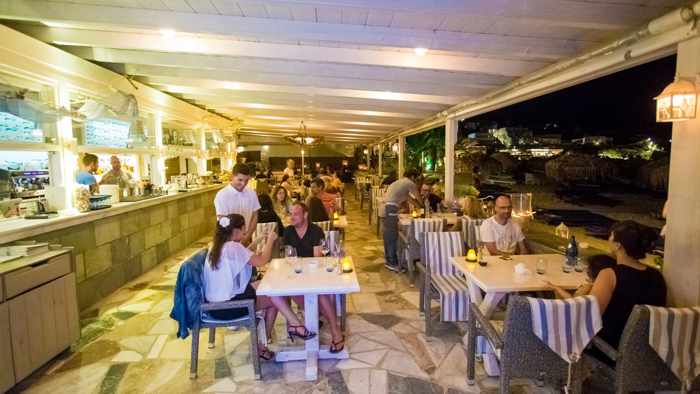 The dining terrace at Yialo-Yialo overlooks Platis Gialos beach
Yialo-Yialo: One of the more popular restaurants on the Platis Gialos beachfront, Yialo-Yialo Restaurant – Bar – Cafe is also one of the better places to eat, consistently scoring rave reviews and compliments for its good food and its service. The menu includes Mediterranean, Greek and Italian cuisine, and seafood, as well as pizza and burgers for those who'd rather eat something less fancy. Yialo-Yialo is open throughout the day for lunch and dinner, coffee and drinks. Its open-air dining terrace is right beside the sandy beach, offering views of the beach and bay.  Click here to read TripAdvisor reviews for Yialo-Yialo.
Psarou beach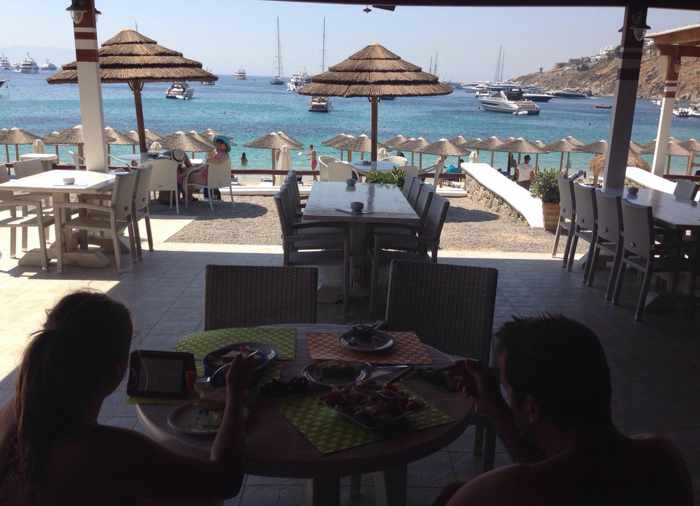 A photo of Cavo Psarou restaurant by TripAdvisor member sharelife2
Cavo Psarou: Trendy Psarou beach is famous mainly for Nammos, the chic upscale beach club where VIPs and A-listers from around the world gather to drink, dine and party (see below). Nammos is expensive, though, so unless you've got a thick wallet you could find it too rich for your travel budget. But you can still enjoy beautiful Psarou beach — and drink and dine without breaking the bank — at nearby Cavo Psarou. Situated between Nammos and the Mykonos Blu hotel, Cavo Psarou is a family-run self-service beach restaurant offering a variety of reasonably priced and delicious Greek food items and beverages. It has sunbeds and umbrellas for rent on the beach (complete with waiter service), and the prices are a bargain compared to what you'll pay for the privilege of relaxing on the plush loungers at Nammos. Click here to read reviews for Cavo Psarou on TripAdvisor, and click here to read another review and see photos of the restaurant that TA member sharelife2 posted on the Psarou beach review page.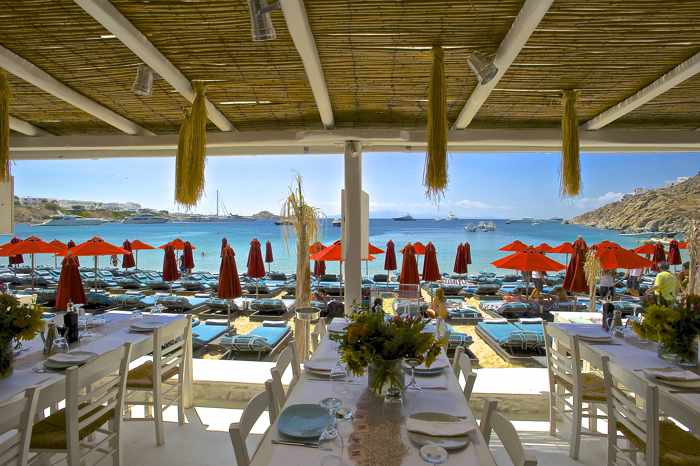 The open-air dining room at Nammos overlooks Psarou beach and bay
Nammos: Another name that is synonymous with Mykonos is Nammos, the upscale beach bar and restaurant complex at Psarou. Nammos opened in 2003 to rave critical reviews and quickly became a must-visit Mykonos destination for the world's rich and famous — as well as travellers who simply like to enjoy the good life while relaxing in an ultra-cool beach club atmosphere.  Nammos now comprises three separate dining spots:  the Nammos Restaurant, which offers "an exquisite Mediterranean cuisine made from the best ingredients, fresh fish and vegetables from local gardens, along with a wine list containing labels from both Greek and international vineyards"; the gourmet Nammos Concept (which features the world's best beef at its new Beefbar); and the Coo sushi restaurant. The beach bar is right next door to the restaurants. It serves breakfast in the morning, coffee and cocktails during the day, and at night becomes a vibrant beachside nightclub.  Many of Nammos' customers arrive at Psarou on private yachts, so the restaurant offers a boat transfer service to whisk them ashore and back. If they would prefer to dine in privacy aboard their luxury vessels, no problem! Nammos will deliver its cuisine right to their boats. And several times each summer, Nammos brings in big-name entertainment for special party events. As I reported in the blog last July, Julio Iglesias performed at the club with Greek singer Antonis Remos, while other events included a Gourmet Party in conjunction with Istanbul's Angelique nightclub, and an appearance by Greek DJ Vassili Tsilichristos. Nammos launched its 2015 season on April 4. Click here to read TripAdvisor reviews for Nammos.
Super Paradise beach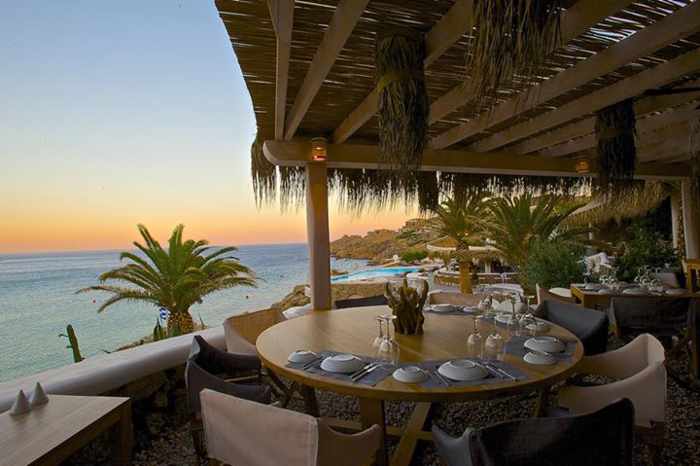 A seaview table at the swish JackieO' Beach club
JackieO' Beach: When the JackieO' Beach Club opened at Super Paradise beach in July 2013, it was an instant hit — and not just with the gay community, which comprises a substantial proportion of its customer base. Word quickly spread that the bar and its daily drag shows were tons of fun for straights and gays alike, and visitors heaped considerable praise on the "true taste of Greece" cuisine in the JackieO' Beach restaurant. The club opened six weeks after my visit to Mykonos, so I didn't get to check it out personally, but throughout the summer I heard non-stop positive comments from friends and acquaintances. My July 2 2013 post about the club's opening wound up being one of the most-read articles on my website for the entire year. Last summer JackieO' beach made international headlines when Eurovision Song Contest winner Conchita Wurst and Greek pop singer Anna Vissi performed there during a special event celebrating the 40th anniversary of Vissi's music career. JackieO' Beach opened during the first week of May this year. Click here to read TripAdvisor reviews of JackieO' Beach.
White umbrellas and sunbeds at Pinky Beach Mykonos
Pinky Beach: Super Paradise is one of the legendary party beaches on Mykonos, and the scene at the strand's main club can get wild, crazy and even rather trashy at times (just check YouTube videos of the notorious Super Paradise champagne spraying parties to see what I mean). But near the opposite side of the beach (the right-hand side, when looking out to sea), Pinky Beach Mykonos offers visitors a classy and sophisticated alternative.  You'll spot the club thanks to its distinctive white umbrellas and luxurious loungers as well as its hot pink logos, its knock-out gorgeous waitresses, and all the beautiful people sipping champagne and soaking up the sun while kicking  back on their sunbeds. (Just look through the photo galleries on the club's website and you'll see that Pinky Beach serves a hearty side order of eye candy along with its fine champagnes and delicious cocktails.) Pinky Beach has a restaurant, too, and the Mediterranean menu features fresh fish and seafood, salads and grilled meats. The cuisine is a "delectable combination of Italian and Greek delicacies with an Arabic touch," the club's website says. By day the club soothes customers with chill tunes or live music by saxophonist Sotiris Tatsis, while by night Pinky Beach turns into a vibrant nightclub with entertainment provided by in-house and visiting DJs. Pinky Beach will open on May 21 and close for the winter on September 17. To read reviews of Pinky Beach on TripAdvisor, click here.
More to come … check back for regular updates!