~ Mykonos restaurant directory continued from page 2
 Places to eat in Mykonos Town

Alefkandra restaurant, at Alefkandra square near Little Venice, offers sunset views from its open-air dining terrace
Alefkandra: Although it has a good sunset-view location at the touristy Little Venice seafront in Mykonos Town, that's about the only positive thing I can say about Restaurant Alefkandra, based on an unfortunate personal experience.  We had dinner here during our first-ever trip to Mykonos back in 2004, and I'll probably never forget the restaurant. The reason? It was my birthday, and  our meal wound up being the worst birthday dinner celebration of my life. We almost didn't dine there, assuming the place would be a tourist trap, but a very attractive and very persuasive hostess assured us we would have a good meal. Far from it. Although the hostess was tremendously pleasant and hospitable (and did a great job of "trapping" us tourists), none of our servers was, and in fact the service was terrible — painfully, agonizing slow (though Greeks sitting at adjacent tables got cheery, speedy and efficient service while we watched and waited).  When our food finally arrived, it was mediocre taste and quality at best — and overpriced. An enormous letdown.  We chalked it up as a regrettable "tourist trap" experience, and haven't been back since. I've heard many similar complaints about the restaurant in recent years, and if you read the Restaurant Alefkandra reviews on TripAdvisor, you'll see quite a mixed bag of ratings, with more "average" to "terrible" reviews than positive ones. On the Restaurant Alefkandra Facebook page, however, reviews from the past year are quite good. Customers have posted numerous photos of the various dishes they ordered, so you can take a look and judge for yourself if the menu appeals to your tastes. I can say that the food presentation appears to be considerably approved since the sorry evening we had our letdown Greek meal. But my personal advice is to avoid restaurants at Little Venice (with the exception, perhaps of Nice n Easy Mykonos) and venture into the heart of town where you are more likely to enjoy a better meal.
Part of the view from the harbourside terrace at Alegro
Alegro: Visitors to Mykonos inevitably wind up taking a walk along the wide harbourfront promenade that extends from Manto Square (also known as Taxi Square) to the Mykonos Town Hall and the Delos island ferry boat quay. Known locally as Gialos, the strip is lined with tavernas and bars, some located so close side-by-side it's almost impossible to tell they're separate businesses. Alegro is one of the restaurants on this busy boulevard, which draws considerable traffic from cruise ship daytrippers as well as tourists who are visiting the island for a few days or longer. Like is neighbouring tavernas, Alegro has both an open-air harbourview dining terrace and an indoor dining room. Alegro has been operating for more than 9 years, and stays open year-round. It is open early in the morning for coffee and breakfast, and late at night serving beer, wine, ouzo and cocktails. In between, its kitchen serves lunch, snack and dinner fare from a menu packed with Greek, Mediterranean and seafood dishes (you can view a PDF version of the menu on the Alegro website).  Click here to see TripAdvisor reviews for Alegro.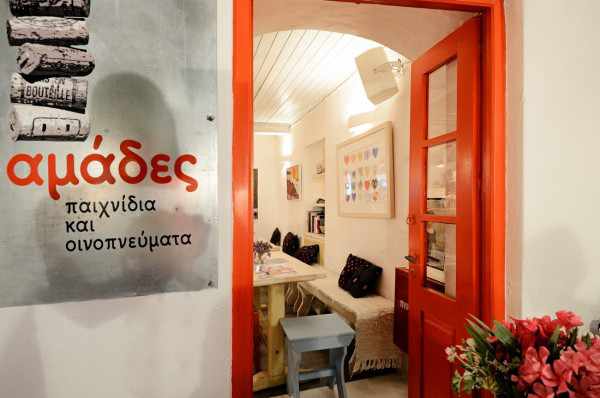 Street view of Amades in a photo from mykonosinformation.com
Amades: Located at 2 Kampani Street just one block inland from the harbourside promenade, Amades is a small restaurant and bar that has been open since 2011.  It has a cozy but very pleasant dining room that seats around a dozen customers, along with a couple of tables in the cobblestone lane in front of the restaurant. Its menu is Mediterranean and Greek cuisine, and often features local Myconian dishes. I've been told it's a good wine bar, and its outdoor seats certainly would be a great spot to sit and relax with a glass of wine while watching people pass by. (I know because I've done just that at another cafe directly across the alley!) According to the Amades Facebook page, the restaurant opens at 7.30 p.m. and the place stays open until the wee hours of the morning — 5 a.m.  — so it's a good spot for very late-night libations.  Click here to read Amades' reviews on TripAdvisor.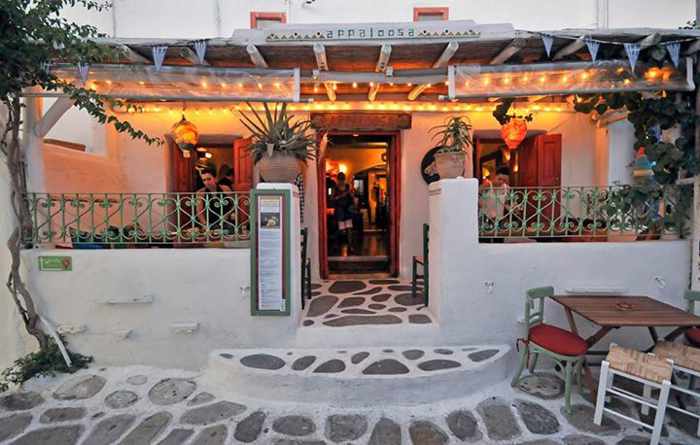 A street view of Appaloosa restaurant & bar
Appaloosa: Situated on Mavrogeni Street between Goumenio Square and the harbour, the Appaloosa restaurant and cocktail bar menu offers a unique variety of dishes from Greece, Mexico, India and Indonesia. Besides its delightful array of ethnic flavours, the restaurant's bar is a favourite place for people to gather for drinks. It can get loud when the place is packed, but people find it fun and enjoy the tasty alternatives to the moussaka, souvlaki and gyros they may be growing tired of eating during extended island hopping holidays. The restaurant has been open daily since March 19, starting at 7 p.m.  Click on the link I provided above to view food and drink menus, as well as two photo galleries, on Appaloosa's website. Click here to see Appaloosa reviews on TripAdvisor.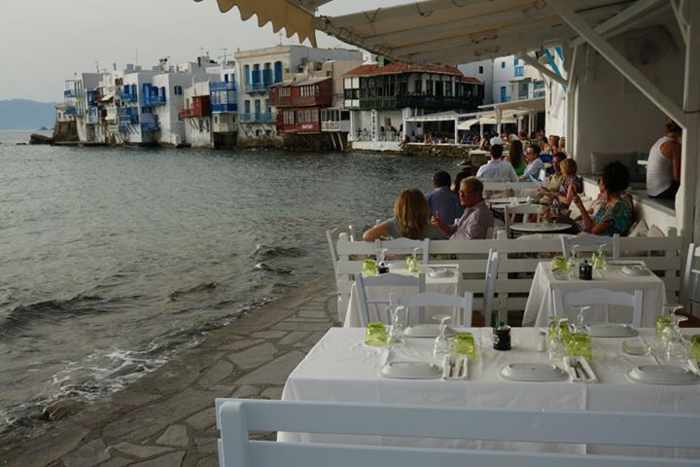 The tables at Aqua Taverna have views of the rustic Little Venice seafront of Mykonos Town, Tinos island in the distance, the sea, sunset and the famous Mykonos windmills. This photo was shared on Facebook by Nikki Ng.
Aqua: Located beside the perenially-popular Caprice Bar on the charming Little Venice seafront of Mykonos Town, Aqua Taverna is an upscale restaurant specializing in Italian and Mediterranean cuisine as well as seafood. (Aqua, Caprice and the famous Sea Satin Market restaurant located close by all share common ownership.) The Aqua website says the taverna's menu features original Italian products which are combined with locally-sourced fruits and vegetables and Greek olive oil to create "an amazing, culinary experience with respect to the Italian tradition." The wine list includes Italian and Greek vintages.  Curiously, the restaurant no longer appears to have a listing on the  Mykonos restaurant review section of TripAdvisor. I've heard more negative comments about Aqua than positive recommendations (people typically felt they didn't get quality or value for the high prices they paid), but since I have not dined there yet I cannot offer any personal feedback about the food or service. However, I can tell you that the location is superb since Aqua's seaside tables offer outstanding views of the sea, sunset, Little Venice and the row of iconic Mykonos windmills atop the nearby hill. After dark, there's an incredibly romantic atmosphere at the candle-lit tables on the water's edge. There is an Aqua Taverna Facebook page on which you can find numerous photos of the restaurant, its views, and some of its dishes, as well as some reviews by Facebook members. It's just a business page, though, not an official restaurant Facebook profile. The Caprice Bar Facebook page also includes numerous photos of Aqua Taverna.
One of the Mykonos pelicans saunters past Aroma Cafe-Bar
Aroma: In daytime it's a great spot for a coffee or capuccino, while at night Aroma Cafe-Bar is a happening place to enjoy music and cocktails. Located in the heart of Mykonos Town at the corner of Andronikou and Enoplon Dinameon Streets, Aroma is a compact, cozy place with some indoor seating plus benches and chairs out front that can accommodate about a dozen people.  If you see one of the outdoor seats is available, grab it before somebody else does! This is a great spot for people watching, since the narrow flagstone lane is a busy pedestrian route.  If you're lucky, you might even see one of the famous Mykonos pelicans wander past (like the one in the photo above, which was posted on Aroma's Facebook page.) At night, don't be surprised if you have to squeeze through a crowd to get in, out or past the cafe — it's a hugely popular gathering place for locals and visitors to socialize. Besides coffee and alcoholic beverages. Aroma serves snacks and light fare. The cafe kicked off its season on April 3, and is open daily from breakfast time until late at night. Click here to read TripAdvisor reviews for Aroma Cafe-Bar.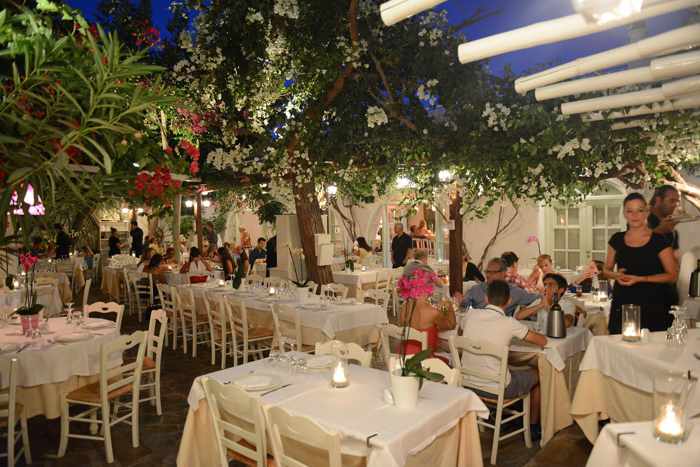 The elegant courtyard dining terrace at Avra Restaurant
Avra: This is a personal favourite that I frequently recommend for travellers looking to celebrate a special occasion with fine food in an elegant but comfortable and relaxed setting. My first visit to Avra six years ago was to celebrate a milestone birthday, and my repeat visits have been just as special and memorable.  Avra Restaurant boasts a cozy garden courtyard, an "under the stars" rooftop terrace and an indoor dining room, all perfect for birthday celebrations, romantic anniversaries, intimate honeymoon meals, or dinners to commemorate other important events. (I have lost count of the number of thank-you messages I have received from people to whom I suggested Avra for such occasions.) The menu of Greek and international cuisine is superb (I highly recommend the Avra salad and the sesame feta), as is the service from Niko, Sarah and their team of kitchen and dining room staff. Avra usually launches its season in time for Greek Easter, but this year will be opening on Friday April 24 instead. Click here to see the TripAdvisor reviews for Avra.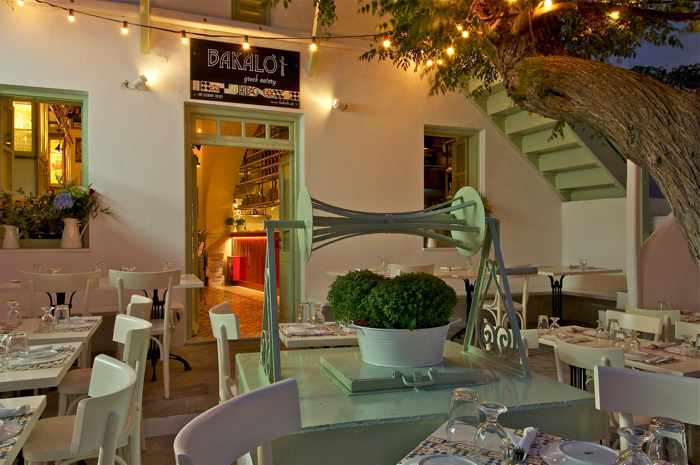 The dining terrace at Bakalo Greek Eatery near Lakka Square
Bakalo: This is where I will have dinner the first night I'm back on Mykonos! I've mentioned Bakalo Greek Eatery in a number of my blog posts about Mykonos restaurants, usually explaining that I haven't yet had a chance to dine here because of last-minute changes to plans to accommodate unexpected meetings with friends.  After hearing so many good things about this place from friends and other Mykonos travellers, I'm determined to try it on the first night of my next trip so that I won't miss out again if anything goes awry with my schedule. Everyone has praised the delicious cuisine, the setting and the restaurant staff. Bakalo was cited by A Luxury Travel Blog as one of the Top 3 restaurants in Mykonos with grandmas' best kept secrets, and in fact it is treasured family recipes that produce the outstanding flavours Bakalo's repeat customers enjoy. As the restaurant explains on its website, "Our menu is made up of dishes served in a Greek household, recipes that mothers kept secret from friends and relatives. The ingredients used come from all over Greece. The dishes are carefully prepared, respecting the taste buds of those that quest for authentic Greek cuisine served in a stylish environment and relaxed mood." Items you'll probably see on the menu board include moussaka, meat balls, zucchini fritters, lamb shank, stuffed squid, marinated octopus and home-made Myconian pie, but a variety of meat and seafood dishes should be on offer, too. Bakalo launched its new season on April 22, and will be open daily from 7 p.m. until 1:30 a.m. until it concludes its season in early October. Click here to read the TripAdvisor reviews for Bakalo.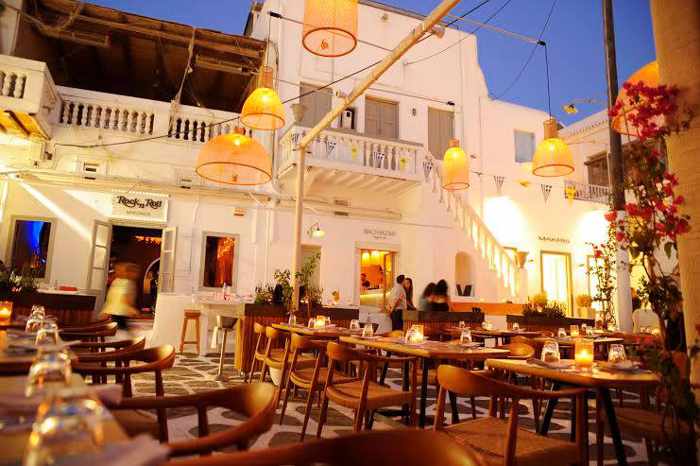 Balthazar has dozens of tables arranged in Agia Kyriaki Square, between two red-domed churches
Balthazar: After opening to critical acclaim in 2014, Balthazar has been racking up more rave reviews again this summer. A Mykonos "sister" to the Balthazar restaurant in Athens, it's located in busy Agia Kyriaki Square right next door to the popular Rock n Roll Mykonos nightclub. Primarily an outdoor eatery, Balthazar has dozens of tables arranged in the square between two red-domed churches. As I noted in my August 2014 Mykonos restaurant update, Balthazar's menu features seafood along with creative Greek and Mediterranean cuisine that highlights local products and ingredients. (A lot of reviews recommend the salmon teriyaki.) Balthazar opened during the first half of May this year, and its hours of operation are 8 p.m. until 1.30 in the morning. Click here to see what people have been saying about Balthazar in their reviews on TripAdvisor.
Diners can bask in the golden glow of the sunset while savouring the award-winning contemporary Greek cuisine in the poolside restaurant at Bill & Coo Suites & Lounge
Bill & Coo: It's arguably the top spot for gourmet dining on Mykonos, but there's no dispute about one key fact — the gastronomy awards that the restaurant at Bill & Coo Suites and Lounge has collected two years in a row. As the luxury hotel and its acclaimed restaurant prepared to launch their 2015 season in late April, Chef Athinagoras Kostakos and his team claimed their second consecutive Toque D'Or (Golden Chef's Hat) award. Bill & Coo Restaurant features a modern Mediterranean menu with exquisite culinary delights created with locally-sourced meat and seafood and the highest quality organic vegetables and herbs produced on the island and elsewhere in Greece. The food is spectacular, but so is the restaurant setting — the small open-air dining terrace is situated next to the hotel's stunning infinity pool, which offers superlative sea and sunset views. (Take a look at photos on the hotel website and be prepared to say "wow," which is probably what most customers say when their meals are served.) The Bill & Coo Restaurant is open daily from 8 p.m. until 12:30 a.m. The restaurant strongly urges booking a table in advance, by at least one week, because the limited seats get snapped up rapidly. Groups of 7 or more persons will be served a set degustation menu suggested by the chef. The hotel is located atop a hill overlooking Megali Ammos beach, and is less than 10 minutes' walking distance from the commercial center of Mykonos Town. To make a reservation, telephone the hotel at: +30 22890 26292. You can see TripAdvisor reviews for Bill & Coo restaurant by clicking here.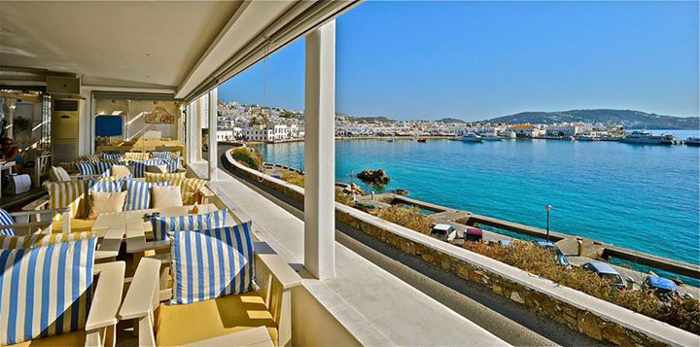 Blu-Blu Lounge, Cafe-Bar & Restaurant overlooks Mykonos Town (above), and has great views of the Old Port and sunset, too
Blu-Blu Lounge:  Situated on a hill above the Old Port, near the Mykonos Archaeological Museum, Blu-Blu Lounge offers a casual atmosphere for coffee, drinks, snacks or meals  accompanied by great views of the Mykonos Town harbourfront, the Old Port, and the sunset. It opens at 9 a.m. for breakfast, and serves coffee, drinks, snacks and meals throughout the day (the menu includes Greek and Mediterranean dishes). Try to get seats at one of the window tables so you can watch fishing boats, yachts and ferries arriving at and departing from the Old Port. Blu-Blu Lounge is open year-round.  Click here to see Blu-Blu Lounge's reviews on TripAdvisor.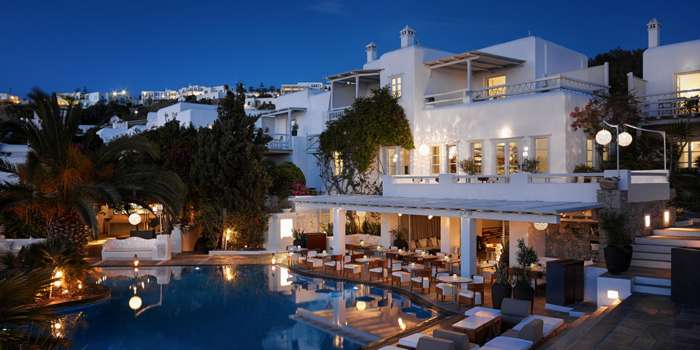 Evening view of the poolside dining terrace at the Belvedere Hotel
Belvedere: The chic Belvedere Hotel is one of the Mykonos hotspots people around the world recognize by its name, partly because it's a regular hangout for international celebrities and "A-Listers" and photos from the Belvedere's star-studded summer parties get circulated widely in the press. Last year, fashion designers Dean and Dan Caten threw a bash at the Belvedere to celebrate the opening of their Dsquared2 boutique in Mykonos Town, and a number of high-profile fashion blogs, including Kristina Bazan's Kayture, held photo shoots at the hotel.  The Belvedere opened for the season on April 2, and the poolside Belvedere Restaurant is celebrating Easter with a special festive dinner for Holy Saturday (April 11) and a festive lunch on Easter Sunday. See the listing for the Nobu Matsuhisa Mykonos (below) for details about when that acclaimed restaurant, also located in the Belvedere, will be launching its season. 
Bougazi is just steps from Manto Square (a.k.a. Taxi Square)
Bougazi: I must have walked past Bougazi hundreds of times during my visits to Mykonos. It's located at 4 Polikandrioti Street, the flagstone-paved road that leads from the north entrance of Mykonos Town into Manto Square, better known to tourists as Taxi Square. Bougazi is nestled into the narrowest part of the street, where there is barely enough room for a vehicle to squeeze through en route into Manto Square. Bougazi is usually bustling with customers, who flock there in droves for the reasonably-priced crepes, salads, Myconian pies, sandwiches, salads, desserts and coffee. There are seats for half a dozen people in front of the restaurant, next to the busy lane, and several more inside the cafe. Bougazi opened for the season on April 5, and usually stays open until early October. Click here to see Bougazi's reviews on TripAdvisor.
The Casa di Giorgio courtyard dining terrace
Casa di Giorgio: Located off Mitropoleos Street just steps from the Little Venice seafront, Casa di Giorgio specializes in hand-made pastas, pizzas baked in a stone oven, risotto and other Italian fare. The restaurant occupies an old sea captain's village house beside the Catholic cathedral. A big tree shades the large courtyard dining terrace, which has a cozy and romantic feel with its subtle night-time lighting. I haven't dined here yet, but I have chatted with some of the staff (they have been very friendly and cheery every time I've passed by) and I have seen the meals customers have been eating. The food looked very good, and numerous customers have told me their dinners were delicious. Casa di Giorgio opened in early May and its hours are 11 in the morning until 1 a.m. Click here to read Casa di Giorgio's reviews on TripAdvisor.
Street view of Caesar's tavern at Goumenio Square
Caesar's: While wandering the labyrinthine lanes of Mykonos Town, tourists are bound to pass through colourful Goumenio Square at some point. It's a vibrant spot to dine and view art, since it's home to several busy restaurants as well as interesting contemporary art galleries. One of the popular places to eat there is Caesar's, which serves satisfying and tasty Greek comfort food in a cheery bright and airy setting with a very relaxed ambience. I've been in the restaurant — I stopped in to take a look at their menu and the decor after the place was newly renovated a couple of seasons back — but haven't yet dined there. I have spoken to people who are repeat customers, though, and they have all highly recommended having a meal at Caesar's. The restaurant recently announced on its Facebook page that it's looking forward to the 2015 season with great anticipation because it has made "lots of changes and surprises made with love for all of you." I'm keen to find out what those surprises are; so far, the restaurant website has not been updated to include its menu. Caesar's opens its doors on April 30 this year. Click here to read its reviews on TripAdvisor.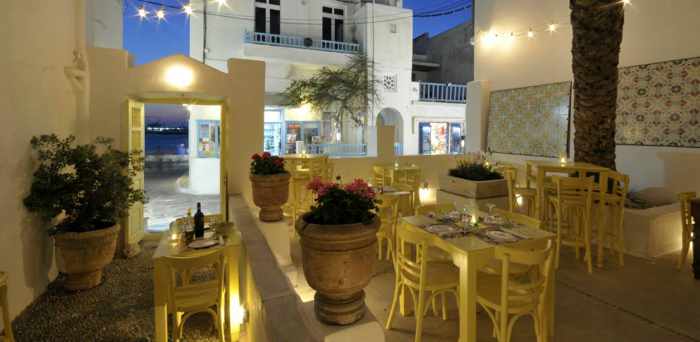 Entrance and street view from the dining terrace at Catari
Catari: Craving pizza or pasta? Consider dining at Catari. With an open-air dining terrace in the front yard of an old Mykonos mansion, Catari offers the atmosphere of a traditional Neopolitan trattoria with deliciously authentic dishes to match. Although it specializes in pizza and pasta, the Catari menu also includes a variety of salads and starters as well as Italian wines and exotic cocktails. Catari is popular with regular Mykonos visitors, including several people I know who make a point of going there for dinner at least twice during each trip to the island. They've tried most of Catari's "classic" pizzas as well as many of those on the "signature" pizza menu, and they say they have enjoyed them all. (They're still dumbfounded that I haven't dined at Catari yet.) This year Catari commenced its season on April 24. Catari is located between Taxi Square and the little Agia Anna beach on the Mykonos Town harbourfront. You can read TripAdvisor reviews for Catari by clicking here.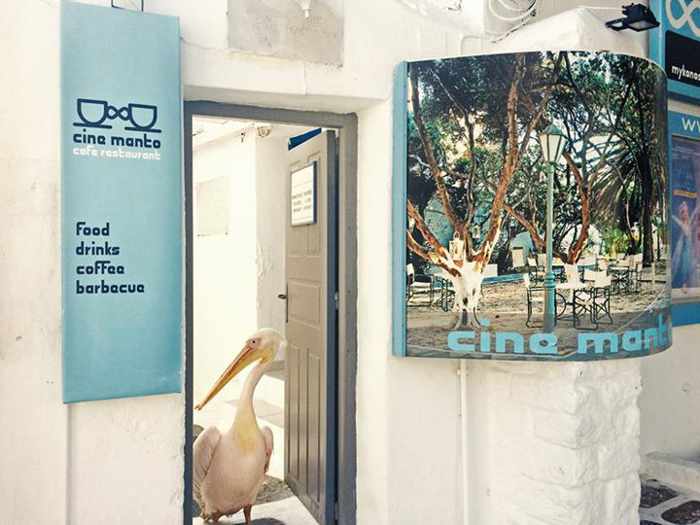 Cine Manto is best known as the Mykonos outdoor cinema, but its restaurant serves delicious food and snacks in a relaxed garden setting often visited by the famous Mykonos pelican
Cine Manto: It's best known as the island's beloved summer outdoor cinema, but Cine Manto is a great spot to have a meal or a drink, too, since it's home to a restaurant serving quality good food in a peaceful, tree-shaded garden. Located in the heart of town a short stroll from the Little Venice seafront area and windmills, Cine Manto is a not-quite-so-hidden gem that's a delight to visit during daylight hours– especially if you're on Mykonos during the crush of peak season in July & August and need to escape the hot, crowded streets of Mykonos Town. Protected from the infamous Mykonos winds and sheltered from the scorching sun by towering palms, pines and cactus, the Cine Manto garden is a refreshing, cool oasis more than 11,000 square feet in size. The all-day cafe-restaurant is open daily from 10 a.m. until 2 a.m., from the beginning of June until the end of September. The menu includes breakfast items and features a range of Greek and Mediterranean cuisine, with souvlaki and grilled meat dishes receiving frequent rave reviews from happy diners. If you just want to pop in to read a book or check email (there's free wi-fi) while relaxing with a coffee or cool drink, you can do that, too. Prices are reasonable. Click here to read Cine Mano Restaurant reviews on TripAdvisor.
The patio at Cosmo Cafe, which specializes in breakfast and brunch fare
Cosmo: Unlike many restaurants that serve a wide array of food to customers dropping by for breakfast, lunch, dinner or late night snacks, Cosmo Cafe focusses its menu on breakfast and brunch fare. That means coffee and juice; croissants and Greek pastries; crepes; omelets; Greek yogurt; salads; sandwiches and desserts. Customers say the food is good, the service friendly and efficient, and the prices cheap. Cosmo is conveniently situated near the Fabrika bus depot, and is open daily from 8 in the morning until 4 in the afternoon. It has waiter service, and a cozy patio with tables and chairs. Click here to read TripAdvisor reviews for Cosmo Cafe.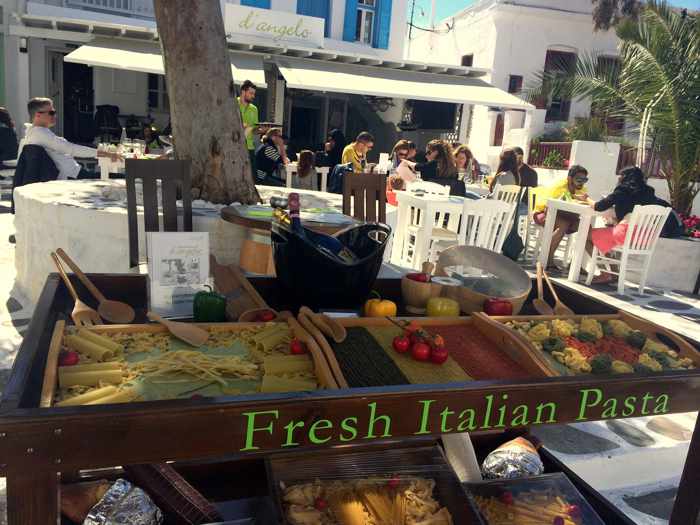 Fresh pasta display next to the large outdoor dining terrace at D'Angelo
D'Angelo: Located in a square in Mykonos Town close to the famous windmills of Little Venice, D'Angelo ristorante boasts a spacious outdoor dining terrace shaded by a large tree. The restaurant serves Mediterranean and Italian cuisine, including salads, appetizers, meat dishes and scrumptious desserts. Pizza and pasta are hallmark items on the menu, of course, and friends have told me the food and service is outstanding. D'Angelo opens as early as 8 a.m. to serve coffee and breakfast, and it remains open for lunch, dinner and late-night dining, with closing time around 3 a.m.  This year D'Angelo will start its season on April 23. To see the TripAdvisor reviews for D'Angelo, click here.
The harbourview dining terrace at En Plo Cafe and Restaurant
En Plo: Practically everyone who visits Mykonos will take a stroll at some point along the wide harbourside promenade that extends from Manto Square (aka Taxi Square) to the Mykonos Town Hall and Delos ferry boat jetty. The bustling walkway is lined with taverna terraces, jewellery stores, souvenir shops and a few ferry ticket offices, all of which face the Mykonos Old Port harbour. The taverna patios are usually packed with patrons enjoying coffee, drinks or a meal while watching the steady stream of passersby, or just gazing at the luxurious private motorboats moored in the harbour. En Plo Cafe Estiatorio is one of about a dozen restaurants on the strip.  It serves a variety of traditional Greek cuisine along with fish, seafood, pasta. En Plo opened on March 15 and will remain open until the end of October. During summer months, it operates 24 hours a day. Click here to read En Plo's reviews on TripAdvisor.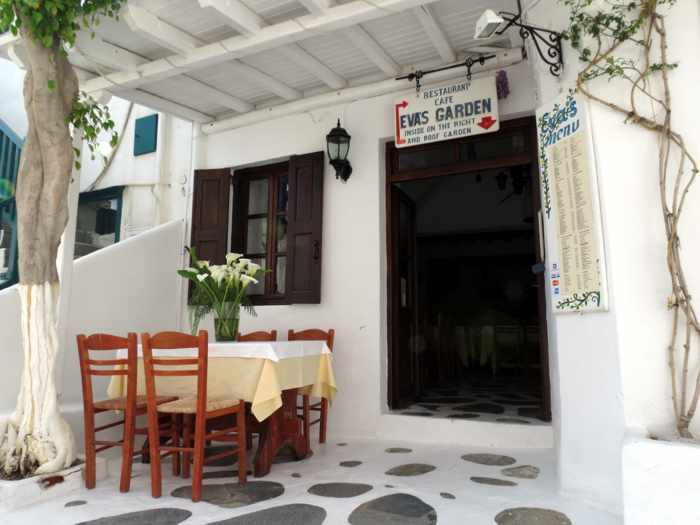 Kalogera Street entrance to Eva's Garden Restaurant
Eva's Garden: This place has been open for as long as I've been going to Mykonos, and it's no surprise: the quality food and good service has made it a hugely popular dining spot in the center of Mykonos Town near Goumenio Square. Eva's Garden has several dining areas, including a ground-level terrace, an indoor dining room, and a roof terrace. The menu is a mix of Greek and Mediterranean cuisine, and includes salads, hot and cold appetizers, fish and seafood, meat dishes, and pasta. Prices are reasonable. Although all the dining areas are pleasant, I recommend trying to get seats at the table next to the restaurant entrance on Kalogera Street (shown in my photo, above), which is a great spot for people watching. Click here to read TripAdvisor reviews for Eva's Garden.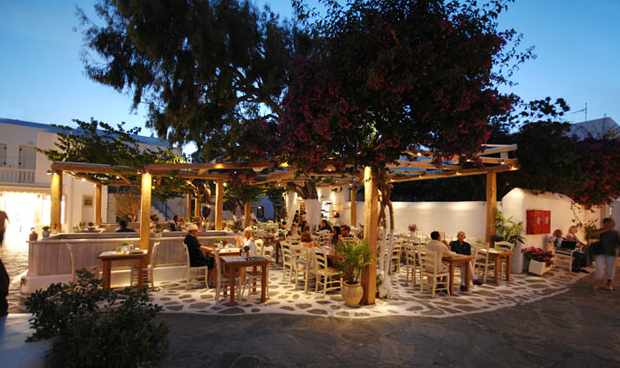 Twilight view of the bougainvillea-shaded terrace at Familia
Familia: Surrounded by galleries and restaurants, Goumenio Square is a popular destination for art afficionados and visitors seeking a cocktail or a meal in a charming and scenic part of Mykonos Town. With an enormous canopy of bougainvillea above its open-air dining terrace, Familia is arguably the prettiest — or at least the most picturesque — of all the eateries in the square. A "sister" to the Alegro restaurant on the harbourside, Familia specializes in Greek and Mediterranean cuisine and seafood, its menu presenting a selection of hot and cold appetizers, salads, risotto, pasta, grilled meats and fish, and desserts. Familia takes pride in some signature dishes, including its giouvetsi shrimp pasta with veloute sauce and black truffle, and its watermelon salad with mushroom. The restaurant's season runs from March until October, during which Familia is open daily from noon until 2 a.m. Click here to read Familia's reviews on TripAdvisor.

Fato a mano, located at Meletopoulou Square, has a welcoming atmosphere that draws scores of repeat visitors each year
Fato a mano: It bills itself as "the most popular gay friendly restaurant of Mykonos," but everyone gets a very warm welcome from the cheerful staff at Fato a mano.  That comfortable easy-going ambience, plus good food, have made this usually-busy place one of the most popular dining spots in Mykonos Town, with legions of repeat visitors stopping by for at least one meal during their trips to Mykonos. The menu includes salads and vegetable items, meats, pasta, fish and seafood, and the restaurant usually offers two daily specials that typically include two food items plus one glass of wine for a surprisingly low price. Fato a mano is located at Meletopoulou Square, and is open from around 10 a.m. until 2 a.m. This year the restaurant opened in mid April and probably will operate until late October, as was the case last year. A map showing how to find Fato a mano, along with photos of the restaurant and some of its delectable cuisine, can be found on the website link I provided above. Click here to read the Fato a mano reviews on TripAdvisor.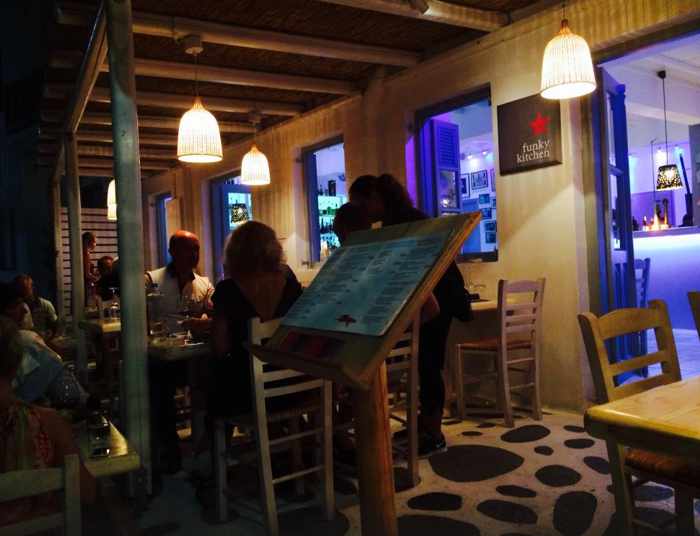 The outdoor dining terrace at Funky Kitchen is seen in a photo that was posted with a TripAdvisor restaurant review by TA member Randle
Funky Kitchen: When I posted Part 2 of my 2014 Mykonos restaurant report in early May last year, Funky Kitchen had been open only a short time.  But within barely a few weeks, I began hearing rave reviews about this brand-new dining establishment, which is located near Lakka Square next door to Marco Polo Taverna. The first-rate feedback continued all season. Funky Kitchen describes itself as a Mediterranean restaurant, and my sources told me the menu features delicious contemporary versions of Greek, Italian and Middle Eastern tastes and cuisine. There's a variety of starters including  bruschetta, hummus, falafel, croquettes and grilled haloumi cheese; several different salad selections; pasta and risotti; grilled calamari; and several meat items (chicken, pork chops, lamb chops and rib eye steaks). I also learned that the restaurant bar serves wickedly delicious and potent cocktails. The food is prepared from high-quality, locally-sourced ingredients, and everything is made in-house, including the breads, dips and dessert ice creams. Funky Kitchen is owned and operated by the husband and wife team Andrea (the cheerful hostess who manages the dining room and describes menu items to customers) and Pavlos (the chef who creates the delectable dishes). This year Funky Kitchen will open on May 1, and remain open until mid-October. Serving hours are 7 p.m. until 1 a.m. Click here to read TripAdvisor reviews for Funky Kitchen.
Street view of the entrance to GustoZiko on Kouzi Georgouli Street
GustoZiko: Located in the Scarpa area of Mykonos Town, GustoZiko is an unpretentious cafe and snack bar serving food and beverages at prices considerably cheaper than the restaurants and bars at the nearby Little Venice seafront strip. GustoZiko's beverage menu includes a variety of hot and cold coffee, tea, milkshakes, smoothies, juices, soft drinks, beer, wine and spirits.  The cafe's food menu includes breakfast items (served until 1 p.m.); crepes, toast, sandwiches, salads, burgers, meat balls, pasta, pizzas, and desserts. A daily special is usually available. You can view photos of the restaurant and some of its dishes on the GustoZiko Facebook page, while you can see more photos plus a full food and beverage menu on the GustoZiko website. The restaurant is located on the second floor at 42-44 Kouzi Georgouli Street. Click here to read TripAdvisor reviews for GustoZiko.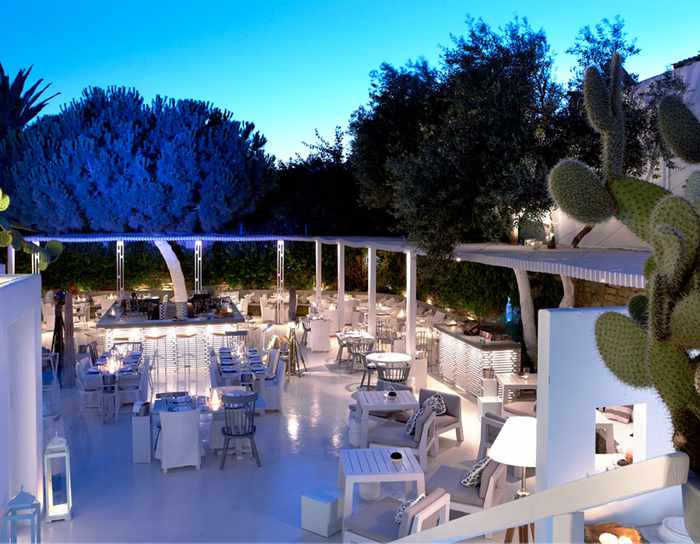 Interni's chic garden courtyard attracts a stylish younger crowd
Interni: With its crisp white decor and chic design, a Mediterranean-based contemporary menu, and a DJ, the garden courtyard at Interni Restaurant & Bar generally attracts a stylish and hip younger crowd seeking fine cuisine, exquisite cocktails and cool music. The menu features Mediterranean cuisine with a creative touch of international flavours and presentation, and includes appetizers, salads, beef, lamb, chicken and seafood mains,  pasta and desserts. (You can view the menu — complete with prices — on the restaurant's website.) Interni is located on Matogianni Street. This year Interni opens on May 21. Click here to read TripAdvisor reviews for Interni.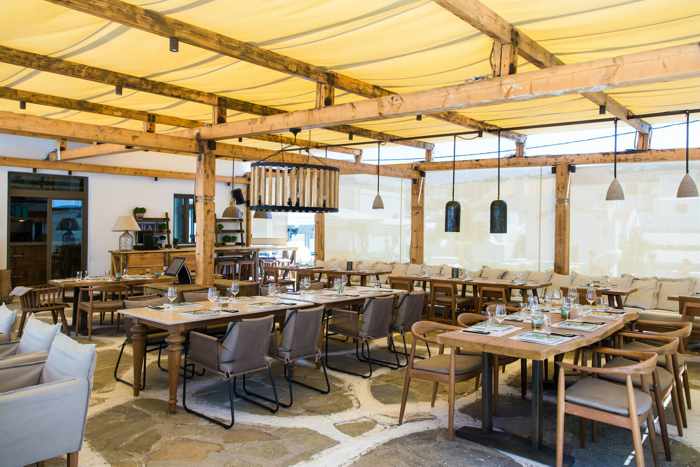 Part of the dining area at Inyama, a brand-new international surf & turf restaurant at Agia Moni Square
Inyama: If I collected €1 every time I heard or read a traveller complain about being served overcooked or mediocre steak at restaurants and tavernas in the Greek islands, I would have enough money to treat a group of family and friends to a fabulous surf and turf dinner at Inyama, one of the newest restaurants on Mykonos this summer. And I can rest assured that nobody would have any "beefs" about the meat (pun deliberately intended). That's because Costa Tomazos, the chairman of the firm that created Inyama, made his name by opening one of the first steakhouse chains in South Africa in the 1970s. This man knows meat! And so do the teams that run his firm's branded restaurants, including Ribs and Rumps in Australia and the Middle East, and The Meat Co in South Africa, the U.K. and the Middle East. Food Fund International is a family-owned and -run firm that Tomazos developed 10 years ago, and Inyama is the firm's newest restaurant concept. "At Inyama we bring you our version of international Surf & Turf, a combination of excellent cuts of meat and fresh seafood, selected and prepared with care," the FFI website states. Inyama is the word for "meat" in the Zulu African Tribe dialect, and it was chosen as the restaurant name to reflect FFI's "long experience in offering our signature cuts of well-aged meat." Inyama opened the last week of July in the Agia Moni Square premises formerly occupied by the Greek taverna, Ta Kioupia, which closed several years ago. The Inyama website is still under construction, and as of mid-August contained contact information only. But the Inyama Mykonos Facebook page is updated frequently, and is chock full of photos showing the restaurant and many of its captivating culinary and cocktail creations. Because Inyama is still new to the Mykonos restaurant scene, there are only two reviews for it on TripAdvisor so far — and both are in Swedish. But if you press the Google Translate button accompanying the reviews, you'll be able to read interesting and detailed descriptions of the restaurant and its dishes. Click here to see them.
Some of the friendly staff at Jimmy's Souvlaki
Jimmy's: This cheap 'n cheerful place has been popular for ages. I heard about it before I ever went to Mykonos, and since I started visiting the island I've seen Jimmy's packed with customers every time I walk past. (I've stopped in for a quick meal a few times, too.) You can get gyros, souvlaki or other "fast food" fare, plus a beverage, for around €5. Jimmy's is open from early May until October, and during the summer stays open 24/7 since it's a favourite place for bar hoppers to stop to refuel during long nights of partying in Mykonos Town. The place can be a little tough to find, since it's situated along a very narrow alley in the maze of Mykonos Town streets. But if you're walking to or from the Fabrika bus depot, you're bound to walk past — it's near the schoolyard.  Click here to read Jimmy's reviews on TripAdvisor.
Kadena's dining terrace has views of the Delos ferry boats (upper left) and the Mykonos Town harbourfront
Kadena: One of the many restaurants that line the Mykonos Town waterfront, Kadena Cafe is located near the Mykonos Town Hall just steps from Agios Nikolaos (the blue-domed church on the harbourside) and the Delos ferry boat quay. The big terrace out front is sheltered by a large awning, so it's a comfortable place to sit should the weather take a turn for the nasty. The restaurant opens early in the morning to serve breakfast (handy for people seeking a bite before catching the first boat to Delos) and remains open throughout the day and late into the night. Kadena, like most of the other restaurants along the busy harbourside promenade, serves Greek & Mediterranean cuisine and seafood. Click here to see TripAdvisor reviews for Kadena.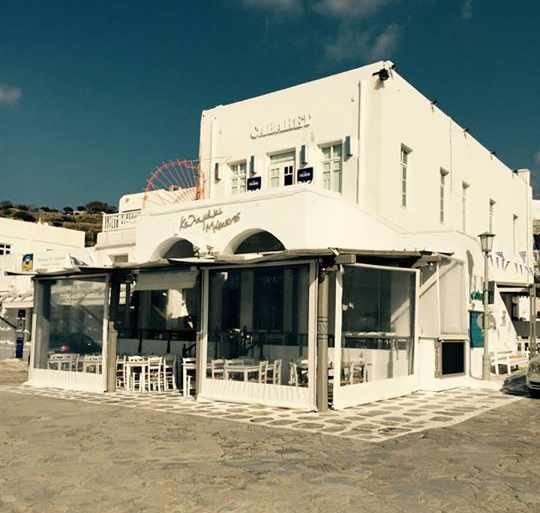 Kalamaki Mykonos at Manto Square has a large outdoor patio that faces the Mykonos Town harbour and the town's bustling waterside promenade
Kalamaki: Dining near the water can be a costly proposition in Mykonos Town, since restaurants with sea or harbour views tend to be tourist traps that try to cash in on the thousands of cruise ship visitors who amble past each day. Not all places are expensive, of course, but I've heard and read so many complaints about "overpriced" and poor quality food and drink at many of the establishments in recent years that I typically advise visitors to be wary of seafront dining. However, there is one place that definitely won't empty your wallet — Kalamaki. The feedback I've received about this place is that it's a reliably good and very affordable option for Greek "fast food" fare such as gyros, kebabs, meat skewers and grilled Myconian sausage.  Kalamaki also offers a selection of appetizers as well as a wide variety of salads, including health-conscious choices with beetroot, lentils, quinoa and grilled vegetables. Kalamaki is located in a corner building at Manto Square — prime real estate considering that its patio is just a few meters from the water's edge at the Mykonos Town harbourfront. But you won't pay exorbitant prices for the privilege of dining with such a good view. On the contrary, you'll probably be surprised at how reasonable everything costs.  Click here to read TripAdvisor reviews for Kalamaki Mykonos. You can read more reviews and see dozens of photos that customers have posted on the Kalamaki Mykonos Facebook page, showing both the restaurant and some of the Kalamaki dishes they ordered.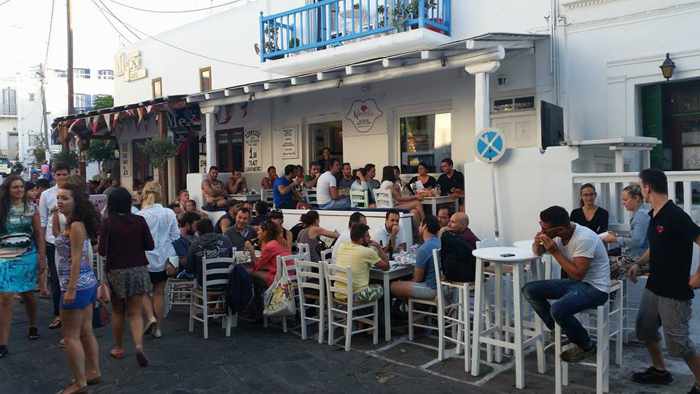 Street view of Kalammmakia at Lakka Square
Kalammmakia: Don't be surprised if you can't find a seat at one of the tables outside Kalammmakia Lakka at the busy Lakka Square in Mykonos Town. The place is usually packed because people love its tasty cheap eats — especially its yummy gyros, souvlaki, and kebabs. Many items cost only a couple of Euros apiece, so budget-minded travellers find their money goes a long way at Kalammmakia, whether they're having a meal or just grabbing a quick snack. For Greek "fast food" at bargain prices, you can't go wrong at Kalammmakia. Click here to read TripAdvisor reviews for Kalammmakia.
The garden courtyard at Kalita restaurant
Kalita: Mykonos visitors are invited to Kalita's tree-shaded garden courtyard at 31 Kalogera Street to "enjoy the gifts of the Greek land and fresh fish from the Aegean sea" with its menu of Greek cuisine and seafood dishes created by Chef Vaios Doutsias. The menu includes fresh fish, selected meats, organic Greek pasta and vegetarian dishes. The chef's signature creations include "home-made white fish roe dip, trilogy meatballs flavored with Cycladic aromas, Cretan organic pasta with Naxos cheese and grouper with vegetables." Kalita opened on April 9.  Click here to read the TripAdvisor reviews for Kalita.
Karavaki restaurant at the Vencia Hotel Mykonos
Karavaki: Located in the Vencia Boutique Hotel on the steep hillside above Mykonos Town,  the Karavaki lounge bar and restaurant offers modern Greek and Mediterranean cuisine as well as international dishes, served with a tremendous view of the sea, sunset and Mykonos Town. The restaurant says it takes pride in combining "beloved Mediterranean tastes with local Mykonian products to thrill your palates." Karavaki kicked off its new season on April 9. Click here to read the Karavaki reviews on TripAdvisor.
The big windows at Kastro's Restaurant-Bar offer sea and sunset views
Kastro's:  Located in the Little Venice area of Mykonos Town, Kastro's has a long history as a cocktail bar — 37 years, in fact. But since the 2014 season it has been a restaurant, too, offering a dinner menu of Greek and Mediterranean-inspired cuisine, with starters, salads, mains and desserts. I have not dined at Kastro's yet, and I'm probably one of the few regular visitors to Mykonos who hasn't gone there for a drink. But I have been inside, and can tell you that its wide windowfront offers breathtaking views of the brilliant turquoise sea, as well as the sunset. What I particularly like about Kastro's, though, is its row of tables and benches in the narrow flagstone lane beside the dining room entrance. Candle-lit at night, and just steps from the sea, the lane always strikes me as a cozy and romantic spot to have a glass of wine while listening to the classical music played inside the restaurant.  (You can see photos of the outdoor seating, as well as the dining room, on Kastro's Facebook page.) I pass the lane numerous times each visit to Mykonos, and keep telling myself I've got to finally stop in for a drink, but I never seem to make it back. Next time, perhaps. Kastro's opened this year on April 9, and typically remains open until mid-October. Click here to read Kastro's reviews on TripAdvisor.
Windmills, islands, sea & sunset — it's all part of the panoramic view available from one of the balconies at Katerina's Bar at Little Venice. This image was posted on TripAdvisor with a review by TA member Zohan R.
Katerina's: If timing or luck are on your side, and you manage to nab seats at one of the three or four tables on the balconies at Katerina's Bar & Restaurant, you're guaranteed a breathtaking view — one that takes in the famous row of windmills, parts of the Little Venice waterfront, the sea, nearby islands, and the sunset (if you're there in the evening).  Those tables are in high demand, though, so I suggest you make reservations and specifically request one of the prime front row seats. Will your meal be as breathtaking as the scenery? Maybe yes, maybe no. One the whole, Katerina's receives overwhelmingly excellent reviews for its food (Mediterranean cuisine and seafood) and for its service, but like any restaurant it can have its "off" days — I have spoken to a number of people who were disappointed with their meals (especially since the prices aren't cheap). Two travel bloggers who had enjoyed their lunch (for the most part) said they made the "wrong choice"  by returning for dinner — the mussels were overcooked, the grilled squid was just okay, and what was supposed to be a rib-eye steak cooked medium-rare was another cut of beef that was "way too well done." That's just one example, but I've heard others. As I heard from one traveller who had what he called a "so-so dinner," however, it was still worth going to Katerina's because the view alone was priceless. Click here to read what others have said in their reviews of Katerina's on TripAdvisor.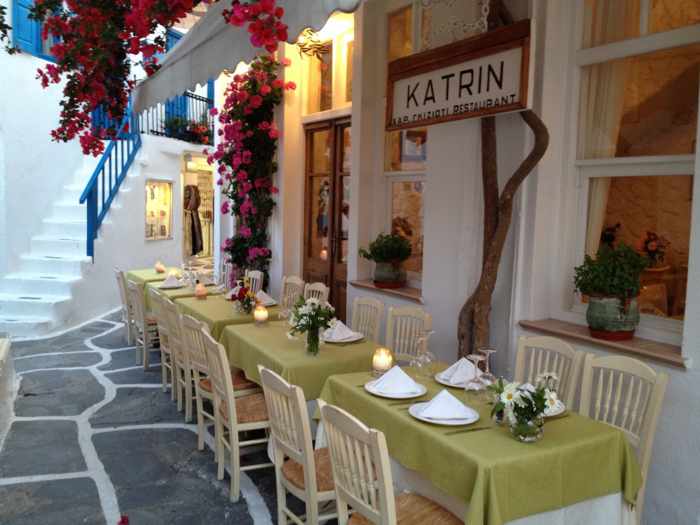 La Maison de Catherine has several tables nestled in the narrow lane outside the restaurant, and about a dozen more inside its elegant dining room
Katrin: Serving dinner since 1971 and with a guest list that has included scores of international celebrities and VIPs, La Maison de Catherine is a legendary Mykonos restaurant that many consider to be one of the top fine dining establishments on the island. It's also one of the most expensive places to eat, so expect to spend several hundred Euros for a dinner for two with wine. Many online travel guides describe La Maison de Catherine as an elegant French restaurant, while many more say its menu features exquisitely-prepared traditional Greek dishes. It actually serves French and Greek, as well as fish and seafood and tapas, so one could call the cuisine "international." Located on Nikiou Street, a short lane tucked into the labyrinthine core of Mykonos Town, Katrin is easy to spot once you turn into the alley — half a dozen tables with pretty settings are positioned under a canopy of brilliant bougainvillea, creating an iconic picture postcard-perfect Mykonos scene. (It's a favourite photo subject for amateur shutterbugs and professional photographers alike, so you're bound to see plenty of people snapping pics as they pass by). Finding online information about the restaurant is possibly even more difficult than locating it in the maze of flagstone-paved streets. Besides La Maison de Catherine, the restaurant is also called Katrin, Chez Katrin, Catherine's, and similar variations. But they're all the same place. The link I provided above is for the restaurant's own Facebook page, but Katrins, Mykonos Tapas Bar & Restaurant is an "unofficial" business listing to which Facebook users have posted dozens of photos and comments from their personal dining experiences. I always enjoy passing by the restaurant to see the bougainvillea in daylight, and the candle-lit tables at night, but I have not yet dined here (I'll admit the prices are too steep for my travel budget). But I have spoken to travellers who have been to La Maison de Catherine, and most have said that while the cuisine and service are excellent, the restaurant seems overpriced. You can read what other visitors have had to say about the place on TripAdvisor. Click here for reviews posted under the listing for La Maison de Catherine, and click here for comments posted for Katrin.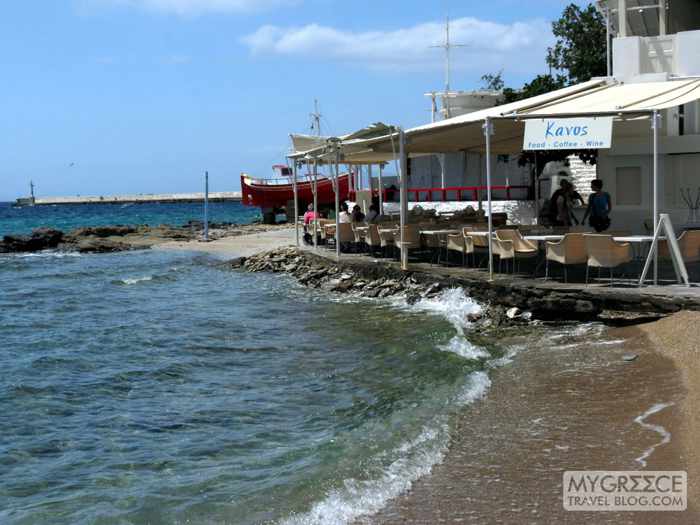 You'll find Kavos Cafe-Bar-Restaurant on the water's edge near the small Mykonos Town harbour beach
Kavos: Situated right on the seashore at the Mykonos Town harbour, Kavos Cafe-Bar-Restaurant is a tremendously popular spot for tourists and cruise ship daytrippers to stop for a drink or meal because its tables have an unsurpassed view of the town's bustling waterfront and harbour areas. The fact it's conveniently located on the main footpath between the Old Port and the town's commercial center helps its popularity, too. If you arrive at the Old Port on a highspeed ferry or excursion boat from Naxos or Paros, or if you park in the municipal lot next to the port, you will walk past Kavos on your way into the town's pedestrian zone. Some people consider Kavos a tourist trap (which is understandable, given its location), while many have enjoyed it for drinks, seafood or Greek cuisine. Click here to read reviews for Kavos Cafe-Bar-Restaurant on TripAdvisor.
One of the Mykonos pelicans poses on the terrace at Kazarma restaurant
Kazarma: On its website, Kazarma storia e gusto describes itself as "your all-day cafe-bar-restaurant in Mykonos," and that pretty much sums it up. Located on the Gialos harbourfront, it opens around 7 a.m. to serve coffee and breakfast (keep that in mind if you're looking for a bite to eat before catching a ferry to Delos island … the Delos ferry boat quay is just a short stroll away.)  In daytime people (especially cruise ship visitors) flock to Kazarma for lunch, snacks or drinks, and in the evening it's a popular place for dinner. The menu? Greek, Mediterranean and seafood. The kitchen stays open until 2 a.m., so you can get a late meal if you're planning a long night of partying, or you can just stop by for a drink. Depending upon what music the DJ is playing, the place can suddenly erupt into a party. The big terrace out front has a view of the Mykonos Town harbour, and since the restaurant is right on the harbourside promenade, customers get to watch the constant parade of people passing by. Click here to read Kazarma's reviews on TripAdvisor.
The Japanese restaurant Kiku Mykonos is situated next to the stunning infinity pool at the 5-star Cavo Tagoo Hotel
Kiku: Kiku Mykonos will be sporting an entirely new look for 2015 when the swank Japanese restaurant reopens on May 15. Kiku's premises in the ultra-luxurious Cavo Tagoo hotel have been undergoing extensive renovations in recent months and will be brand-spanking new from top to bottom once construction is complete. The five Kiku restaurants (four in Greece, and one in London) are famous for their inventive contemporary culinary creations based on traditional Japanese tastes (you can see examples of menu items on the Kiku website). But Kiku is not just a high-end sushi bar; it's also a stylish cocktail lounge that occasionally hosts trendy nightclub-style parties with music provided by leading international DJs. Last July, for instance, Kiku's Asian Moustache party, headlined by Anastasis Tsirikos, Ninefold and Clubkid, was one of the island's top events for the trendy A-list travel crowd. Kiku is open to the public as well as to registered guests of Cavo Tagoo ; however, reservations are required for diners not staying in the hotel.  Click here to read TripAdvisor reviews for Kiku Mykonos.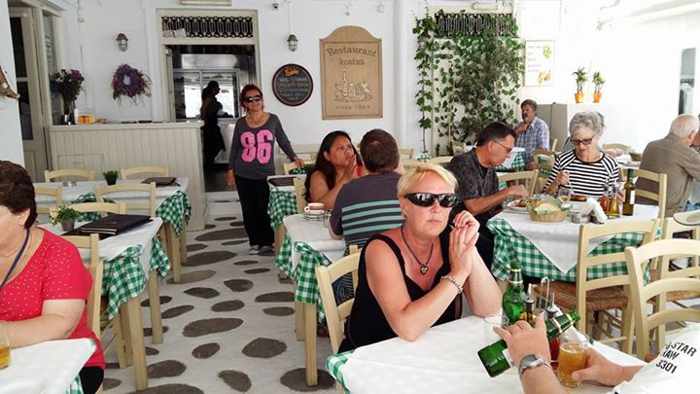 The dining terrace at Kostas restaurant on Metropoleos Street
Kostas:  Established in 1963, the family-operated Kostas Restaurant is one of the oldest traditional Greek restaurants on the island. Located at a busy corner on Metropoleos Street close to Little Venice, its open-air dining terrace is an ideal spot to enjoy simple yet delicious Greek fare while watching the endless parade of tourists passing by. The place is totally unpretentious and easy-going, and is a favourite eating spot for many regular visitors to Mykonos since Kostas's food and service are known to be reliably consistent. Menu items include staple Greek dishes like moussaka, stuffed tomatoes, gyros, souvlaki, calamari, octopus, fresh fish and other seafood items. The restaurant opened at the beginning of May and serves customers all day long until midnight. Click here to see Kostas Restaurant reviews on TripAdvisor.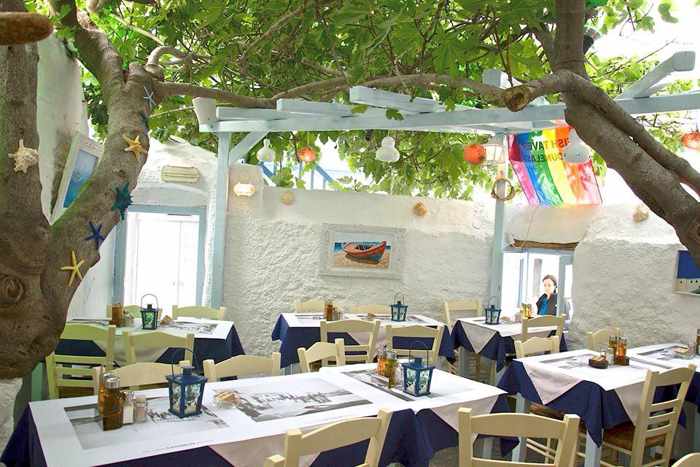 Part of the outdoor dining terrace at Kounelas Fish Tavern (there's also an indoor dining room and tables in the lane outside)
Kounelas: Ordering fish and seafood can be very expensive in Mykonos, or for that matter anywhere else in Greece, because fish is priced by the kilo according to weight. Countless travellers suffer severe "sticker shock" when they order fish dinners and get the bill — prices are usually three or four times more expensive than they were anticipating. But there's a simple way to avoid eating a seafood meal that winds up costing considerably more than you expected to pay — get the restaurant to weigh and price the fish before you order it. The staff should always be willing — and agreeable — to doing this and if they're not, get up and leave so you don't get fleeced. Although restaurants serving fish and seafood abound on Mykonos, Kounelas Fish Tavern is one place that friends and I have found where prices are reasonable for excellent fish dinners. Tucked into the maze of streets behind the harbourfront promenade (close to the Mykonos Town Hall), Kounelas has been in business since 1967, with several dining areas that include an indoor dining room, an open-air terrace, and even tables in the squishy cobblestone lane next to the restaurant. You can order off a menu or choose from fish selections mentioned by your server, but I strongly suggest going to the fish counter on the main floor where staff will open refrigerator drawers to show you the various catches of the day, neatly displayed on ice. They'll tell you what each kind of fish is, and when one catches your eye they will weigh and price it for you on the spot. So if your first choice is too expensive, you can select a smaller fish at a price that's more palatable.  Simple and no surprises! Kounelas is open from 7:30 in the evening until 2 a.m. Click here to read TripAdvisor reviews for Kounelas Fish Tavern.
The courtyard terrace at Koursaros Fish Restaurant
Koursaros: Located at Meletopoulou Square near Little Venice, Koursaros restaurant offers Greek and Mediterranean cuisine but specializes in fresh fish and seafood dishes. The restaurant offers a set menu as well as a mezedakia appetizer menu, and has an extensive list of Greek and international wines. The dining terrace, in a garden courtyard,  is designed to be reminiscent of a Corsair ship. Koursaros celebrated its season opening with dinner service on April 9. Click here to read reviews for Koursaros on TripAdvisor.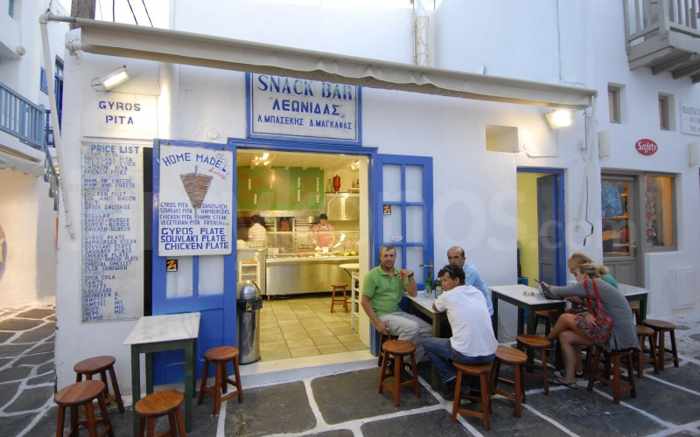 Leonidas Snack Bar seen in a photo from inmykonos.com
Leonidas: Still going strong after 30 years of business on Mykonos, Leonidas Snack Bar is a perennially reliable spot for cheap and tasty gyros as well as good burgers and sandwiches. Located in the Scarpa area of Mykonos Town, Leonidas is basically a small hole in the wall with just a couple of tables and chairs and a counter for customers who want to eat there. But most people get their gyros and other snacks to take away and eat elsewhere. Which is probably a good thing, because the place draws crowds and Leonidas wouldn't have room for everyone, especially during peak travel season. It's common to see lineups at the counter, but service is fast and efficient and customers won't have to wait long to get to the head of the queue. I haven't tried Leonidas yet, but have heard from people who said their pork or chicken gyros were yummy and bargain-priced. Click here to see reviews for Leonidas on TripAdvisor.
Taverna Lotus, a longtime Matogianni Street favourite for repeat Mykonos visitors, has new ownership, a new name, and new staff for 2015
Lotus: Wedged into a narrow but cosy courtyard on Matogianni, the most famous shopping street in Mykonos Town, Taverna Lotus had a legion of repeat visitors who loved the restaurant's delicious, flavourful cuisine as much as the attentive, friendly service they received from owner Elsa and her sons. I had never dined there (to be honest, I thought it seemed too expensive), but friends who were Lotus "regulars" told me the restaurant delivered value and high quality for the price, and they insisted I was missing out on a wonderful dining experience. I certainly missed the chance to meet Elsa and see for myself why she had so many devoted fans. As I noted in my What's New On Mykonos for 2015 post, Elsa sold the restaurant earlier this year. She and her sons did not remain on staff with the new owners, who renamed the restaurant Lotus Resto & Bar. I was curious to hear if the Taverna Lotus regulars would find the new place on par with the old Lotus they had loved so dearly. So far, the feedback I've heard has been primarily positive, with very favourable comments about the quality of the cuisine. But some customers admit they miss the personal interaction with Elsa, whom they had gotten to know over the years and looked forward to seeing whenever they were back on Mykonos, and for them the Lotus experience just isn't the same. But that's understandable. What hasn't changed is the delicious food. So far this summer there has been just a handful of reviews on TripAdvisor for the "new" Lotus; click here to read them.
Entrance to Mamalouka restaurant & bar, which boasts an attractive tree-shaded courtyard dining terrace
Mamalouka: Its theme is "Eat Local," and Mamalouka restaurant proudly features local produce — including meat and fish — on its menu of Mediterranean cuisine.  Located just behind Little Venice at 53 Kouzi Georgouli Street, the restaurant occupies a beautiful garden courtyard shaded by palms and other trees. It's a pleasantly relaxed setting for afternoon lunches; with soft lighting at night, the garden patio becomes an elegant and romantic spot for dinner.  Mamalouka is open from noon until 2 a.m. every day. It launched its season on April 28 and will operate until at least late September. Click here for TripAdvisor reviews on Mamalouka.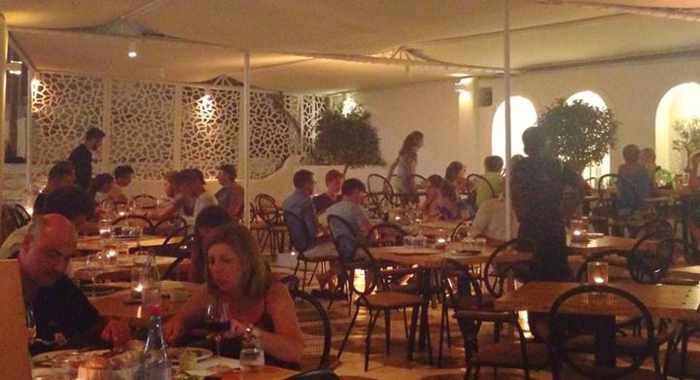 Part of the dining area at Mama's Cuisine at Manto Square
Mama's: There is a slight air of mystery surrounding Mama's Cuisine, a brand-new restaurant that has opened at Manto Square (more popularly known to tourists as Taxi Square). The restaurant website is still under construction and contains only a map showing the Mama's Cuisine location in one of the busiest areas of Mykonos Town. Meanwhile, the Mama's Cuisine Facebook page doesn't provide much more information. So far several photos have been posted to the page, showing the restaurant sign, its menu cover, parts of its dining room (including the picture I posted above), and some of its dishes, including a seared tuna steak, a salmon fillet roasted on a cedar plank, and Myconian cheese balls in a parmesan "nest." The food looks hearty and appetizing in all of the pictures, but I have no idea what else the restaurant serves, or what hours it is open. I have messaged Mama's through both the Facebook page and the website's contact email, but I have not received a response.  As of this writing, however, Mama's has received 8 "excellent" ratings on its TripAdvisor review listing, which says the restaurant serves Mediterranean, Greek, Grill and Healthy cuisine. Click here to read the reviewer comments on TripAdvisor.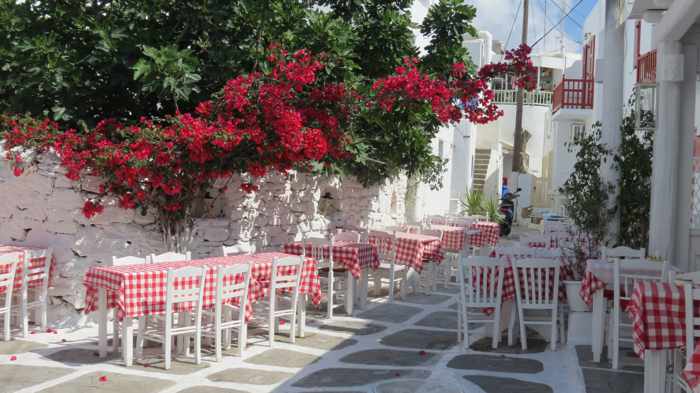 Tables in the lane at Marco Polo taverna near Lakka Square
Marco Polo: Located near Lakka Square and the Fabrika bus station, Marco Polo has been the taverna of choice for travellers seeking reasonably-priced but reliably delicious Greek food for several decades. The taverna has an indoor dining room as well as tables in the lanes outside the restaurant building, some shaded by an enormous bougainvillea vine burstling with brilliant scarlet blooms.  Signs point the way to the taverna from Lakka Square, but it's also easy to spot Marco Polo from there — just look for the rows of tables with cheery checkered tablecloths.  Marco Polo opened this year on Greek Easter weekend. To view TripAdvisor reviews for Marco Polo Taverna, click here.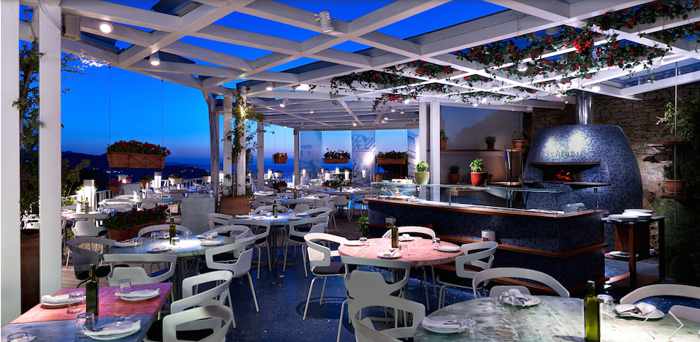 Marechiaro serves authentic Neapolitan pizza and Italian dishes with views of Mykonos Town, the sea and the sunset
Marechiaro: Now let's suppose you're on Mykonos and enjoying your holiday, but you suddenly develop an insatiable craving for a delicious Italian pizza. Not just any pizza — which you can find practically everywhere on the island. It's got to be the real deal! What do you do? Book a last-minute flight to Italy? No need to go to all that trouble — just book a table at Marechiaro Mykonos instead. Located in the Drafaki area on the ring road above Mykonos Town, Marechiaro is now in its second year of business and is still the only place on Mykonos where you can enjoy Verace Pizza Napoletana, courtesy of brothers Walter and Orazio Speranza. Their pizzas are produced using fresh local ingredients, including basil, herbs and vegetables that the brothers grow in their own garden, and are baked to delicious perfection in a traditional Neapolitan oven that was built by one of the oldest families in Naples. The result:  mouth-watering, authentic Neapolitan pizza. But that's not all that Marechiaro serves. The Italian menu includes appetizers, starters, salads, pasta & risotto, fish, chicken and rib eye steak mains, and desserts. The restaurant's signature dishes include beef fillet "Sashimi"-style marinated in espresso, orange, cardamom & Parmesan flakes (a starter dish);  a spinach pie with sesame, honey vinaigrette & drizzles of dill syrup; sea bass with crushed potatoes & light coconut lime sauce (one of the mains); and spaghetti with tomato, cheese, lemon zest & basil oil. You can enjoy your meals on the Marechiaro terrace, with views of the sea, sunset and Mykonos Town. Click here to read Marechiaro's reviews on TripAdvisor.
TripAdvisor member keith h posted this photo shot showing the large courtyard and sheltered dining terrace at Maria's traditional Myconian restaurant in Mykonos Town 
Maria's: Now in its 40th year of business, Maria's Traditional Myconian Restaurant occupies a spacious, peaceful courtyard tucked one street back from the little Agia Anna beach on the Mykonos Town harbourfront (look for the flower-pot-lined pathway at the far southern (right) side of the Leto Hotel — it will lead you directly to Maria's colourful terrace). Maria serves a variety of traditional, home-cooked Greek fare such as moussaka, gemista (stuffed tomatoes and peppers) and meat balls, as well as some fish, meat dishes, pasta and pizza. Prices are reasonable. As I noted in my June 2012 Mykonos restaurant report, I visited Maria's twice during my May 2012 holiday, and enjoyed my meals — especially the gemista and the Greek salad. What I didn't mention in my report was that the service was very slow even though the place wasn't busy; in fact, there were only a couple of other customers besides me on both occasions. Since I wasn't in a hurry to eat, the long wait for my meals didn't particularly bother me. But on my afternoon visit Maria's lost several customers who got up and left after sitting at a table on the terrace more than five minutes without being approached or acknowledged. I have heard and read that other people have experienced service issues, too, so keep that in mind if you're in any kind of rush. But if you're not, I think you'll find Maria's is a good cheap and cheerful spot to sit back and relax away from the hustle and bustle of the town center only a short stroll away. Click here to read TripAdvisor reviews for Maria's.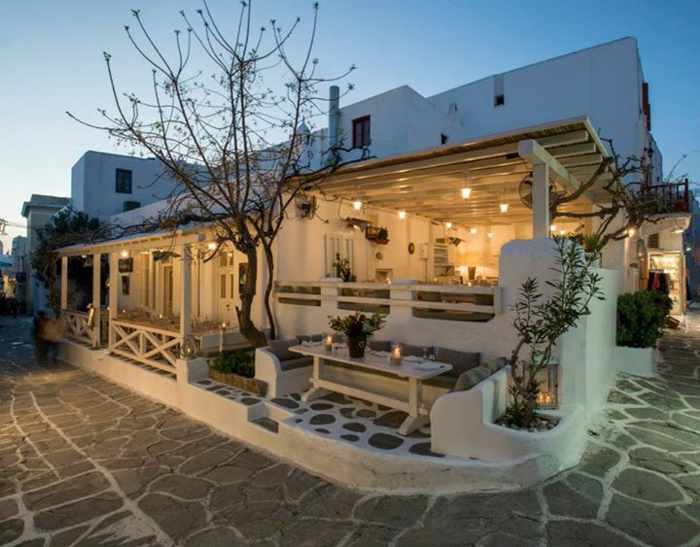 M-eating on Kalogera Street boasts newly-renovated outdoor verandas and indoor dining areas, plus a "renewed" menu
M-eating: Almost from the moment it opened four years ago, M-eating restaurant has been a runaway success, packing its seats nightly with legions of repeat and new customers who gush effusively about how much they enjoy the service, atmosphere and in particular the contemporary interpretation of Greek cuisine by M-eating's chef and owner, Panagiotis Menardos. Not surprisingly, it quickly vaulted to the top of online restaurant review listings, and it has stayed in or near the peak position to this date. This place is so popular that, on each of my Mykonos holidays, I have heard more buzz about M-eating than I have for any other restaurant on the island. I have listened while other guests at my hotel raved about their delicious meals from the night before, and I have even overheard people in Mykonos Town chatting about how delighted they were with their dinners, and recommending the restaurant to others. Actually, they were strongly urging their friends or acquaintances to go, describing M-eating as a definite "must."  (I have heard so much talk about M-eating that I feel I'm one of only a few regular Mykonos visitors who haven't yet been there.)  M-eating opened on April 11 this year, unveiling freshly renovated indoor and outdoor dining areas as well as a "renewed" menu. (You can view a menu on the M-eating website; however, since I haven't dined there yet, I can't say how much it has been changed from previous years.) The restaurant should be open until sometime in early or mid-October. It's open only for dinner, starting at 7 p.m., and closes late — around 1 a.m.  Click here to read reviews for M-eating on TripAdvisor.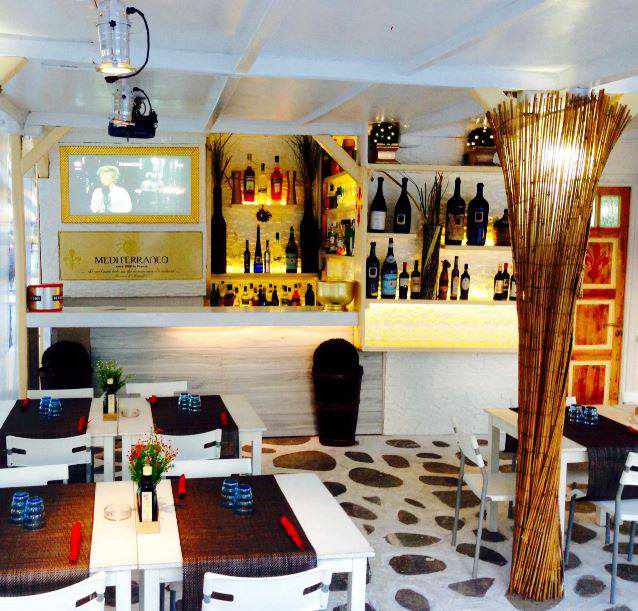 The bar and part of the interior dining area at Mediterraneo Ristorante
Mediterraneo:  Located at Lakka Square since 1998, Mykonos Mediterraneo Ristorante specializes in Italian fare, including pizza, pasta and seafood. Its wines and Fiorentina T-bone steaks are imported from Italy, while the bar also features Ceres ale imported from Denmark. Mediterraneo is a favourite go-to spot not just for Italian food, but also for Italian sports — the restaurant shows Sky Sport Italia on big-screen HD TVs. With a disco club and regular parties, the restaurant also is a hub of nightlife at Lakka Square — especially since it operates 24 hours a day during peak summer months. Mediterraneo opens on May 1 and its season will continue until the first week of October. Click here to view Mediterraneo's reviews on TripAdvisor.
Guests enjoy views of the Mykonos Town harbour while dining at the Leto Hotel's Natura restaurant
Natura: Each summer hundreds of thousands of tourists stroll past the Leto Hotel on the Mykonos Town waterfront. Many walk up the short flight of steps at the entrance to take a quick peek at the swimming pool and beautiful landscaped garden that's largely hidden from pedestrian view on Polikandrioti Street, the wide flagstone promenade between the hotel and Agia Anna beach on the harbourside. But most just walk past, en route to either the Mykonos Town center or the Old Port, without realizing there's a hidden gem of a restaurant behind the tall white walls — Natura. Situated poolside in the garden, under elegant tall palm trees, the tables at Natura offer views of the town and its picturesque harbour, appropriately complementing Natura's tantalizing modern Greek cuisine. Chef George Koumpouris completely renewed Natura's menu for this season to ensure that its Greek and Mediterranean cuisine, and seafood, live up to the restaurant's name. "The best chef is nature. Our goal at Natura is to highlight what nature has to offer," the Leto Hotel website says. To that end, Koumpouris has created dishes "that are influenced and inspired by the environment with mostly local and fresh ingredients." He has given traditional Greek food items a slight twist, spicing things up a notch with contemporary techniques and flavours. The menu includes half a dozen salads, eight starter plates and a selection of more than a dozen signature mains and seafood items. You can see dozens of photos of the restaurant and many of Koumpouris's creations, as well as numerous rave reviews, on the Natura Facebook page. You can also read positive comments about Natura on TripAdvisor by clicking here.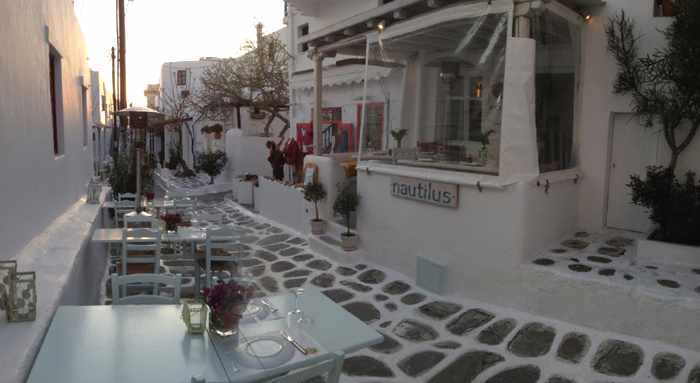 Nautilus has an indoor dining room as well as tables on Kalogera Street
Nautilus: Frequently named as one of the top restaurants on Mykonos in travel and food blog articles, Nautilus gets regular rave reviews for its seafood and Greek cuisine served with a creative, contemporary flair. (If you're active on Facebook, you can find several different pages on which travellers have posted numerous photos of mouthwatering dishes they enjoyed at Nautilus. I can't look at the pictures without instantly feeling hungry! Everything looks delicious.)  Nautilus has chic indoor dining areas as well as a row of tables out front, right on Kalogera Street, for customers who prefer to dine al fresco and watch the steady pedestrian traffic on the narrow lane. Nautilus has a long business season, from March through November, and is open for dinner every evening from 7 p.m. until 1 a.m. For TripAdvisor reviews of Nautilus, click here.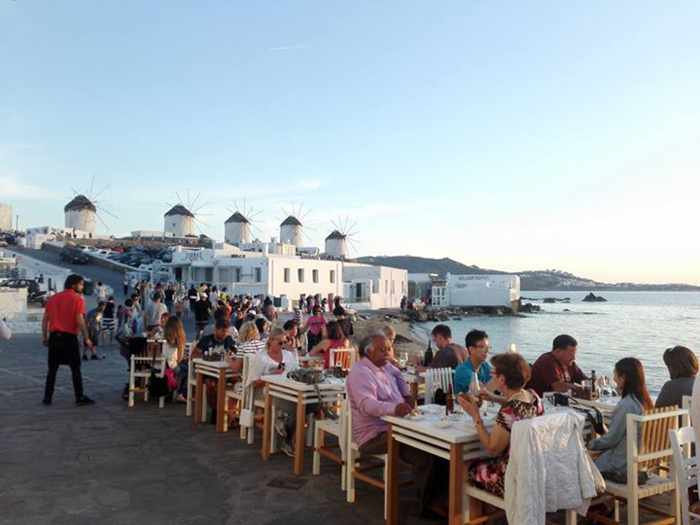 Nice n Easy Mykonos has seaside tables offering views of the landmark Mykonos windmills as well as the sunset
Nice n Easy: When it opened at Kalo Livadi beach in 2013, Nice n Easy Mykonos was a big hit with island visitors, and it repeated on that success in 2014. This year, Nice n Easy has moved to a much more accessible and scenic location — Alefkandra Square at the Little Venice seafront area of Mykonos Town — and should prove even more popular as a result. Like the other two Nice n Easy restaurants (in Athens and Kifisia), the Mykonos location has a menu of Mediterranean cuisine featuring organic farm-to-table ingredients of high quality.  "The emphasis on eating organically grown food that is healthy for you and the environment is at the forefront of every recipe," the Nice N Easy website says. To help customers make healthy dining choices, the Nice n Easy menus provide nutrition and calorie information for each item, and include a selection of gluten-free dishes. Nice n Easy Mykonos launched its new season and new location on May 1, and is open daily from 12:30 in the afternoon until 12:30 in the morning. Click here to read TripAdvisor reviews for Nice n Easy Mykonos.
This photo of the colourful outdoor dining areas at Niko's Taverna is from the Postcard ME Mykonos-Greece page on Facebook
Niko's Taverna: Located in Agia Moni Square near the landmark Paraportiani Church, Niko's Taverna has long been a popular go-to dining spot not just for thousands of tourists each year, but also for the famous Mykonos pelicans, who receive fish treats from the kitchen.  The taverna has several outdoor dining areas, and they are often packed to capacity, even in low season. Budget-minded visitors find it's a "cheap and cheerful" spot to eat (by Mykonos standards), with reliable dishes of traditional Greek cuisine. It's not one of my favourites, since I feel like the staff try to rush your meal so they can turn over the tables as often as possible, but it's a big hit with many travellers and it gets a lot of repeat customers.  Niko's Taverna opened on April 4 this year.  Click here to read the Niko's Taverna reviews on TripAdvisor.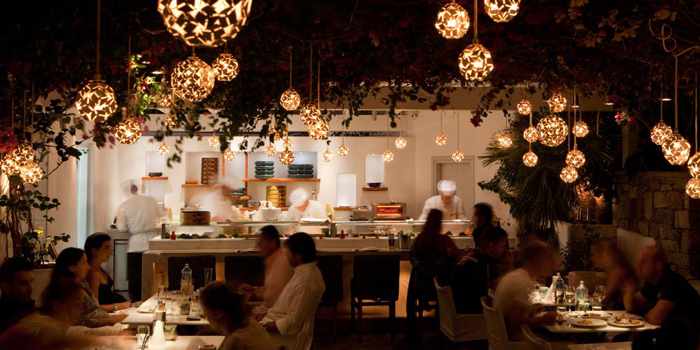 The Nobu Matsuhisa Mykonos at the Belvedere Hotel
Nobu Matsuhisa Mykonos: Located poolside at the Belvedere Hotel, the open-air Matsuhisa Mykonos restaurant features the "new style Japanese cuisine" creations of the internationally celebrated chef, Nobu Matsuhisa.  Besides signature Nobu dishes like black cod with miso, tiradito, and new style sashimi, the Matsuhisa Mykonos boasts a 5,000-bottle wine cellar that highlights classic French, Italian and Greek vineyards, as well as wines from the New World. The master chef himself appears at the restaurant during the first week of August for the annual Nobu Food Festival, a must-attend event for foodies from around the globe. The Matsuhisa Mykonos will open on May 1 this year; the restaurant usually operates until the end of October. To read reviews of Matsuhisa Mykonos on TripAdvisor, click here.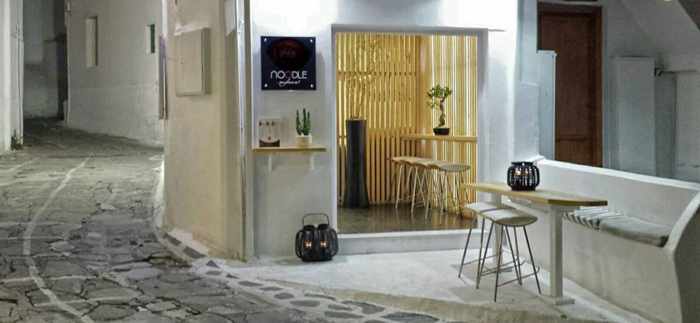 Noodle Mykonos is a tiny Asian noodle takeaway joint with seating for fewer than a dozen customers
Noodle: Located on the corner of a cobblestone lane near Lakka Square, Noodle Mykonos is so tiny it's practically just a hole in the wall, but it's a perfect space for its takeaway and "street food" kitchen. Noodle's menu is limited, but customers can select a rice or noodle base on which they have a choice of adding vegetables or proteins like chicken, pork, beef, duck, or shrimps. Then there's a further selection of sauces, which include sweet & sour, teriyaki, szechuan, sweet chili, curry coconut and hoi sin. Soft drinks, wine, beer, iced tea and other beverages are available. Indoor seating consists of counter and several stools, while outside there is a bench and more stools that can accommodate a few more diners. Noodle opens in the afternoon, surprisingly around 2 o'clock after the peak lunch period, and closes before midnight. Click here to see Noodle's reviews on TripAdvisor.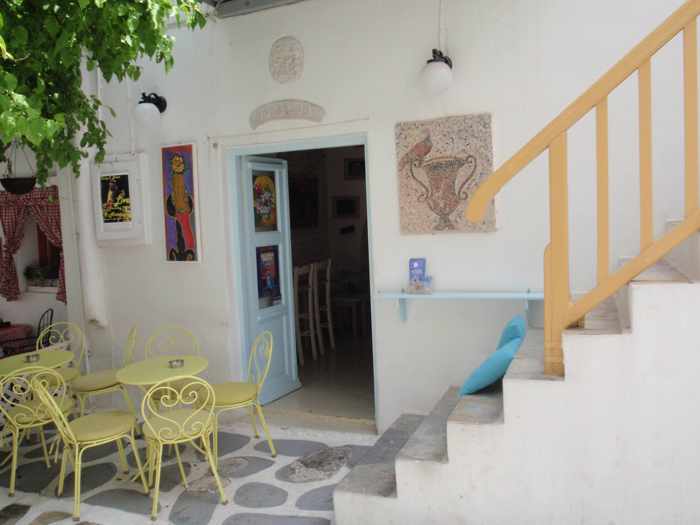 It's a small and unobtrusive spot so, if you're not looking for it, you could easily walk right past Notorious
Notorious: I used to think Notorious Food Bar was just a cocktail bar, because whenever I walked past I saw people sitting out front only with drinks, never food.  And I knew the place occasionally hosted live musical entertainment and parties. Then last year I heard that it's a good spot to grab a bite to eat, too. Notorious is located on Kampani Street, a charming lane tucked behind the Mykonos Town harbourfront and just a short stroll off Matogianni, the town's most famous shopping strip. It's only steps from Ag. Kiriaki church, but the easiest way to find Notorious is to look for the International Press outlet. Notorious is a stone's throw away, opposite Amades cafe.  It has some yellow bistro chairs and tables out front in the lane, with seating for perhaps two dozen people in its narrow and compact indoor space.  Notorious opens at 9 a.m. to serve breakfast, and it stays open until very late at night. Throughout the day it serves coffee, drinks and tapas items. Last year's food menu included a variety of starters (including two sizes of a Greek meze platter); salads; a soup of the day; meat, seafood and pasta mains; four varieties of pizza; and desserts. Prices were reasonable. I haven't been able to find out if the menu has changed for 2015, and since I haven't tried Notorious yet, I can't comment on the portion sizes or quality of the food. But someone who did have a meal there told me they quite enjoyed it, and suggested I drop by next time I'm on Mykonos. I couldn't find a listing for Notorious on the TripAdvisor restaurant reviews, so I can't steer you to any comments by any other people who  have been there. If you give it a try, please let me know what you think!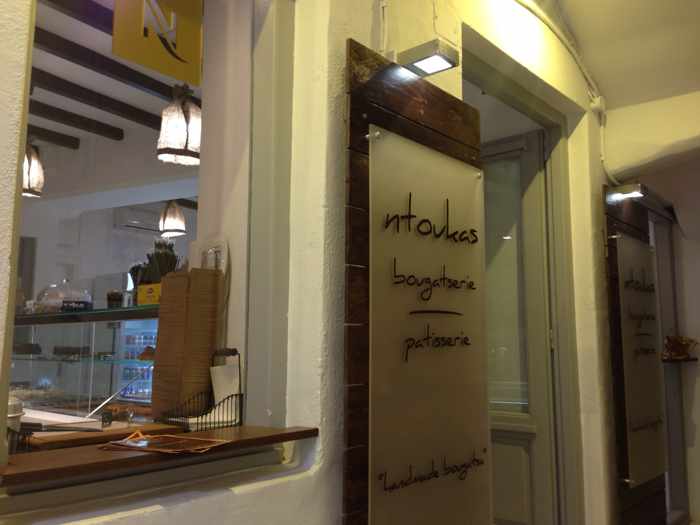 Street view of the Ntoukas Bougatserie café and dessert shop
Ntoukas Bougatserie: I've been hearing a lot of very good comments about the coffees and food served at Ntoukas Bougatserie, a brand-new café and dessert shop that opened for business on May 28.  The restaurant takes its name from one of its yummy specialties — bougatsa, a traditional Greek custard pie — and offers a variety of scrumptious sweet and savoury pastries (including spanakopita) as well as cheesecakes, pies, and even pizza, all of which are hand-made by shop owner Marios Ntoukas. I have read and been told his bougatserie is a great spot to stop by for a breakfast coffee and treat, for lunch, for a snack or even for a light dinner. Service is friendly and efficient, prices are reasonable, and the café's chic contemporary decor is comfortable and cozy. Marios told me the shop is open 24 hours a day until the end of August, after which time he'll determine what the hours of operation will be for the fall. He expects to stay open until the end of November, and will re-open in early March 2016. Customers who want to pick up food for take-out can phone in their requests or order online through the shop's website. Nkoutas Bougatserie is situated at 15 Drakopoulou Street. It can be a bit tricky to find in the maze of streets behind the Mykonos Town waterfront, but you'll know you're at the right place when you see the bicycle mounted on one of the walls inside the cafe. You can see photos of the patisserie as well as some of its tantalizing treats on the Ntoukas Bougatserie Facebook page. And you can click here to read what people have been saying about Nkoutas Bougatserie in their reviews on TripAdvisor.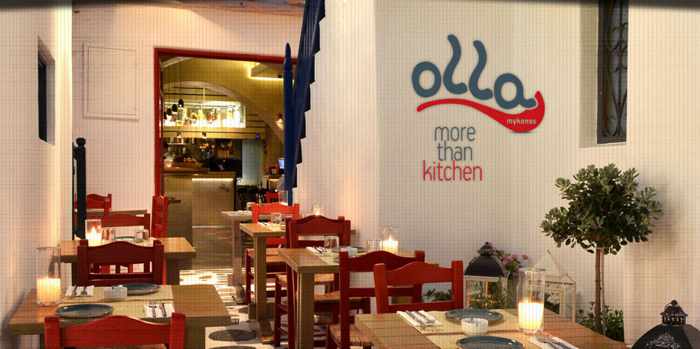 Olla Mykonos has this outdoor terrace plus an indoor dining room
Olla: I remember seeing Olla Mykonos when it was getting ready to open in 2013 — one day freshly painted red chairs were drying in the sunshine on the entrance terrace, and the next day the restaurant was fully open, with place settings and menus on the new tables. Prices looked rather reasonable and the terrace looked like a cozy and comfy place to have a meal, but we never made it back to give Olla a try. The menu features Mediterranean cuisine, seafood, pasta, risotto and tapas ("Olla" is the Spanish word for "ceramic pot.") The restaurant also offers coffee and breakfast items and light snacks, and a bar with a wide range of wine, beer, cocktails, ouzo and spirits. Olla is located on Mitropoleos Street just a short stroll from the Little Venice seafront. It opened on April 3 this year and will likely remain open until late October just as it did in 2014. Click here to read Olla's reviews on TripAdvisor.
Street view of Opa Taverna in a Facebook photo by Leng Tang
Opa: The food is reasonably priced and the serving sizes are very generous, but I have personally found and heard that Opa Taverna can be hit and miss in terms of quality and value for money. We had a lunch here back in 2009 and remember that, while the portions were large, the food was unremarkable — nothing special, but simply okay.  Since then I've heard many tourists say they enjoyed the food — and especially the prices — while probably just as many others have said they weren't impressed at all.  Opa is situated at Goumenio Square in the heart of Mykonos Town, where it competes for customers with half a dozen other restaurants lining the colourful bougainvillea-shaded square. The restaurant usually has a variety of special meal offers each day, typically priced so two people could dine for under €30 in total. The owner is "quite a character," to quote from another customer. He can sometimes be extremely chatty with customers already sitting at tables, or overly pushy in trying to persuade passersby to stop in for a meal. Some find him amusing and charming, others consider him annoying or obnoxious. But that's another "hit and miss" element to the restaurant. If you want to see what Opa's dishes of Greek cuisine and seafood look like, take a peek at the photos on the Opa Taverna Facebook page (note that it's just a Facebook business listing to which people have posted, rather than an official page for the restaurant). And to read reviews for Opa Taverna on TripAdvisor, click here.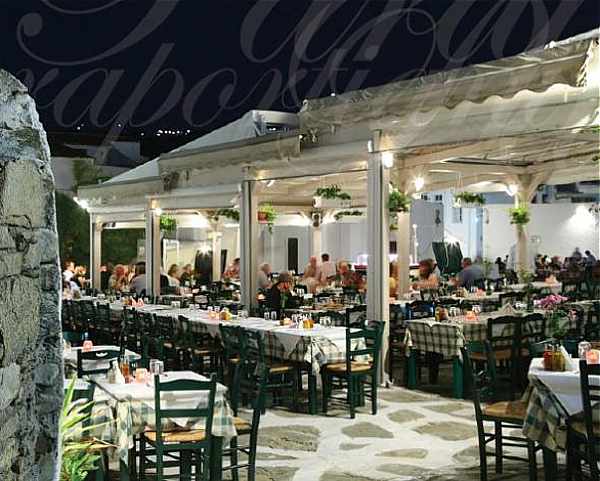 Paraportiani Taverna is located just steps from the famous Paraportiani Church in Mykonos Town
Paraportiani: We have fond memories of Paraportiani Taverna, an authentic Greek taverna situated at Agia Monis Square in Mykonos Town, only a few dozen steps from its famous namesake (the landmark Paraportiani Church). We came here for dinner on each of our Mykonos holidays from 2004 to 2006, sometimes going twice during a trip. Some of the older staff always remembered us; when they saw us approaching, they gave us a hearty "welcome back" and thanked us profusely for returning to the restaurant. The service was always friendly and efficient, and the servers provided good recommendations for new Greek food dishes to try (we had kleftiko here for the first time ever). We found the food hearty, delicious and fairly priced, and we enjoyed each of our visits here. But when we went back in 2007, none of the staff looked familiar (the old fellows who had been so nice to us weren't there anymore) and no-one recognized us. The service didn't seem as friendly as before, and the food didn't seem as good, either. The meal wasn't bad in any way, it's just that something seemed missing, and the experience was a bit of a letdown. We didn't go back to Paraportiani Taverna on subsequent trips, but I remained curious to know how it was — the place always looked packed whenever we walked by. In 2012, several people at my hotel told me they had enjoyed the food so much they had gone back to Paraportiani for a second dinner, and said they had recommended it to others at the hotel who had returned with favourable reviews. More recently, I've heard others say they had enjoyable meals there, too. Click here to read what people have been saying about Paraportiani Taverna in their reviews on TripAdvisor.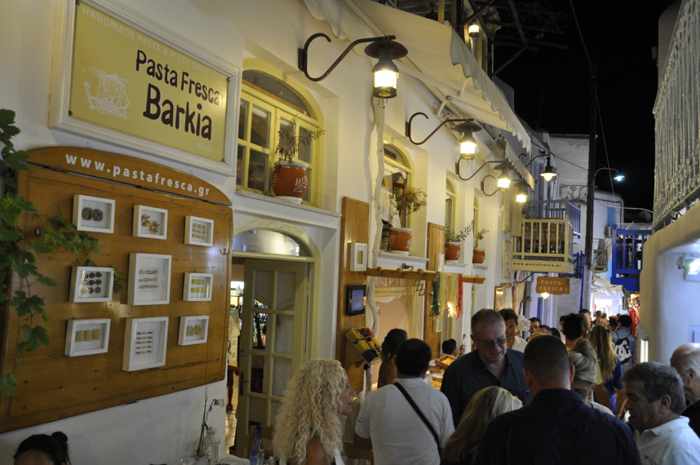 Pasta Fresca Barkia exterior seen from busy Kouzi Georgouli Street
Pasta Fresca: With a 33-history on Mykonos, Pasta Fresca Barkia has long been known for its pizza and its traditional Italian dishes featuring hand-made pasta — as well as for the pasta making demonstrations it holds at 6 p.m. every evening for passersby to see. The restaurant is located on Kouzi Georgouli Street, a narrow flagstone lane in what's known as the Barkia district of Mykonos Town. The alley is always bustling with tourists strolling to and from Little Venice, and the storefront display of freshly-made farfalle, ravioli, fusilli, tagliatelle, rigatoni, spaghetti, pappardelle and half a dozen other types of pasta attracts much attention from passersby, tempting many to step inside the 3-storey restaurant for a meal. Pasta Fresca Barkia opened on April 26, and its hours of operation are 1 p.m. to 1 a.m. daily. Click here to see TripAdvisor reviews for Pasta Fresca Barkia.
This 1-minute video shows some of the yummy food available at Pepper
Pepper: If you're visiting Mykonos on a budget, or simply want to try some really tasty cheap eats, search out Pepper Mykonos at 18 Kouzi Georgouli Street in the Barkia area of Mykonos Town (a few lanes behind Little Venice). Pepper offers one of the most popular Greek "fast food" treats — souvlaki (pork or chicken) — as well as salads, fries, and home-made burgers. I've been told that Pepper's prices are very reasonable, the service is friendly and efficient, and the food is delicious. Not surprisingly, Pepper gets a lot of repeat visitors. Pepper started its season in early April and is currently open from noon until 3 a.m., but during summer months will be open 24 hours a day. To see what people have been writing about Pepper on TripAdvisor, click here.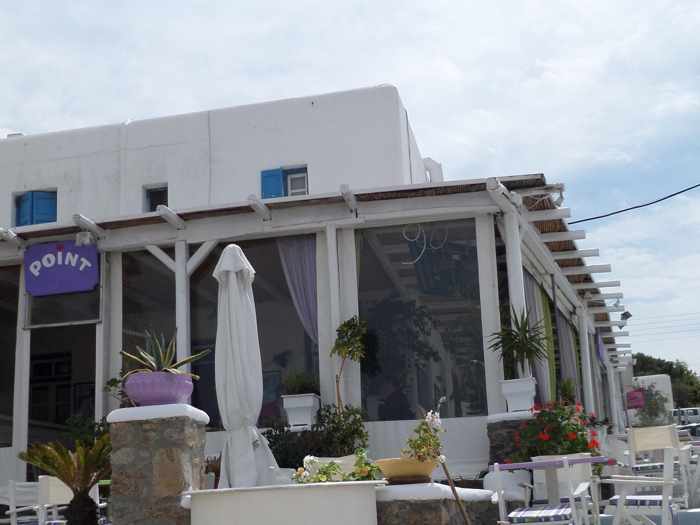 Point Bar Cafe has indoor and outdoor dining areas
Point: Located at one of the busiest places in Mykonos Town — right next to the local bus depot at frenetic Fabrika Square — Point Cafe-Bar is just about as busy, operating 24 hours a day during the summer. Whether you want breakfast, lunch, dinner, drinks or dessert, you can get it here, virtually any time of day. The menu includes reasonably-priced Greek & Mediterranean food, including vegetable and meat dishes, seafood, and pasta, and their home-made desserts look absolutely scrumptious. Its location makes it a convenient place to pop in for a snack or drink while waiting for a bus to Paradise, Paraga, Platis Gialos and other beaches, or to recharge while taking a late-night bar-hopping tour of the town.  Click here to read TripAdvisor reviews for Point Cafe-Bar.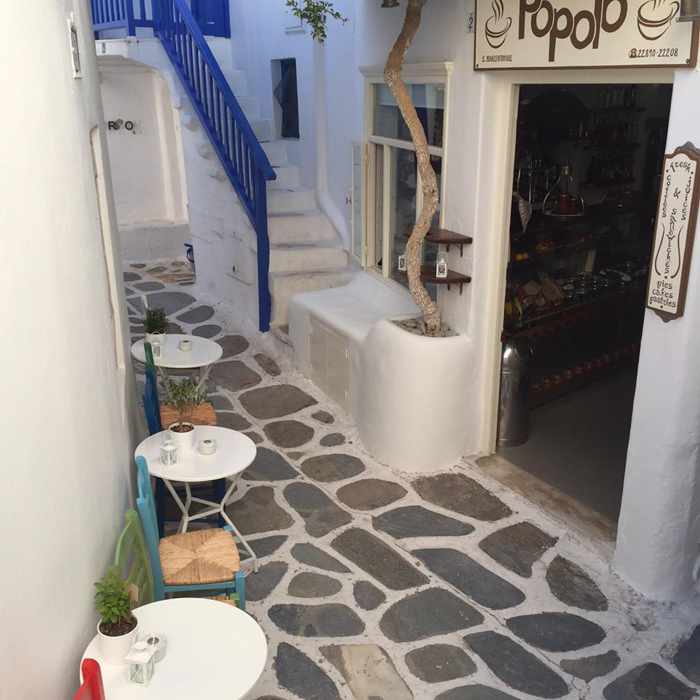 Popolo specializes in coffee beverages, breakfasts and sandwiches
Popolo: New this year, Popolo is a cafe tucked into cozy space at 18 Drakopoulou St, a twisting narrow lane in the heart of Mykonos Town. As you'd expect, Popolo serves a wide variety of coffee beverages and well as tea and fresh juices. It's a good spot for a light breakfast, serving a selection of croissants, muffins and other pasties. But its specialty is custom-designed sandwiches. Customers can build the sandwich of their dreams by choosing from different breads, meats, cheeses and more than 30 additional toppings, with yummy choices including typical egg and tuna salad fillings as well as grilled eggplant, fig marmalade, pesto or truffle sauce for those with more adventurous tastes. Traditional Myconian cheese pies also are available, as is a selection of decadent desserts. Popolo also has a bar, so it's a nice play to stop by for a beer, ouzo, glass of wine or alcoholic drink, too.  Items are reasonably priced, and Popolo offers a delivery service within Mykonos Town. Click here to see Popolo's reviews on TripAdvisor.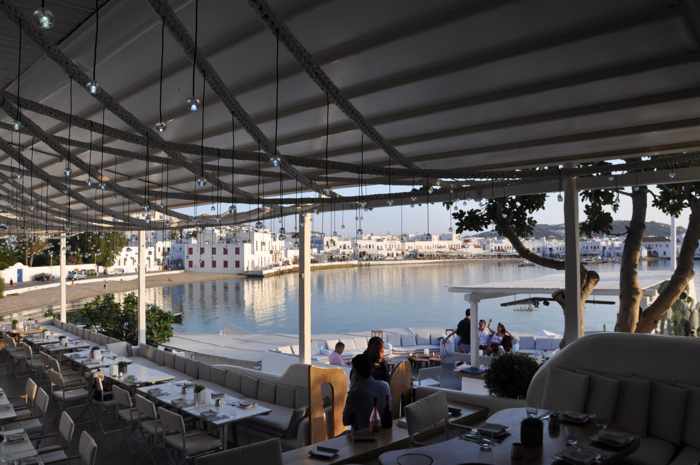 The outdoor cocktail lounge and dining terraces at Remezzo Mykonos have sweeping views of the Mykonos Town harbourfont
Remezzo: One of the establishments that many people around the world associate with Mykonos is Remezzo, whose history on the island dates back to 1967. That's when the Remezzo nightclub opened, quickly becoming the Mykonos party venue of choice for the world's jet set. It developed legendary status over the years, but the club closed its doors after the 2012 season (the year I finally made it to Remezzo for the first time — I hope they didn't close because I went there!). In 2014, a revitalized Remezzo reopened, this time as a high-end fine dining restaurant and upscale cocktail lounge with a DJ. Remezzo boats an exhaustive cocktail list, and its food menu includes salads, starters, seafood, shellfish, pasta, risotto, burgers, rib eye steaks and other meats, Greek dishes such as moussaka and lamb souvlaki, and desserts. This year Remezzo is launching its season on May 1. Click here to read TripAdvisor reviews for Remezzo.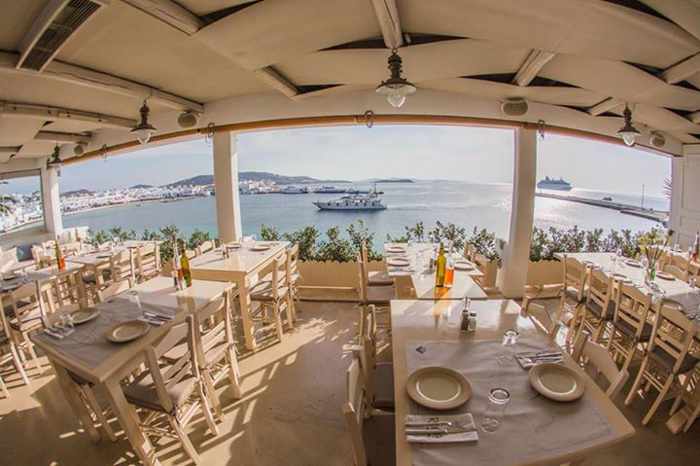 Roca Cookery's cheerful dining room has fabulous harbour views
Roca Cookery: I enjoyed a very memorable meal at Roca Cookery with a group of friends in 2012, and I have had positive feedback from the many people to whom I have recommended the restaurant in the three years since. Roca is located next door to the Mykonos Archaeological Museum on the hill directly above the Old Port. It serves Greek and Mediterranean cuisine, as well as seafood, and is open for lunch and dinner. It's a great spot to enjoy a meal with wonderful views of the sea, sunset, Mykonos Town and the Old Port area. Roca is open on weekends in winter, and is now open daily for the tourist season.  Click here to read the TripAdvisor reviews for Roca Cookery.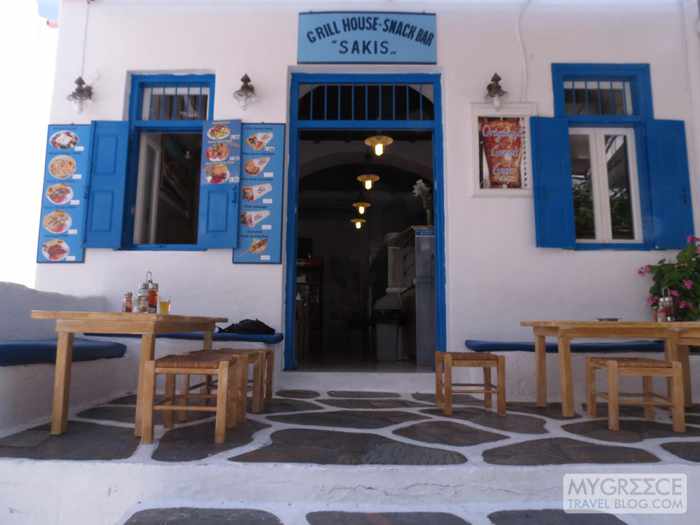 Grab a seat out front if you stop by Sakis Grill House for a meal … their veranda beside Kalogera Street is a great spot for people watching
Sakis: If you're visiting Mykonos on a budget, Sakis Grill House at 7 Kalogera Street is always a good choice for tasty gyros and souvlaki (Greece's version of "fast food") at wallet-friendly low prices. They have a variety of platters and individual items for sale, and you can get a meal here (with a beer) for under €10. I used to get gyros from one of the busiest souvlaki joints in Mykonos Town, but then a Mykonos friend urged me to try Sakis instead, tell me it sources most of its products locally and serves better-tasting food. Sure enough, I found my souvlaki considerably less salty and greasy than at the other place. Last time I was on Mykonos, everybody at my hotel kept talking about how much they enjoyed Sakis … some of the guests had been going there for lunch every day, and everyone praised the food, the friendly staff and the reasonable prices. Click here to read TripAdvisor reviews for Sakis Grill House.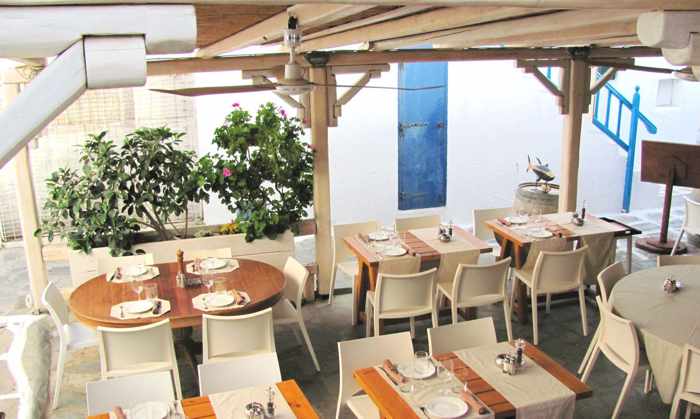 Sale & Pepe Mykonos photo from the restaurant's Facebook page
Sale & Pepe: There are two Sale & Pepe restaurants — one in the Kolonaki neighbourhood of Athens, the other at Lakka Square in Mykonos Town. I first learned about the one on Mykonos back in 2006 when a receptionist at our hotel recommended it to some guests who wanted fine Italian cuisine for dinner. The hotel clerk said the restaurant was known for its excellent wine list as well. The next morning, I overheard the guests profusely thanking the receptionist for her suggestion — their meal at Sale & Pepe had been wonderful.  I haven't yet dined there myself … on two trips, the place was full when my partner and I stopped by to check the menu. Next time we'll know better, and phone to make reservations (their number is: 22890 24207). Sale & Pepe Mykonos launched its 2015 season on April 8. Click here to read the Sale & Pepe reviews on TripAdvisor.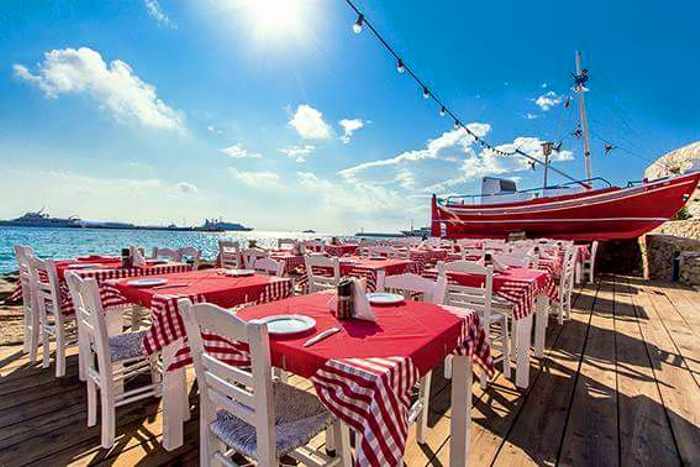 With its red fishing boat and colourful tables, Salparo restaurant is a Mykonos landmark that's been seen around the world
Salparo: Even if you have never been to Mykonos, you're probably familiar with Salparo Seafood Restaurant — without even realizing it. That's because there's a good chance you've seen a photo of its trademark red fishing boat propped at the edge of its waterside dining terrace. The boat — from which freshly-caught squid are frequently hung to dry in the sun — is one of the most-photographed sights in Mykonos Town, and has been pictured in countless travel websites and publications. And if you have been to Mykonos before, and have walked into Mykonos Town from the Old Port, you undoubtedly have gotten a close-up look at Salparo on the way — the footpath to town passes right alongside its dining areas as well as the picturesque fishing boat. For years the restaurant operated as Babulas Taverna, but two years ago the place got a makeover and new name. It's still a seafood taverna, though, with a logo promising "summer dreams & seafood sins." I still haven't had a meal at Salparo, but I nearly collided with a waiter carrying a platter of freshly-grilled calamari to customers at one of the tables next to the water. The squid looked and smelled absolutely mouth-watering good, and I wished I'd had the time to stop by to order some for myself.  I must admit I've been leery of dining here, though, because its prime harbourside location practically screams "tourist trap." But while some reviewers do call it exactly that, other customers think the food and service is wonderful. You can judge for yourself — click here to see the very mixed bag of reviews for Salparo on TripAdvisor.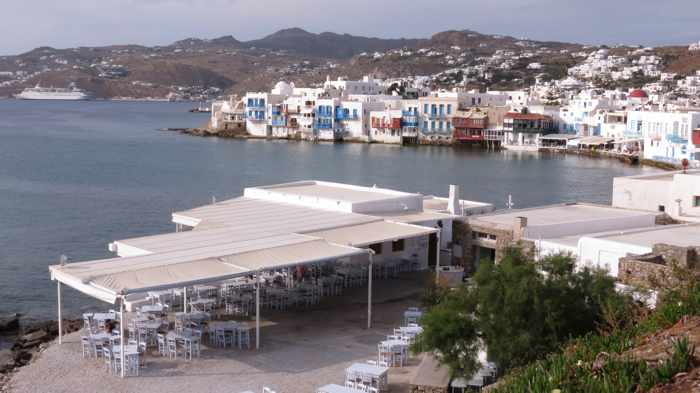 Sea Satin Market on the seaside below the famous Mykonos windmills
Sea Satin Market:  Located on the seaside below the landmark Mykonos windmills near Little Venice,  Sea Satin Market is a Mykonos icon — it's one of a handful of restaurants that many travellers instantly think of whenever someone mentions the island. The fact that it appears in countless photos of the windmills, shot by tourists visiting Little Venice, probably has a lot to do with it! Even if you haven't been to Mykonos yet, you may already be familiar with Sea Satin if you're an avid movie fan — it played a role as the taverna and scooter rental shop in the ending scene of the Matt Damon film, The Bourne Identity. Sea Satin Market bills itself as a "Greek-gourmet tavern" that specializes in fish and seafood delicacies, and says its great Greek music guarantees an atmosphere of "fresh fish and fun." Its open-air terrace is one of the best places on Mykonos to watch the sunset while dining. (You can see more photos of the restaurant and surrounding area in my Flickr album Little Venice, Windmills & Kastro.) Sea Satin Market launched its 2015 season on April 9. Click here to read TripAdvisor reviews for Sea Satin Market.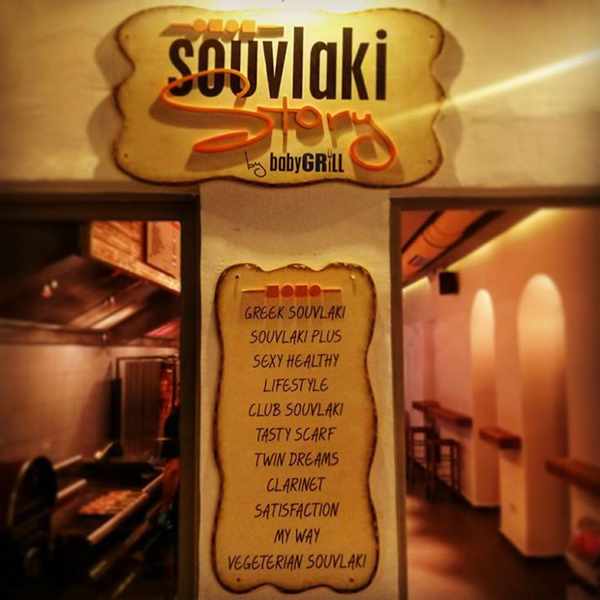 Souvlaki Story is a brand-new "cheap eats" restaurant in Mykonos Town
Souvlaki Story: The bad news on the Mykonos dining scene this year was that Spilia, a family-run Greek restaurant that was highly popular for its reasonably-priced and delicious food, had closed. The good news — and happy ending to the story — is that another budget-friendly eatery serving good food has opened in its place. Souvlaki Story made its debut in the freshly-renovated premises at 37 Enoplon Dinameon Street in late May, and quickly racked up a series of rave reviews posted on social media by fans who loved the food, friendly service and affordable prices. The shop serves a variety of Greek fast-food dishes including salads, gyros, souvlaki, grilled meat sticks, baked and fried potatoes, and more. There are several different combination dishes (or "stories," as the menu calls them) on offer, including the "Sexy Healthy" low-calorie souvlaki plate that comes with gluten-free pita. Souvlaki Story is open 24 hours a day so it's a handy spot to grab a late-night or early-morning snack to charge up during a night of clubbing and bar-hopping in Mykonos Town. Click here to read reviews for Souvlaki Story on TripAdvisor.
Souvlike is located next to the busy bus depot at Fabrika Square
Souvlike: In a town packed with expensive designer restaurants, it can take some legwork to find a "cheap" place to grab a light snack or meal. But it's easy to find Souvlike — this popular fast food eatery is located mere steps from the busy bus depot at Fabrika Square, making it a highly convenient place to get something to eat if you're waiting for a bus to the beaches, or have just arrived on one. Souvlike serves a wide range of items, from breakfast omelets to salads to BBQ chicken, burgers, gyros, souvlaki, meat sticks and more.  Items are reasonably priced (for Mykonos), though combination meals will cost over €10 per person. The restaurant has a small dining terrace for customers who want to eat there, but also prepares everything on the menu for take-away for customers who would rather seek out a quieter location to enjoy their meal.  Click here to read TripAdvisor reviews for Souvlike.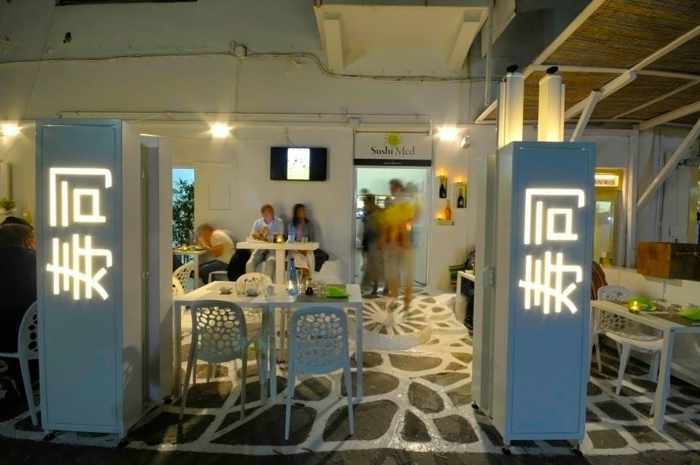 Street view of the dining terrace at Sushi Med
Sushi Med: Sushi bars have been enormously popular on Mykonos in the past couple of years, and Sushi Med opened in May 2014 to cater to the growing demand. The restaurant menu includes more than 60 different dishes, including appetizers (edamame, miso soup and more) for around €5 apiece; tartares for €18 to €20; noodles for €10 to €12; plus of course sushi, seshami, temaki, tepan, uramaki and hosomaki dishes (and mixed plates) at a variety of prices starting from €5. You can view the menu on the Sushi Med website. The restaurant is located at Lakka Square next door to the popular Italian restaurant Mediterraneo, which is profiled on this post. Sushi Med underwent some renovations during the winter, and will be opening at 9 p.m. on May 10. The restaurant should remain open until the end of September (last year it closed on Sept. 28).   Click here to see the TripAdvisor reviews for Sushi Med.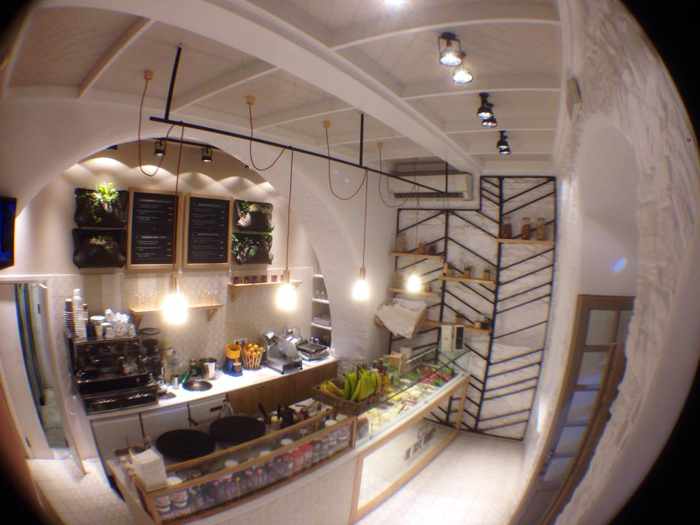 The cute and cozy interior of The Taste Diaries crêperie and sandwich shop
Taste Diaries:  In the mood for lighter fare, sandwiches for a picnic on Delos island, or a reasonably-priced snack after late night partying in the Mykonos Town clubs? Head to The Taste Diaries on the waterfront, next to Kadena restaurant (close to the Mykonos Town Hall and the church with the blue-domed roof beside  the harbour.) The small shop packs big flavour into its signature crêpes and made-to-order sandwiches. The Taste Diaries opened in July of last year and launched its 2015 season on April 4. Until the end of May, it will be open from 8:30 a.m. until 1 a.m., expanding to 24 hours a day for June, July, August and September. In October it goes back to its low season hours of 8:30 a.m. to 1 a.m. The shop expects to be open until the end of October or sometime early in November. It's located close to the Delos ferry boat pier, so it's an ideal place to pick up a lunch and drinks to take on a daytrip to Delos island (where you can climb to the top of Mt Kynthos for a picnic with amazing panoramic views).  To read TripAdvisor reviews for The Taste Diaries, click here.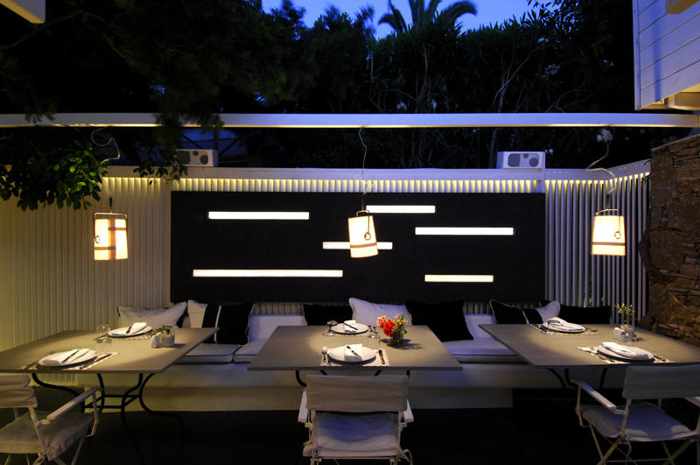 Thioni draws praise for its modern Greek cuisine and romantic setting
Thioni: The poolside setting is elegant, the atmosphere is romantic, the service is unpretentious and the modern Mediterranean and Greek cuisine is splendid. That's the feedback I've heard about Thioni restaurant in the Semeli Hotel. Featuring a creative menu of Greek dishes designed by Chef Stefanos Tatas, Thioni has earned a reputation as one of the best fine dining restaurants on Mykonos. Customers gush about their wonderful meals, but also heap praise on Thioni's refreshingly relaxed vibe — it's not stuffy and stuck up like some of the "sophisticated" gourmet restaurants on Mykonos.  The menu includes vegetarian, meat and seafood dishes, and Chef Tatas's signature plates include tabbouleh salad, salmon tartare with wasabi, and lamb legs with halloumi cheese. I have been told that portions are very generous, and the prices seem surprisingly reasonable (for a high-end restaurant)…especially considering the high quality of the cuisine as well as the class of the establishment. Click here to view TripAdvisor reviews for Thioni.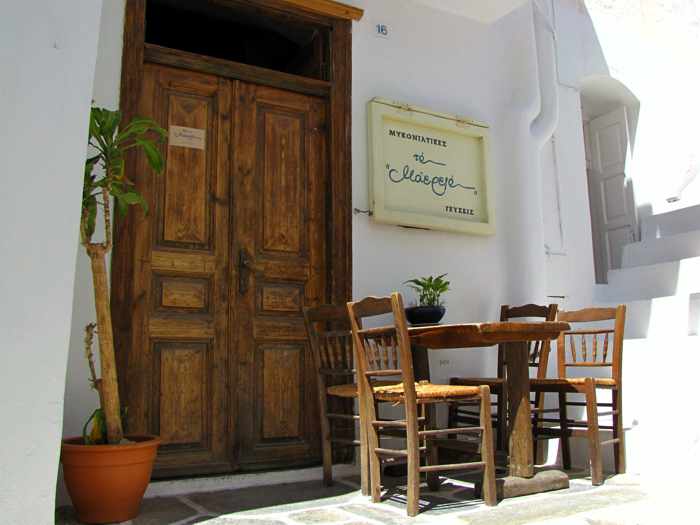 To Ma'ereio is a small family-run establishment at 16 Kalogera Street. My favourite place to sit is at that table right under the restaurant sign — it's a great spot for people watching while you dine on delicious Myconian cuisine.
To Ma'ereio: A friend in Athens urged me to try To Ma'ereio back in 2007, and we have had several excellent meals there since. It's one of my all-time favourite Mykonos restaurants, and I have frequently recommended it to others (who have given me overwhelmingly enthusiastic feedback about it after their holidays). To Ma'ereio is a tiny place — there is indoor seating for perhaps two dozen people (including a separate semi-private dining room at the back), and the staff set up several tables outside on Kalogera Street after the fruit market across the lane closes for the night. Our favourite table is the one on the wide step at the entrance — it's perfect for people watching. It has been amusing to see passersby  sneak glances at what we're eating and whisper to their companions: "That looks really good — we should eat here!" To Ma'ereio opens at 7 p.m. but doesn't take reservations, so be prepared to wait for a table or take a seat at the bar (which I did on a solo trip to Mykonos). I have enjoyed everything I've tried on the menu, but I thought the Asimina's meatballs and Myconian sausages were standout dishes. The restaurant also offers daily specials so be sure to ask about those. To Ma'ereio opened on March 18 this year.  Click here to read TripAdvisor reviews for To Ma'ereio.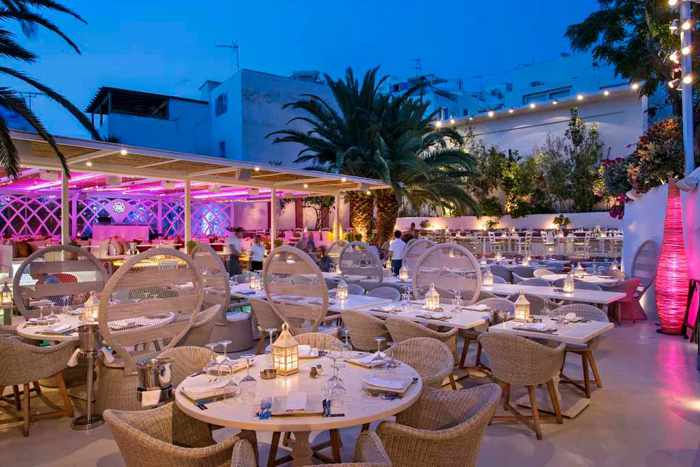 Part of the stylish courtyard dining terrace at Uno Con Carne
Uno Con Carne: Beef lovers, this is the place to go on Mykonos when you're craving a rib eye steak, beef fillets or Chateaubriand! But there's much more to Uno Con Carne than the best beef and steak on the island. Originally an Argentinean-style steakhouse, Uno Con Carne built its sterling reputation  serving perfectly-seared Black Angus ribeyes, T-bones and picanhas. As a steakhouse it was a huge hit, but it expanded its menu to include seafood, and its new oyster bar quickly drew rave reviews, too. More recently, Uno Con Carne added the chic Sakura Sushi Lounge to its premises. The restaurant menu now includes soup, meat and vegetable starters, a variety of salads, lobster, seafood tapas, burgers, souvlaki, lamb chops and of course its world-famous beef. Uno Con Carne can be a little difficult to find because of its secluded hideaway location — at the end of a cul-de-sac lane close to busy Kalogera Street. Just look for the Uno Con Carne logo on lamppost signs pointing the way from Kalogera Street. The restaurant setting is a sophisticated and chic oasis, with a beautiful large outdoor terrace shaded by tall palm trees. I have peaked into the terrace in past years while staff were still cleaning, painting and preparing for Uno Con Carne to open, and it looked gorgeous even with lots of work still to be done before opening day. This year Uno Con Carne will launch its season on May 1. Click here to see Uno Con Carne's reviews on TripAdvisor.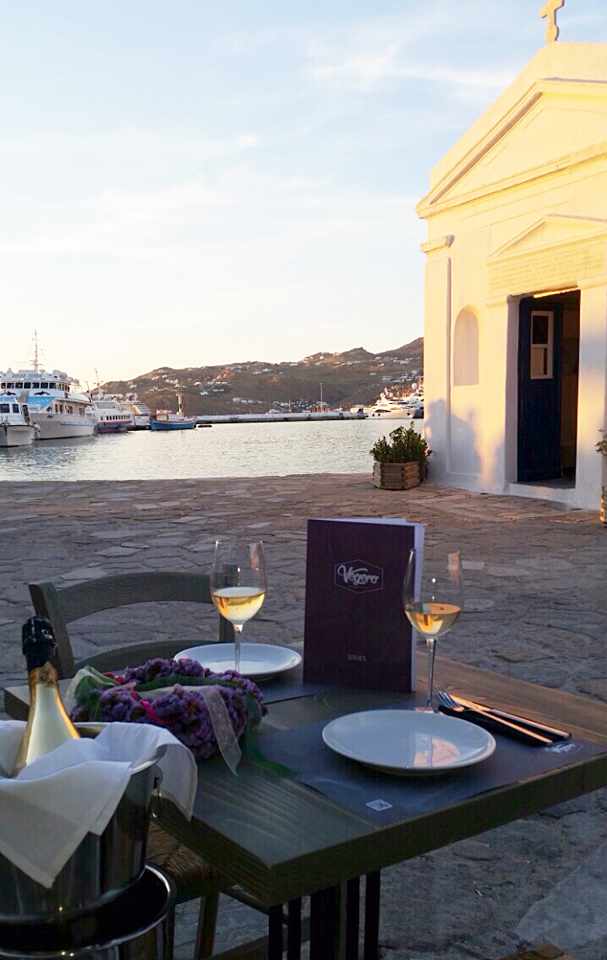 Vegera Cafe-Bar has a prime location at Gialos, the harbourside promenade in Mykonos Town
Vegera: Brand-new to Mykonos this year, Vegera Cafe-Bar-Restaurant celebrated its grand opening on May 6. The restaurant is open from 7 a.m. for breakfast, lunch and dinner, and stays open until late at night as a cozy bar for visitors seeking to relax with a good glass of wine or a cocktail. Vegera staff told me the menu features "traditional Greek and Mediterranean cuisine." Vegera is situated on the wide Mykonos harbourfront promenade, known locally as Gialos but marked as Akti Kambani Street on many tourist maps of the island. But you won't need a map to find it. The restaurant is adjacent to the Mykonos Town Hall (the only building in town with a terra cotta roof), it's only steps from the picturesque blue-domed Agios Nikolaos church that sits next to the fishing pier (you can see part of the chapel in the photo above), and it's only a few steps farther away from the Delos ferry boat jetty and cruise ship tender boat dock. If you can grab one of the restaurant's outdoor tables, you'll enjoy one of the best people-watching spots on the island.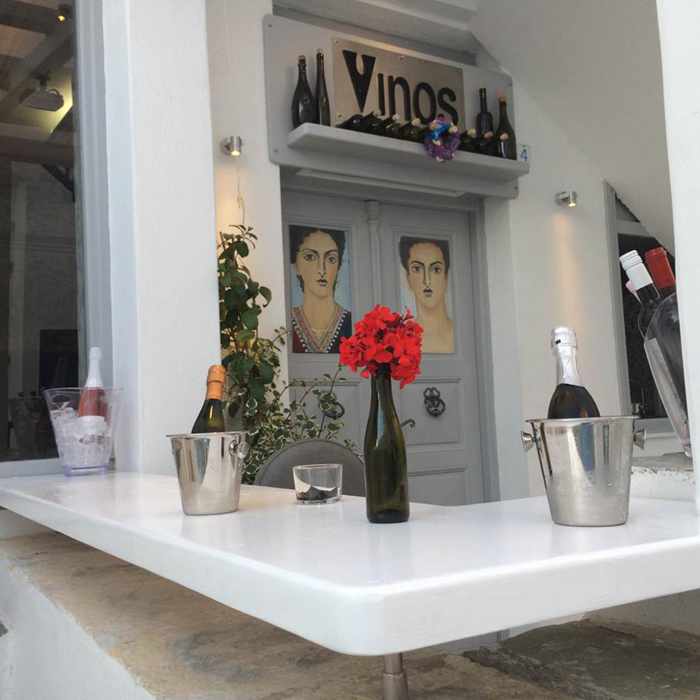 Wine bottles chilling at the Vinos Bar entrance at 4 Kalogera Street
Vinos: Another newcomer to Mykonos for 2015, Vinos Bar is primarily a wine bar that specializes in varietals from across Greece. But Vinos does offer a menu of tasty tapas delicacies that acclaimed chef Kostakos Athinagoras designed to complement the local wines. You can see photos of some of the bar's tantalizing dips, finger foods and lighter fare on the Vinos Bar Facebook page.  There's also more photos showing the bar's interior as well as its storefront on Kalogera Street.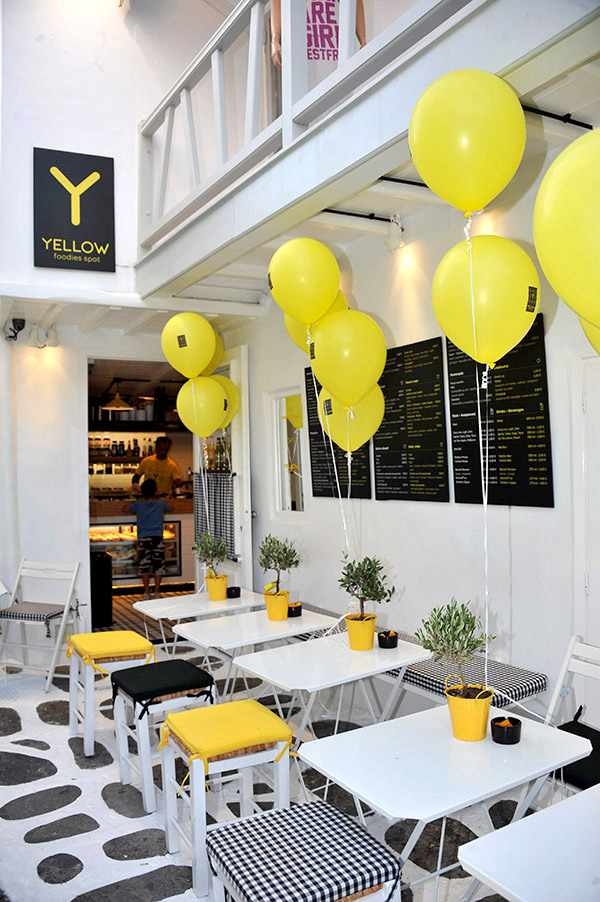 Streetside seating at the front of Yellow Foodies Spot
Yellow:  It's open early for breakfast, and Yellow Foodies Spot stays open until the wee hours of the night to serve the hungry hordes of nightclubbers looking for a late-night bite to eat. Located at 50 Kouzi Georgouli Street, Yellow has been open since 2013 and serves coffee, juices and pastries for breakfast, then offers crepes, salads and its house specialty — open-faced sandwiches — throughout the day, along with donuts, cookies and other sweets for dessert. This year, Yellow has been open since the middle of April. To see Yellow's reviews on TripAdvisor, click here.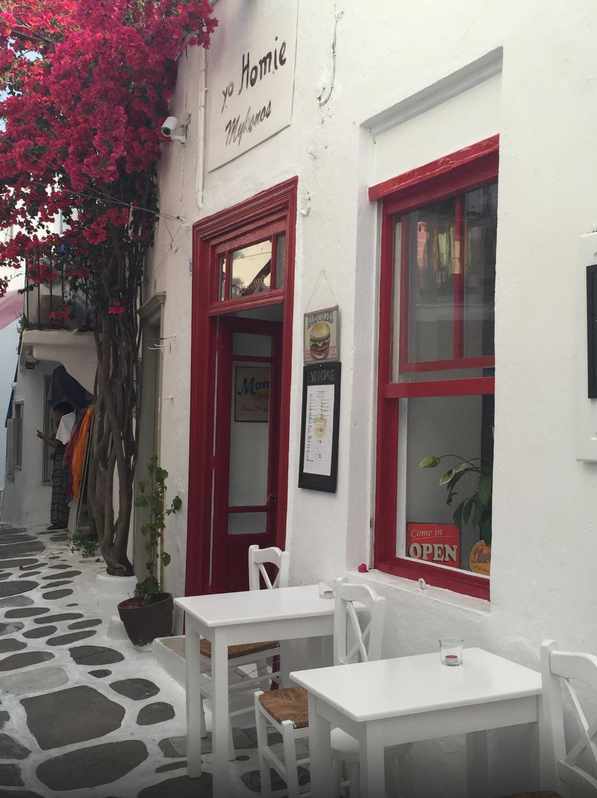 This photo of Yo Homie burger bar was posted on TripAdvisor by TA contributor Paulina G.
Yo Homie: Brand-new to Mykonos this year, the casual burger bar Yo Homie has been getting regular two thumbs up reviews from travellers who enjoyed its tasty hamburgers (particularly the one with blue cheese), fresh cut fries, delicious milkshakes, friendly service and very reasonable prices.  There is some seating in the lane out front, but more inside the restaurant where a jukebox plays pop hits from the 1960s. Yo Homie is located at 20 P. Drakopoulou Street. Unfortunately, I can't give you details about its hours of operation because the restaurant doesn't have a website or a Facebook page. But you can click here to read TripAdvisor reviews for Yo Homie.
Near Mykonos airport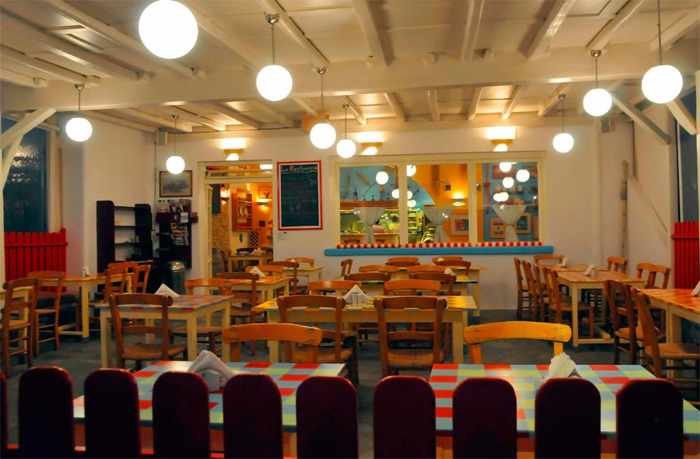 La Rosticceria's colourful dining room
La Rosticceria: A colourful spot in the Drafaki district of Mykonos, on the road from Mykonos Town to the airport, La Rosticceria is an authentic Italian restaurant that's open from March to December. The menu includes antipasti, salads, risotti, pastas, meat dishes, seafood, pasta, pizzas and desserts. La Rosticceria also is open for coffee and breakfast each morning, starting at 9 a.m. Click here to read reviews for La Rosticceria on TripAdvisor.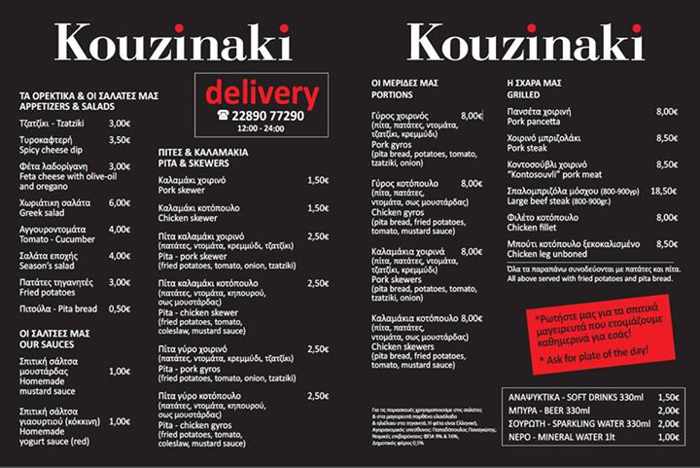 Kouzinaki posted this menu on its Facebook page May 9
Kouzinaki: Here's the perfect place to grab a tasty bite to eat if you're waiting for a flight or have just arrived on one and are feeling too hungry to wait until you get into Mykonos Town or to a beach resort area to buy a snack or meal. Kouzinaki is situated directly across the road from the airport terminal, and sells delicious Greek food that is miles better than anything you could buy in the airport building itself. The menu includes salads, chicken and pork on skewers or in pita, chicken and pork gryos, grilled chicken and pork, chicken fillet and beef steak. Prices are reasonable, as you can see from the menu shown above which was posted on the Kouzinaki Facebook page. Click here to see Kouzinaki's reviews on TripAdvisor.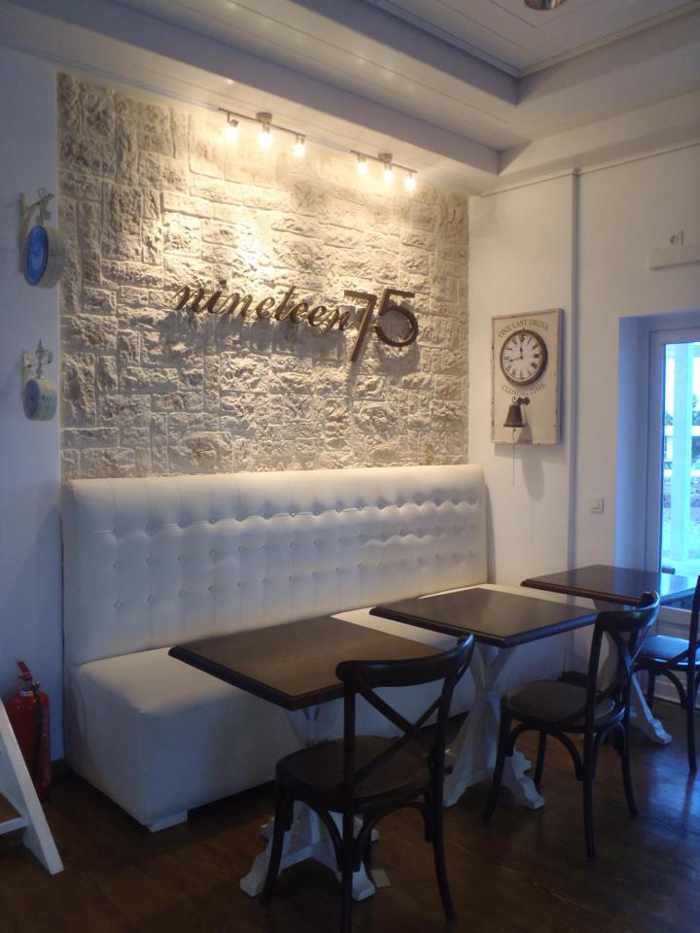 Part of the cafe interior at Nineteen75 across from the Mykonos airport terminal
Nineteen75: Located next door to Kouzinaki, Nineteen75 is a restaurant-cafe that opens at 8 a.m. for breakfast and serves food and drinks throughout the day until its midnight closing time. It's a convenient place to pop in for a coffee or snack if you have spare time before a flight, since it's just a short walk from the Mykonos airport terminal. Besides coffee and other beverages, the menu includes sandwiches, burgers, crepes, salads and desserts. I have never been here and don't know anyone who has, but on TripAdvisor the reviews either praise the place or slam it. Click here to see what the reviewers have written. The Nineteen75 Facebook page has not been updated, but still contains photos from 2012 that show some of the menu items as well as the cafe interior.
On the peripheral highway above Mykonos Town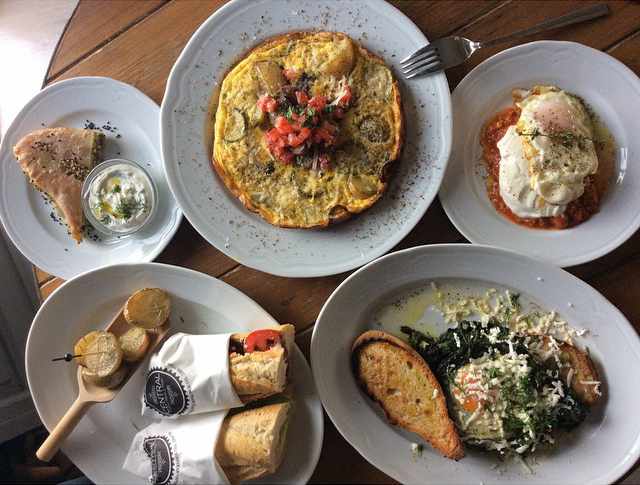 A selection of breakfast dishes at Central Coffee Snacks & Treats, seen in a photo shared on the cafe's Facebook page by Naida Massachou
Central Coffee: I have read and heard good comments about Central Coffee Snacks & Treats, and in particular have been told it serves up some of the best breakfasts on Mykonos. This feedback has been primarily from sources on the island and elsewhere in Greece, because surprisingly enough there is no listing for Central Coffee in the TripAdvisor reviews. It might be due to the fact Central is off the radar for most tourists since it's located in the Drosopezoula area of Mykonos, on the hilltop above Mykonos Town, and is much easier to reach by vehicle than on foot. Nonetheless, from all accounts it sounds like it's worth the trek. Central Coffee was opened in 2013 by Manolis Kousathanas and Spiridioula Simonetatou, and features a menu of breakfast, lunch, snack and dinner fare, as well as desserts, created by Chef Giannis Gavalas. Most of the food ingredients are sourced from Mykonos and other islands in the Cyclades.  The café also serves a variety of delicious coffees, juices and smoothies, and has a full bar for cocktails and other drinks. The shop boasts a casual contemporary interior decor, but the Myconian-style building has a traditional balcony that offers impressive views of Mykonos Town, the sea and the sunset. The shop regularly provides live musical entertainment by local bands and performers, and occasionally hosts special fundraising events. Photos of the shop and some of its culinary offerings can be viewed on the official Central Coffee Facebook page, as well as on a Facebook business listing page for Central Cafe.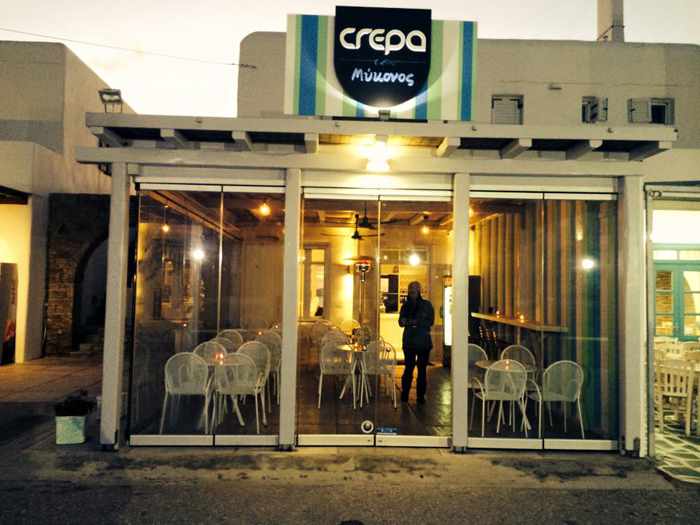 Evening street view of Crepa Mykonos
Crepa: Established in 2014 by young entrepreneurs who also opened the To Klassiko restaurant right next door (see below), Crepa Mykonos specializes in sweet and savoury crepes, but also serves a variety of coffee beverages, sandwiches, fruit salads, waffles, and ice cream.  Customers can choose from 20 varieties of savoury crepes and 20 different sweet crepes, or they can select individual ingredients so the staff can whip up a customized crepe to satisfy their specific tastes and preferences. You can see photos of the cafe, as well as some of its beverages and crepes creations, on the Crepa Mykonos Facebook page.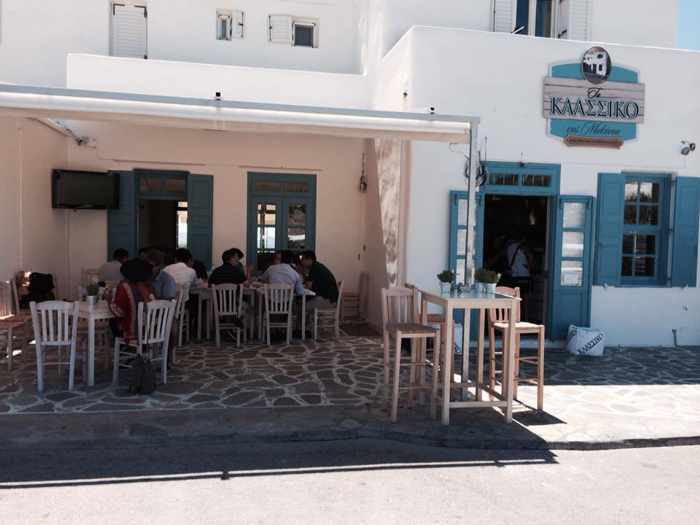 Front view of To Klassiko Tis Mykonou taverna in the Evagelistraki area above Mykonos Town. The restaurant has a sheltered sea- and sunset-view terrace on the opposite side of the building.
Klassiko: Situated in the Evagelistraki area along the peripheral highway above Mykonos Town, To Klassiko Tis Mykonou serves a variety of traditional Greek fare including appetizers, salads and grilled vegetables, gyros, kebabs and souvlaki, and more, all at very reasonable prices. (You can view a sample menu on the website by clicking on the link above.) Klassiko is open year-round from noon until 2 a.m. The restaurant has a large indoor dining room, a sheltered outdoor terrace in front, a shaded sea- and sunset-view terrace out back, and plenty of parking space.  Click here for the TripAdvisor reviews of Klassiko.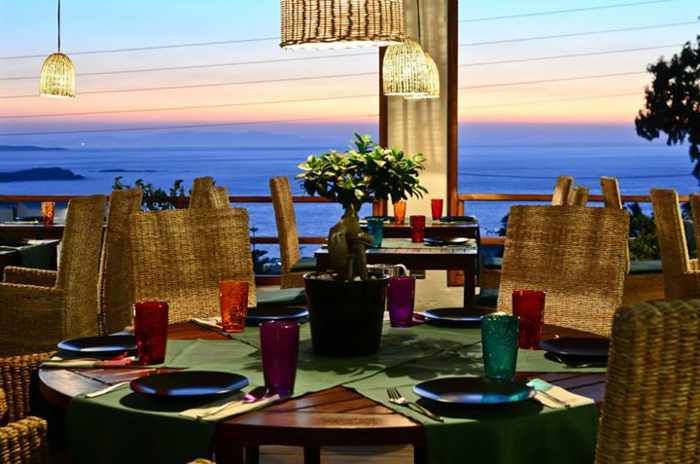 The sea and sunset-view terrace at Mr Pug Siamese Cuisine in Mykonos
Mr Pug: There are scores of restaurants and tavernas serving delicious Greek food on Mykonos, but the island is also blessed with numerous dining spots that serve tantalizing cuisines from other countries and continents, including Asia. Thai food lovers will enjoy Mr Pug, which specializes in Siamese cuisine. It's located on the main highway on the hilltop above Mykonos Town, just past the first roundabout (if you're approaching from the direction of the New Port at Tourlos). Mykonos regulars will recognize its location as the site of the former Blue Ginger restaurant, which closed in 2013. Mr Pug opened last summer, and I have heard good comments about its cuisine and service (if you go, be sure to try Mr Pug's signature dish, the duck mango rolls). I haven't been there yet, but I follow Mr Pug on Facebook and can't help but crave Thai food every time they post photos of their delectable dishes. It all looks so good! This year, Mr Pug opened during the first week of April.  Click here to see reviews for Mr Pug on TripAdvisor.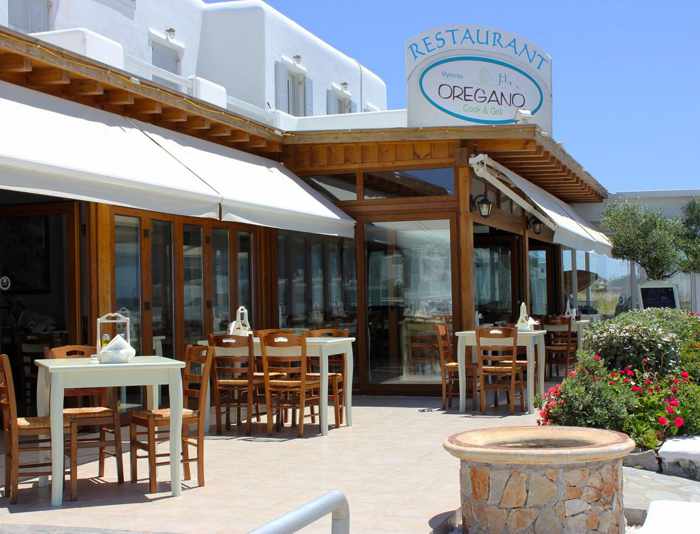 Oregano Cook & Grill has tables out front as well as inside the restaurant
Oregano: I love the food here! First time we went was several years ago, after working up a huge appetite during a busy day of hiking and walking around the island. We told the manager at Hotel Tagoo that we were absolutely starving, and wanted to have dinner somewhere that would serve us big portions of satisfying, good Greek food at prices that wouldn't burn a hole in our wallets. She instantly recommended Oregano Cook & Grill, so we walked over and had a thoroughly delicious and very filling meal. I went back on another occasion, this time for lunch with two friends, and once again the food was excellent and the portions were huge.  Oregano does have an extensive printed menu of Greek cuisine (which you can see on their website), but it's best to go inside the kitchen before ordering to take a peek at the many meat, fish and vegetable items that have been prepared for that day (they're on display in a glass case, and staff will happily tell you how each of the yummy-looking dishes has been prepared).  Oregano isn't a tourist trap — it's a place local residents go for reliably good food at very reasonable prices. The restaurant has take-out and delivery service, so if you happen to dine at one of their indoor or outdoor tables, like we did both times, you'll see their delivery staff come and go constantly, while a steady stream of Myconians drop by to pick up their orders.  Oregano is open all year, for lunch and dinner, and its delivery service is available from noon until 1 a.m.  To read Oregano's reviews on TripAdvisor, click here.
At Megali Ammos beach on the south side of Mykonos Town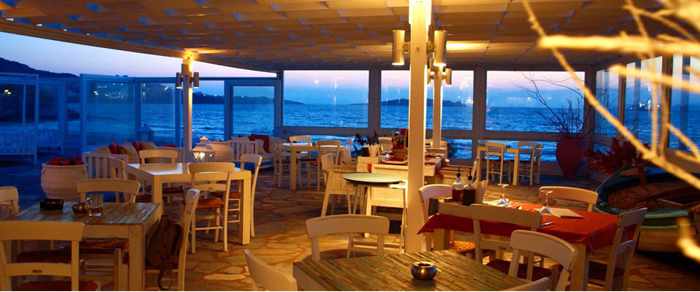 Alisahni restaurant offers breathtaking views of the sea and Mykonos
Alisahni: Located poolside at the Mykonos Bay Hotel,  the a la carte restaurant and bar Alisahni offers Greek and Mediterranean cuisine — including local Mykonian dishes — accompanied by sumptuous sea and sunset views.  It's open all day, serving breakfast, lunch, and dinner. The evening menu includes salads, appetizers and a variety of main courses ranging from moussaka to meat and vegetable dishes to seafood. The Alisahni bar is a romantic spot to enjoy a cocktail or glass of wine while watching the sun dip below the horizon.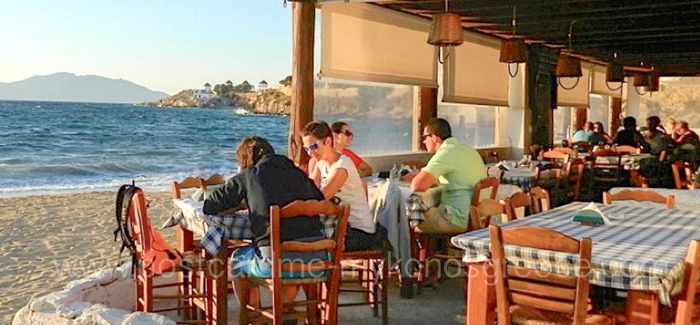 The beachside taverna terrace at Joanna's Niko's Place is seen in a photo by the Post Card ME Mykonos-Greece Facebook page
Joanna's:  Long considered one of the top "cheap 'n' cheerful" tavernas on Mykonos, Joanna's Niko's Place has legions of repeat customers who love its Greek cuisine, grilled meats, reasonable prices and,  perhaps most of all, its wonderful sea and sunset views. I have mixed feelings about the restaurant myself, though, since I had one excellent meal here on my first visit, but a tremendously disappointing (and surprisingly expensive) dinner on the second. But its sizable fan network suggests I just may have hit the restaurant on an "off" day the second time around. Situated at the north end of Megali Ammos beach only a 10- to 15-minute walk from the Fabrika Square bus depot in Mykonos Town, Joanna's is literally right on the beach. The menu offers traditional Greek dishes and seafood for lunch and dinner, and in evenings after 7 p.m. customers can order lamb chops, souvlaki and other meat dishes grilled to order on the BBQ. If you're travelling on a budget, this place will be easy on your pocketbook. Beware, however, that Joanna's fills up fast at dinnertime, so expect a long wait for a table if you don't have reservations (which you can make by phoning: 22890 24251). To read TripAdvisor reviews for Joanna's Niko's Place, click here.
On the ring road from Mykonos Town to Ornos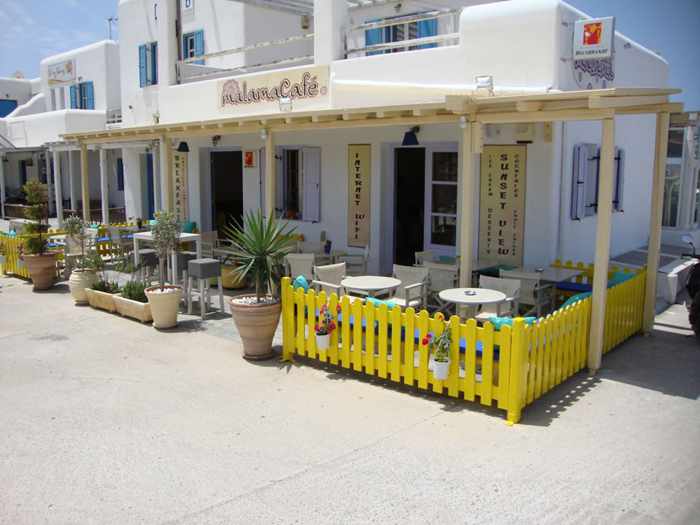 Malama Cafe is a popular place for breakfast, coffee and cocktails
Malama: If your hotel doesn't offer breakfast, you can get a good one at Malama Cafe. Located on the peripheral road between Mykonos Town and Ornos, it's best reached by vehicle since it's about a 15-minute downhill walk from Town and an even longer uphill walk from Ornos. (However, you can take the Ornos bus — just ask the driver to let you off at the cafe.) Malama has been in business since 2005 and is best known for its coffees, breakfasts and scrumptious desserts. Breakfast items include croissants, a variety of egg dishes, fruit juices, yogurt and fruit salads, while lunch & brunch fare includes salads, sandwiches, tortillas and desserts. There's also a full bar for those who want to stop by just for a drink later in the day. Malama is open daily, all year round.  Monday through Saturday it's open from 9 a.m. until midnight, but on Sundays it's open just from 9 until 3 p.m. Click here to read Malama Cafe reviews on TripAdvisor.
Please click on the link below to continue reading on page 4 of this post, which describes restaurants at Ano Mera, Kalo Livadi, Ornos, Panormos, Paraga, Paradise, Platis Gialos, Psarou, and Super Paradise.
CONTINUED ON PAGE 4