~ Mykonos restaurant directory continued from page 1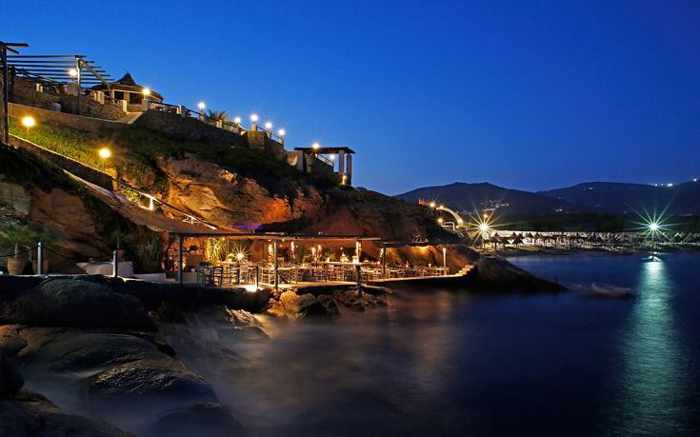 Twilight view of Spilia Seaside Restaurant & Bar, which boasts a one-of-a-kind seaside cave location at Agia Anna beach near Kalafatis
Places at the Agia Anna beach near Kalafatis
Saint Anna Beach Bar and Restaurant has a large sun-shaded terrace overlooking picturesque Agia Anna beach and bay
Saint Anna:  There are at least three different beaches on Mykonos called Agia Anna (Saint Anna). One is the small strand along the harbour at Mykonos Town, while another is situated between Platis Gialos and Paraga — two of the island's most popular southern coast beaches. The third is found in the Kalafatis area at Agia Anna bay, a very pretty and picturesque part of Mykonos that is surprisingly off the main tourist path. Although rental umbrellas and lounge chairs have been available on the sandy beach at Agia Anna each summer for the past three decades, options for dining and drinking have largely been limited to Spilia Seaside Restaurant and Bar (see below). That has all changed this year thanks to Saint Anna Beach Bar and Restaurant — a new venture by the owners of Spilia. Unlike Spilia, which specializes in fish and seafood, Saint Anna Beach Bar and Restaurant features Mediterranean cuisine, with an emphasis on pasta and meat dishes. And while Spilia is practically concealed from view in a seaside cave on the coast, Saint Anna is situated right on the beach — conveniently just steps away from the rows of rental sunbeds.  Since it's a new arrival on the Mykonos restaurant scene, I can't give you a link to TripAdvisor reviews — none have been posted yet.  Saint Anna's season started in May and management told me they expect the restaurant to remain open until early November.
The dining terrace at Spilia Seaside Restaurant & Bar is tucked into a cozy coastal cave with views of scenic Agia Anna bay and the sea (below)
Spilia Seaside: It's been nearly 8 years since a friend from Athens urged us to go to Spilia Seaside Restaurant & Bar, part of the Hotel Anastasia Village at Agia Anna beach near Kalafatis, for what he promised would be an outstanding seafood meal. He insisted we would thoroughly enjoy the food (he recommended the lobster pasta, Spilia's signature dish), and he guaranteed we also would be enthralled by the restaurant's sublime setting and incredibly romantic atmosphere — a seaside cave perched just a meter above the water. Unfortunately, we haven't yet made it to Spilia for a meal because we rarely rent a car while on Mykonos — and you'll need a vehicle to reach the restaurant unless you're staying at a hotel within walking distance. But we have viewed Spilia from the opposite side of Agia Anna bay — and based on photos and videos I've seen, and reviews I have read, I can definitively state there is no other restaurant like it on Mykonos. Spilia calls itself "a hidden gem," and it's a jewel of a place indeed. Where else can you dine on the freshest fish and seafood — including sea urchins collected from the bay only meters from your table — while sitting in a cave? Reservations are highly recommended, but if you happen to be in the Agia Anna / Kalafatis area either in the afternoon or evening it would be worth popping in to see if you can get a table, either for a delightful seafood meal or wine or cocktails. With a DJ spinning chill-out tunes and the unique terrace providing a spectacular view of the bay and sea, it would be an experience you would never forget. Click here to read TripAdvisor reviews for Spilia Seaside. (Keep in mind that there are at least three beaches named Agia Anna on Mykonos — Spilia Seaside is at the one near Kalafatis.)
Places at Kalafatis beach
Part of the dining terrace at Bandanna restaurant
Bandanna: Celebrating its 20th anniversary this year, Bandanna was one of the first Mykonos restaurants to actively promote cooking with local products — a trend that has exploded in popularity with eateries throughout the island over the last three years. Owner Gian Luca Barlucci has also been a longtime
advocate of healthy lifestyles and eating, which is why he sources many of the restaurant's ingredients — such as vegetables and herbs — from his
nearby farm. Located at Kalafatis, Bandanna is a combination Italian restaurant, Tuscan pizzeria and bar. New this year is a lounge area that has views
of the historic Divounia area of Mykonos. Pasta and pizzas made from hand-rolled dough are the restaurant's most popular dishes, but Barlucci says a
signature dish that customers have been raving about this summer is the tuna tagliata with pistachio sauce and whole wheat pasta. Bandanna is open
daily from May through September/October. See the Bandanna Facebook page for a 20th anniversary coupon you can present to the restaurant for a €5
discount on a meal during 2015. And click here to read Bandanna's reviews on TripAdvisor.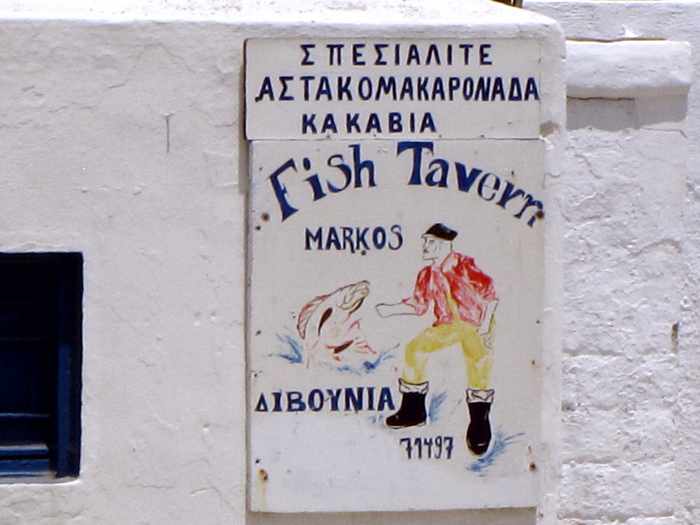 Sign on the whitewashed wall at Markos Taverna near Kalafatis beach
Markos: If you feel compelled to escape the frenzied commercial atmosphere of Mykonos Town, drive to the Divounia beach area of Kalafatis bay for a meal at Markos Fish Taverna. Located in a rustic seaside fishing settlement with views of Kalafatis beach across the bay, Markos is a traditional fish taverna specializing in simple fish and seafood dishes including kakavia (fish soup), which friends have told me is excellent.  Although the taverna setting is authentic, don't expect cheap meals — fresh fish is expensive on Mykonos and other Greek Islands, and is priced by the kilo. Here, and at any Greek restaurant serving fish, make sure you ask the staff to weigh and price the fish you select before you confirm your order, otherwise you could be in for "sticker shock" when you receive your bill at the end of the meal.   Click here to read reviews for Markos Taverna on TripAdvisor.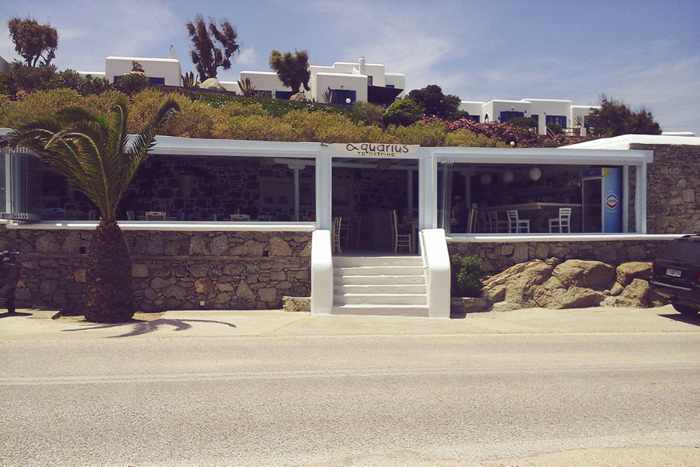 The beachview terrace at Petrino Aquarius is seen in this photo shot from the opposite side of the road to Kalafatis beach
Petrino Aquarius: Located directly across the road that passes along Kalafatis beach, Petrino Aquarius Restaurant & Snack Bar offers seafood and Greek cuisine in a relaxed setting with views of the long sandy beach and bay. The menu includes a variety of salads (Greek, Caesar, and the house Petrino salad), meat dishes, pasta, lobster and other seafood delicacies, moussaka and other Greek dishes. Petrino has a full bar, as well. Prices are reasonable by Mykonos standards, and the atmosphere is much more laid-back and casual than the Thalassa restaurant (see below) at the far end of the beach. To read TripAdvisor reviews for Petrino Aquarius restaurant, click here.
Thalassa Restaurant has its own private jetty where customers arriving by sea can dock their sailboats or yachts. This photo was posted with an online review by TripAdvisor member Daria83.
Thalassa: Kalafatis beach is one of the top places to sail and windsurf on Mykonos, and beachside Thalassa Restaurant is the top place for water sports enthusiasts and sunbathers to go for meals or refreshments. One of two restaurants at the Aphrodite Mykonos Beach Hotel, Thalassa is situated at the northern tip (far left side) of Kalafatis beach, and has a large open-air terrace with amazing panoramic views of the sea, beach, Kalafatis bay, and surrounding area. I have been here, but not for a meal — in 2012, our group stopped here during a drive around the island so two of the people in the car could check out the menu and view and decide if they'd rather spend an upcoming day at Kalafatis or elsewhere. Thalassa isn't a rustic beach taverna, but rather a more upscale and contemporary seaside restaurant offering seafood, Greek and Mediterranean cuisine. The kitchen uses local ingredients and products, including fish and seafood caught in the seas off Mykonos, and meat from a privately-owned farm. I thought the prices were reasonable, and the food I saw customers eating looked delicious. The two people in our group did go to Kalafatis the next day, and reported back that they had enjoyed their lunch at Thalassa. Click here to read what other travellers said about Thalassa Restaurant in their reviews on TripAdvisor.
Places at the Agia Anna beach near Paraga

Dining terrace view of LaMed's umbrellas and loungers on Agia Anna beach
LAMED: New to Mykonos last year, LAMED Seaside Pleasure quickly became a trendy hangout for beach relaxation (on its super-comfy sunbeds) as well as for chic beachside drinking and dining. The restaurant had an upscale menu of Mediterranean cuisine and seafood, and regularly hosted weddings, other private events, as well as some special parties featuring live musical entertainment and DJs. For 2015, LAMED is actively promoting itself as a wedding and events venue. Its newly-redesigned website is packed with photos of weddings and other special events, as well as information about its capacity for banquets, buffets, cocktail parties and lounge bar events, as well as available menus for those occasions. The website doesn't say if LAMED is strictly an event venue, or if it will once again this summer be open to any Agia Anna beach visitors who want to drop in for a drink or meal.  LAMED's Facebook page isn't any more informative; some food photos were posted on May 17 with the caption "New menu coming up," and nothing further. I contacted LAMED for further information but have not received a response. According to its website, LAMED will be open from May 10 to October 10. Click here to read LAMED's reviews on TripAdvisor.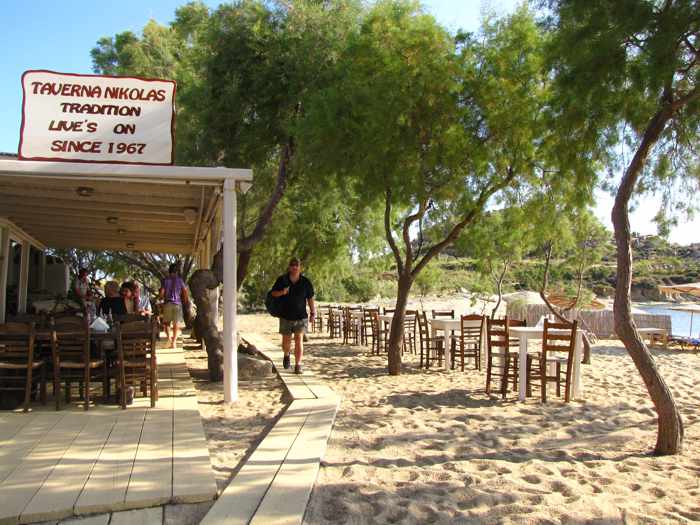 Nikolas Taverna has a sheltered dining terrace (left) as well as a row of tables right on the sand at Agia Anna beach
Nikolas: If you read my blog regularly, you will already know that my favourite beach taverna on Mykonos is Nikolas, located at Agia Anna, the small beach situated between Platis Gialos and Paraga. I have written about it numerous times, including my Mykonos food and drink 2013 roundup, and my report on Our best food and drink experiences of 2013, among others.  So it's no secret that I absolutely love this place!
Family-owned and operated, Nikolas Taverna has been serving seafood and superb home-cooked Greek cuisine for the past 48 years. It's not just the delicious food that draws me here for a meal whenever I visit Mykonos — it's also the incredible location. My favourite place to sit is at one of its tree-shaded tables in front of the taverna, right on the beach, where I enjoy gazing across the golden sand at the sparkling turquoise sea while relaxing with a hearty lunch meal. The menu includes a variety of salads, cold and hot appetizers, pasta, meat, fish and seafood, local Myconian specialties, and traditional Greek dishes. I have thoroughly enjoyed everything I've tried here — meatballs in tomato sauce; stuffed tomatoes and peppers; moussaka; spinach pie; green beans in tomato sauce; fennel balls; Myconian pie; Greek salad; grilled vegetables and more. All have been mouth-watering good! The wholesome vegetable ingredients are grown on the family's own organic farm, and the fish is caught fresh in the seas off Mykonos. But don't just order from the menu — go inside the kitchen where you can view some of the special dishes freshly prepared for just that day, before deciding what you would like to eat.
Nikolas Taverna usually opens a week before Greek Easter, and closes around October 15. During April and early May, the taverna opens in late morning and stays open until 8 p.m. , but starting on May 15 will remain open until 9 p.m. each night. Beginning on June 15 the restaurant will stay open as late as 11:30 p.m. for peak season, after which it will again start closing around 8 o'clock. Click here to see what people (including me!) have written about Nikolas Taverna in their TripAdvisor reviews.
Places at Agios Ioannis beach
Part of the open-air dining terrace at Bellissimo Pasta & Pizza and Vasilikos Bar-Restaurant, two restaurants in one facility at the Bellissimo Resort
Bellissimo / Vasilikos: There is limited choice for dining at Agios Ioannis, but the Bellissimo Resort offers the option of choosing from two restaurants under one roof. As its name suggests, Bellissimo Pasta & Pizza has an Italian-focussed menu of pasta and home-made pizzas, all of which can either be enjoyed on the restaurant terrace or prepared for take-out. Vasilikos Bar-Restaurant, which shares the same premises, specializes in Greek cuisine and seafood, and has a bar serving beer, wine, cocktails, juices and other beverages. Customers can order meals off both restaurant menus if they desire. I have been to Bellissimo only for a light lunch, which I enjoyed as much as the very friendly service, and I thought the menu prices were reasonable, for Mykonos. Bellissimo and Vasilikos are both open for lunch and dinner, and their daily hours of operation are 1 p.m. until 11 p.m.  Click here to read TripAdvisor reviews for Bellissimo, and click here to read reviews for Vasilikos.
A dreamy sunset view from one of the beachside tables at Hippie Fish
Hippie Fish: Fans of the Shirley Valentine movie will be familiar with this place — it was the Sunset Taverna where scenes from the 1989 hit movie starring Pauline Collins were filmed. But people who love the movie might not recognize the restaurant. As Hippie Fish, it doesn't look at all like a rustic beachide taverna; it has been updated with a contemporary, hip decor. What hasn't changed is that the restaurant is still right beside the sandy beach, and still has marvellous views that include Delos and Rinia islands and of course the stunning Mykonos sunsets. I have been here, but only for a drink, and loved the atmosphere and views — but not the service. Our waiter looked put out when we said we only wanted beverages, and no food, and it took what seemed like ages for him to deliver our beer and fruit juice, even though there were no more than a dozen customers (including us) in the entire restaurant. While we were not impressed, the place does have legions of fans who enjoy and recommend it. Hippie Fish has recently been renovated and is now part of a new hotel called Hippie Chic. The menu includes Greek and Mediterranean cuisine, with a variety of hot and cold starters, fish and seafood delicacies, pasta and grilled meats. Adjacent to Hippie Fish is the Sushi Lounge Bar and the Hip Mixology Bar (both also part of the Hippie Chic hotel.) The restaurant is open for lunch through dinner, and is a popular place for evening and late-night cocktails, too.  Click here to read TripAdvisor reviews for Hippie Fish.
Mistura restaurant has views of Agios Ioannis Bay, Delos island and the sunset
Mistura: New to Mykonos (it opened in late June), Mistura serves Peruvian and Japanese dishes artfully  presented by Chef Dimitris Katrivesis and served in a cozy dining room with superb views of Agios beach, the sea, the sunset and nearby Delos island. If you view the photos posted on the restaurant's Facebook page, you'll see that Mistura's cocktails and cuisine are as exquisite and impressive as the surrounding scenery.  With ingredients including Kobe beef and Peruvian cacao, Chef Katrivesis's creations promise exotic flavours and tastes you won't find anywhere else on Mykonos. Signature dishes include yuca croquet with kopanisti cheese and lime mayo; Shiso pork belly burgers; King crab with jalapeño and yuzu tobiko; and spicy tuna with roccoto, perilla, yuzu & kimchi sesame. Mistura is so new it doesn't yet have any reviews on TripAdvisor; however, the reviews on its Facebook page rate it as 4.9 out of 5 stars.  Mistura is located in the Hippie Chic Hotel, which also is home to the Hippie Fish restaurant described above. Mistura closed for the winter on September 4.
Pyli serves Mediterranean and Greek cuisine on the beachfront
Pyli: In business since 2003, Pyli Restaurant is situated right on the Agios Ioannis beachfront directly below Manoulas Beach Resort, which is one of the locations where the hit movie Shirley Valentine was filmed. (The restaurant is managed by a third party, not the hotel.) Pyli is one of only two options for beachside dining at Agios Ioannis, the other being Hippie Fish, and the feedback I've received is that Pyli is by far the better place to dine. Besides good food, Pyli has superb views of the beach, the beautiful bay area, and the sunset. The Pyli menu includes seafood, Greek food and Mediterranean cuisine, and the restaurant is open for lunch and stays open for dinner and late-night drinks. Pyli usually opens in late May, and this year is expected to open sometime during the third week of that month. Click here to see Pyli's reviews on TripAdvisor.
Near Agios Sostis beach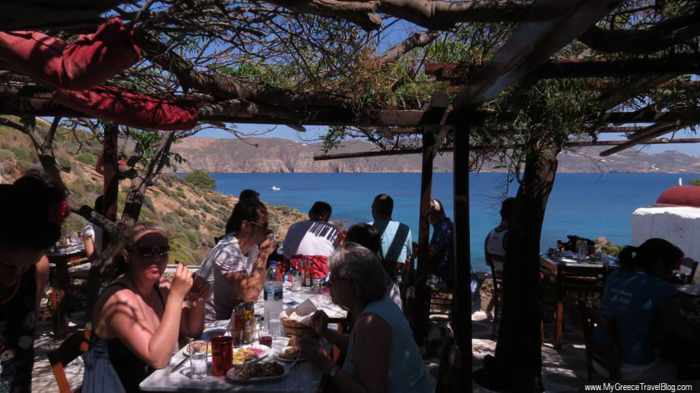 The vine-shaded terrace at Kiki's Taverna overlooks Panormos Bay
Kiki's: Regular readers of my blog already know that Kiki's Taverna is one of my favourite and most-recommended restaurants on Mykonos — I've talked about it extensively.  I described Kiki's at length in my 2013 report on the island's most popular beach tavernas, as well as in my account of our best dining experiences during our Greek holiday that same year. What more can I say about Kiki's now? Probably nothing new, so I won't repeat myself again — you can click on those links at your leisure to read why I think Kiki's is so special, and to see photos showing the restaurant and its location on the hillside above Agios Sostis. Kiki's has been open since the beginning of May, and serves its signature salads and grilled meat and fish dishes until early evening (the restaurant doesn't stay open past dusk). Kiki's doesn't take reservations, so be prepared to wait awhile for one of the tables on its small terrace to become available. And arrive hungry, because the portions are big! (You probably won't need to eat much for dinner after having a lunch at Kiki's, if you even need to eat dinner at all). Click here to see how TripAdvisor reviews compare with what I said about Kiki's in my blog posts from 2013.
Part of the sea and coastal view diners enjoy from every table at the Mykonos Star's Veranda restaurant & bar
Veranda: Contrary to what many Agios Sostis beachgoers believe, Kiki's is not the only place to get a meal or drink in the immediate area. There's also the Veranda Restaurant & Bar at the Mykonos Star Suites & Apartments, further along the highway a short distance past the beach access road. It, too, has excellent sightlines, with sweeping views that include Panormos Bay, Marmaronisi island, and a small sandy beach in a scenic cove directly below the Mykonos Star property. Every table on the open-air veranda and inside the dining room has a sea view. The restaurant serves Greek and Mediterranean cuisine, and it is open to the public. This year it begins operations on May 20 when the Mykonos Star opens for the season.
Places at Agios Stefanos beach
The seaview dining terrace at Capra Italian Restaurant
Capra: Situated in the Alkistis Hotel just a stone's throw from Agios Stefanos Beach, Capra Italian Restaurant has been open since summer 2014, but has surprisingly been flying under the radar on the Mykonos dining scene even though it claims its delicious cuisine proves it's "not just another Italian restaurant on Mykonos" (of which there are many.) Capra invites customers to "journey to Italy through the authentic flavours freshly prepared by chef Enricco Pizzano." His creations — including antipasti, pasta, pizzas and desserts — follow genuine Italian recipes and have received two-thumbs-up reviews from Italian visitors on social media. Capra has a regular menu but also offers special dishes each day. The restaurant is open only during summer, for both lunch and dinner. It has an indoor dining area as well as a large open-air terrace with panoramic views of Delos and Rinia islands, as well as the sunset. Click here to read Capra Italian Restaurant's reviews on TripAdvisor.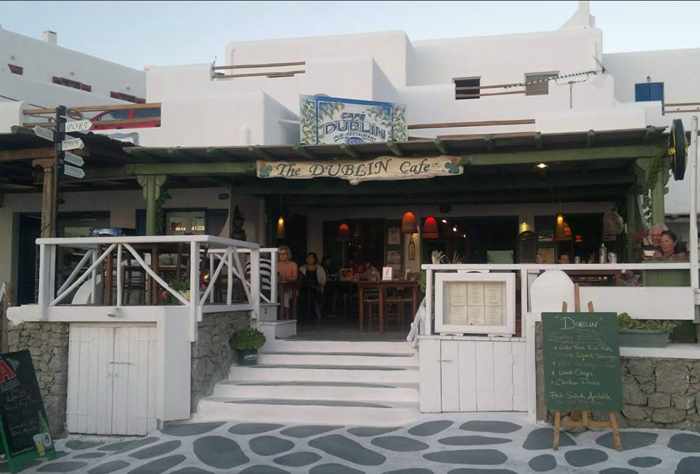 Street view of The Dublin Cafe's beach- and seaview terrace
Dublin: Like so many places in Greece, this restaurant and bar is known by multiple names — Dublin Irish-Bar Restaurant on its own website, Cafe Dublin Mykonos on its Facebook page, The Dublin Cafe on the sign above its entrance, and The Dublin Irish Pub Restaurant in the TripAdvisor Mykonos restaurant listings. But they're all the one and the same Dublin. The place is much like an Irish pub, and does serve pints of Guinness as well as some Irish food. But it caters to other drinking and dining tastes, too, offering a vast selection of beers as well as wine and cocktails, Greek food, seafood, pasta, burgers, and other fare.  Located along the main road just steps from Agios Stefanos beach, The Dublin has a front porch patio with sweeping views of the beach, the bay, cruise ships at the nearby New Port, and of course the sea and sunset. I haven't been here myself, but friends have gone and told me they enjoyed the food and atmosphere. Occasionally, the Dublin brings in live musical entertainment or holds parties to celebrate special events, like St Patrick's Day, Hallowe'en or Carnival. The Dublin is open all day and attracts people from all age groups and backgrounds. Click here to read reviews for the Dublin on TripAdvisor.
The large open-air patio at H Epistrophi overlooks Agios Stefanos beach and has views toward the New Port and Mykonos Town
Epistrophi: I have stopped in here only for a coffee, so I can't comment on the food, but I can tell you that the dining area at H Epistrophi is a nice spot to relax with terrific views. The patio overlooks Agios Stefanos beach and offers excellent panoramic sea views that take in nearby islands, the Mykonos New Port and even part of Mykonos Town. Since it's a fish taverna, Epistrophi has a variety of fresh fish and seafood selections on its menu, as well as traditional Greek dishes including hot and cold appetizers, salads, grilled meats, baked dishes like moussaka, and more. The restaurant has a parking lot for those arriving with their own vehicle. Epistophi is open from 11 a.m. to 11 p.m. every day. Click here to read TripAdvisor reviews for H Epistrophi.
The view from the Limnios Taverna dining room includes Delos and Rinia islands
Limnios: Authentic Greek cuisine with a wonderful sea and sunset view — you'll find both at LImnios Taverna. Although it can take a bit of a hike to reach — it's situated on a hillside dozens of steps above Agios Stefanos beach — the food and views will be worth the leg workout (which will no doubt boost your appetite for a satisfying, hearty meal).  I've heard many good comments about Limnios in recent years and regret that we haven't had the opportunity to try the restaurant yet ourselves. Everyone I have spoken to has described Limnios as a refreshing change from the slick tourist-trap restaurants that predominate in Mykonos Town. The menu includes staple Greek favourites like moussaka, lamb, and meatballs, salads, an extensive selection of vegetable, meat and cheese starters (ideal for sharing, be sure to order several so you can try a variety of tasty items), grilled meats (including lamb chops, souvlaki, and local Myconian sausages), pasta and seafood. Prices are reasonably low, and the service is friendly (though sometimes a little slow). Click here to read TripAdvisor reviews for Limnios Taverna.
TripAdvisor member Mercedes P posted this photo of the view from the terrace at Petran Taverna
Petran: Perched on the hill at the far right-hand side of Agios Stefanos bay, Petran Taverna boasts an open-air terrace with expansive views of the beach and bay, Mykonos Town in the distance, and of course the sea. I have been told the Greek cuisine here is as delightful as the great views, but I have not yet been able to judge for myself — Petran hasn't yet been open at the times I have been to Agios Stefanos during my various trips to Mykonos in May.  The family-operated restaurant gets praise from visitors not only for its quality food, but also for its reasonable prices — features that can be difficult to find at restaurants in other Mykonos places, like Little Venice, that have wonderful sea views. At Petran, you won't pay extra for the privilege of enjoying the beautiful scenery while you dine.  Click here to read TripAdvisor reviews describing Petran Taverna.
Guests can enjoy island, sea and sunset scenery from the poolside restaurant at the Rocabella Mykonos hotel
Rocabella: If you're staying in the Agios Stefanos area, you don't have to travel into Mykonos Town for an evening of fine dining — just head to the restaurant at the Rocabella Mykonos hotel. If you're staying elsewhere on the island, and you have a vehicle at your disposal, you might want to consider the Rocabella's restaurant for a change of tastes and scenery, too. Situated beside the hotel swimming pool, the restaurant terrace offers scenic views of Mykonos, nearby islands, the sea and the sunset. By all accounts, the restaurant's cuisine is as delicious as the views — Executive chef Gikas Xenakis has created a menu of New Greek Cuisine that highlights locally-sourced ingredients. (The hotel has a deli boutique where you can purchase some of those products, including olive oil, herbs and traditional Greek foodstuffs.)  The restaurant serves a stunning breakfast buffet from 8 to 11 a.m., lunch from 1 p.m. to 6 p.m., and dinner from 6 p.m. until midnight.  Contact the hotel for reservations if you aren't staying there as a registered guest. To read TripAdvisor reviews for the Rocabella restaurant, click here.  Take note that while the TripAdvisor reviews are included under a listing for Ergon at Rocabella, the hotel has advised me that Ergon is not the restaurant's name.
 TripAdvisor member Fu55yeater posted this beach view photo of The Waves restaurant at Agios Stefanos beach
Waves:  Situated beachside at Agios Stefanos, The Waves is a family-run restaurant serving reliably good fish, seafood and Greek cuisine at reasonable prices. It's a good spot for beachgoers to stop in for lunch or a light snack or beverage, but it's also a good choice for dinner. I've heard good comments about the friendly service and the food quality, with people saying virtually everything they've tried has been delicious. To read reviews for The Waves on TripAdvisor, click here.
Places at Tourlos in the Mykonos New Port area

Cayenne is a brand-new pizza restaurant, burger bar and cocktail lounge at Tourlos, near the Mykonos New Port
Cayenne:  It describes itself as a "pizza & burger bar," but there's much more to Cayenne than that. It's a cozy place to stop for a morning coffee or breakfast, and it's a cool cocktail lounge for evening and night-time socializing and relaxation. But besides gourmet burgers and pizza, the menu — created by Chef Leonidas Katsouropoulos,  includes delicious Mediterranean cuisine with specialty items like smoked chicken fillet, and grilled vegetables with anthotiro cream cheese and tomato jam, to name but two of the tantalizing dishes that have been featured in photos on the Cayenne Facebook page. The restaurant is just a couple of minutes' walking distance from the New Port, and its terrace has views of the port, sailboat marina, cruise ships anchored in the bay, and of course the marvellous Mykonos sunsets. Cayenne held its "soft" opening on May 7.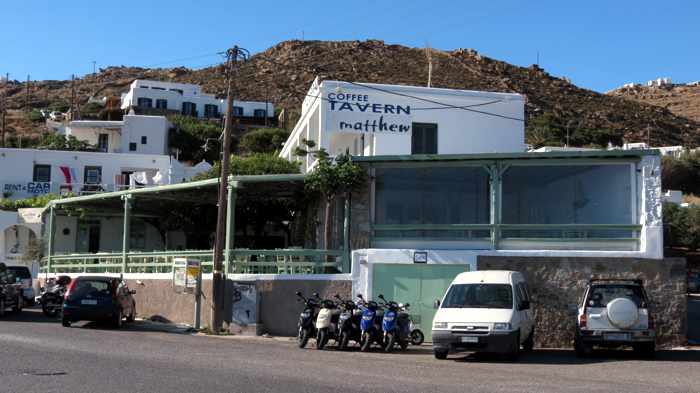 The large open-air terraces at Matthew Tavern overlook the Mykonos New Port and marina
Matthew: A popular mainstay  at Tourlos, directly opposite the Mykonos New Port, Matthew Tavern is a convenient place for cruise ship and ferry passengers to enjoy a meal or beverage while waiting for their ship to depart — or to get some wholesome Greek food if they have just arrived at the island. It's a big restaurant, with spacious port and sea-view dining terraces, but the food quality and service is very good,  even for large groups. (I wrote about a group meal experience at Matthew in a post about my Mykonos dining experiences in 2012). Customers can order off the extensive menu of Greek and Mediterranean cuisine, but they're welcome to visit the kitchen first where staff will show them the various specials of the day and explain how they are prepared. Portions are hearty and prices are reasonable. Matthew is usually open from late May until early October. Click here to see TripAdvisor reviews for Matthew Tavern.
At Meze on Port, diners can enjoy delightful dishes while watching the activity at the bustling New Port of Mykonos
Meze on Port: Tourlos is better known to most people as the location of the Mykonos New Port. It's also where you'll find Meze on Port, which opened in May 2013 at the Olia Hotel. The restaurant is just a short walk from the port, and has an open-air terrace overlooking the harbour and sea, so it's a popular spot for people to grab a drink or bite to eat while waiting for a ferry. It's also a convenient dining spot for daytrip visitors to Mykonos, since most of the cruise ships that stop at the island dock at the New Port. The Meze on Port menu includes an extensive variety of snacks and mezes, of course, as well as ouzo, tsipouro and other beverages. The restaurant is open from March until November each year, and is open daily from 13:00 (1 p.m.) until midnight.   Click here to read the TripAdvisor reviews for Meze on Port.
Besides its spacious indoor dining room, Molaraki restaurant has a pleasant outdoor terrace
Molaraki: If you're staying in the Mykonos New Port area at Tourlos, or waiting for/arriving from a ferry, Molaraki Mediterranean Cuisine is a "cheap and cheerful" option for Greek food, especially if you're travelling on a budget. The prices are reasonable and the food is delicious, served in very hearty portions. I described our own experience there in my report on where we ate in 2013, so if you click on the link and turn to page 2 of that article, you can read how much we enjoyed Molaraki. The restaurant is located in Makis Place Hotel, which is directly across the road from the New Port. Molaraki is open daily, from noon until midnight, from May 1 to September 30. The restaurant also offers a takeout and delivery service during those same hours.
At Agrari beach
Agrari Beach Bar & Restaurant has tables on the sand under shade trees
Agrari: Situated along the island's southern coast, Agrari is walking distance from Elia beach but doesn't get as jam-packed crowded as Elia, even though it's arguably just a nice a strand. For people who drive here or arrive by water taxi for a day of swimming and sunbathing, there is only one choice for drinking and dining — Agrari Beach Bar & Restaurant.  Part of the Agrari Beach Hotel complex (one of only a limited number of accommodation choices in the area), the beach bar has a dining terrace and cocktail bar tucked against the kitchen building well inland from the beach, as well as tables on the sand, shaded by trees, much closer to the sea. The restaurant menu is focussed on Mediterranean cuisine, including Greek food, seafood, salads and scrumptious desserts. Agrari Beach Bar & Restaurant opened on May 1.  Click here to read TripAdvisor reviews for Agrari Beach Bar & Restaurant.
At Elia beach
A Christos Drazos photo showing the view from Capelayo Restaurant
Capelayo: I used to hear very good things about Capelayo Restaurant — a few years back, people told me the food and service there was as good as the dining terrace's views of beautiful Elia beach and bay, and worth the upmarket prices. But in the last two years I haven't heard any positive first-hand feedback, and the reviews I have seen online have either given the restaurant top marks, or rated it poorly. Part of the Arte & Mare Elia Suites Boutique Spa Hotel, Capelayo has two levels — a beach bar next to the sand (where the hotel operates a swath of rental lounge chairs and umbrellas), and the restaurant terrace above it. Capelayo's website says the menu offers "creative Mediterranean cuisine" made with "selected local ingredients." The menu also includes seafood and fresh fish, "home-made Greek specialties," and desserts. Coffee and breakfast items also are available. Click here to read recent TripAdvisor reviews for Capelayo Restaurant.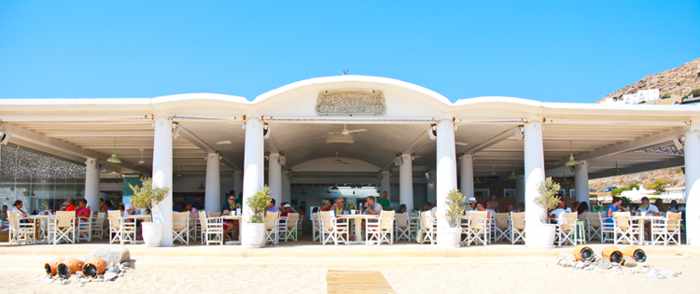 Beach view of Elia Mediterranean Restaurant's open-air dining terrace
Elia: Located approximately 10 kilometers from Mykonos Town, Elia is one of the most scenic beach areas on the island and is a popular destination for daytripping cruise ship visitors, gay tourists, and sun worshippers who prefer not to wear swimsuits so they achieve an all-over tan. When they get hungry, those beachgoers usually head to  Elia Mediterranean Restaurant.  It's situated next to the parking area near the center of the beach, and its large open-air dining terrace fronts directly onto the sand, offering unobstructed views of the sparkling turquoise sea. I haven't dined here yet, but many friends and acquaintances have — all said they were happy with the food, though some said the service can be hit and miss from day to day. The restaurant is open all day. It serves breakfast from 8:30 a.m. until 12:30 p.m., then offers its regular menu which lists a very lengthy selection of items ranging from hot and cold appetizers and salads to seafood, pasta, grilled meats, Greek cuisine, and desserts. (You can view the complete menu here.). Elia Mediterranean Restaurant has been newly renovated for this summer, and will open on May 1.  Click here to read its reviews on TripAdvisor.
At Lia beach
Liasti has a large open-air terrace set back several dozen meters from Lia beach
Liasti: For years, some friends on Mykonos kept recommending we visit Lia beach and have a meal at La Luna, which they described as one of the best beach tavernas on the island. We finally got to Lia for the first time in May 2012, but the restaurant wasn't yet open for the season. That would have been our first and last chance to give it a try — La Luna closed that year and was replaced in 2013 by Liasti, which was renovated into a more hip and contemporary establishment serving seafood, Greek and Mediterranean cuisine. As I reported in a July 2013 post about Mykonos beach restaurants, Liasti opened to critical acclaim for its "bohemian chic" ambience and its "creative" cuisine featuring locally-grown ingredients. Liasti doesn't have a website, but there is a Liasti Lia Beach page on Facebook to which travellers have added some photos of the restaurant and some of its dishes, along with a few reviews.  However, there is more information about Liasti's food and service on TripAdvisor, where you can read nearly 100 reviews if you click here.
At Fokos beach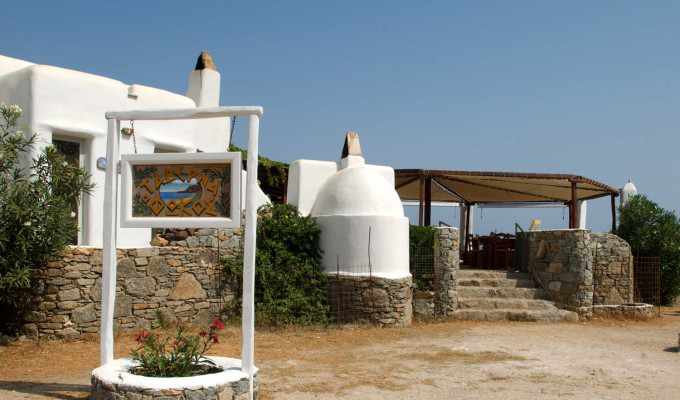 Exterior view of Fokos Taverna
Fokos: It's worth travelling out of the way to Fokos beach if you want to avoid crowds and experience a scenic Mykonos beach that isn't packed with sunbeds.  Even if you don't want to spend time on the beach itself, it's worth the drive just to enjoy a meal at Fokos Taverna. For years Fokos has held a reputation as one of the island's top beach restaurants. I still haven't been here yet, but I have recommended it to a number of friends who have all raved about the delicious food. In a post on its Facebook page, Fokos Taverna said its menu "features traditional greek fare, unique salads, grilled meats, fresh fish and homemade desserts. We keep it simple using only fresh ingredients of high quality to prepare flavourful dishes. The wine list is an interesting selection of Greek wines carefully chosen to compliment our food."  (You can view the menu on the restaurant website.) Fokos beach is situated northeast of Ano Mera, just past the reservoir. Fokos Taverna opens on May 15. Click here to read TripAdvisor reviews for Fokos Taverna.
Ftelia beach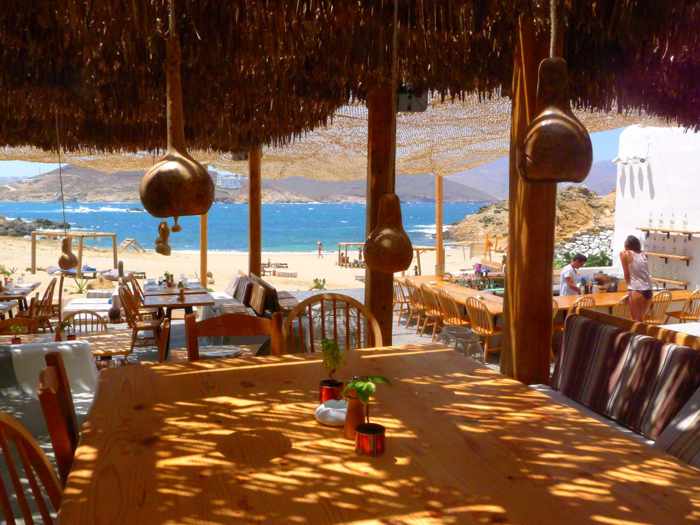 Beach and bay view from the shaded terrace at Alemagou Beach Resto-Bar
Alemagou: A cool place to chill out with drinks or meals, Alemagou Beach Resto-Bar offers seafood and Mediterranean dishes served on a large beach-view dining terrace that's sheltered from the sun by a wide thatched reed roof. Though Ftelia beach tends to be extremely windy (hence its popularity for windsurfing), Alemagou is a comfortable spot to hang out and watch the waves or sunset. After dark Alemagou get lively with a hip beach party vibe as guests enjoy cocktails and conversation long into the night. The club hold special events and beach parties from time to time, with DJ entertainment and bonfires on the sand. This year Alemagou will be open from May 15 until September 18. You can read Alemagou's reviews on TripAdvisor by clicking here.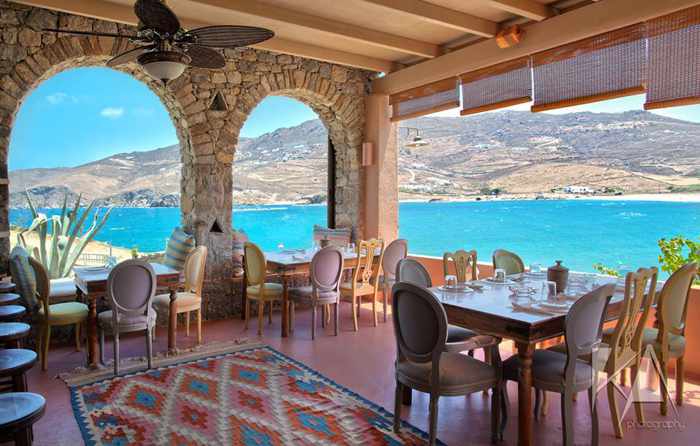 Ftelia restaurant overlooks Ftelia beach and bay
Ftelia: Looking for an "absolute relaxation experience" at a scenic beach that isn't lined from end to end with crowded rows of lounge chairs and umbrellas? Then head to Ftelia beach (reached via the main highway from Mykonos Town to Ano Mera), and pop into Ftelia restaurant at the left side of the beach. There, you can enjoy a drink or meal while chilling out in a completely laid-back atmosphere that will make you feel like time is standing still — "back in the summer of the '60s." Ftelia's open-air dining terrace has gorgeous views of the beach and Ftelia Bay, so on breezy days you can watch windsurfers hone and demonstrate their skills while you savour Mediterranean cuisine "with a touch of Italian deliciousness."  If you want to relax on the beach, just flop into one of the comfy poufs that Ftelia arranges on the sand. Ftelia has told me they plan to open on Friday May 22 and close on September 15. Click here to read TripAdvisor reviews for Ftelia restaurant.
Comfy poufs and sunshades on the beach at Ftelia restaurant
Please click on the link below to continue reading on page 3 of this report, which describes restaurants in and near Mykonos Town, including at Megali Ammos beach, on the ring road above Mykonos Town, and on the road from Town to Ornos.
CONTINUED ON PAGE 3