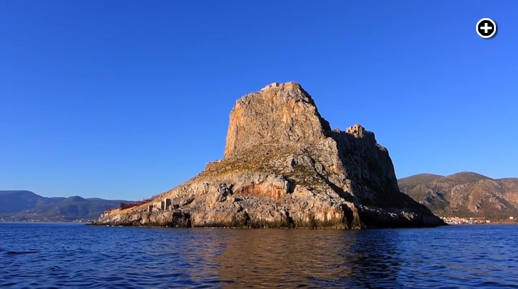 This view of Monemvasia — a scenic Byzantine-era village on a Peloponnese coastal location often described as "the Gibraltar of Greece"  — is one of many stunning sights that appears in a spectacular video by Constantinos Tseklenis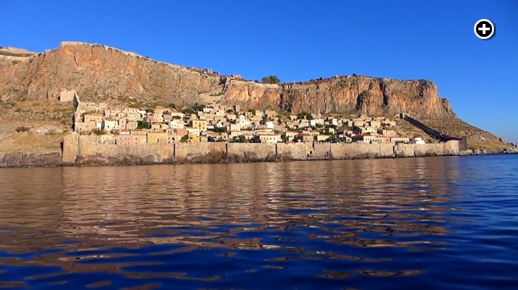 Another view of the fortified town as seen in the Monemvasia Serenity Escape video by Constantinos Tseklenis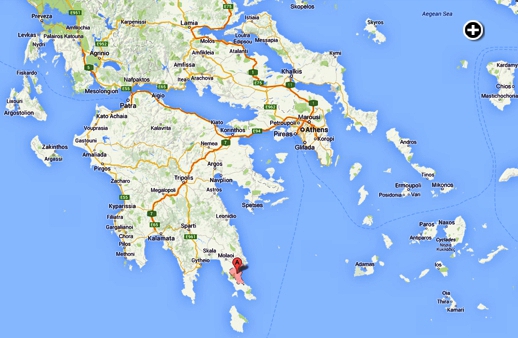 This Google map shows the location of Monemvasia (bottom centre, marked with an A) in relation to the Cyclades group of islands (right) and the City of Athens
Another "must-see":  It keeps getting more and more difficult for us to decide where to go during our next trip to Greece in May. Almost every day, my online research turns up a YouTube video or website for an inspiring Greek Island or mainland destination we've never been to before. And, of course, our instant reaction is: "We should go there!" Then a couple of days later a friend will bring yet another amazing place to our attention or suggest remarkable locations they have personally enjoyed.
We're spoiled for good choices, which is a great position to be in. But at the same time, our shortlist of possibilities for May isn't getting any shorter … and our "must-see" list for future holidays keeps getting longer.
Below is a video that has us considering Monemvasia, a fortified medieval-era town in the southeast Peloponnese that has often been described as "the Gibraltar of Greece." There is about a full minute of stunning cinematography in the clip, which Constantinos Tseklenis created for the National Greece Tourism Organisation's 2013 VisitGreece promotional campaign.
Give it a look … and enjoy your moment on Monemvasia!
Monemvasia Serenity Escape from Constantinos Tseklenis on Vimeo.