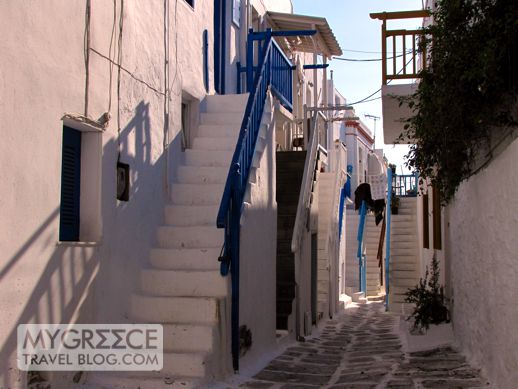 Staircases along a quiet residential street in Mykonos Town
<>
Lots to see: It's that time of year when people are planning their spring, summer and fall vacations, and considering cruises and package tours for their first-ever trips to Greece. In the forums on TripAdvisor.com, travellers are asking for advice about what they will be able to see on Mykonos, especially if they only have limited time while their cruise ship calls in port.
Mykonos is famous not only for its sun-drenched sandy beaches and its frenzied party scene in July and August, but also for its charming and picturesque Mykonos Town, the island's main settlement and one of the busiest and most popular destinations in all of the Greek Islands.
I sometimes describe Mykonos Town as "a small cosmopolitan Greek city by the sea" because it truly does offer many of the features that draw people to a sophisticated international city: fabulous scenery, wonderful architecture, outstanding restaurants, high-end designer shops, five-star boutique hotels, galleries and museums, and visitors from every corner of the globe.
CONTINUED ON PAGE 2