07 Jun 2012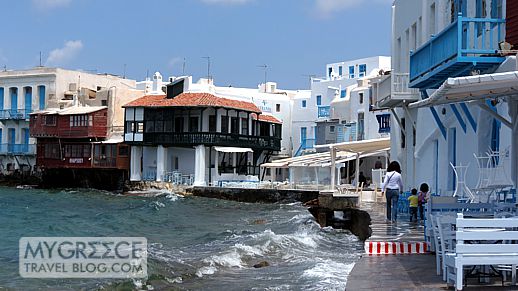 A mother leads her two children along the seaside strip of cocktail bars at scenic Little Venice in Mykonos Town on the windy afternoon of May 15 2012 …
… then carries her youngest child across the slippery surf-sprayed walkway so they don't get soaked when the next big wave strikes the shoreline
Wind and waves: The seaside strip of cocktail bars in Little Venice is usually packed with cruise ship passengers and other travellers enjoying a drink or lunch at one of the most popular tourist attractions in Mykonos Town. But on at least two days during my May 2012 holiday in Mykonos, strong winds and high waves made it impossible for visitors to sit anywhere close to the sea — unless they happened to be wearing wetsuits.
Most of the tables and chairs at the Little Venice bars were sopping wet as the pounding surf repeatedly drenched almost the entire outdoor area, except for one small section set far back from the water at the front of Semeli Bar. All day long, the narrow stone footpath leading past Caprice Bar was a treacherous place to walk. Not only was the stone surface slick with seawater, but passersby had to make sure they timed the big waves and crossed the path before the next swell crashed ashore. I made it across without getting sprayed, but two people ahead of me got soaked when a wave slammed against the seawall and splashed a meter into the air.
When I walked past two days later, on a considerably less windy day, the tables and seats were all dry (see photo below) and it was once again safe to sit in the sun and gaze at the sparkling sea. Below the some short videoclips showing the Little Venice seaside on a windy, wavy day.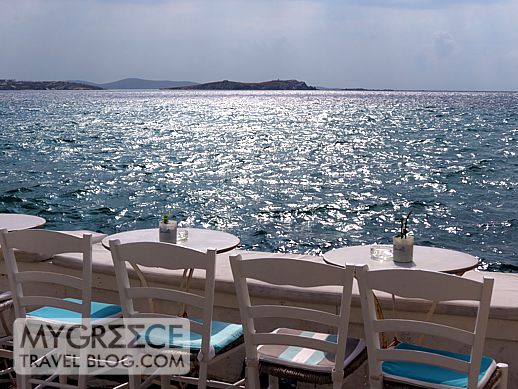 Seaside tables at Little Venice offer a great view of the sparkling Aegean Sea on May 17 2012
<>
<>
<>
<>
<>
<>
<>
<>