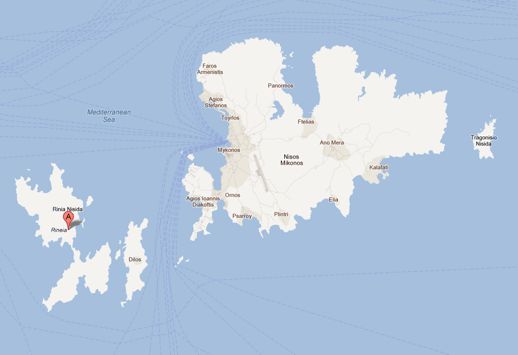 This Google map image shows Delos island's location between Mykonos, right, and Rinia, left. Mykonos offers the closest and most convenient access to Delos, with ferry service from the Mykonos Town harbour six days a week
Getting there from Mykonos: It's relatively easy to reach Delos from Mykonos, which just happens to be the closest populated island.
Every day except Monday, when Delos is closed to the public, excursion boats depart the Mykonos Town harbour in the morning, and return in the early to mid-afternoon. Three different boats — the Delos Express, the Margarita and the Orca — offer round trips that typically depart at 9, 10 and 11 a.m., and return from Delos at 12:15,  2 and 3 p.m. I say "typically," because the service depends upon both the season and demand. In May 2011, for instance, boats departed Mykonos only at 9 and 10, and returned at 12:15 and 2. In extremely windy or stormy weather, the boats might be cancelled altogether. You don't have to return on the same boat that took you to Delos; you're free to select whichever returning boat you prefer.
CONTINUED ON PAGE 2