25 Mar 2012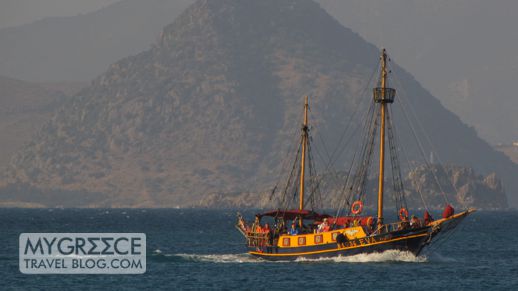 The Greek sailing boat Eva approaches Kos Town harbour

Sponge boat: One of my many vivid memories of Kos is the colourful waterfront of Kos Town, and especially the port and harbour. I was struck by the number of tour boats of all shapes, and sizes offering day trips to Turkey as well as excursions to nearby Greek islands like Kalymnos and Pserimos. But one ship in particular sticks in my mind: the two-masted wooden sailboat Eva.
I saw Eva our first day on the island while we were walking along a beach near Kos Town shortly after 6 p.m. Bathed in the warm glow of the slowly setting sun, with the mountainous coast of Turkey providing a scenic backdrop, Eva was motoring its way back to port at the end of a daytrip. Most of its passengers were either sitting or standing on the starboard side of the boat, looking content and relaxed as they caught some final rays before their excursion concluded. I felt envious, and wished I was with them.
Hand-built wooden sponge boat
Originally one of the first sponge boats to operate from Symi island, Eva was hand-built at a shipyard in Rhodes, and travelled the Mediterranean for years, solely under the power of wind against its sails. Nowadays, with Captain Savvas at the helm, she plies the Aegean Sea close to Kos, taking tourists on half-day excursions to Pserimos and Kalymnos.
A family-owned operation, Eva Cruises offers daily excursions that depart Kos Town at 11 in the morning, and return around 6 in the evening. First stop on the itinerary is Pserimos, where the boat anchors in a bay so passengers can take a swim and check out the scenery. Next stop is at Kalymnos, a Greek Island made famous by its sponge divers, where Eva's crew serves up a BBQ lunch. Unfortunately, we didn't get to take a trip on Eva during our brief stay on Kos. But it's on my list of things to do next time we're back on the island.
Below are several more photos of Eva both at sea and docked in the harbour.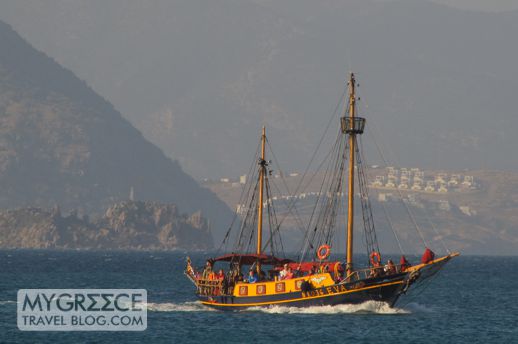 Buildings on the Turkish coast near Bodrum provide a backdrop as Eva returns to Kos Town harbour following one of its 7-hour excursions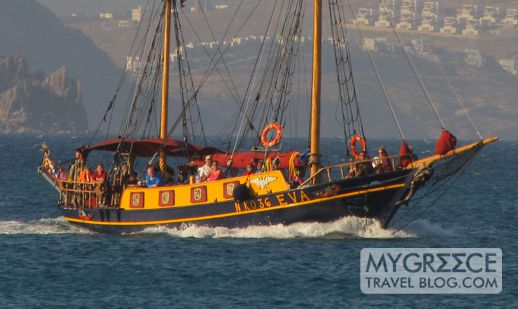 The family-operated tour boat offers daily trips to Pserimos and Kalymnos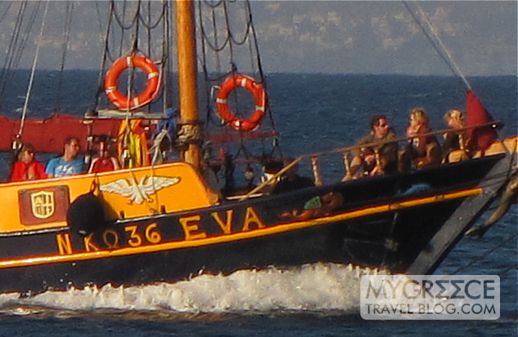 Several passengers have sunny seats on the ship's bow …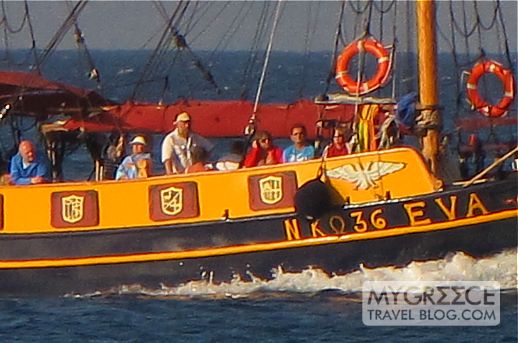 … while other passengers catch some of the warm late afternoon sunshine from their spots near the midsection of the handbuilt vessel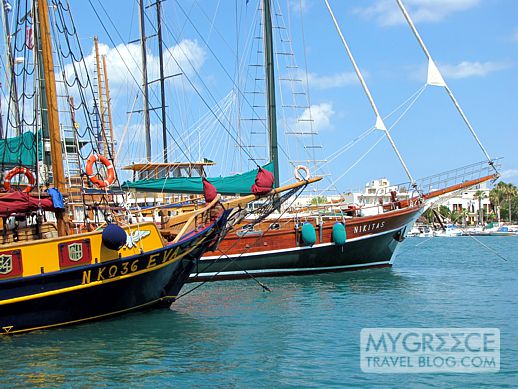 A view of Eva at its berth in Kos Town harbour, next to its tall-masted neighbour, Nikitas,  another popular excursion boat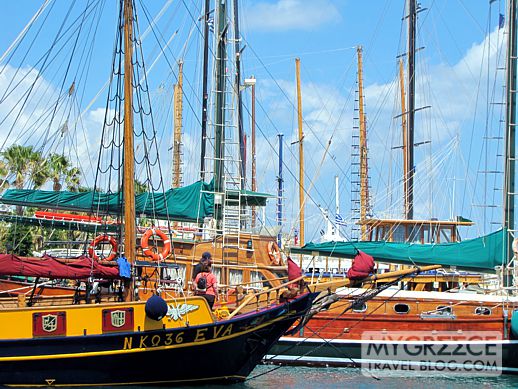 Two passengers on Eva's bow check out other tall-masted ships in the harbour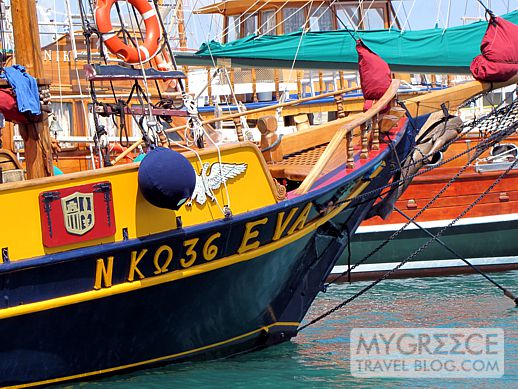 During the excursions, Eva's crew prepares a lunch featuring freshly grilled fish, chicken and souvlaki, along with salads, fruit and wine.  Sailing the Greek islands while enjoying wine and a yummy BBQ lunch sounds like a perfect day to me!